As Venues Focus on Air Quality, Many Sports Fans Are Ready to Return to Indoor Events
Both the NBA and NHL are eager to bring paying fans back during their upcoming seasons, which could begin in early 2021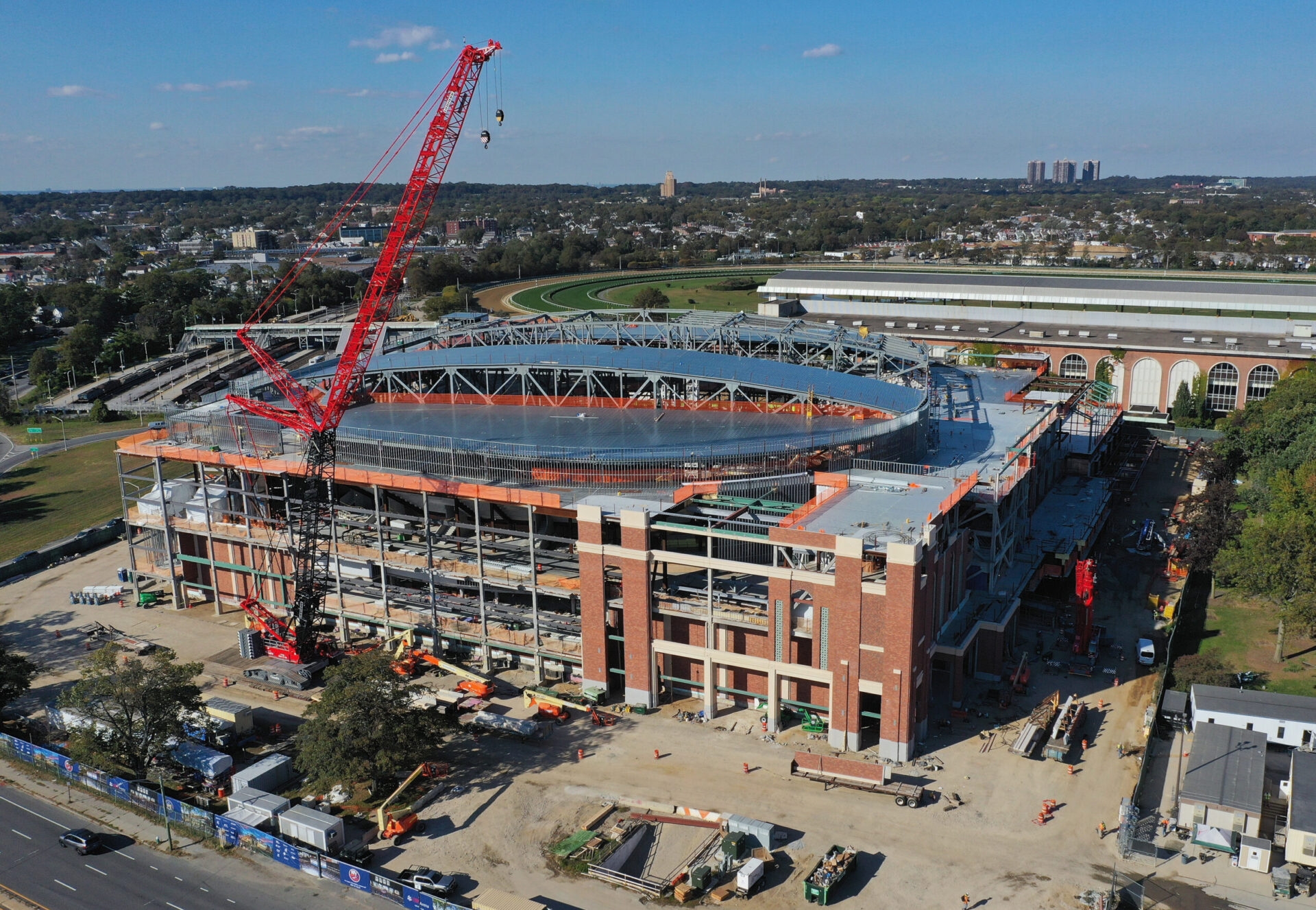 Key Takeaways
48% of U.S. adults who regularly attend sporting events said they'd be comfortable inside a half-full indoor venue.

72% of regular event-goers say they'd be more comfortable if facilities require fans to wear masks.

More than 40% of regular attendees expect to go to outdoor (46%) and indoor (43%) games and concerts more frequently after the pandemic than they did before.
Prior to the coronavirus pandemic, selling points for new billion-dollar sports facilities included luxuries like giant video boards, lavish club spaces and gourmet concessions. But during a walkthrough of the New York Islanders' partially completed new arena earlier this month, the typical bells and whistles shared the spotlight with health and safety bona fides.
"The filtering system -- and having these on each corner -- means we'll have 80 percent more fresh air than the old arena," Tim Leiweke, chief executive of arena developer Oak View Group explained, pointing to one of four massive mechanical installations designed to bring fresh outside air into UBS Arena, which is slated to open next fall.
The focus on air quality highlights the added challenge that arena-based sports properties such as the NBA and NHL face in bringing back fans as health experts stress that outdoor spaces are safer than indoor ones amid the pandemic.
NBA Commissioner Adam Silver and NHL Commissioner Gary Bettman have both expressed a desire for their teams to host spectators when they begin their next seasons, likely in early 2021. It remains to be seen which local and state governments allow fans to return to indoor venues, but new polling shows that about half of individuals who regularly attend sporting events are ready to return to their local arena.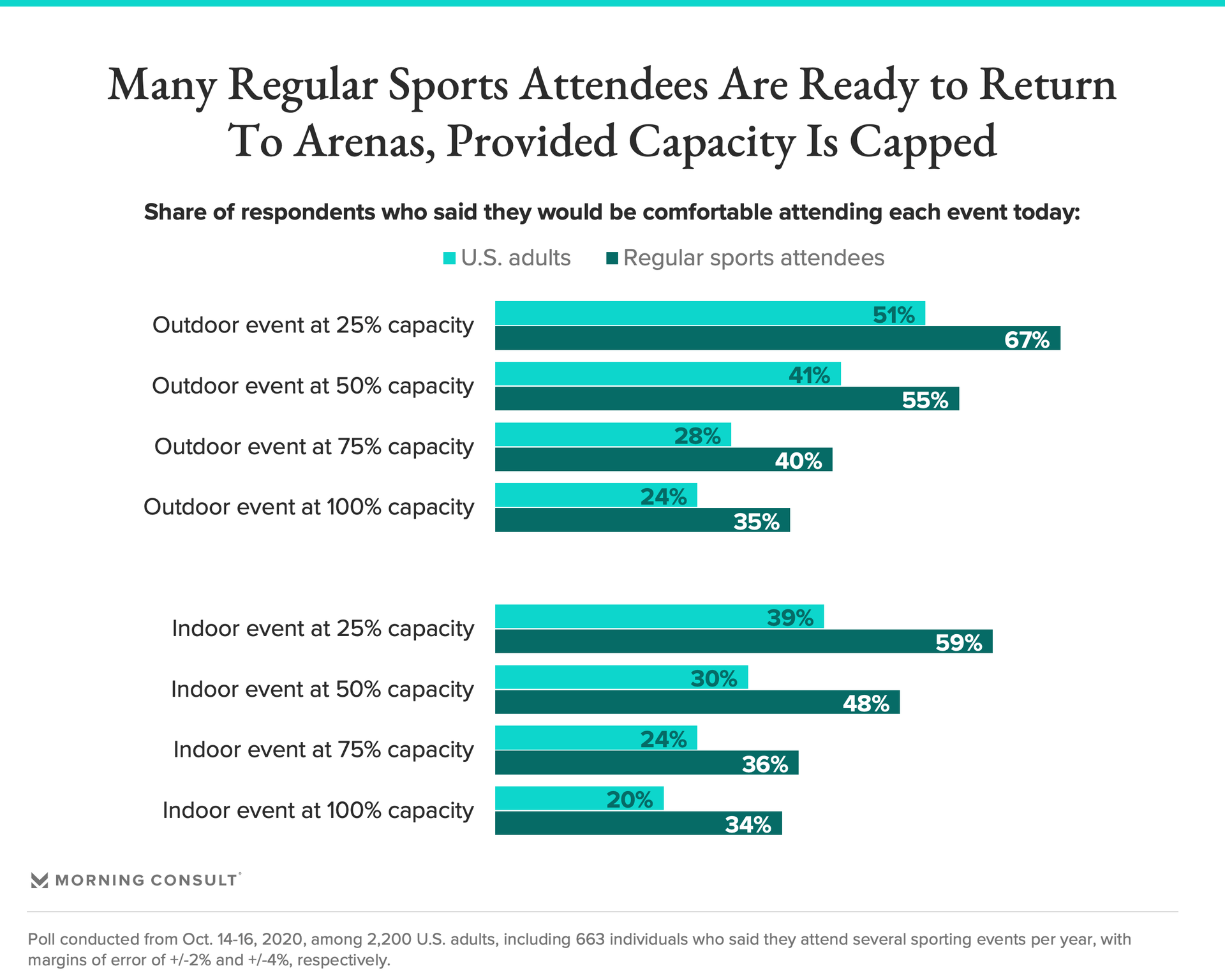 In a Morning Consult poll, 50 percent of U.S. adults who attend at least several sporting events in a typical year said they would be "very" or "somewhat" comfortable attending an indoor sporting event right now, only slightly less than the 56 percent who said they'd be comfortable at an outdoor sporting event. Among all U.S. adults, 29 percent of respondents said they'd go to an indoor event and 40 percent said they'd go to an outdoor event.
The share of respondents open to attending events, both indoors and outdoors, varied based on the amount of fans allowed into the venue. While 59 percent of regular event-goers said they'd be comfortable visiting an indoor venue filled to 25 percent capacity, only 34 percent said they'd consider going to an arena filled to 100 percent capacity.
There appears to be pent-up demand among regular event attendees. In the Oct. 14-16 poll, more than 40 percent of regular sporting event attendees said they expect to attend both outdoor and indoor events more frequently than they did before coronavirus spread to the United States.
A growing number of NFL and college football teams are hosting fans at their outdoor stadiums, most of which are capping attendance at less than 25 percent of total capacity. MLB is selling 11,500 seats per game for the World Series, which represents nearly 30 percent capacity at Globe Life Field in Arlington, Texas. Fans are generally allowed to to sit in small groups called "pods," which are spread out across the full seating area.
Hosting fans has allowed teams and schools to salvage a fraction of the income typically derived from selling tickets, concessions, merchandise, parking and other on-site revenue streams. 
The NHL and NBA both sacrificed gate-related revenue by holding their respective postseasons without fans in attendance and face the prospect of playing large swaths of their next seasons without spectators as well. Silver said earlier this year that about 40 percent of the NBA's revenue is attributable to having fans in the stands, a number that is believed to be higher for the NHL because it generates less revenue from its current media rights deals.
Earlier this year, Oak View Group established a task force aimed at developing health and operations protocols to reopen live-event venues. Ed Bosco, a New York-based managing principal at ME Engineers and a member of OVG's team of experts, said he believes that it's possible for arenas to safely open their doors to a limited number of fans if the right processes are in place.
"It's building by building and it's area by area," he said. "If your local infection rate is under control and the occupancy allows you to maintain the distancing that makes you feel comfortable in all the spaces you go into, it's not unreasonable to think you could start bringing people back."
A main focus for Bosco is reducing the concentration of pathogens in the air inside an arena by increasing the amount of fresh air being brought in from outside and, in turn, expelling more air from inside the building where virus particles might accumulate. 
For new OVG projects like UBS Arena on Long Island and Climate Pledge Arena in Seattle, engineers can design the HVAC system to maximize airflow. He said many existing arenas are properly equipped to bring in a substantial amount of outside air, in which case optimizing for virus prevention is a matter of changing processes put in place years ago with only climate control and energy efficiency in mind. Weather conditions also factor into how much outside air can be brought in.
"A lot of these buildings, new and old, have the infrastructure that's capable of providing more dilution," he said. "We just need to look at each building and figure out how to best deliver it."
OVG and ME Engineers also plan to use ultraviolet light in certain spaces to kill airborne viruses, including COVID-19, and deploy new long-acting surface treatments that repel microscopic particles.
Bosco stressed that while the sheer number of occupants in an arena might be higher than in a classroom or office, the concentration of airborne virus isn't any greater because the space is much larger. Patrons aren't going to be infected by someone with COVID-19 on the other side of the arena bowl, he said, but people in nearby seats or common spaces like the concourse or restrooms could pose a risk.
A number of the more than 60 measures the OVG task force is considering are aimed at reducing crowding in those areas. Numerous venue operators and concessionaires are moving toward mobile ordering, grab-and-go service and contactless payments as ways to eliminate lines.
Among the 663 regular event attendees polled, 72 percent said they would feel more comfortable attending events if venues mandate that fans and employees wear masks. Adding hand sanitizer dispensers throughout venues, conducting temperature screenings of fans and using UV light to kill viruses also had at least 70 percent support.
The survey of 2,200 U.S. adults carries a margin of error of 2 percentage points. The margin of error for the sample of 663 individuals who attend professional or collegiate sporting events at least occasionally is 4 points.
Alex Silverman previously worked at Morning Consult as a reporter covering the business of sports.
We want to hear from you. Reach out to this author or your Morning Consult team with any questions or comments.
Contact Us