Awards Show Fans Open to Virtual Ceremonies
Survey comes as Daytime Emmys prepare for virtual broadcast
Key Takeaways
27% of respondents would be interested in watching a virtual awards show compared to an average of 56% of awards show viewers. 

Among adults who watch the Academy Awards, 66% would be interested in watching a virtual Oscars ceremony. 

Nearly equal shares of adults are in favor of virtual award shows (29%) and waiting until traditional ceremonies can be held (30%).
As the Daytime Emmys prepare for a virtual ceremony on June 26, organizers for other awards shows are faced with the choice of whether to similarly take their programs online amid the coronavirus pandemic or postpone them altogether. But new polling finds that there may be an appetite for these virtual ceremonies -- albeit among those who would normally be tuning in.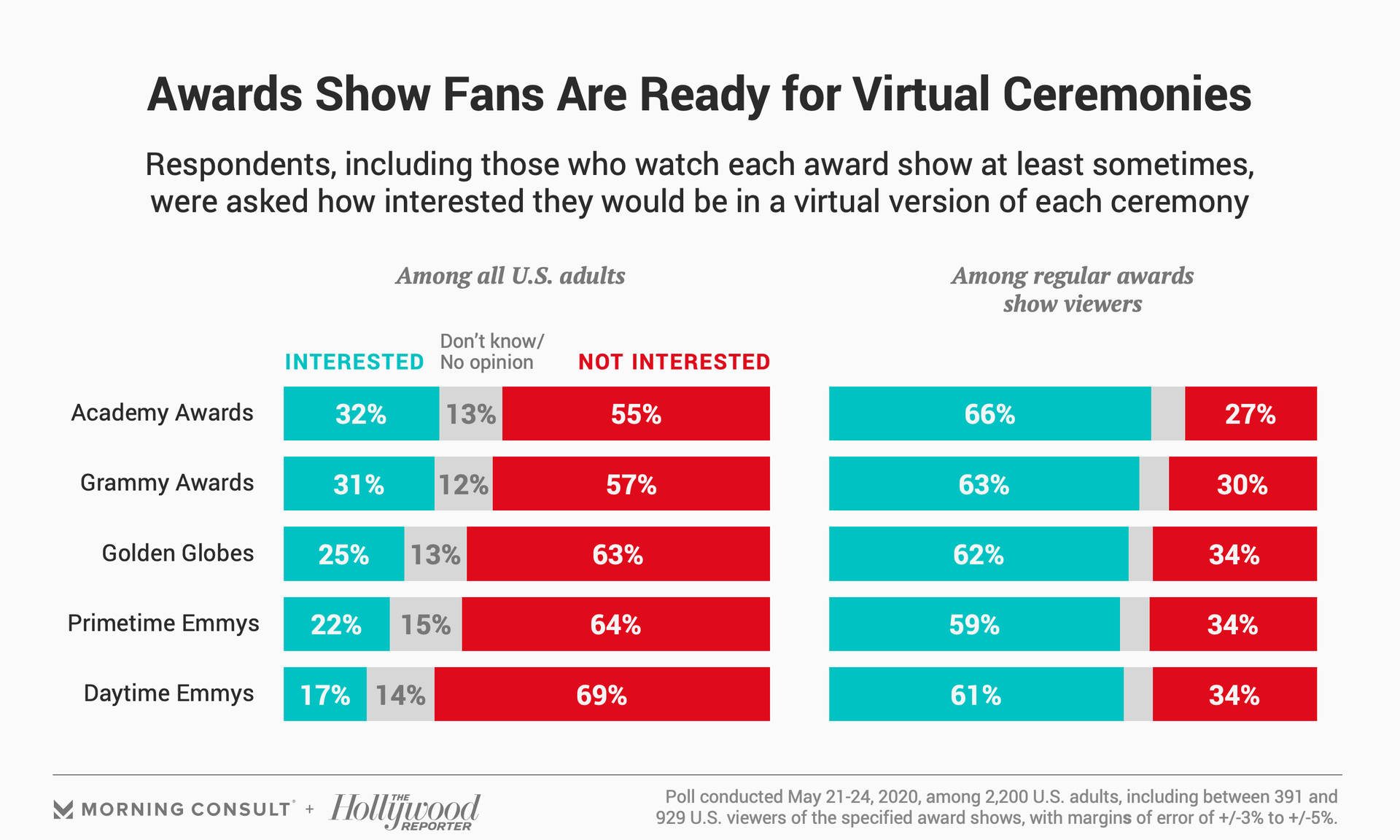 A May 21-24 Morning Consult/The Hollywood Reporter survey found that 27 percent of the 2,200 U.S. adults surveyed would be interested in watching a virtual awards show where winners would accept awards from their own homes, though the majority (63 percent) said they would not be interested in that format. 
However, on average 56 percent of awards show watchers -- those that watch awards shows such as the Oscars or Emmys always, usually or sometimes -- said they would be interested in the virtual format. 
The survey has a margin of error of 2 percentage points. 
Several other award shows have taken the virtual plunge this year. The Kids Choice Awards hosted a virtual ceremony on May 2, while the Webby Awards honored its winners in an online celebration on May 19. The Obie Awards, which celebrate achievement in Off-Broadway and Off-Off-Broadway theater, are scheduled to air a virtual show on June 4.
Interest in virtual ceremonies among fans of specific awards shows was high in the survey. Among those who watch the Oscars at least sometimes annually, two-thirds said they would be interested in a virtual Oscars ceremony compared to 32 percent of all adults. And 61 percent of Daytime Emmy Awards watchers were interested in a remote ceremony, compared to 17 percent of adults overall. 
Award shows have been taking steps to adapt to the coronavirus era. The Television Academy has suspended "For Your Consideration" events for the Primetime Emmys, and both the Hollywood Foreign Press Association and the Academy of Motion Picture Arts and Sciences are altering their eligibility rules due to the pandemic. 
While the Primetime Emmys, Golden Globes and Oscars have not released official statements regarding the status of their 2020 and 2021 ceremonies, Variety reported on May 19 that the AMPAS was considering postponing next year's Oscars ceremony, currently scheduled for Feb. 28, 2021 — though the Academy did not offer a comment. 
Twenty-nine percent of adults said they would rather awards shows be done virtually during the coronavirus pandemic, while 30 percent said they would rather the ceremonies be postponed until after the pandemic. Among awards show watchers, on average 43 percent favored the virtual ceremony. 
Sarah Shevenock previously worked at Morning Consult as a reporter covering the business of entertainment.
We want to hear from you. Reach out to this author or your Morning Consult team with any questions or comments.
Contact Us