As Pandemic Stretches Into the School Year, Parents Report High Concerns Over Children's Education, Family Health
86% of parents are concerned about their child's education, and 83% said they're worried over family health
Uncertainty and fear has replaced the usual excitement surrounding back-to-school season for many parents this year, as individual schools and states struggle to answer the question of whether to reopen amid the pandemic this fall. A new Morning Consult report highlights the choice that school districts and families across the country are being forced to make: Deciding whether continuing childhood education in-person or preventing the spread of the coronavirus is more important.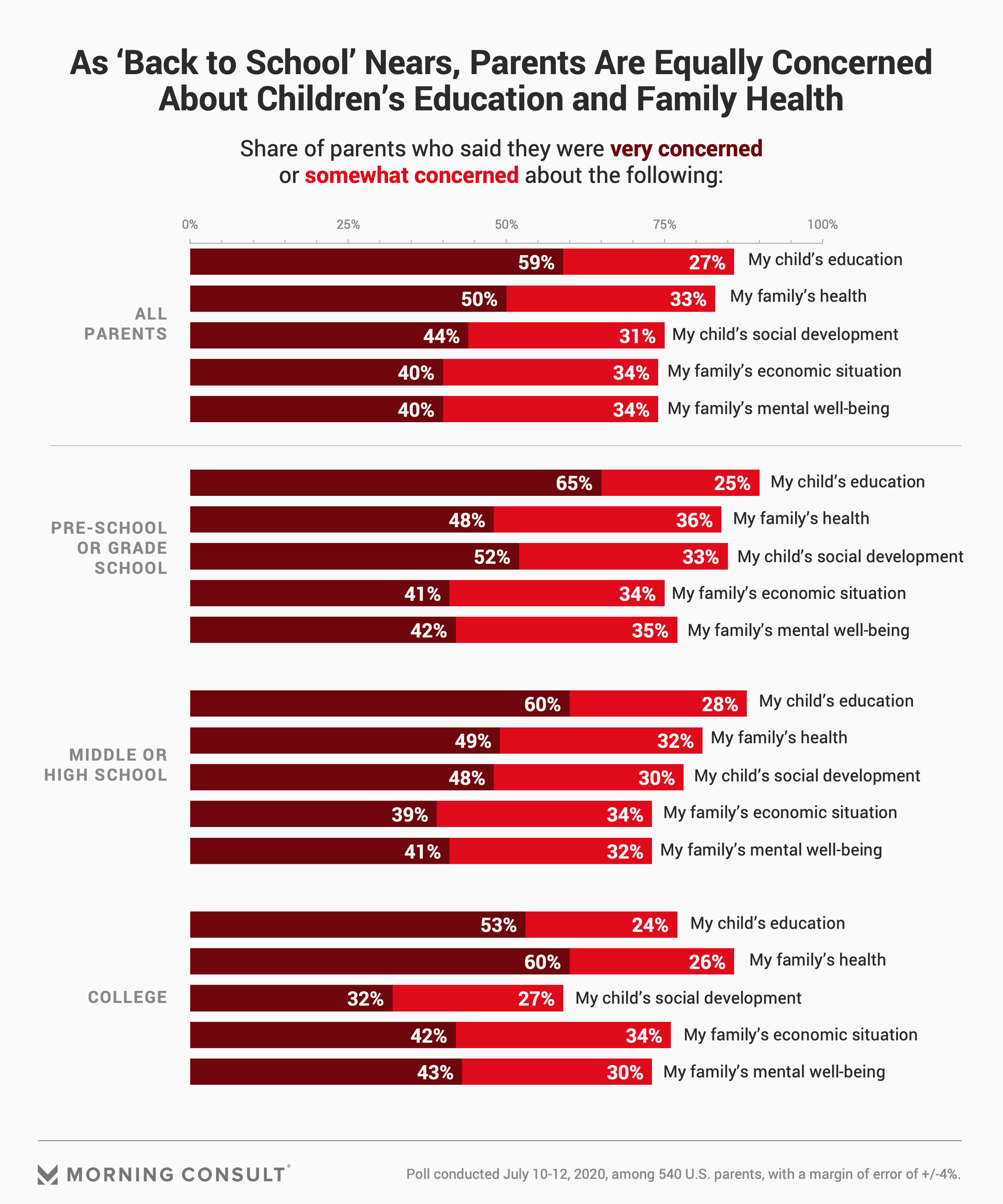 Parents expressed relatively equal concern about their children's education and their family's health, although they were slightly more likely to say they were "very" concerned about the educational element (59 percent vs. 50 percent).
For parents with children in preschool or grade school -- where continued education is most crucial for a child's cognitive development -- concern levels are highest for their kids' education (90 percent) and social development (85 percent). Parents of college-aged children are most concerned about their family's health and least concerned about their offspring's social development.
The survey highlights the complicated issues educators and families face as the school year quickly approaches, with many saying there are no good answers. Some educators are concerned for their own health — with some Iowa teachers reportedly sending Gov. Kim Reynolds their own obituaries in protest of school reopenings — while parents are already exhausted from months of stay-at-home orders, canceled summer activities and balancing work with childcare.
Educators are also facing some pressure from the White House in the upcoming school year, with President Donald Trump pushing for schools to reopen since the spring, threatening this month to withhold federal funding from schools that do not resume in-person classes in the fall and even critiquing the Centers for Disease Control and Prevention's "very tough & expensive guidelines" for opening schools.
Among the 540 parents with children ages 5-23 polled in the July 10-12 survey, the largest share (31 percent) reported that their child would participate in partial in-person learning and partial remote learning, followed closely by all in-person learning (24 percent).
Fifteen percent said their child would be learning remotely full time when the school year starts. The margin of error for the parent group highlighted is 4 percentage points. 
Joanna Piacenza leads Industry Analysis at Morning Consult. Prior to joining Morning Consult, she was an editor at the Public Religion Research Institute, conducting research at the intersection of religion, culture and public policy. Joanna graduated from the University of Wisconsin-Madison with a bachelor's degree in journalism and mass communications and holds a master's degree in religious studies from the University of Colorado Boulder. For speaking opportunities and booking requests, please email [email protected].
We want to hear from you. Reach out to this author or your Morning Consult team with any questions or comments.
Contact Us