Senate Republicans Confirm Barrett, Trump's Most Popular Supreme Court Nominee
48% of voters back confirmation of Amy Coney Barrett, more than the 44% who backed Neil Gorsuch or the 37% who backed Brett Kavanaugh
Senate Republicans voted Monday to confirm Judge Amy Coney Barrett to the Supreme Court, a move backed by a lion's share of the American electorate.
According to a new Morning Consult/Politico poll, conducted Oct. 23-25 among 1,990 registered voters, 48 percent said the Senate should vote to confirm Barrett, down from a 51 percent high in a survey conducted after her confirmation hearings. About a third of voters (32 percent) said the Senate should vote down her nomination, up 4 percentage points from the previous week. The poll has a margin of error of 2 points.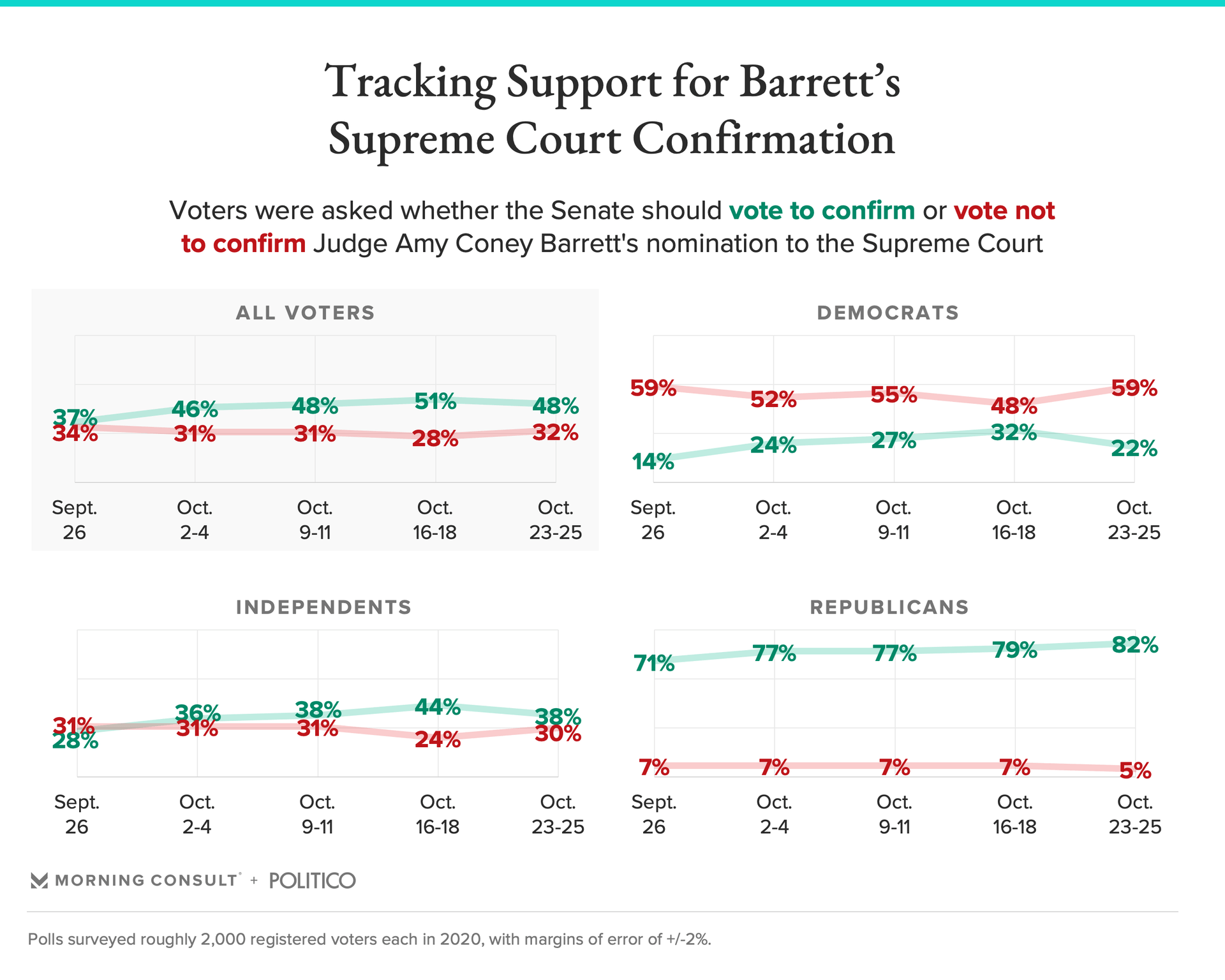 Among independent voters, support for Barrett's confirmation reverted back to its state prior to the Senate Judiciary Committee's hearings, while opposition among Democratic voters increased 11 points from the previous week to 59 percent.
Among Democrats and independents, support for Barrett's confirmation is roughly in line with polling conducted ahead of Justice Neil Gorsuch's Senate confirmation vote in 2017. While opposition to Barrett's confirmation is significantly higher than opposition to Gorsuch's was at the time, it is less than the share who opposed Justice Brett Kavanaugh's confirmation in the fall of 2018 after he faced allegations of past sexual misconduct during his confirmation process.
Fifty-two senators, all Republicans, voted to confirm Barrett, with just Sen. Susan Collins of Maine breaking with her GOP colleagues and voting with all Democrats against the nomination -- the first time in modern history that a Supreme Court nominee was confirmed without any support from the chamber's minority. Two years ago, Sen. Joe Manchin of West Virginia was the only Democrat to support Kavanaugh, while in early 2017, Gorsuch drew support from Manchin and two other Democrats, Heidi Heitkamp of North Dakota and Joe Donnelly of Indiana, who each would go on to lose re-election.
Republicans are solidly on board with Barrett's placement on the court: 82 percent of GOP voters support the nominee, marking a higher level of backing from the president's party than for either Gorsuch or Kavanaugh. 
Barrett has become more popular over the past month as more voters developed views about her: 36 percent have favorable opinions of the judge, up 11 points since a Sept. 26 survey, while 32 percent have unfavorable views, up 8 points during the same period. Another 32 percent of voters do not have opinions of her (including 14 percent who say they've never heard of her), a decrease of 19 points since Sept. 26.
The latest survey found the voting public evenly divided, at 30 percent, over whether Barrett's move to the Supreme Court will shift it in the right or wrong direction. Another 20 percent said the court will remain the same.
This story was updated to include news of Barrett's confirmation.
Eli Yokley is Morning Consult's U.S. politics analyst. Prior to his current role, Eli was Morning Consult's senior reporter covering U.S. politics. Eli joined Morning Consult in 2016 from Roll Call, where he reported on House and Senate campaigns after five years of covering state-level politics in the Show Me State while studying at the University of Missouri in Columbia, including contributions to The New York Times, Politico and The Daily Beast. Follow him on Twitter @eyokley. Interested in connecting with Eli to discuss his analysis or for a media engagement or speaking opportunity? Email [email protected].
We want to hear from you. Reach out to this author or your Morning Consult team with any questions or comments.
Contact Us