Britons More Likely Than Americans to Support Boycotts of Beijing Olympics, Qatar World Cup
44% of U.K. adults said they favor a boycott of the games in China, compared to 36% of U.S. adults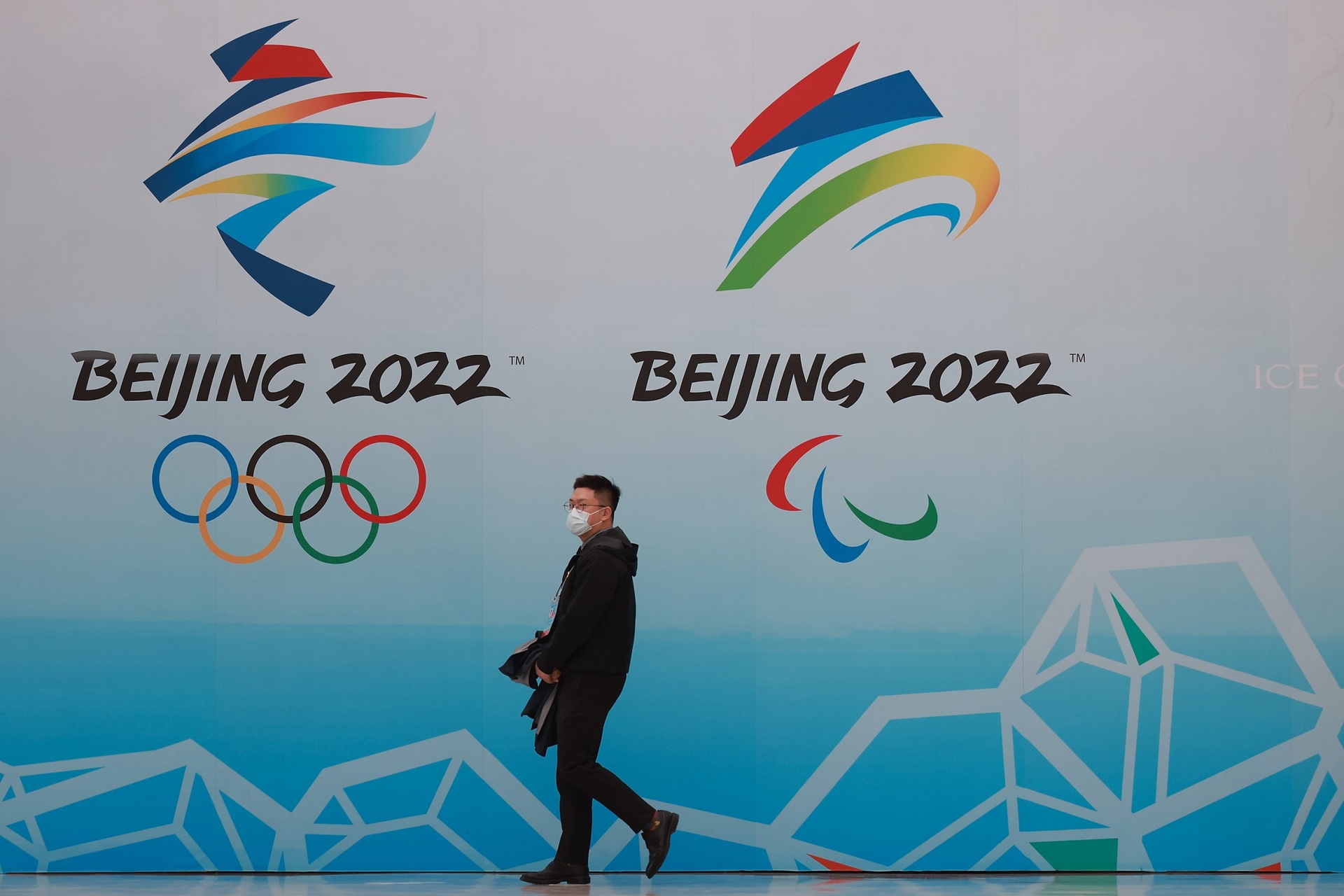 Key Takeaways
In America, 41% of Democrats supported a boycott of the Beijing Games, compared to 37% of Republicans.

At 44%, avid Olympics fans in the United States were more likely than the average American to support a boycott of the Beijing Games.
The two biggest sporting events of 2022 -- the Winter Olympics in China and the FIFA World Cup in Qatar -- have become political lightning rods due to their host countries' checkered human rights records. And while calls to boycott both events have intensified in many Western nations, the majority of Americans and Britons have not yet thrown their support behind calls to sit out.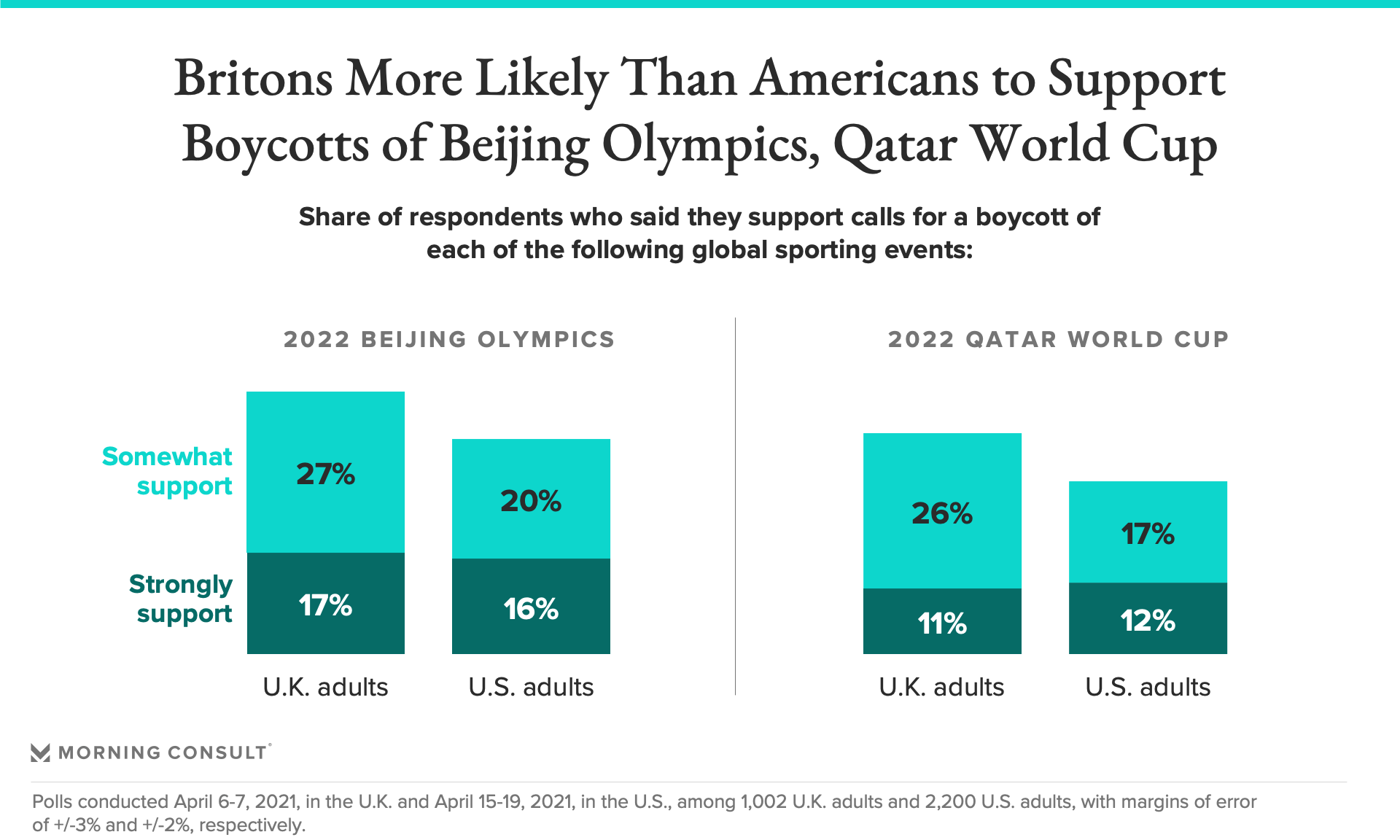 The results of a pair of Morning Consult polls conducted this month show that Britons are more likely than Americans to support calls to boycott next year's Winter Olympics in China. In the United Kingdom, 44 percent of respondents said they were in favor of a boycott, a larger share than the 36 percent of U.S. respondents who said the same. Seventeen percent of Britons and 16 percent of Americans said they "strongly" support calls to boycott the Beijing Games.
The polls of 1,002 U.K. adults and 2,200 U.S. adults were conducted April 6-7 and April 15-19, respectively. Responses among Americans carry a margin of error of 2 percentage points, while British responses have a 3-point margin of error.
The Chinese government has faced strong condemnation for human rights violations against ethnic minorities in the country, including Uyghurs, the Turkic ethnic group native to China's northwest Xinjiang region, the majority of which identify as Muslims. The Biden administration sanctioned two Chinese officials for human rights abuses against Uyghurs last month, while Beijing has rejected U.S. allegations of genocide against the group. The human rights violations were not mentioned in the prompt prior to asking respondents their opinion about a potential boycott.
The majority of respondents in both nations said they did not side with those calling to boycott the 2022 Olympics, which are scheduled for Feb. 4-20. Sixty-four percent of U.S. adults said they did not support calls to skip the Winter Games, with 27 percent offering no support "at all." Fifty-six percent of U.K. adults did not back calls for a boycott, with 19 percent offering no support "at all." 
While Republican politicians have spearheaded calls for boycotts of China's Winter Games in the United States, Democrats were about as likely as Republicans to support such a move. Independents were significantly less likely than partisans on either side to back the calls for a boycott.
In both countries, calls to boycott the Olympics generated slightly more support than calls to boycott the FIFA World Cup, which kicks off Nov. 21, 2022, in Qatar. Thirty-seven percent of U.K. adults said they favored calls to skip the World Cup, compared to 29 percent of U.S. adults.
The Qatari government has been condemned for human rights issues on its soil, which include alleged abuse of migrant workers hired to build the infrastructure for the World Cup. Last month, players for Norway's national team protested against holding the tournament in Qatar, sporting T-shirts on the pitch that read, "Human rights on and off the pitch." 
Alex Silverman previously worked at Morning Consult as a reporter covering the business of sports.
We want to hear from you. Reach out to this author or your Morning Consult team with any questions or comments.
Contact Us