Biden Has a Growing Problem With Independents
49% of independents disapprove of his job performance, contributing to his worst approval numbers this year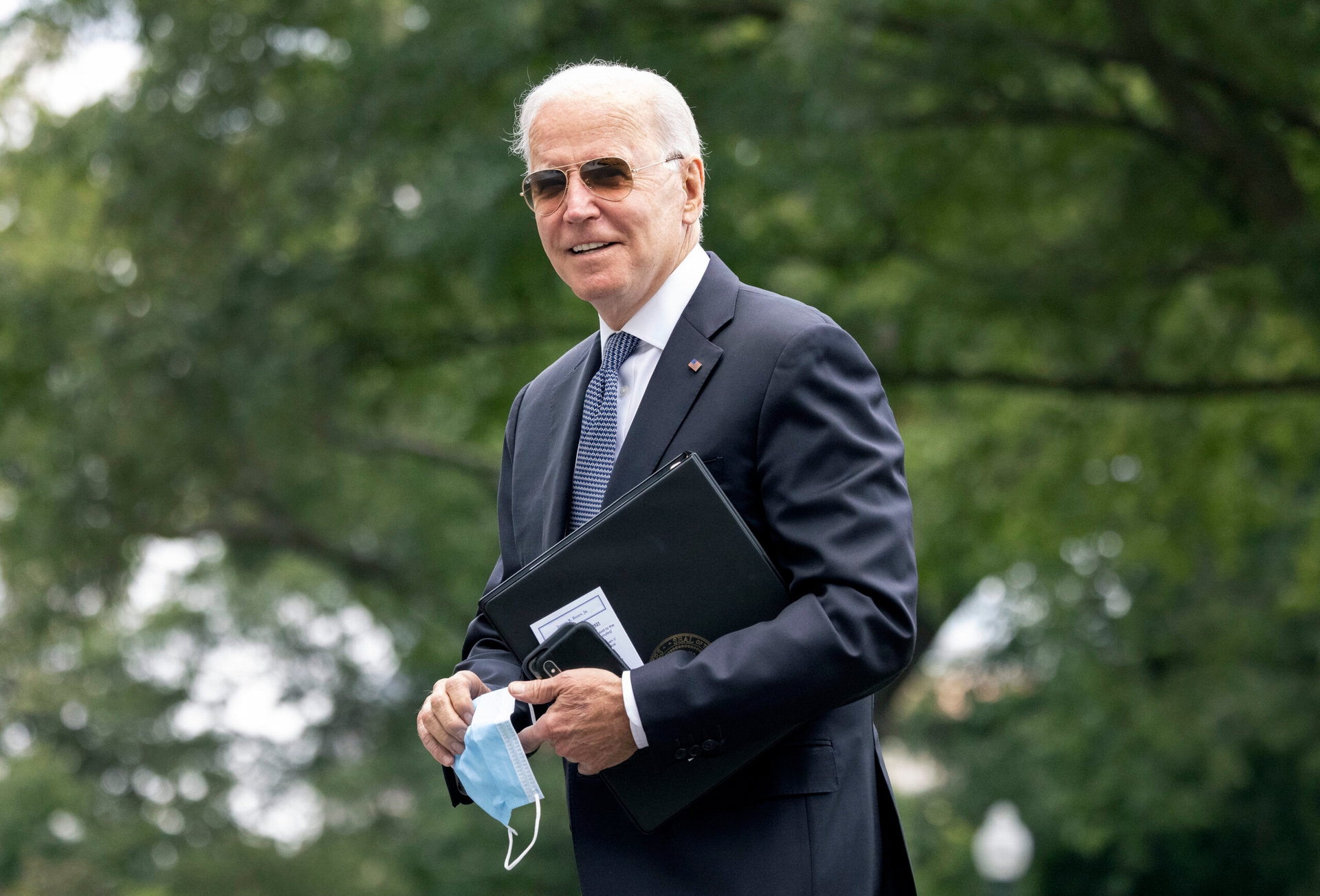 Key Takeaways
Perceptions of Biden's handling of the pandemic and the economy have soured among independents since June amid a surge of COVID-19 cases and rising consumer costs.

51% of independents disapprove of Biden's handling of the economy – making it among his weakest issues with the demographic.

Still, Biden's overall standing with unaffiliated voters is better than Donald Trump's was at this time four years ago.
President Joe Biden's standing among independent voters on the pandemic and the economy has taken a hit in recent weeks amid a surge in COVID-19 cases and rising inflation, according to new Morning Consult/Politico polling.
It appears to be weakening Biden's general reputation among unaffiliated voters, who helped Democrats secure full control of the White House and both chambers of Congress this year, exposing an early problem for his party to remedy with 14 months to go until the midterm elections.
According to a July 31-Aug. 2 poll, 44 percent of independent voters approve of Biden and 49 percent disapprove. Since April, the president's net approval rating (the share who approve minus the share who disapprove) has dropped 18 percentage points among unaffiliated voters – a slow but consistent decline that is weighing on his overall numbers as Democrats express urgency regarding efforts to more aggressively sell the president's successes and his agenda.
The rising antipathy among independents that has followed the 100-day mark of Biden's presidency – a time of triumph when his administration was rolling out COVID-19 vaccines and championing a major relief package – dovetails with increasing pessimism over Biden's handling of the pandemic and the economy as a rise in cases driven by unvaccinated Americans forces a return to some restrictive measures and Republicans harp on rising prices and warn of an inflation-fueled recession.
Since the end of June, the shares of independents who disapprove of Biden's handling of the economy and the pandemic have increased by 9 and 13 points, respectively, to 51 percent and 43 percent.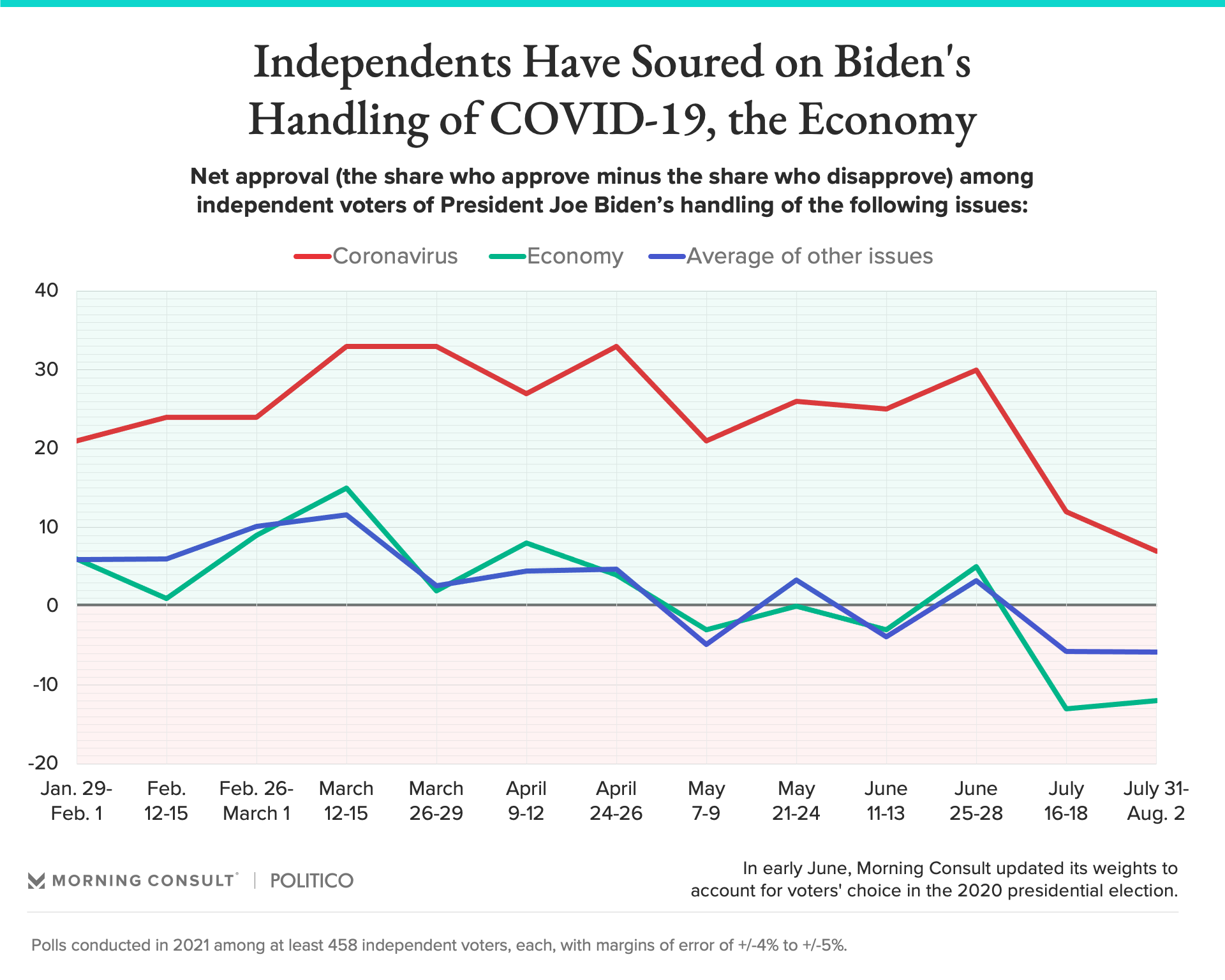 Independent voters, like the overall electorate, are still more likely than not to express positive views about Biden's handling of the pandemic despite the recent surge in cases. But the economy is a different story: Unaffiliated voters are pessimistic about its future trajectory and largely blame Biden for the 13-year high in inflation, with immigration — another regular line of attack for Republicans — being the lone topic on which his handling is more disliked.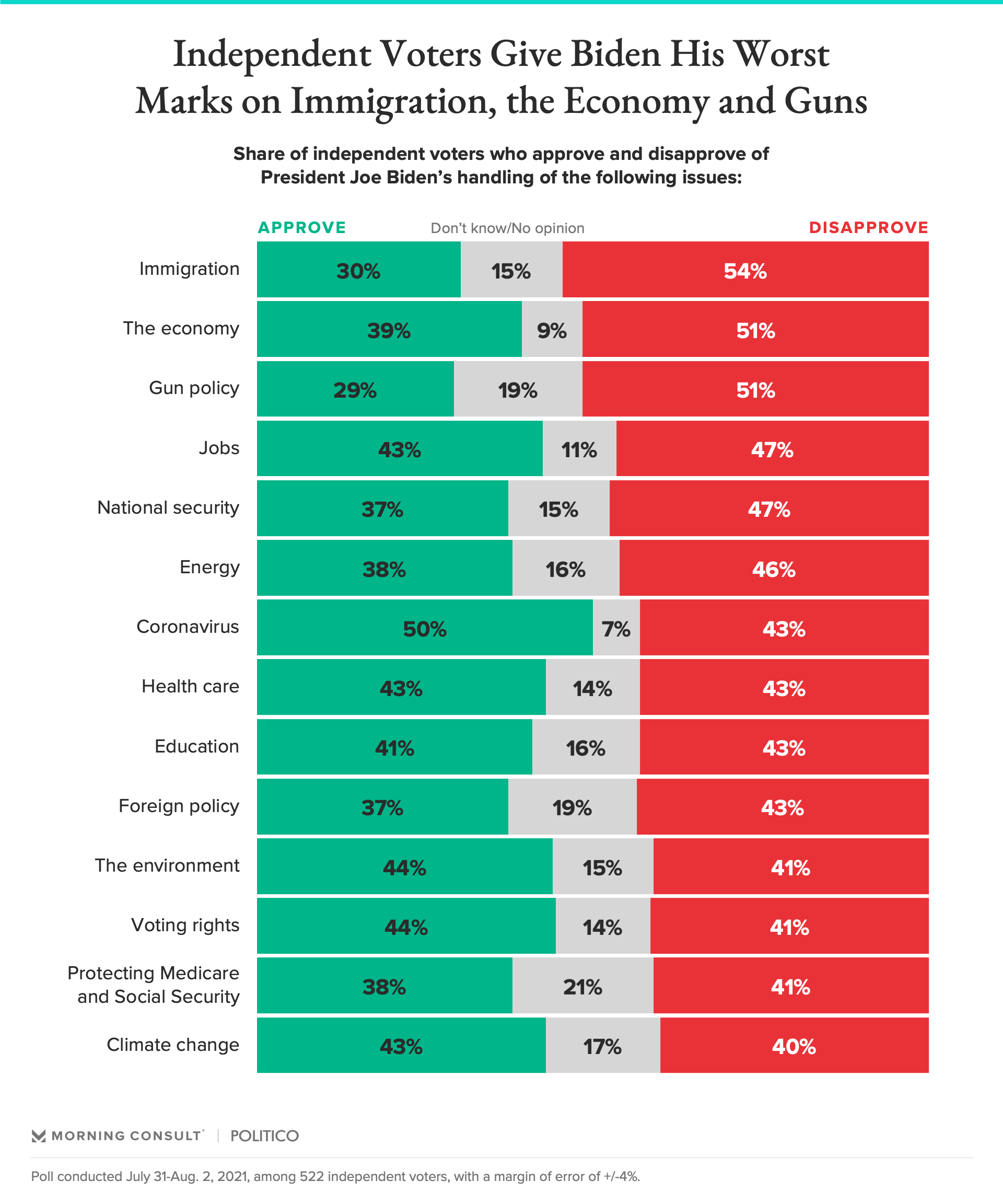 While Biden's numbers have worsened on the issues, his overall approval rating among independent voters and the broader electorate, which is at its worst point in the 26 surveys conducted since he took office, is much better than his predecessor's was at almost exactly this time in his term.
Compared with a Morning Consult/Politico poll conducted roughly four years ago, independent voters are currently 12 points more likely to approve of Biden's job performance than they were to approve of then-President Donald Trump, and are similarly less likely to express negative views. Trump also faced a larger share of strong disapproval from both independents and voters overall in early August 2017.
Things would soon worsen for Trump: His response later that month to a deadly clash between white supremacists and counterprotesters in Charlottesville, Va., yielded one of the worst job approval ratings of his presidency. Meanwhile, Biden's ebb in popularity to date leaves him well above water: 52 percent approve of his job performance and 46 percent disapprove, driven largely by Biden's stronger standing among his own Democratic base than Trump had with Republicans at this point in his presidency.
Eli Yokley is Morning Consult's U.S. politics analyst. Prior to his current role, Eli was Morning Consult's senior reporter covering U.S. politics. Eli joined Morning Consult in 2016 from Roll Call, where he reported on House and Senate campaigns after five years of covering state-level politics in the Show Me State while studying at the University of Missouri in Columbia, including contributions to The New York Times, Politico and The Daily Beast. Follow him on Twitter @eyokley. Interested in connecting with Eli to discuss his analysis or for a media engagement or speaking opportunity? Email [email protected].
We want to hear from you. Reach out to this author or your Morning Consult team with any questions or comments.
Contact Us