62% of Voters Back Biden's Land and Water Conservation Effort
Twice as many rural voters back the plan as oppose it
Key Takeaways
Just over half of rural voters back the plan, while two-thirds of their urban counterparts are in favor of the Biden administration's conservation proposal.

Democrats are overwhelmingly more likely than Republicans to support the "30 by 30" plan, at 84% compared to 36%.
Last week, the Biden administration released its "Conserving and Restoring America the Beautiful" plan, a formalized version of the 30-by-30 proposal that the president pushed during his campaign that would conserve and restore 30 percent of the country's lands and waters by 2030. 
The collaborative effort between the Departments of Agriculture, Commerce and the Interior, as well as the White House's Council on Environmental Quality, is one that is broadly popular with voters, according to new polling from Morning Consult and Politico, with 62 percent in support and 20 percent opposed.
No group stands more readily able to benefit from the conservation of the country's outdoor spaces than rural voters, who back the plan 52 percent to 25 percent opposed, despite the fact that the demographic tends to lean away from President Joe Biden's policies. But urban voters were more likely to support the plan at 67 percent, a gap of 15 percentage points.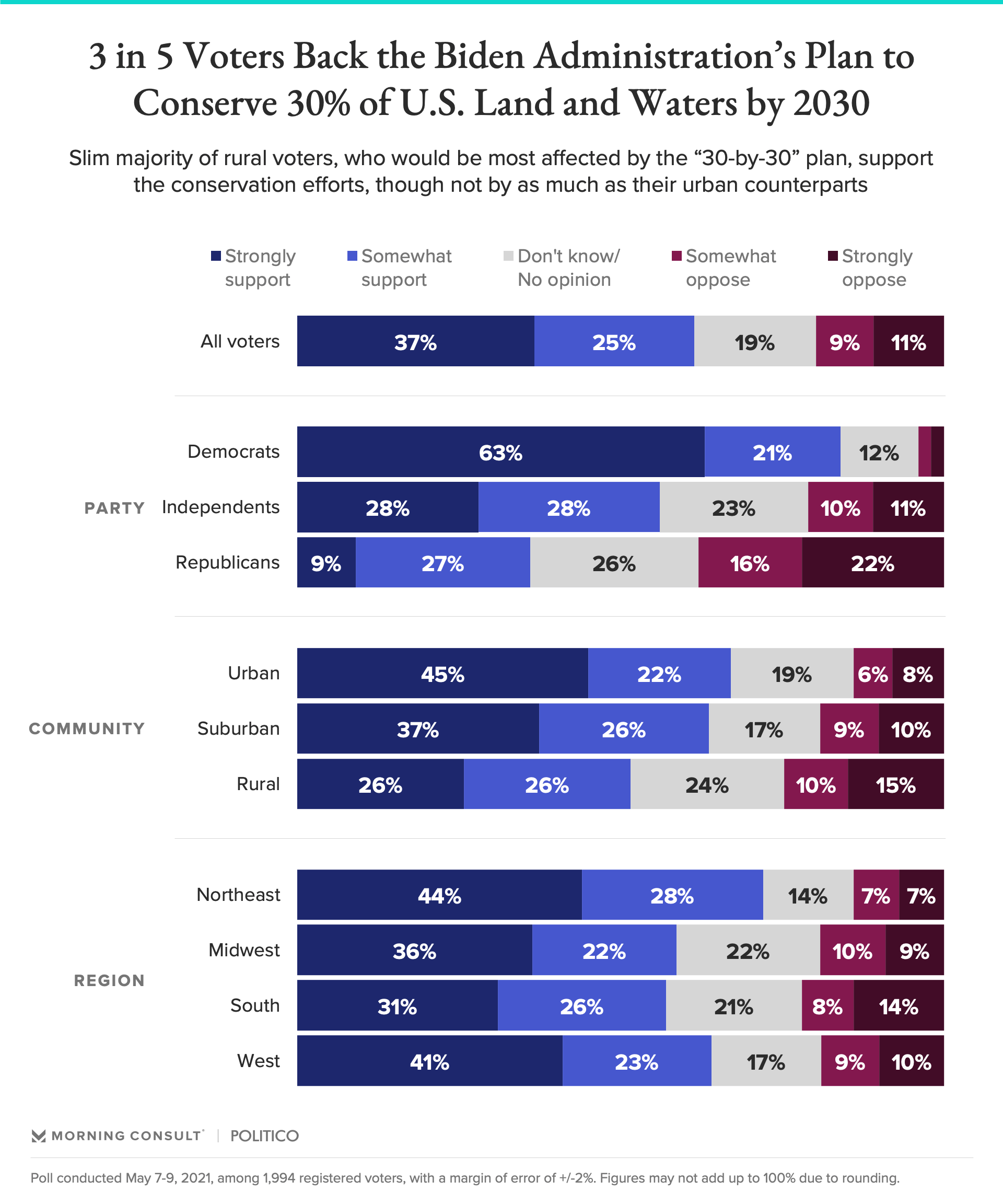 Overall support for the proposal, however, comes with a stark partisan divide: 84 percent of Democrats back Biden's conservation plan, compared with 36 percent of Republicans. Slightly more GOP voters oppose than support the plan, with 16 percent "somewhat" opposed to it and 22 percent "strongly" opposed.
This nearly 50-point chasm belies the fact that land and water conservation has tended to enjoy bipartisan support among both voters and lawmakers in the past. Last year, the Great American Outdoors Act, which permanently funded the Land and Water Conservation Fund and created a separate bucket of funds to upgrade and maintain national parks and other federal lands, passed the Senate 73-25 and was signed into law by then-President Donald Trump. And there has been a proliferation of groups in recent years predicated on the idea that "conservation is conservative."   
The May 7-9 poll surveyed 1,994 registered voters and has a 2-point margin of error.
Lisa Martine Jenkins previously worked at Morning Consult as a senior reporter covering energy and climate change.
We want to hear from you. Reach out to this author or your Morning Consult team with any questions or comments.
Contact Us