Biden Has an Enthusiasm Problem With Democratic Women
Throughout the president's tenure in office, female Democrats have been less likely than their male counterparts to strongly approve of him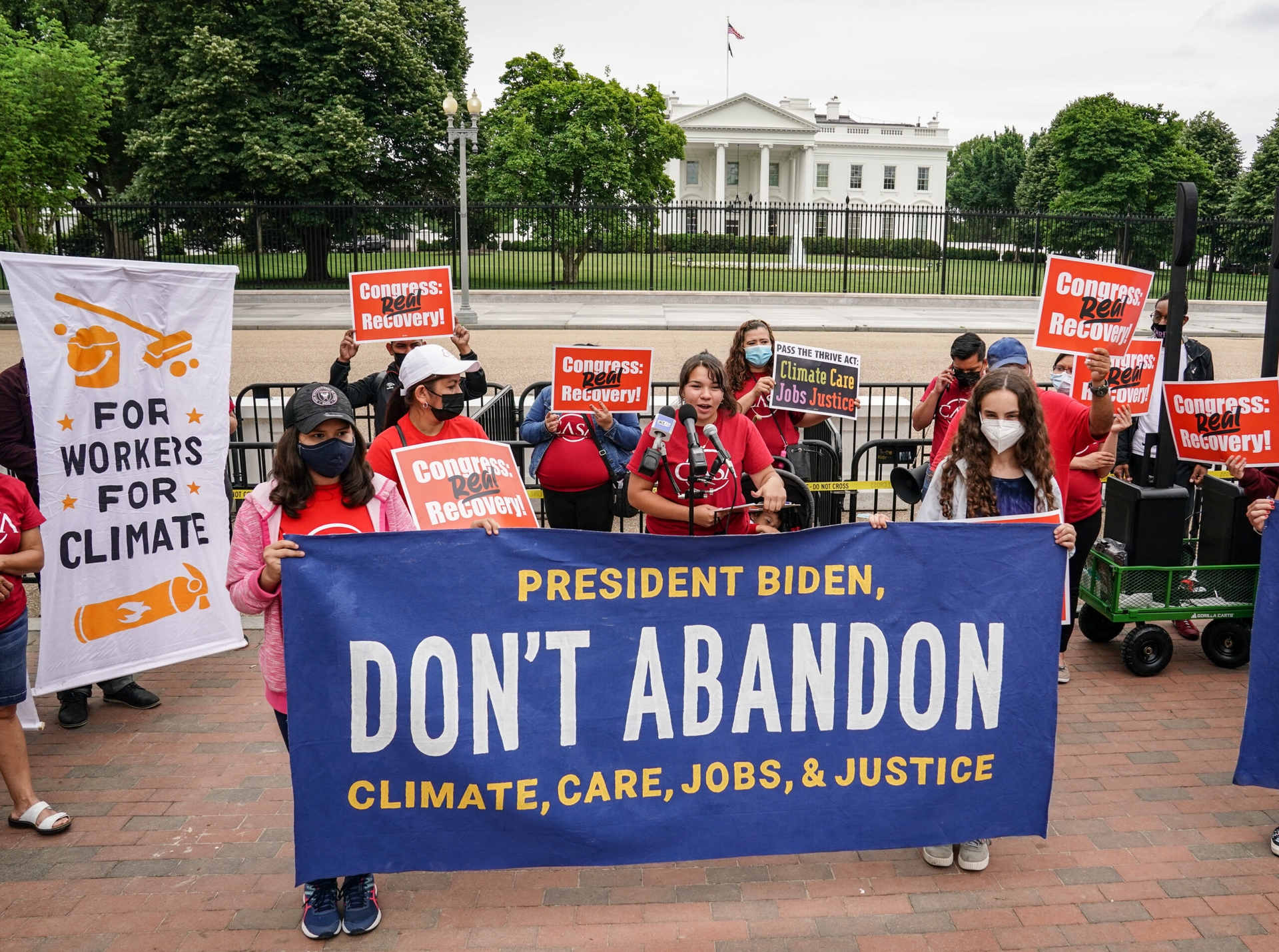 Key Takeaways
42% of Democratic women strongly approve of the president's job performance, compared with 50% of Democratic men.

Half of Democratic women ages 45 and older strongly approve of Biden, compared with 32% under the age of 45 who said the same.

41% of Black female Democrats approve of Biden strongly, down 30 points since he took office.
President Joe Biden has largely retained the support of Democratic voters this year, even as it declined among the larger electorate. But behind the curtain, Morning Consult Political Intelligence tracking reveals a worrying weakening in enthusiastic backing, driven by people who make up the bulk of the Democratic Party's coalition: women.
According to polling conducted Sept. 28-30, 42 percent of Democratic women strongly approve of the president's job performance, compared with 50 percent of Democratic men. It's a gap that's persisted since he took office on Jan. 20 but widened as the summertime resurgence of COVID-19 cases complicated the back-to-school season in August, which dovetailed with the tumult surrounding the Afghanistan withdrawal and a stymied Biden agenda on Capitol Hill.
Democratic Women Are Less Likely Than Male Democrats to Strongly Back Biden
Share of Democratic voters who approve of President Joe Biden's job performance
Data points reflect 3-day moving averages in 2021 among at least 1,762 female Democratic voters and 1,463 male Democratic voters, with margins of error of +/-2% to +/-3%.
Biden is still popular with Democratic women and men when it comes to those who at least somewhat approve of his job performance, but in no survey since May – amid the height of the COVID-19 vaccine rollout and before the surge of the delta variant – has the president performed better with women than men in the Democratic Party. 
"There are a lot of Democratic women who wanted a woman president," said Nancy Bocskor, former director of the Center for Women in Politics and Public Policy at Texas Woman's University, ticking off the names of some of Biden's Democratic primary rivals such as Sen. Elizabeth Warren (D-Mass.). "Democratic women said anybody but Donald Trump, but I don't think he had a lot of leeway to start with." 
Biden's lack of fervent support among female Democrats sets up another hurdle in the already uphill race for Democrats in the midterms, contests that traditionally serve as referenda on the incumbent presidency. Thirteen months out from the 2022 elections, 60 percent of male Democratic voters say they're "extremely" or "very" enthusiastic about voting, while less than half (46 percent) of Democratic women said the same, according to a recent Morning Consult/Politico poll.
The reasons for Biden's weakness with the group are aplenty and not all are directly in his control, according to experts and Democratic strategists, who cited the pandemic, economy, abortion rights and Washington dysfunction all as potential causes.
Biden, for example, campaigned on defeating the pandemic, but COVID-19 cases and deaths have continued to mount due to vaccine opposition from a significant chunk of the country's conservative population. His administration has gone after the Texas law banning nearly all abortions, but the attacks on reproductive rights are nonetheless happening on his watch. 
And while Biden and Democrats in Congress are pushing measures as part of the "Build Back Better" policy agenda regarding wide-ranging "care economy" concerns such as child care, eldercare or paid family leave -- issues that could directly impact working women, whose livelihoods have been hit especially hard by the COVID-19 pandemic when compared with men -- they are being held up as liberals and progressives squabble over the price and scope of the package.
According to the survey, the comparatively tepid enthusiasm for Biden among Democratic women is largely driven by the youngest among them: Just a third of those under the age of 45 say they strongly approve of his job performance, compared with half of women ages 45 and older.
Among Democratic Women, Biden's Strong Support Is Weakest Among the Youngest
Share of female Democrats who approve and disapprove of President Joe Biden's job performance
Poll conducted Sept. 28-30, 2021, among 3,530 female Democratic voters, with margins of error of +/-2% to +/-6% for responses shown. Figures may not add up to 100% due to rounding.
Dr. Melissa Deckman, the chair of Washington College's Political Science Department who's writing a book about Gen Z women, said anger on issues such as gender and racial equality, abortion rights and especially climate change has been a driving force for activism among America's youngest voters. But despite Biden's focus on the planet, the inclusion of measures to address climate change in his massive legislative agenda has been understated, she said.
"I hear more of the messages about pre-K, helping with child care, which are all things that moms care about. But a lot of younger women also care about the climate," she said. "I think there need to be more definitive wins for Biden, and I think that would help certainly gin up some enthusiasm among younger women." 
Biden's also seen his standing decline among Black Democratic women, 41 percent of whom now strongly approve of his job performance – down 30 percentage points since he took office in January. The decline is very similar to the change in his standing among white Democratic women, but stands out coming from a group that is credited for helping to salvage the president's quest for the party's nomination last year in South Carolina, and fueling the Democrats' Senate takeover with the Georgia runoff sweep this past January.
Aimee Allison, founder and president of She the People, which advocates for women of color in politics, said Biden and the Democrats have suffered self-inflicted wounds, especially on issues like the minimum wage, voting rights and police reform – all of which are stalled on Capitol Hill – or when it comes to improving the treatment of refugees like those from Haiti at the U.S.-Mexico border, which has especially resonated with voters of color. 
"We have the votes to win," she said of Democrats' standing in the country. "We'll be able to increase our turnout when people believe our votes matter and we have power, and that's one of the things I've been nervous about: We have to deliver on that and then communicate that. When people feel like they aren't going to make a difference, that affects enthusiasm and suppresses turnout."
Democratic women (and Democrats overall) have responded favorably to wins like the party's enactment of a sweeping COVID-19 relief measure in March. Biden's predecessor, former President Donald Trump, also suffered from a similar lack of base enthusiasm at this point in his presidency four years ago, but rebounded after Republicans in Congress passed and he signed the Tax Cuts and Jobs Act. 
Even if Biden and congressional Democrats are unable to rekindle waning enthusiasm by delivering policy wins, many Democratic strategists say the party can count on negative partisanship to make sure its voters understand the stakes of next year's elections and turn out accordingly. Several noted that the GOP's posture on abortion rights and the democratic process, as well as its laissez-faire approach to intervening against the pandemic, could provide some ammunition. 
"As the angry Republican base puts the rest of the country's health and safety at risk by refusing masks and vaccines, the greater the likelihood that Democrats will turn out to vote to stop them," said Martha McKenna, a Democratic strategist and former Democratic Senatorial Campaign Committee official. "It's no longer just 'stop Trump' – now it's 'stop the Republicans who indulge their angry unvaccinated base voters who are putting my kids at risk.'
"Fear is a very motivating force," she added.
Eli Yokley is Morning Consult's U.S. politics analyst. Prior to his current role, Eli was Morning Consult's senior reporter covering U.S. politics. Eli joined Morning Consult in 2016 from Roll Call, where he reported on House and Senate campaigns after five years of covering state-level politics in the Show Me State while studying at the University of Missouri in Columbia, including contributions to The New York Times, Politico and The Daily Beast. Follow him on Twitter @eyokley. Interested in connecting with Eli to discuss his analysis or for a media engagement or speaking opportunity? Email [email protected].
We want to hear from you. Reach out to this author or your Morning Consult team with any questions or comments.
Contact Us