65% of GOP Voters Oppose Biden's Door-to-Door COVID-19 Vaccination Push
Just over half of voters overall back White House's new vaccination strategy, despite partisan divide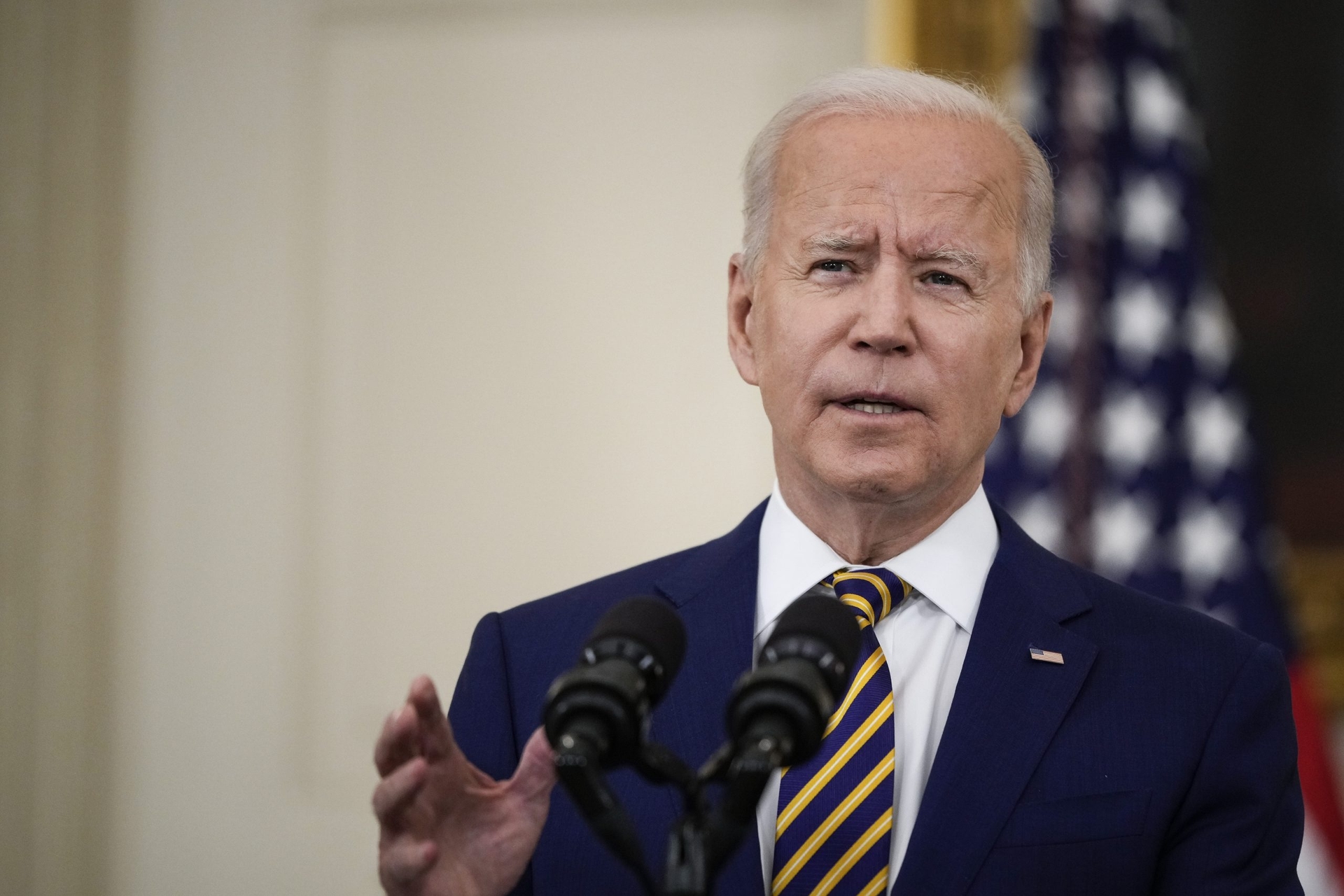 Key Takeaways
About 2 in 5 registered voters oppose the plan to send people door to door to offer vaccines.

About 4 in 5 Democrats support the door-to-door vaccination campaign, which also calls for the setting up of clinics at workplaces and incentivizing employers to offer paid time off for employees to get vaccinated.
As the COVID-19 vaccination drive dwindles, new Morning Consult/Politico polling indicates the White House's latest strategy to pick up the pace through door-to-door campaigning may fall flat with tens of millions of vaccine holdouts.
Last week, President Joe Biden implored Americans to do the "patriotic" thing by getting vaccinated when he announced a new push that will send local health leaders door to door to provide information on vaccines, set up workplace clinics, administer more shots in primary care settings and encourage paid time off in an effort to reverse the slowing vaccination rate.
But the poll shows voters are largely divided along party lines: 81 percent of Democratic voters back the White House plan, but 65 percent of Republicans oppose it. Another 28 percent of Republicans support the plan, while 14 percent of Democrats oppose it.
Overall, 54 percent of voters support the plan and 39 percent oppose the move.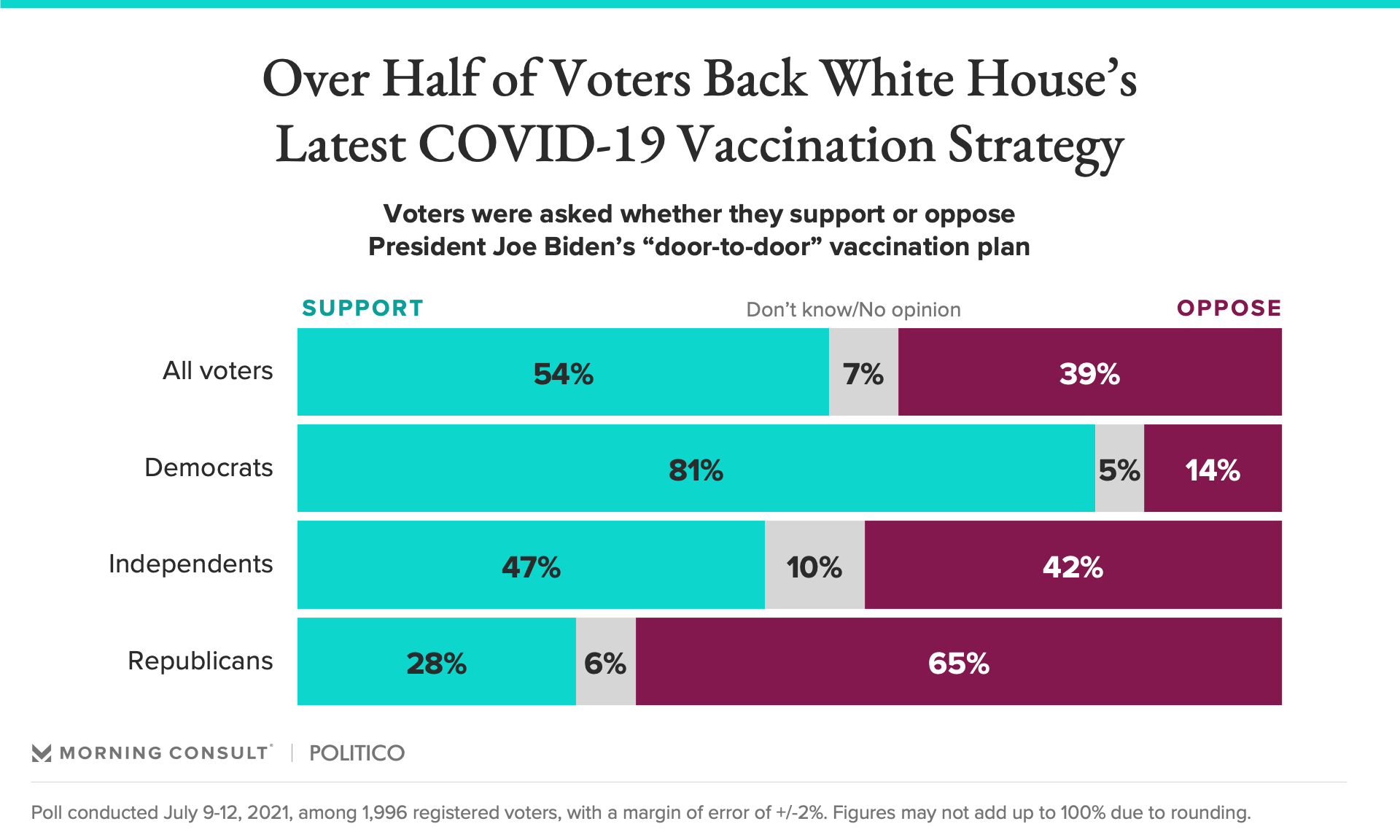 Republicans have consistently been more reluctant than Democrats about COVID-19 shots, with the latest Morning Consult data indicating 85 percent of Democratic voters have gotten or plan to get vaccinated and 60 percent of Republicans saying the same. And the new findings suggest voters are largely entrenched in their views on COVID-19 shots -- underscoring how difficult it will be for the Biden administration to sway holdouts, even as the delta variant spreads.
Republican governors and other politicians have also cast the White House plan as coercive and political. South Carolina Gov. Henry McMaster called on the state's health authority to prevent state and local groups from knocking on doors to promote the shots, saying it would "deteriorate the public's trust and confidence" in the vaccination effort. And in Missouri, Gov. Mike Parson falsely suggested government "agents" were attempting to "compel vaccination" by knocking on people's doors.
The Biden administration is responding to the conservative backlash more aggressively than it has in the past. Late last week, White House press secretary Jen Psaki said the lack of accurate information on vaccines is "literally killing people," and Dr. Anthony Fauci described the pushback as "inexplicable" and "highly ideological."
"Vaccinations have nothing to do with politics," Fauci said on CNN, adding that he believes more localities should impose vaccination mandates — a call that the White House has not made.
The survey was conducted July 9-12 among 1,996 registered voters and has a margin of error of 2 percentage points.
Gaby Galvin previously worked at Morning Consult as a reporter covering health.
We want to hear from you. Reach out to this author or your Morning Consult team with any questions or comments.
Contact Us