Biden Enters Office With Popularity on Upswing, but Faces Stronger Opposition on Day One Than Trump Did
No. 46's favorability has slightly improved since he was declared victor

Key Takeaways
54% of voters hold favorable views of Biden, while 43% view him unfavorably.

92% of Democrats view Biden favorably, 10 points higher than the share of Republicans who held similarly positive views of Trump four years ago.

83% of Republicans – and 89% of Trump voters – hold negative views about Biden, stronger negative sentiment than Trump elicited from Democrats in 2017.
After a brutal campaign and then a presidential transition marred by President Donald Trump's refusal to concede, Joe Biden enters the White House as a popular figure in American politics – but he also faces a more energized opposition than his predecessor was met with four years ago.
According to Morning Consult Political Intelligence tracking conducted Jan. 4-13, 54 percent of registered voters held favorable views of Biden as he prepared to take office, while 43 percent viewed him unfavorably. Compared with another recent Morning Consult/Politico poll, that makes him the most popular leader in Washington.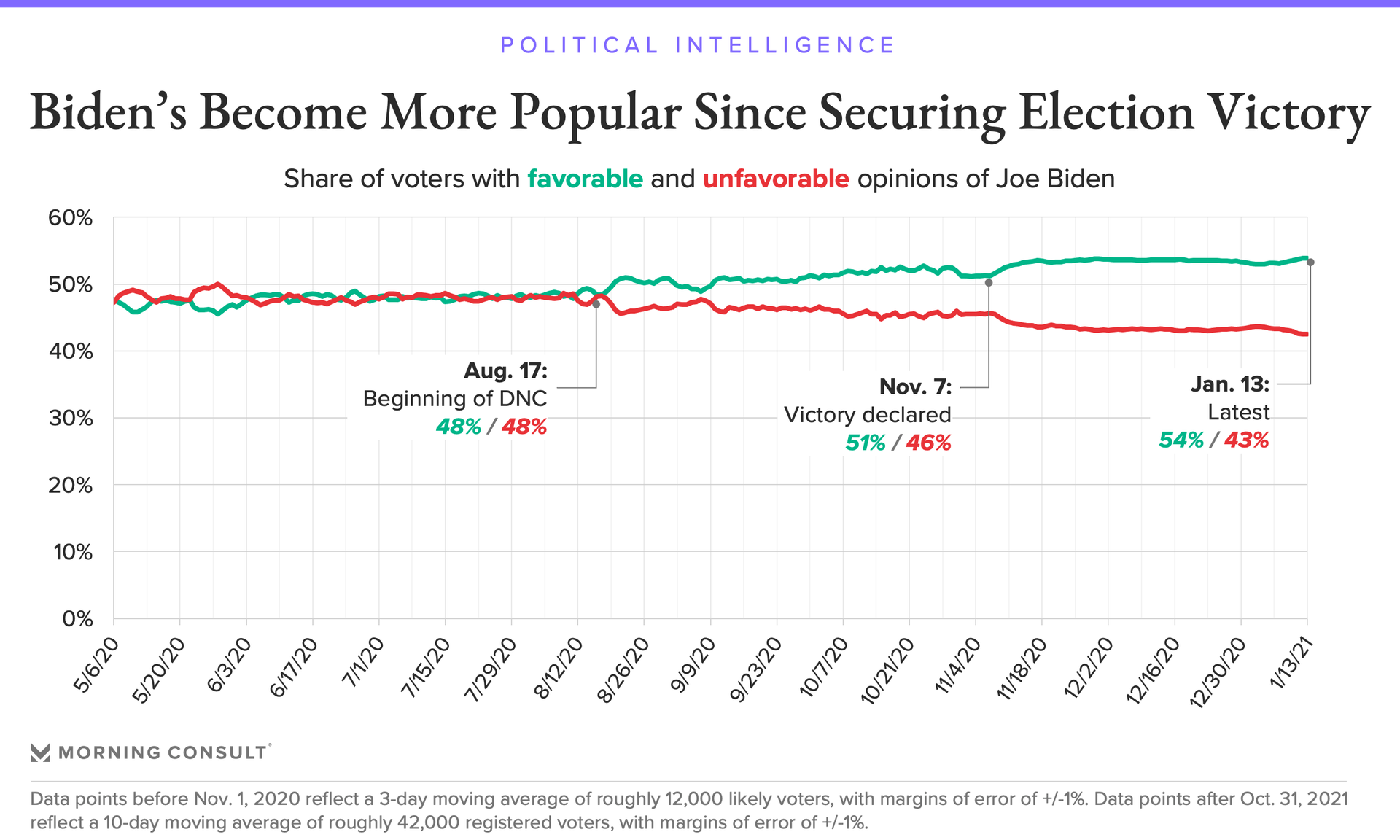 The latest numbers marked a slight improvement from Biden's standing on Nov. 7, when he was declared the winner of the election, continuing a trend of mostly positive ratings that began with the Democratic National Convention in August. The figures put Biden in a stronger position with voters nationwide than Trump's standing when he took office in January 2017, according to a Morning Consult/Politico poll conducted at the time, driven largely by sturdier backing from voters in his own party.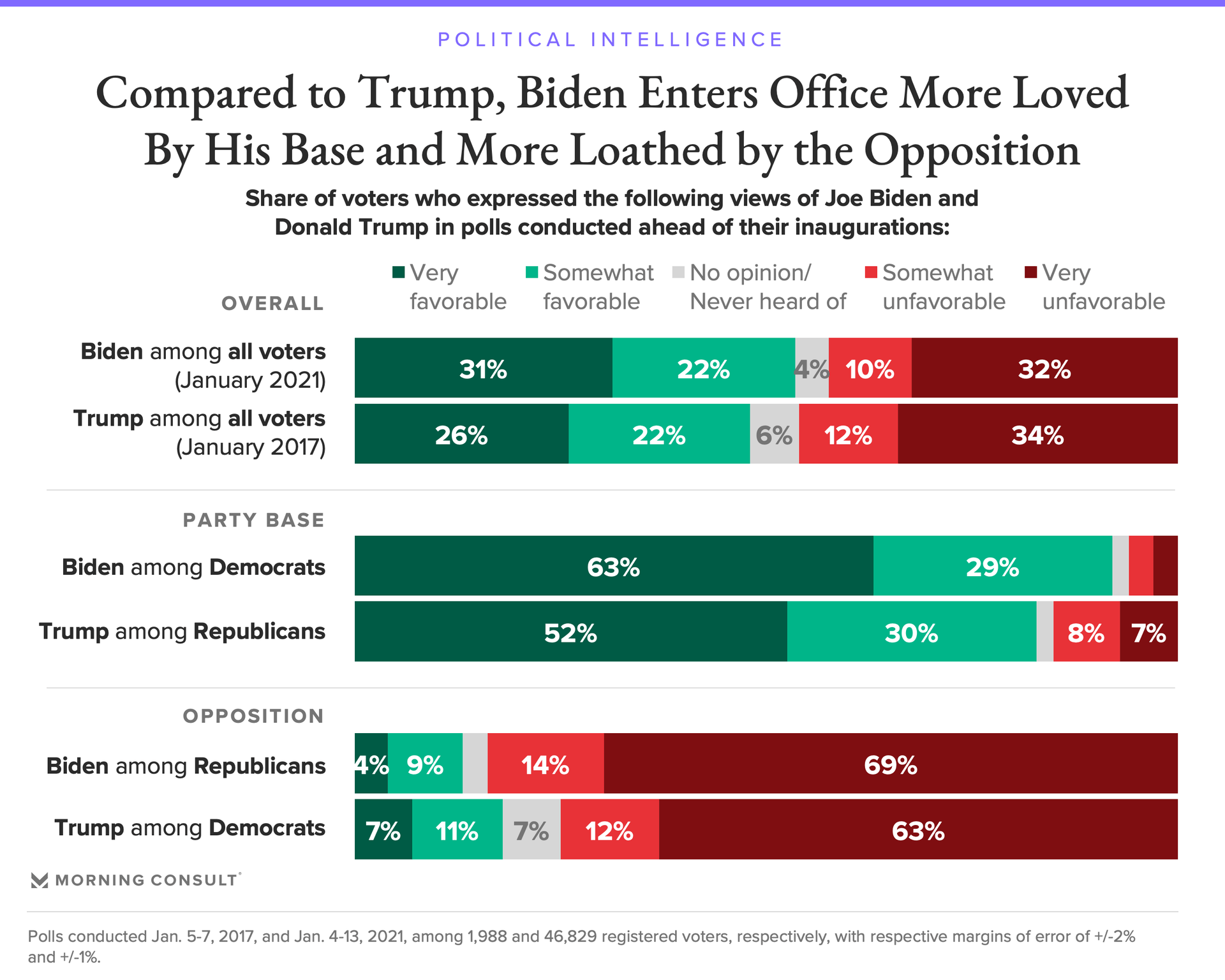 Among Democratic voters, the share who view Biden favorably is 92 percent -- 10 percentage points higher than the share of Republican voters who held similarly positive views of Trump four years ago. What's more, the share of Democrats who hold "very" favorable views of Biden (63 percent) is 11 points higher than the share of Republicans who said the same of Trump in 2017.
"President Trump helped unify and energize the Democratic Party in a unique way, so I'm not surprised that Biden had good numbers among Democrats," said Nathan Gonzales, publisher of Inside Elections, in an email. "Four years ago, I think there were still plenty of Trump skeptics in the Republican Party, who came around to liking him for various reasons during his term." 
At the same time, Biden's relative strength with his own base is matched by more hostility from voters of the other party than Trump faced when he took office. While 75 percent of Democratic voters viewed Trump unfavorably in January 2017, 83 percent of Republican voters hold negative views about Biden in the latest survey. 
Kyle Kondik, managing editor of Sabato's Crystal Ball at the University of Virginia Center for Politics, said the apparent hardening of views among Democrats and Republicans over the course of four years may reflect a realignment of American politics, after millions of people who voted for President Barack Obama and Republican Mitt Romney in 2012 crossed party lines to back Trump and Hillary Clinton in 2016. 
"I wonder if, at that time, some of those voters still thought of themselves as Democrats or Republicans even as they crossed over, and this appeared in the percentage of 'Democrats' who had a favorable view of Trump," he said in an email. "Perhaps after four years of Trump hardening these changes, those people have crossed over completely, which perhaps helps account for the higher levels of party unity you see here. The parties may just be better sorted on pro-Trump and anti-Trump lines, which is also reflected in pro-Biden and anti-Biden sentiments." 
Among people who voted for Trump, the negative sentiment about Biden is even stronger: 89 percent view Biden unfavorably, with roughly 3 in 4 holding "very" unfavorable views.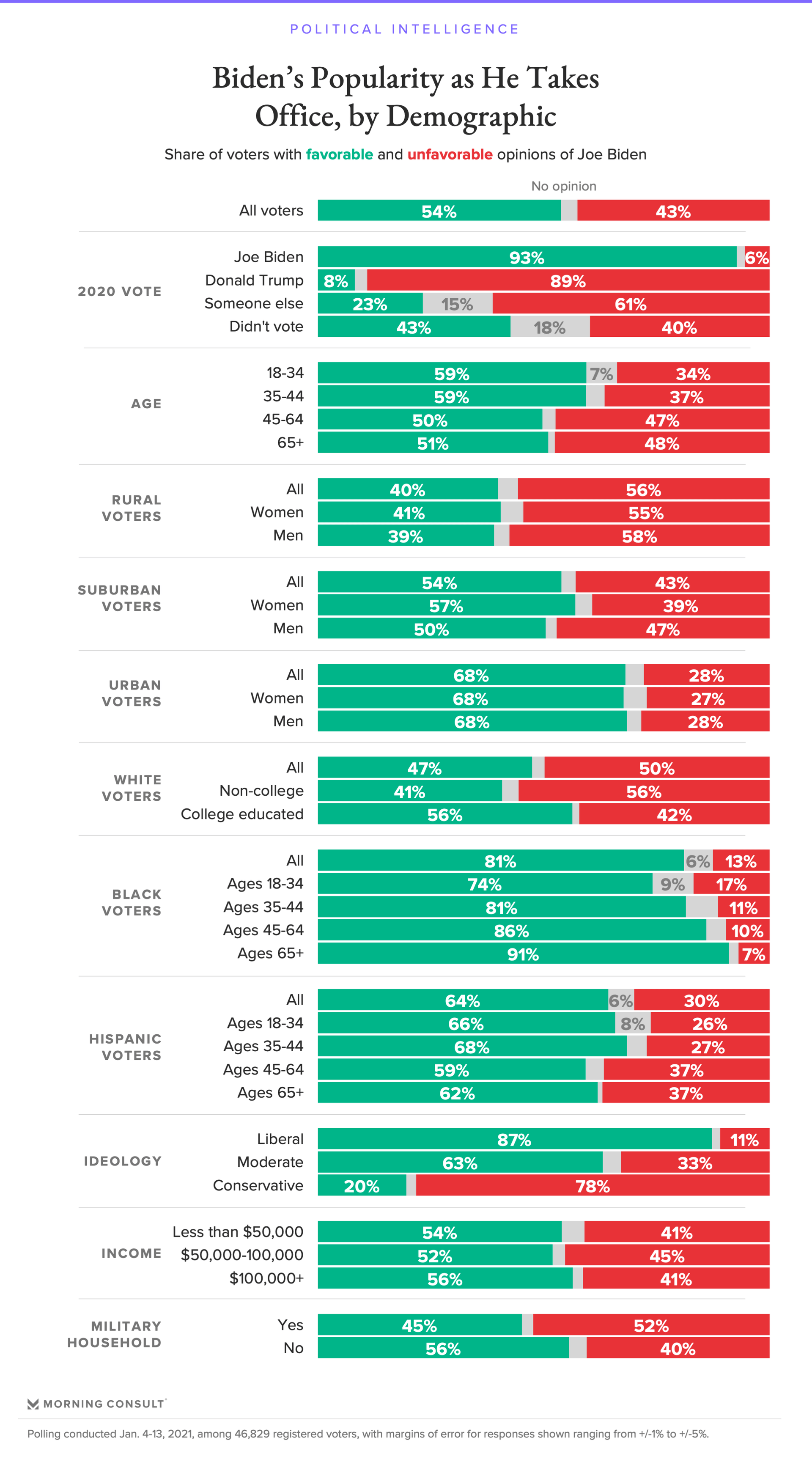 Sentiment among voters was less defined along ideological lines, with conservatives less likely than the average Republican to hold negative views and liberals less likely than the average Democrat to hold positive ones. 
Trends that followed Biden through his campaign against Trump persist in Biden's current favorability numbers: Biden enters office more popular with younger voters than older ones, and less popular in rural communities than he is in urban and suburban ones. He is also strong with Black voters -- especially older Black voters -- while college-educated white voters are more likely to view him favorably than those with lower levels of educational attainment.
Eli Yokley is Morning Consult's U.S. politics analyst. Prior to his current role, Eli was Morning Consult's senior reporter covering U.S. politics. Eli joined Morning Consult in 2016 from Roll Call, where he reported on House and Senate campaigns after five years of covering state-level politics in the Show Me State while studying at the University of Missouri in Columbia, including contributions to The New York Times, Politico and The Daily Beast. Follow him on Twitter @eyokley. Interested in connecting with Eli to discuss his analysis or for a media engagement or speaking opportunity? Email [email protected].
We want to hear from you. Reach out to this author or your Morning Consult team with any questions or comments.
Contact Us