Biden Holds Slim Edge Over Trump in Minnesota Ahead of Visits
Democratic nominee leads the incumbent Republican, 48% to 44%, in the Gopher State
Key Takeaways
Biden's Minnesota numbers among women, independents, suburbanites and rural voters roughly match exit poll findings from four years ago.

Biden has a 27-point advantage with college-educated whites, compared to Hillary Clinton's 9-point edge in 2016.

Trump leads among white voters without degrees, 54% to 37%.
As President Donald Trump and former Vice President Joe Biden prepare to visit Minnesota on Friday for the state's early-voting kickoff, Morning Consult polling finds the Democratic presidential nominee in the lead, though the race has tightened since earlier this year.
Biden leads Trump by 4 percentage points, 48 percent to 44 percent, in the latest Morning Consult Political Intelligence tracking of the Gopher State conducted Sept. 4-13 among 643 likely voters, inside the poll's 4-point margin of error.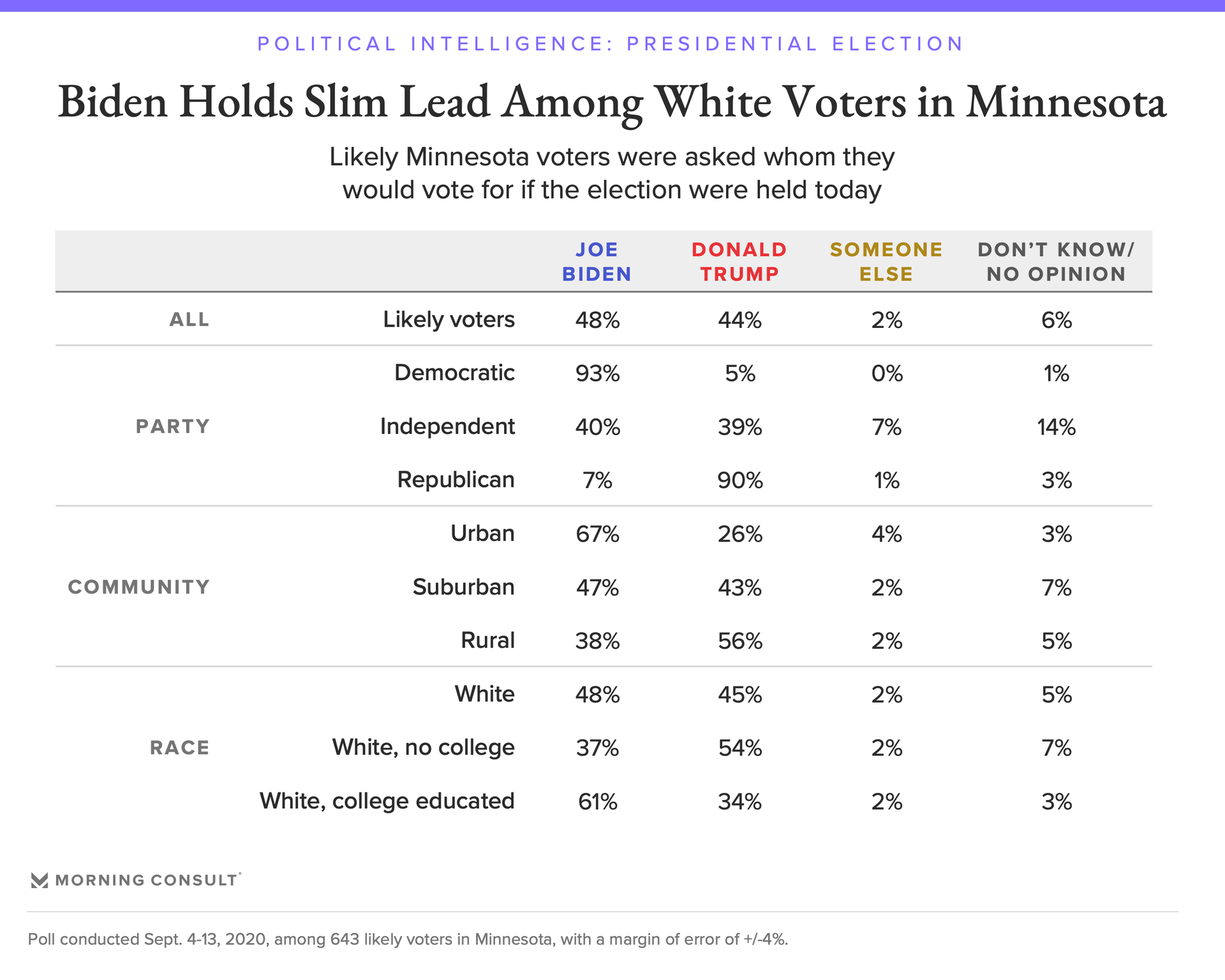 Trump, who has viewed Minnesota as a pickup opportunity this cycle, has consistently trailed his challenger throughout the past few months, though the size of that deficit has fluctuated in correlation with the summer's dominant storylines: the coronavirus and racial unrest in America's cities. Biden led by 17 points in mid-May amid a surge of COVID-19 cases in the state before the gap closed to 3 points in the aftermath of protests following the Minneapolis police killing of George Floyd on May 25. July's nationwide surge of coronavirus cases dovetailed with a 13-point lead for Biden before the race narrowed again amid the national nominating conventions and the GOP's heightened focus on a law-and-order message. 
Ahead of their visits, both candidates have targeted Minnesota with surrogates and television advertising spending, a signal that they view the state as competitive, though the Trump campaign on Monday shifted some of its scheduled ad spending out of the state, according to Advertising Analytics.
Eric Ostermeier, a research fellow at the Center for the Study of Politics and Governance at the University of Minnesota's Humphrey School of Public Affairs, said Minnesota has established itself as a battleground in recent decades, with seven of the last 10 presidential contests since 1980 decided by single digits, competitive fights for control of state government in St. Paul and the flipping of four of the state's eight House seats during the midterm elections two years ago.
"There is a lot of partisan movement in the state, even if it has not yet happened in presidential elections," he said in a Monday email. "With fewer targets of opportunity than Joe Biden and the Democrats, it makes sense that Trump would invest in Minnesota to expand his electoral map, even though it is the state with the longest current Democratic winning streak in presidential elections and the longest outside the South in U.S. history."
Biden enters the final seven weeks of the contest with support among key groups roughly matching what exit polling showed in 2016, when Democrat Hillary Clinton held Trump off by less than 2 points, save for one big difference: the 2020 nominee's standing among white voters.
Biden leads Trump by 9 points among women, 51 percent to 42 percent, a bloc that Clinton carried by 7 points. Among suburbanites and independents, groups that broke evenly between Clinton and Trump in 2016, Biden and the president are effectively tied. However, among white voters, who Trump won by 7 points four years ago, 50 percent to 43 percent, Biden leads Trump within the margin of error, 48 percent to 45 percent. 
That turning of the tables was driven by Biden's overperformance among white voters with college degrees. The latest polling found Biden leading Trump by 27 points among college-educated whites, 61 percent to 34 percent, compared with Clinton's 9-point lead four years ago.
While daily tracking shows Trump's response to the fallout from the Floyd protests repelled white voters who graduated from college, it appears to have resonated with those who did not. Among white voters without college degrees -- the kind of working-class voters credited with the state's rightward inching -- Trump leads Biden, 54 percent to 37 percent, consistent with his advantage since late May. However, Trump's edge with these voters appears to be slightly smaller than it was four years ago, though the differences are within the poll's margin of error.
Biden has also held an advantage over Clinton's standing in 2016 among Minnesota voters over the age of 65 in daily tracking for the past month: The latest survey found him leading the president, 51 percent to 42 percent. Trump leads him among the state's rural voters, 56 percent to 38 percent, statistically unchanged from his lead four years ago.
Eli Yokley is Morning Consult's U.S. politics analyst. Prior to his current role, Eli was Morning Consult's senior reporter covering U.S. politics. Eli joined Morning Consult in 2016 from Roll Call, where he reported on House and Senate campaigns after five years of covering state-level politics in the Show Me State while studying at the University of Missouri in Columbia, including contributions to The New York Times, Politico and The Daily Beast. Follow him on Twitter @eyokley. Interested in connecting with Eli to discuss his analysis or for a media engagement or speaking opportunity? Email [email protected].
We want to hear from you. Reach out to this author or your Morning Consult team with any questions or comments.
Contact Us