Trump Says 'No One Will Be Safe' Under His Opponent. But More Voters Trust Biden on Public Safety
47% say they trust the Democratic nominee more to handle public safety, compared to 39% who say they trust Trump more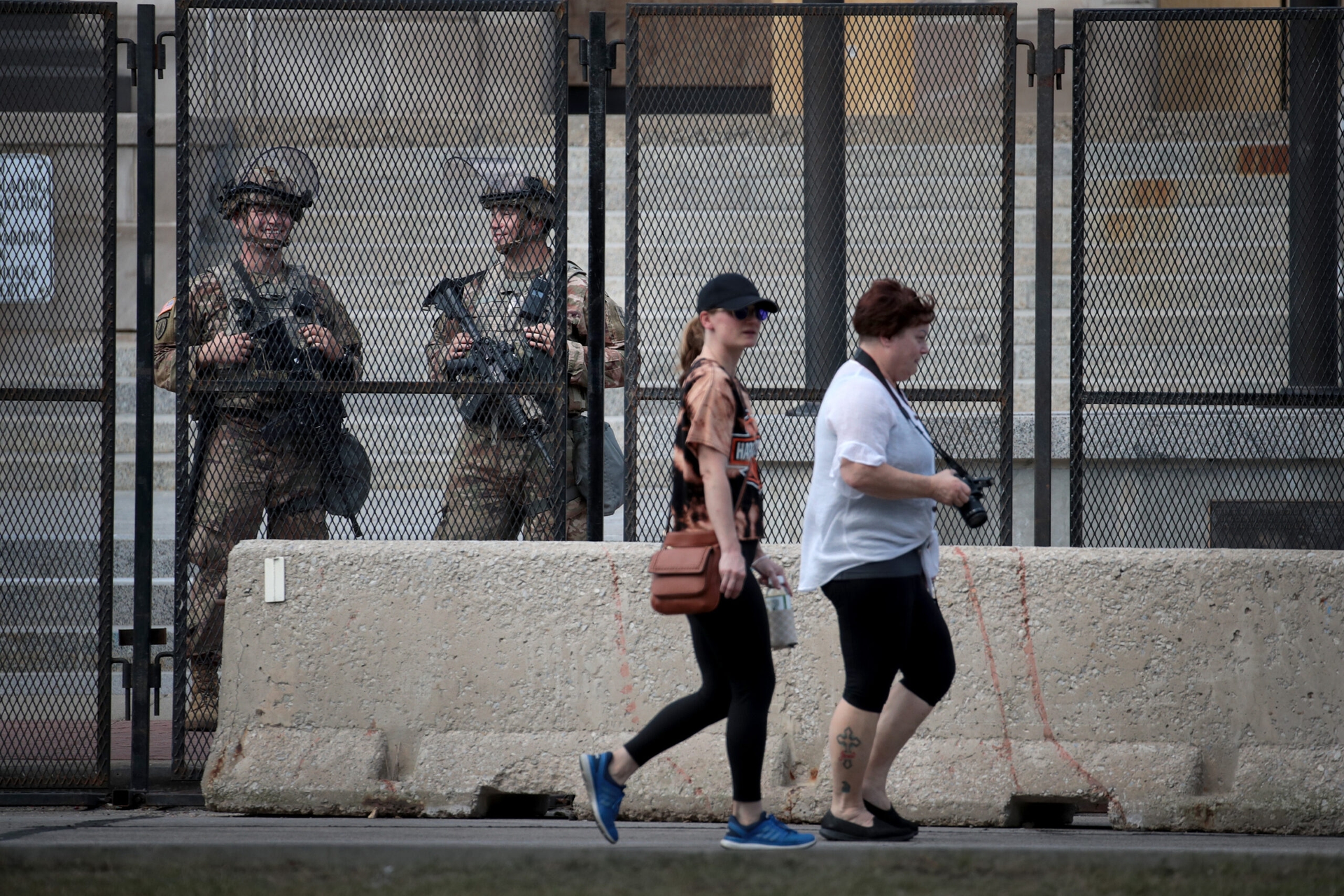 Key Takeaways
More independents, women and suburbanites say they trust Joe Biden with public safety over Donald Trump.

Voters are slightly less supportive of the protests sparked by the Jacob Blake shooting than demonstrations that followed the killing of George Floyd in May.

The share who said they have favorable opinions of Black Lives Matter has dropped 9 points since June, to 52%.
President Donald Trump and his campaign have warned that "no one will be safe" in America if Democratic nominee Joe Biden wins in November, but new polling shows voters favor Biden to keep the peace. 
According to a new Morning Consult/Politico poll, 47 percent of voters said they trust Biden more to handle public safety, compared to 39 percent who said they place more trust in Trump. The president's deficit on safety -- one of many issues on which Biden is more trusted -- comes as Trump has sought to portray the former vice president as a danger to voters' personal security in advertising, on Twitter and perhaps most prominently during his Aug. 27 address from the Republican National Convention.
"The most dangerous aspect of the Biden platform is the attack on public safety," Trump told the television audience of 23.8 million Americans a day before the poll began. "No one will be safe in Biden's America."
Democrats have forcefully pushed back on Trump's message, which is pegged to images of violence following protests over police treatment of Black people. In a new ad released Tuesday, the Democratic National Committee noted that the violence is taking place in "Trump's America." One day earlier, Biden flew to Pennsylvania to personally rebut Trump's message, pitching his campaign as one for an America safe from the pandemic, unrest, racially motivated crime and "bad cops." 
"Do I look like a radical socialist with a soft spot for rioters? Really? I want a safe America," he said in a rare public outing. "I look at this violence and I see lives and communities and the dreams of small businesses being destroyed and the opportunity for real progress on issues of race and police reform and justice being put to the test. Donald Trump looks at this violence and he sees a political lifeline."
On the issue of public safety, Biden was more likely to be trusted than Trump among voters in the suburbs (49 percent to 38 percent), women (49 percent to 36 percent) and independents (41 percent to 34 percent), according to the Aug. 28-30 survey of 1,988 registered voters, which has a 2-point margin of error. But as civil unrest continues, polling shows fewer voters support the latest round of protests -- sparked by the Aug. 23 police shooting of Jacob Blake in Kenosha, Wis. -- than the share who backed the nationwide demonstrations that followed the police killing of George Floyd in Minneapolis on May 25. 
The latest poll found 49 percent of voters support the Blake protests in general, compared with 57 percent who said the same of the Floyd-inspired demonstrations in a May 31-June 1 poll. The share of voters who said they have favorable opinions of Black Lives Matter fell 9 points to 52 percent over roughly the same time period, driven largely by a rise in negative views among white voters and Republicans, though perceptions of BLM are significantly more positive than they were in a 2017 poll conducted in the wake of the deadly white supremacist and neo-Nazi rally in Charlottesville, Va.
Voters are also more supportive of police behavior amid the more recent protests, something Trump tried to tap into with a Tuesday visit to Kenosha law enforcement: 55 percent said they support the police during the Blake demonstrations, a 12-point improvement on polling conducted in the first wave of protests that followed the Floyd killing. 
That voters trust Biden over Trump to handle public safety even amid a decline in popularity for the Black Lives Matter movement and support for protests challenges some of the conventional wisdom about civil unrest and its impact on public opinion, and shows some of the limits of the Trump campaign's strategy. Morning Consult's daily tracking of the race among likely voters is another case in point. 
The latest polling, conducted Aug. 21-30, shows Trump trailing Biden among likely voters in Wisconsin, including among women, independents and suburbanites. The figures are largely unchanged from earlier in the month, mirroring the race's national trajectory, where the Democrat holds an 8-point lead over the president, 51 percent to 43 percent. 
Eli Yokley is Morning Consult's U.S. politics analyst. Prior to his current role, Eli was Morning Consult's senior reporter covering U.S. politics. Eli joined Morning Consult in 2016 from Roll Call, where he reported on House and Senate campaigns after five years of covering state-level politics in the Show Me State while studying at the University of Missouri in Columbia, including contributions to The New York Times, Politico and The Daily Beast. Follow him on Twitter @eyokley. Interested in connecting with Eli to discuss his analysis or for a media engagement or speaking opportunity? Email [email protected].
We want to hear from you. Reach out to this author or your Morning Consult team with any questions or comments.
Contact Us