Voters Generally Like Biden's Immigration Plan, but Few Think It's a Pressing Concern
Only 31% say immigration reform should be a top priority for Congress
Key Takeaways
3 in 4 voters back enforcement and migrant mitigation measures, which elicited more support than other parts of the bill.

60% favor an eight-year path to citizenship for undocumented immigrants who are currently living in the United States

31% say immigration should be a top priority for Congress, compared with 66% who say the same of pandemic relief.
Key provisions of Democrats' legislation to overhaul the American immigration system are popular with voters, according to a new Morning Consult/Politico poll.
But at the outset of the debate, voters aren't particularly eager for Washington to act on the issue, suggesting little initial political pressure on Democratic lawmakers to fight the uphill battle to pass what would be a landmark legislative achievement for President Joe Biden.
The poll, conducted Feb. 19-22 after Democrats on Capitol Hill introduced White House-backed immigration reform legislation last week, found roughly 3 in 4 voters, including similar shares of Democrats and Republicans, support provisions in the bill that would increase screening at ports of entry and target the root causes of migration to the U.S.-Mexico border.
Another 60 percent of voters back the legislation's most prominent measure, an eight-year path to citizenship for undocumented immigrants who are currently living in the United States — mirroring a finding from a poll conducted after Biden's Jan. 20 inauguration.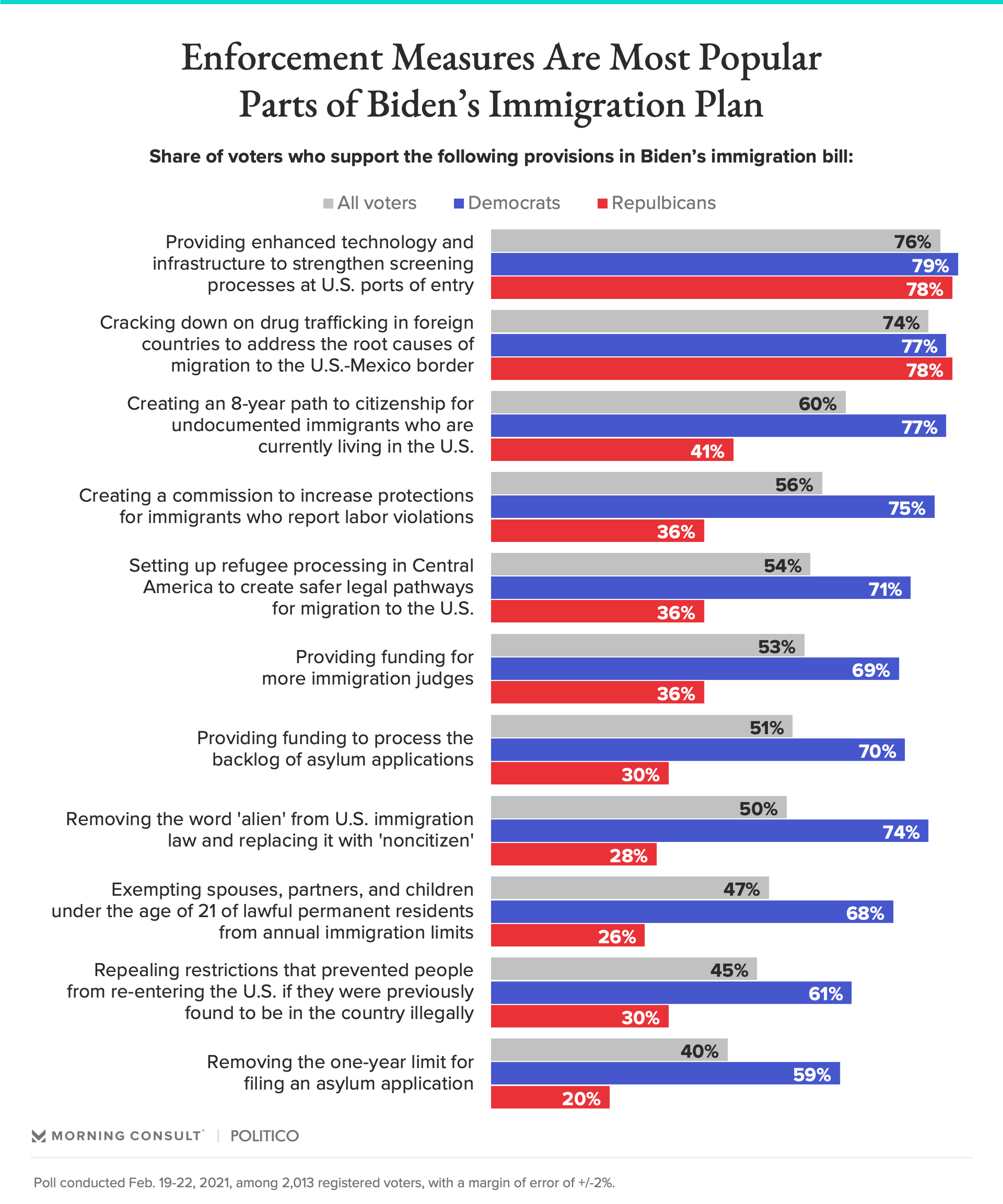 Seventy-seven percent of Democratic voters back the path to citizenship, while Republican voters – whose leaders have dubbed the policy "amnesty" – are almost evenly divided (41 percent in favor and 43 percent opposed). Other provisions are more divisive and lack majority support, mainly due to stronger opposition from Republicans and less support from independents. 
The bill does not include the more stringent restrictions that have been packaged during previous reform efforts in order to lure support from Republicans, who are positioned to block the measure in the Senate unless Democrats eliminate the filibuster. Senate Foreign Relations Committee Chairman Bob Menendez (D-N.J.), who introduced the legislation last week, praised the Biden administration's willingness to put "political muscle" behind the effort, which according to polling falls in the middle of the pack of voters' congressional priorities.
Three in 10 say lawmakers should make immigration reform a "top priority." That's about the same as the share who say Congress should prioritize infrastructure spending, but it's less than half of the 66 percent who say Congress' attention should be aimed at stimulating the economy to recover from the pandemic – the White House's leading legislative effort. 
Among Democrats, 39 percent said immigration reform should be a "top priority" for Congress, compared to a quarter of Republican and independent voters who said the same. One in 5 Republicans said the issue should not be a priority at all, twice the share of voters overall who said the same.
Even before Congress introduced legislation to tackle immigration policy, Biden took several steps by executive action to reverse former President Donald Trump's restrictive actions on the subject. Biden's move to expand the refugee cap was his least popular executive action, according to Morning Consult polling, but his other moves on immigration — such as including undocumented immigrants in the census or ending Trump's "Remain in Mexico" policy — scored less support than most other measures. 
Morning Consult/Politico polling conducted ahead of the legislative announcement also found signs of political weakness on immigration. 
Two in 5 voters – driven by 79 percent of Republicans – disapprove of Biden's handling of immigration during the first month of his term, more than any other issue. While 45 percent approve of how he's tackled the subject, it's a far cry from his 60 percent approval rating for his handling of the pandemic, voters' chief priority.
Eli Yokley is Morning Consult's U.S. politics analyst. Prior to his current role, Eli was Morning Consult's senior reporter covering U.S. politics. Eli joined Morning Consult in 2016 from Roll Call, where he reported on House and Senate campaigns after five years of covering state-level politics in the Show Me State while studying at the University of Missouri in Columbia, including contributions to The New York Times, Politico and The Daily Beast. Follow him on Twitter @eyokley. Interested in connecting with Eli to discuss his analysis or for a media engagement or speaking opportunity? Email [email protected].
We want to hear from you. Reach out to this author or your Morning Consult team with any questions or comments.
Contact Us