More Voters Support Biden's Order to Rejoin Paris Agreement Over Actions Impacting the Fossil Fuel Sector
55% of voters who watched the inauguration say the president spoke about climate change enough
Key Takeaways
Nearly 3 in 5 voters back Biden's executive actions to rejoin the Paris Agreement and to review Trump administration actions that caused environmental and public health harm.

43% of voters support Biden's order to revoke the permit for the Keystone XL pipeline, compared with 32% opposed.

Just under half of voters are in favor of Biden's order temporarily blocking oil and gas leasing in the Arctic National Wildlife Refuge.
Rejoining the Paris Climate Agreement seized plenty of headlines on President Joe Biden's first day on the job, but doing so was just the first of several energy-related executive orders he signed, albeit the most popular one. According to new polling from Morning Consult, 57 percent of voters backed the action, while 27 percent opposed.   
But on other orders designed with the mitigation of climate change in mind -- such as revoking a permit for the Keystone XL oil pipeline -- voters are more split. 
In the case of the controversial pipeline's permit, which was first revoked by the Obama administration before being reissued by President Donald Trump, 43 percent supported Biden blocking it once again, while 32 percent opposed the move. The pipeline would have connected the tar sands of Alberta, Canada, with a pipeline network leading to the Gulf of Mexico's refineries; its developer, TC Energy Corp., has suggested it will now give up on the project and sell its existing infrastructure to try to recoup the money it has already invested.
Biden also placed a temporary moratorium on oil and gas leasing in Alaska's Arctic National Wildlife Refuge, a region where Trump's administration sold tracts for development on his final day in office. Voters have increasingly opposed opening more public lands to oil and gas drilling in recent years, and ANWR has been particularly controversial. The new survey found that nearly half of voters (49 percent) supported the temporary moratorium, while 27 percent opposed. 
A fourth order with potentially the most sweeping consequences garnered even more support. Biden directed all executive departments and agencies to review and address Trump administration actions with potentially harmful impacts on public health and the environment, an effort that 57 percent of voters said they supported and 28 percent opposed. 
Black respondents in particular backed the latter order, with 72 percent in support and 12 percent in opposition. Meanwhile, 54 percent of white respondents were in support and 32 percent opposed. Black and Hispanic communities bear the brunt of the local pollution that stems from weak environmental rules, and they are consequently more likely than whites to express concern about the impact of local water or air quality on their health. 
For the other executive orders, the gap in support between white and non-white respondents was smaller, on the order of roughly 10 percentage points.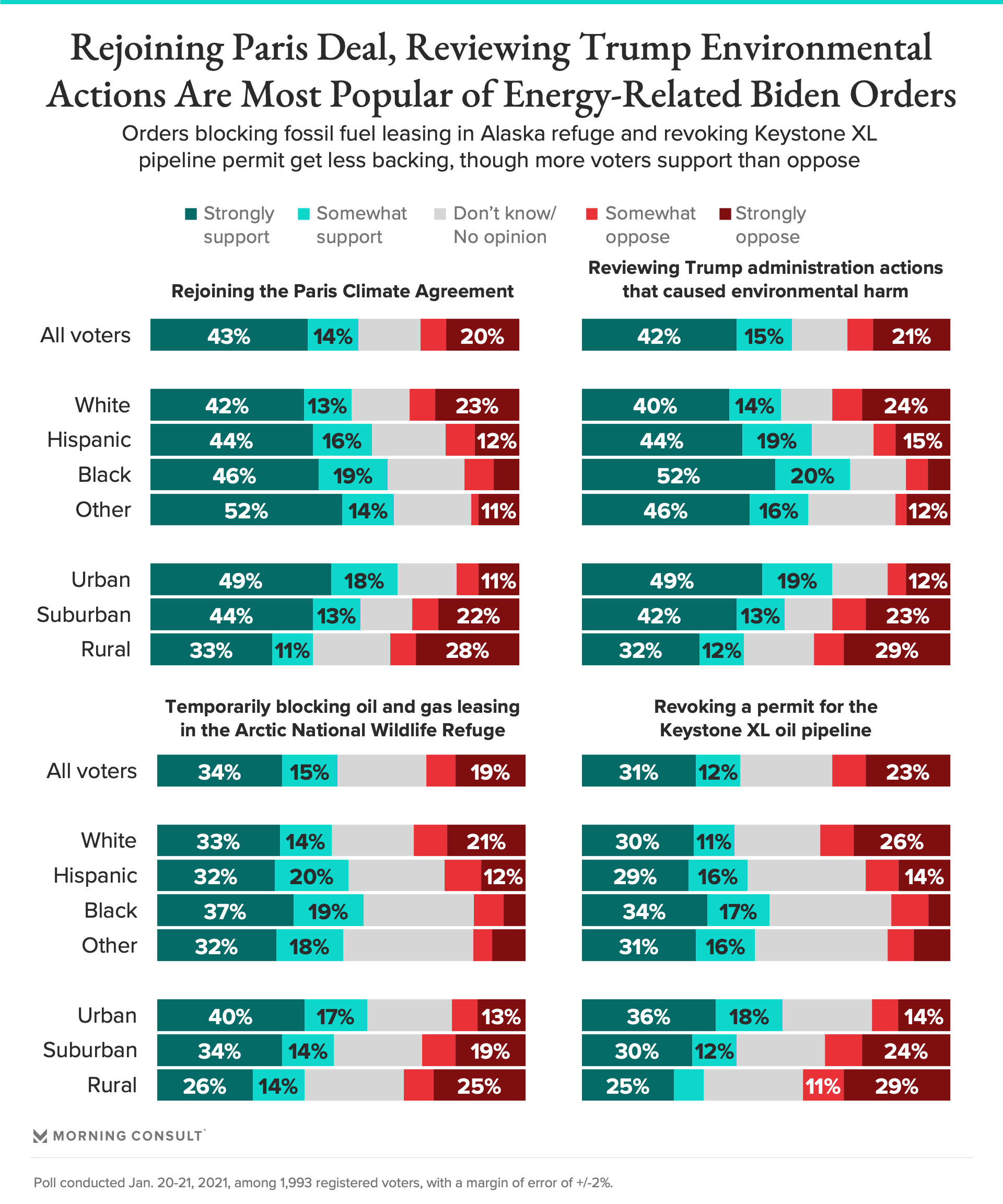 While climate change and energy issues figured prominently in the executive orders that Biden signed as soon as he arrived at the Oval Office, the inauguration ceremony itself was short on references to specific policies, instead taking a more sweeping and somber approach. As he did on the campaign trail, the president referenced four crises -- the coronavirus pandemic, economic inequality, systemic racism and climate change -- and called addressing the intersection of those issues "one of the gravest responsibilities we've had."
"A cry for survival comes from the planet itself," Biden said in one of his most notable references to the climate crisis, "a cry that can't be any more desperate or any more clear now."
Despite the lack of policy specificity, most voters thought the president's broad climate references were sufficient. Of the 1,165 voters who watched the inaugural address, 55 percent said the president discussed climate change the right amount, 9 percent said it was mentioned too much and 18 percent said it was not talked about enough. 
The poll of 1,993 registered voters was conducted Jan. 20-21 after Biden was sworn into office, and has a margin of error of 2 points.
Lisa Martine Jenkins previously worked at Morning Consult as a senior reporter covering energy and climate change.
We want to hear from you. Reach out to this author or your Morning Consult team with any questions or comments.
Contact Us