Voters Sour on Biden as Reade Allegations Find Higher Platform
Despite dip in popularity, former VP's lead over Trump is virtually unchanged
Key Takeaways
48% of voters view Biden unfavorably, up 3 points since the surge of Tara Reade coverage, while 43% view him favorably, down 2 points since then.

Voters who dislike both Trump and Biden overwhelmingly back Biden, 46% to 14%, in a head-to-head matchup.
Tara Reade's allegation that Joe Biden sexually assaulted her when he was a senator in 1993 is one of the few non-coronavirus stories to have broken through to voters amid the pandemic, and it appears to be taking a toll on the former vice president's popularity.
A new Morning Consult poll found the former vice president's net favorability -- the share who view him favorably minus the share who view him unfavorably -- has dropped 5 percentage points among registered voters since an April 20-26 poll conducted in the week before Biden forcefully denied Reade's accusation on television amid heightened media coverage of the story. According to the new polling, conducted May 4-10 among 27,754 registered voters, 48 percent of voters view Biden unfavorably, compared with 43 percent who have positive views of the former vice president. Both polls had a 1-point margin of error.
The slide resulted in Biden's net favorability among women falling underwater for the first time since the nadir of his primary campaign in February, with 46 percent viewing him unfavorably and 44 viewing him favorably. Taken together, it marks a 6-point drop in net favorability among women since the April 20-26 poll, driven by women ages 30 to 65 -- the voting bloc that strategists on either side of the aisle credit with fueling Democratic victories in 2018 House races.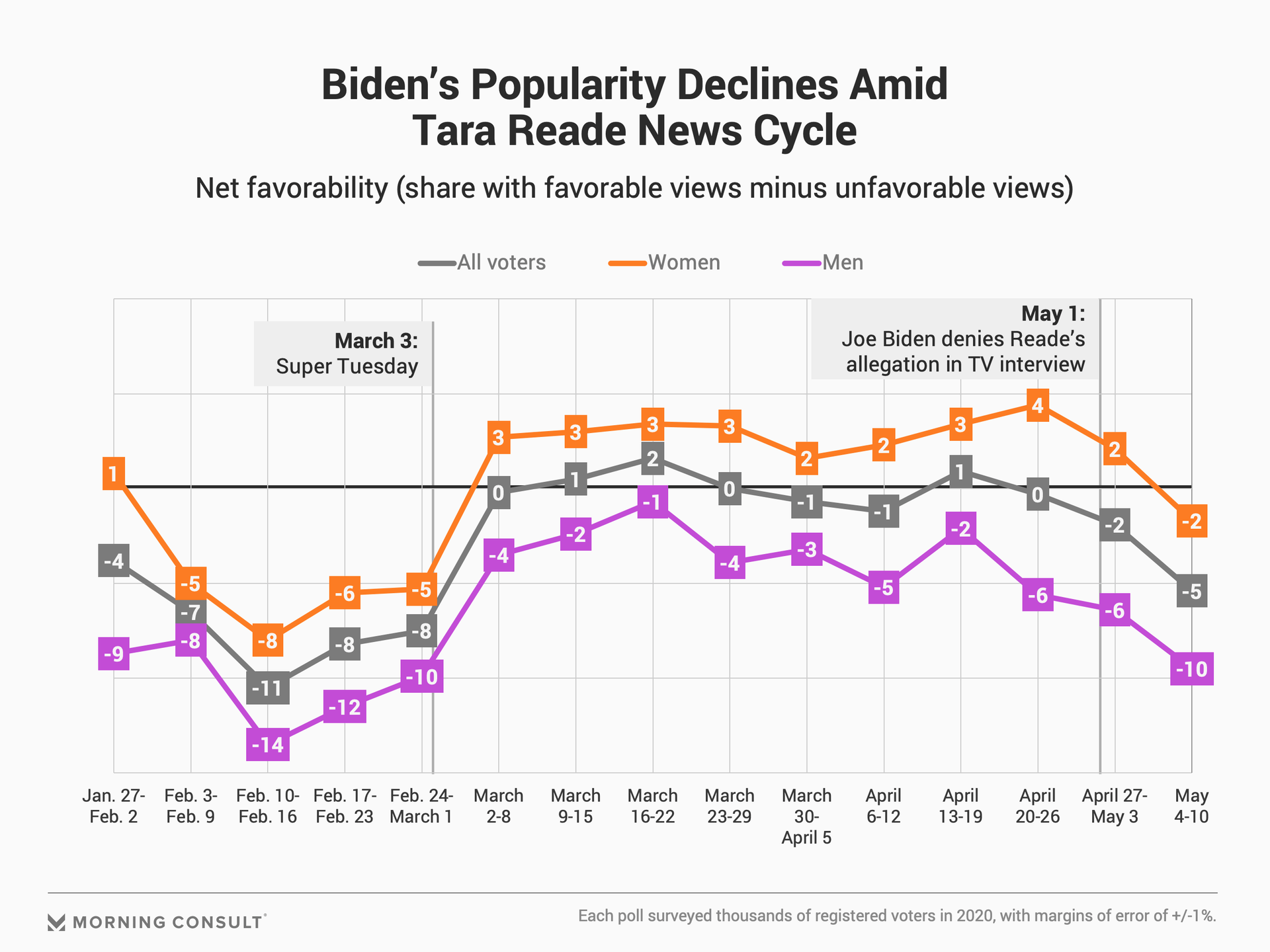 Morning Consult measured similar dips in popularity among men, voters on either side of age 45, suburban whites and black voters.
Reade's story had been brewing in the press for months, but it wasn't until late April that it made a major splash in Washington -- when a Business Insider interview with Reade's former neighbor revealed new details about the allegation, some on the left began to pressure Biden to respond and Reade publicly signaled her interest in participating in a television interview. The April 20-26 poll was conducted the week before Biden issued a firm denial during a May 1 on-camera interview with MSNBC. A Morning Consult/Politico poll conducted May 2-3 found 64 percent of voters said they'd seen, read or heard "some" or "a lot" about Reade's allegation, while roughly the same share had heard about Biden's denial.
Following Biden's denial, Reade called on him to drop out of the presidential race in an interview with Megyn Kelly, a former Fox News and NBC News anchor, that was posted online last week.
Biden is still more popular than President Donald Trump, whom 44 percent of voters view favorably and 53 percent view unfavorably. And in a national head-to-head matchup, the presumptive Democratic nominee leads Trump by 3 points, 45 percent to 42 percent. That edge, inside the surveys' margins of error over recent weeks, is among the three smallest deficits Trump has faced in 2020 in matchups against Biden.
Even if voters continue to sour on Biden, Morning Consult polling suggests he still has a distinct advantage over the more unpopular incumbent: Among voters who dislike both candidates, 46 percent say they'd back Biden if the election were held today, compared to 14 percent who would vote for Trump.
And while the share of women who view Biden unfavorably has increased, they still favor him over Trump by an 8-point margin. He's strongest with those ages 18-29 (54 percent to 23 percent) and voters between the ages of 30 and 44 (45 percent to 38 percent), but also leads Trump by 4 points among women 65 and up. The two are in statistical dead heats among women ages 45-54 and 55-64.
Eli Yokley is Morning Consult's U.S. politics analyst. Prior to his current role, Eli was Morning Consult's senior reporter covering U.S. politics. Eli joined Morning Consult in 2016 from Roll Call, where he reported on House and Senate campaigns after five years of covering state-level politics in the Show Me State while studying at the University of Missouri in Columbia, including contributions to The New York Times, Politico and The Daily Beast. Follow him on Twitter @eyokley. Interested in connecting with Eli to discuss his analysis or for a media engagement or speaking opportunity? Email [email protected].
We want to hear from you. Reach out to this author or your Morning Consult team with any questions or comments.
Contact Us