Biden Posts 6-Point Bump Among Democratic Primary Voters Amid Campaign Launch
Former VP has a 14-point lead over Sen. Bernie Sanders, his biggest yet
Key Takeaways
36% of Democratic primary voters said Biden was their first-choice candidate for president, his best Morning Consult showing in 2019.

Biden's increased his first-choice share with women, especially with black women, among whom he leads the current primary field with 47% support.

76% of Democratic primary voters view him favorably, while 14% view him unfavorably.  
Former Vice President Joe Biden saw his standing with Democrats improve last week as he entered the 2020 race for president.
The latest weekly national poll, conducted April 22-28 among 15,475 Democratic primary voters with a margin of error of 1 percentage point, found 36 percent said the Delawarean was their first choice for president, up from 30 percent the week before. The increase was enough to more than double his advantage over Sen. Bernie Sanders (I-Vt.), from 6 points to 14 points.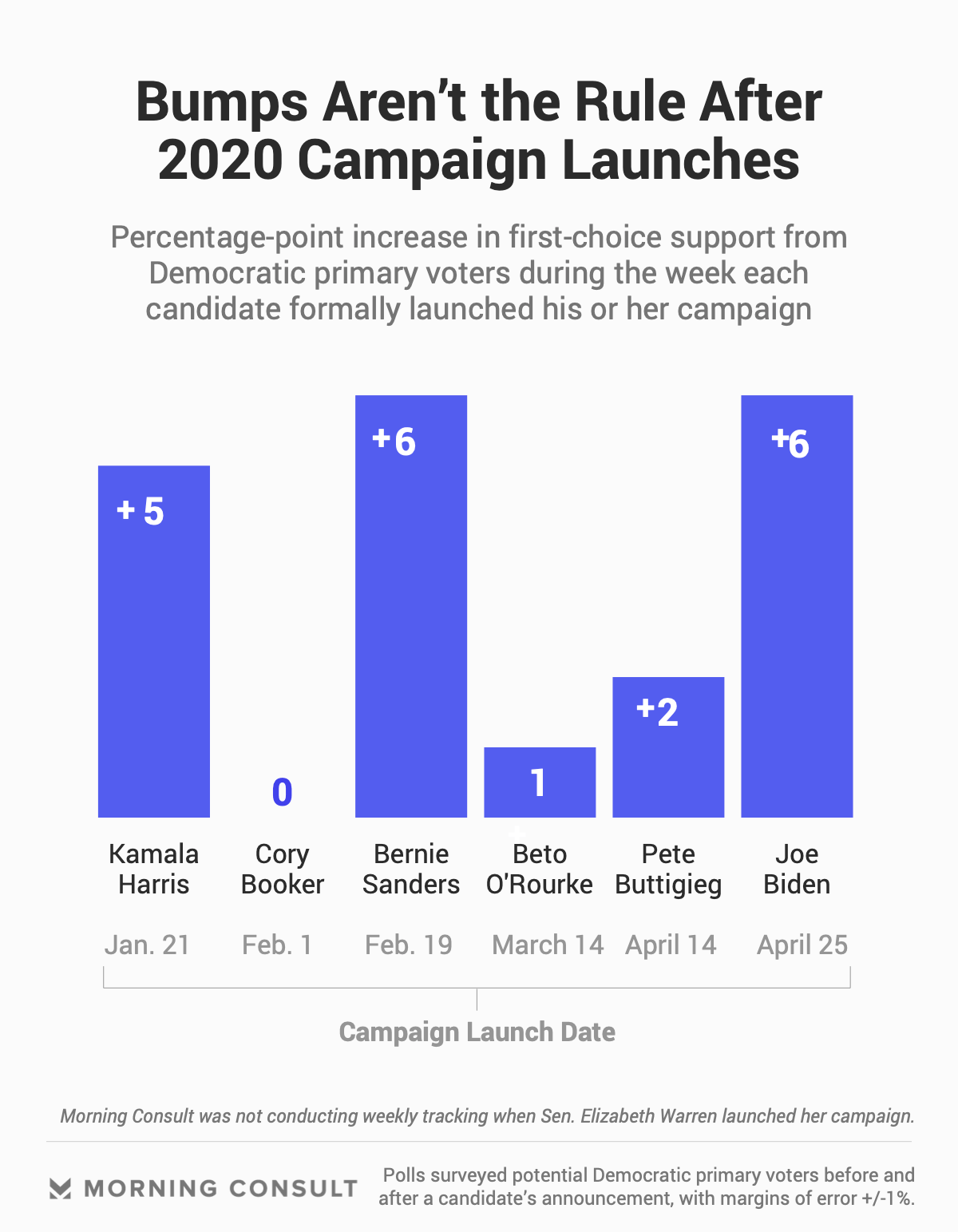 The short-term surge in support for Biden is similar to that experienced by Sanders and Sen. Kamala Harris (D-Calif.) amid their campaign launches earlier this year.
Announcement bumps have not necessarily had staying power as the field of candidates has widened.
Harris, for example, saw a 5-point increase in her first-choice vote share after she launched her bid, but has lost much of that nationwide interest in the 12 weeks since. Six percent of Democratic primary voters supported her before her campaign launch, just one point less than the share who back her now.
And Sanders, who also saw a 6-point bump, has flattened out since, though he remains the clear second choice with 22 percent of the vote, 1 point higher than the share before he announced.
Others, such as Pete Buttigieg, saw nominal impacts in their first-choice vote share following their announcements, though the mayor of South Bend, Ind., has presided over a consistent uptick in support following other big moments in his campaign during the past several weeks that is unmatched by other candidates.
Biden has maintained his position as the front-runner throughout Morning Consult's tracking of the nascent race. He's led the pack in every Morning Consult survey of 2019, and unlike nearly all of his rivals -- except for Sanders -- his increase in support has not dovetailed with a rise in name recognition. As a fixture in American politics for the past several decades, the former senator is universally well known. Nine in 10 Democratic voters have opinions about Biden, and they're mostly positive: 76 percent view him favorably, while 14 percent view him unfavorably.  
Biden's popularity has stayed steady, even amid a string of unflattering news stories in recent months, including his physical contact with women and a resurfaced debate over his handling of the 1991 Supreme Court confirmation hearings involving Anita Hill and Clarence Thomas when he was chairman of the Senate Judiciary Committee.
Any concerns that those stories may dampen his support with women and black women is not yet borne out by the data. If anything, Biden's advantage over the field relies heavily on edges with those groups: Among women overall, Biden jumped 8 points in the last week, to 38 percent -- driven by a 7-point bump with white women (to 36 percent) and a 10-point jump with black women, to 47 percent.
Correction: Due to an editing error, a previous version of this story mischaracterized the sample of voters.
Eli Yokley is Morning Consult's U.S. politics analyst. Prior to his current role, Eli was Morning Consult's senior reporter covering U.S. politics. Eli joined Morning Consult in 2016 from Roll Call, where he reported on House and Senate campaigns after five years of covering state-level politics in the Show Me State while studying at the University of Missouri in Columbia, including contributions to The New York Times, Politico and The Daily Beast. Follow him on Twitter @eyokley. Interested in connecting with Eli to discuss his analysis or for a media engagement or speaking opportunity? Email [email protected].
We want to hear from you. Reach out to this author or your Morning Consult team with any questions or comments.
Contact Us