U.S. Politics
Biden Reclaims National Lead With Buttigieg, Klobuchar Exits
36% of Democratic primary voters back the former VP as Super Tuesday contests unfold
Key Takeaways
Former Vice President Joe Biden picked up 10 points overnight as the field cleared and he secured endorsements.

Sen. Bernie Sanders, former New York City Mayor Mike Bloomberg saw no significant change in support.
Former Vice President Joe Biden continues to regain support for the Democratic presidential nomination after two of his former rivals dropped their own campaigns and endorsed his ahead of the Super Tuesday contests.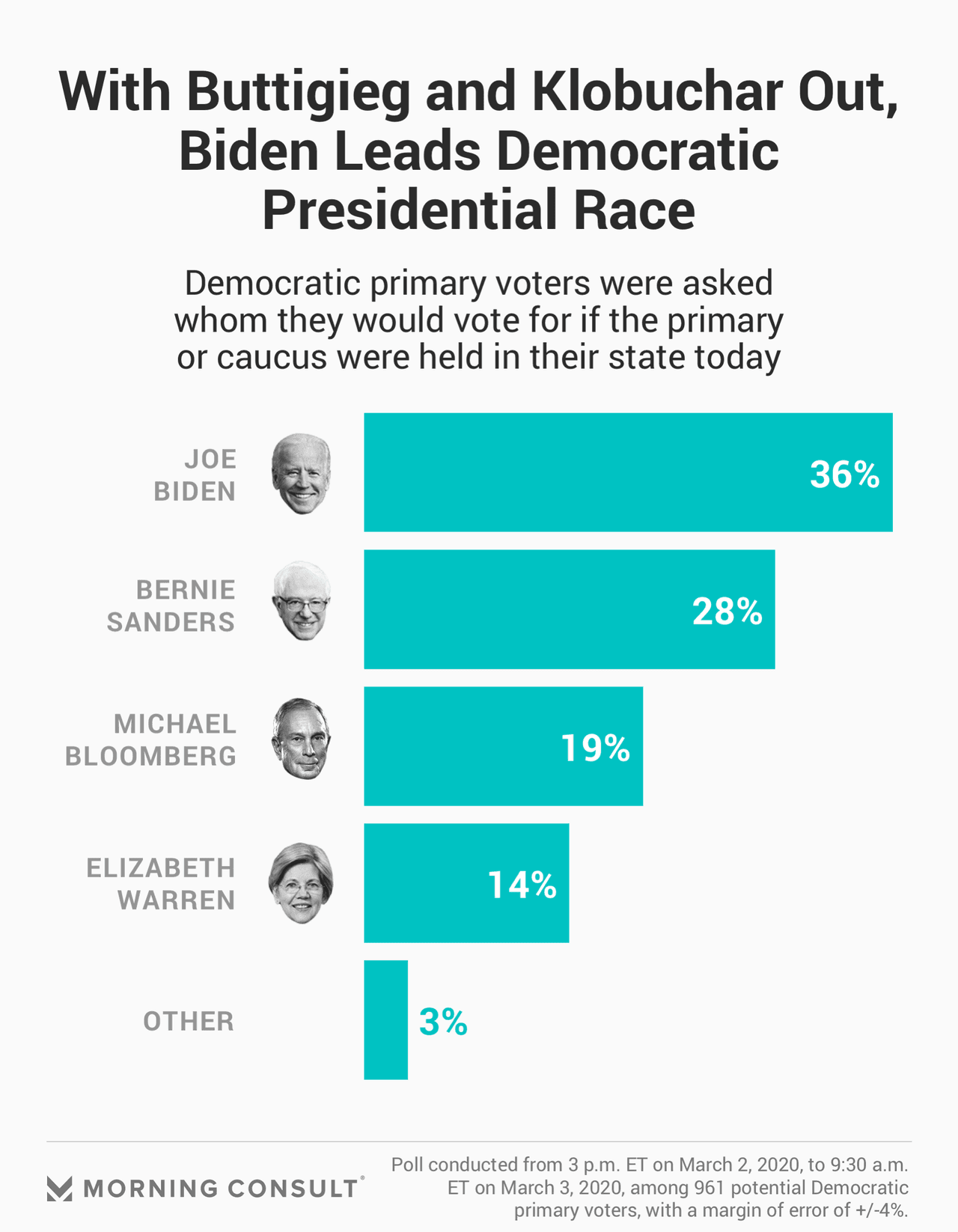 According to a Morning Consult poll of 961 Democratic primary voters conducted from Monday at 3 p.m. to Tuesday at 9:30 a.m., 36 percent said they'd vote for Biden if the primary or caucus were held in their state today. The latest figure, which has a margin of error of 4 percentage points, marks his highest share of nationwide support since June, and is up 10 points from polling conducted Sunday after his big victory in the South Carolina primary. 
Sen. Bernie Sanders (I-Vt.), who holds the pre-Super Tuesday lead in delegates to the Democratic National Convention, saw no significant change in support, nor did former New York City Mayor Michael Bloomberg, who is viewed as Biden's main competition for support from moderate and conservative voters in the Democratic electorate.
The polling was conducted after former South Bend Mayor Pete Buttigieg of Indiana and Sen. Amy Klobuchar (D-Minn.) ended their bids and as they announced their support for Biden's nomination. 
Morning Consult polling conducted ahead of the South Carolina primary found that when Buttigieg supporters were asked for their second choice, they were inclined to split their loyalties among the top four candidates for the Democratic nomination. But most of them had also indicated they were likely to follow his lead if he were to endorse Biden, and Sunday's polling conducted after Biden's victory found second-choice support moving his way. 
News of Buttigieg's and Klobuchar's endorsements were projected throughout Monday, and a Biden endorsement from another former presidential rival, former Rep. Beto O'Rourke (D-Texas), became public later Monday evening.
Eli Yokley is a senior data reporter at Morning Consult covering politics and campaigns. @eyokley
We want to hear from you. Reach out to this author or your Morning Consult team with any questions or comments.
Contact Us