100 Days Into His Presidency, Fewer Voters Think Biden Discourages His Party's Extremes
Since October, more voters are unsure about Biden's posture toward the Democratic Party's more extreme elements
Key Takeaways
35% say Biden discourages his party's more extreme factions, down 6 points since October.

Voters increasingly say he is trustworthy, and 3 in 5 say he's compassionate and knowledgeable, some of his best marks in the survey.

Roughly half agree that Biden's in good health and mentally fit, both down slightly since October. 
While most voters see President Joe Biden as a compassionate and knowledgeable leader of the country, doubts over his ability to rein in the Democratic Party's left wing appear to be mounting. 
Since a survey taken after Biden's final debate with then-President Donald Trump in October, the share of voters who agree with the statement that Biden "discourages" his party's more extreme elements has fallen 6 percentage points, to 35 percent, according to a new Morning Consult/Politico poll conducted after the 46th president pitched his massive infrastructure and social spending plans to Congress and the American people in a joint address last week.
The share of voters in the April 30-May 3 survey who disagreed that Biden discouraged his party's more extreme elements was essentially unchanged since October, while the share who were unsure increased 5 points, to 25 percent, driven by Republicans and self-identified independents.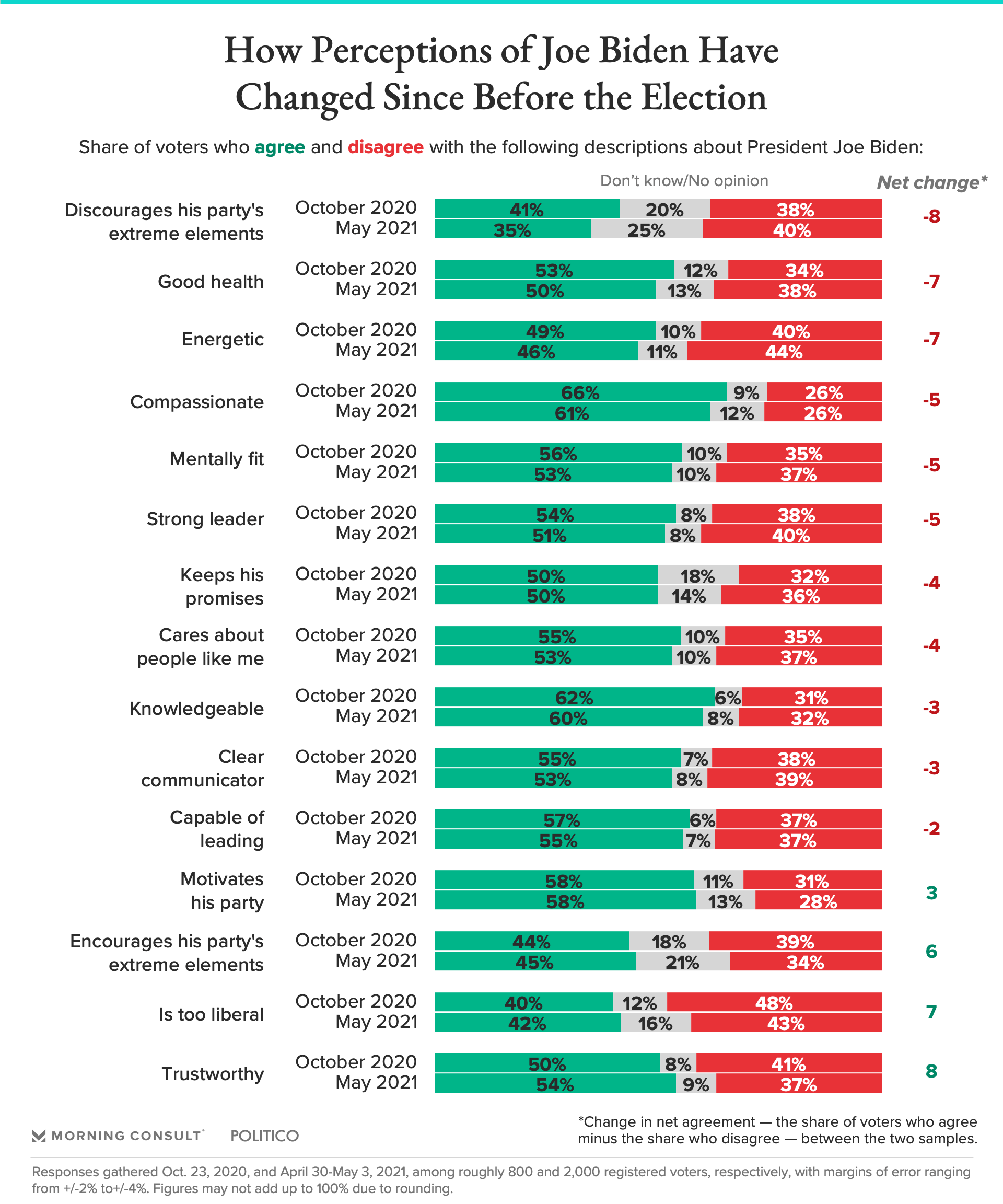 The latest poll had a 2-point margin of error, compared with a 4-point margin of error for responses gathered in October.
The movement in perceptions about Biden's handling of the left – which largely took place before the April 28 speech – marked one of the largest changes in sentiment about the president among the nearly two dozen statements tested. 
Voters are also now evenly divided over the question of whether Biden is "too liberal," with more unsure than they were in October. But while Republicans continue to argue that Biden has been co-opted by the more progressive members of his party, those shifts do not appear to have dimmed views of the president's job performance.   
Roughly 3 in 5 voters believe Biden is compassionate (61 percent agree) and knowledgeable (60 percent agree), while roughly half of voters agree that he is in good health and mentally fit, both down slightly since October.  
Most voters (61 percent) said they did not watch any part of Biden's speech to Congress. Among the disproportionately Democratic-leaning Americans who did, 69 percent said his speech was "excellent" or "good," while 28 percent said it was "only fair" or "poor."
Eli Yokley is Morning Consult's U.S. politics analyst. Eli joined Morning Consult in 2016 from Roll Call, where he reported on House and Senate campaigns after five years of covering state-level politics in the Show Me State while studying at the University of Missouri in Columbia, including contributions to The New York Times, Politico and The Daily Beast. Follow him on Twitter @eyokley. Interested in connecting with Eli to discuss his analysis or for a media engagement or speaking opportunity? Email [email protected].
We want to hear from you. Reach out to this author or your Morning Consult team with any questions or comments.
Contact Us