Biden's Lead Over Trump Swells to a 2020 High
Former vice president leads Republican incumbent by 7 points in latest survey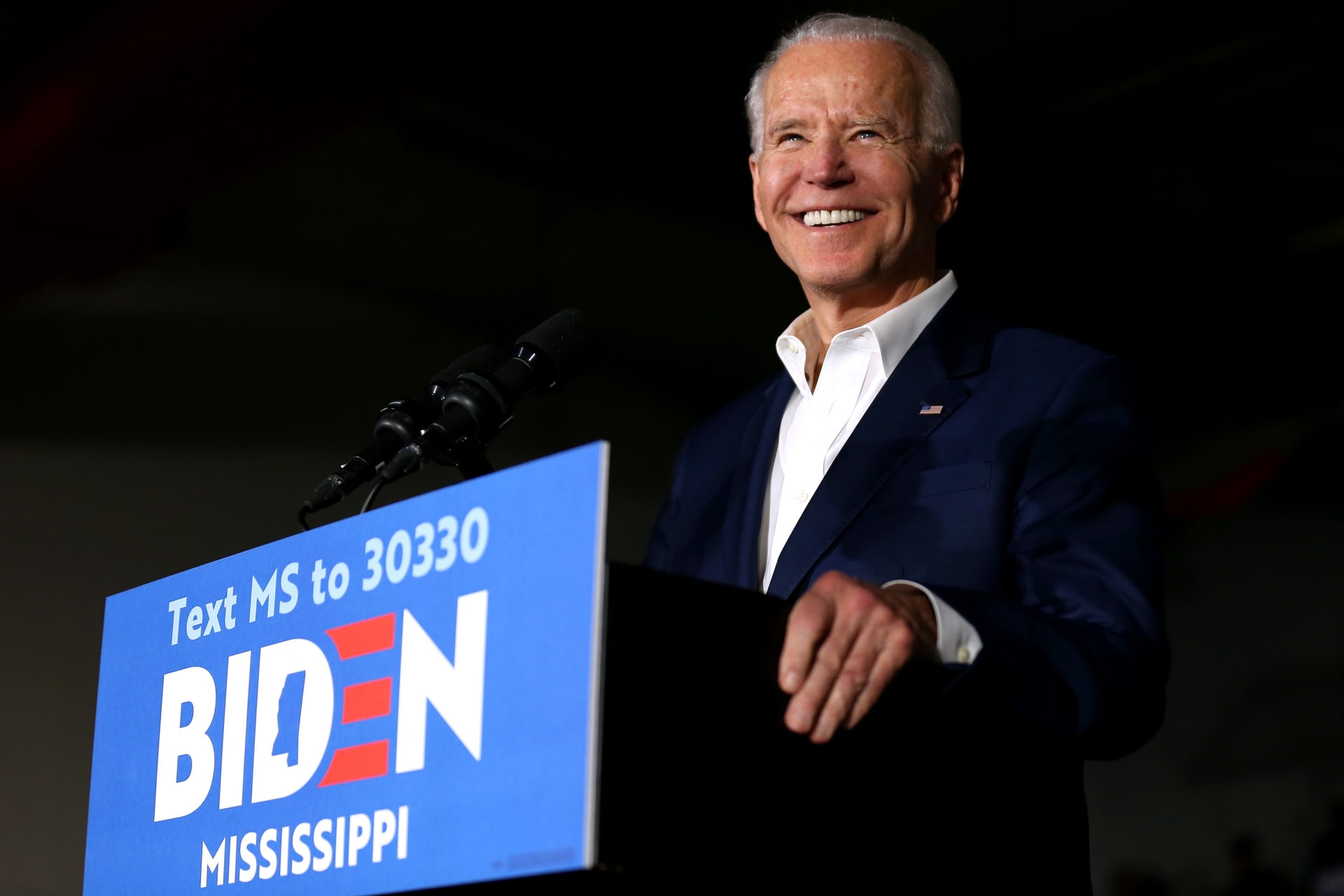 Key Takeaways
48% of voters said they'd vote for Joe Biden if the 2020 election were held today vs. 41% who said they'd back President Trump -- a record 2020 margin.

Biden leads Sen. Bernie Sanders by 18 points, 56% to 38%, among Democratic primary voters.

Voters trust Biden more than they trust Sanders to handle most policy matters, including the economy and jobs, trade, national security and immigration.
As former Vice President Joe Biden consolidates support in the Democratic race for the White House, he is also looking stronger against President Donald Trump, according to new polling. 
Biden's edge over Trump in hypothetical general-election matchups has swelled to 7 percentage points, the largest margin measured by Morning Consult in 2020. For the first time in several weeks, the former vice president performs better against the president than Sen. Bernie Sanders (I-Vt.), who led Trump by 6 points, 47 percent to 41 percent.
The growing advantage -- up 5 points from his worst showing of the year in mid-February -- is mainly down to an uptick in support among independents: Biden leads Trump by 6 points among those voters, compared with a 1-point deficit during the middle of last month.
The latest head-to-head polling was conducted March 5-8 among roughly 10,000 registered voters, and carries a 1-point margin of error.
The former vice president is now backed by 56 percent of Democratic primary voters, followed by Sanders at 38 percent and Rep. Tulsi Gabbard (D-Hawaii) at 3 percent. The new survey of 9,593 Democratic primary voters also bears more good news for Biden: At 55 points, his net favorability rating -- the share who view him favorably minus the share who view him unfavorably -- is better than Sanders' (47 points) for the first time in months. (Responses among Democratic primary voters have a 1-point margin of error.)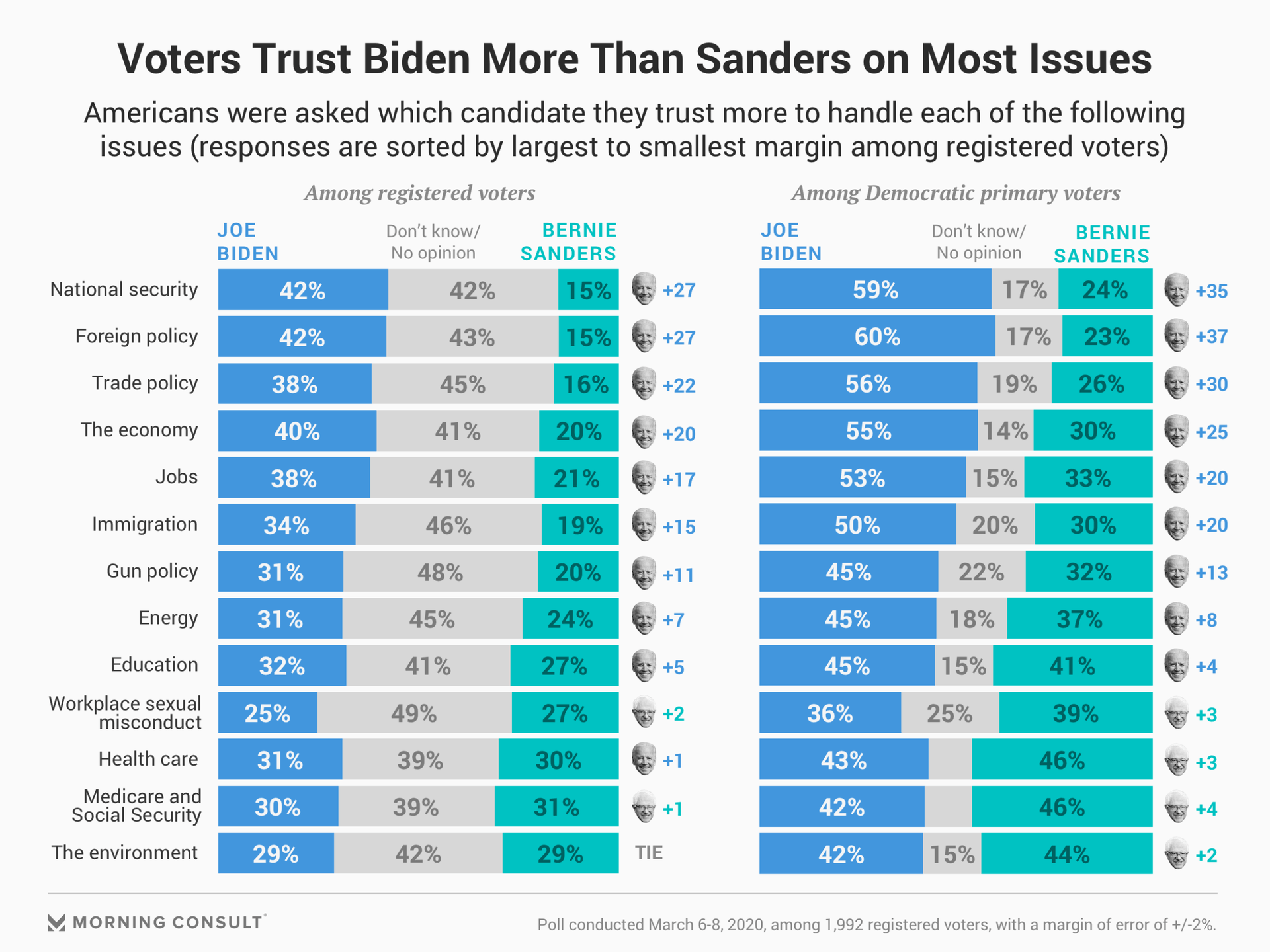 Democratic primary voters and the broader electorate also trust Biden over Sanders, by double-digit margins, to handle issues such as the economy and immigration, according to a Morning Consult/Politico survey conducted March 6-8. That survey was conducted among 1,992 registered voters and has a 2-point margin of error.
Among all voters, Sanders has an advantage over Biden on the issues of sexual misconduct in the workplace and Medicare and Social Security, but both advantages are within the margin of error. Biden, a former Senate Foreign Relations Committee chairman who helped steer the Obama administration's affairs abroad during his two terms as vice president and has promised to reset the country's approach to international engagement, enjoyed the biggest advantages over Sanders on national security and foreign policy.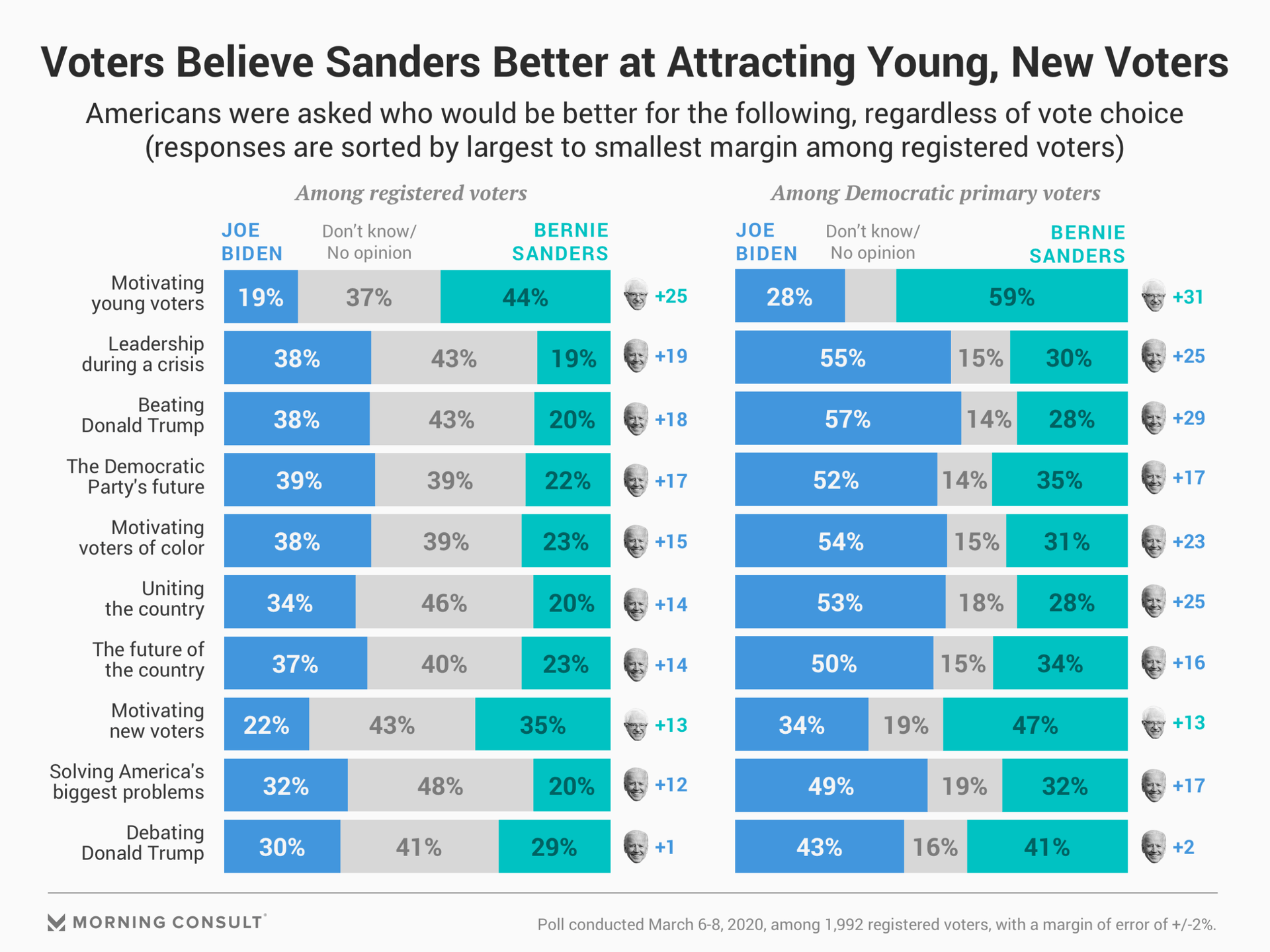 Setting policy aside, voters also tended to think a Biden presidency would add more value to the country and to the Democratic Party, and that he would be a better foil for Trump. Sanders was overwhelmingly seen as a better candidate to help with a major concern for the party: bringing new or young voters to the polling booths. The youngest voters (ages 18-29) made up 19 percent of the voting bloc in the 2016 presidential election, per exit polling, with 55 percent voting for Democratic nominee Hillary Clinton. 
But if voter turnout for the 2018 midterm elections is any sign, the Democratic Party could bank on antipathy toward Trump continuing the groundswell of political participation from youths. Voter turnout for the midterms among 18- to 29-year-olds increased 79 percent from 2014, from 20 percent to 36 percent, the largest percentage-point increase for any age group, according to the U.S. Census Bureau. 
Joanna Piacenza leads Industry Analysis at Morning Consult. Prior to joining Morning Consult, she was an editor at the Public Religion Research Institute, conducting research at the intersection of religion, culture and public policy. Joanna graduated from the University of Wisconsin-Madison with a bachelor's degree in journalism and mass communications and holds a master's degree in religious studies from the University of Colorado Boulder. For speaking opportunities and booking requests, please email [email protected].
We want to hear from you. Reach out to this author or your Morning Consult team with any questions or comments.
Contact Us