Amid Bitcoin Boom, Men, Young Adults and Urban Residents Have Highest Levels of Familiarity With the Cryptocurrency
Cryptocurrency hit all-time highs last week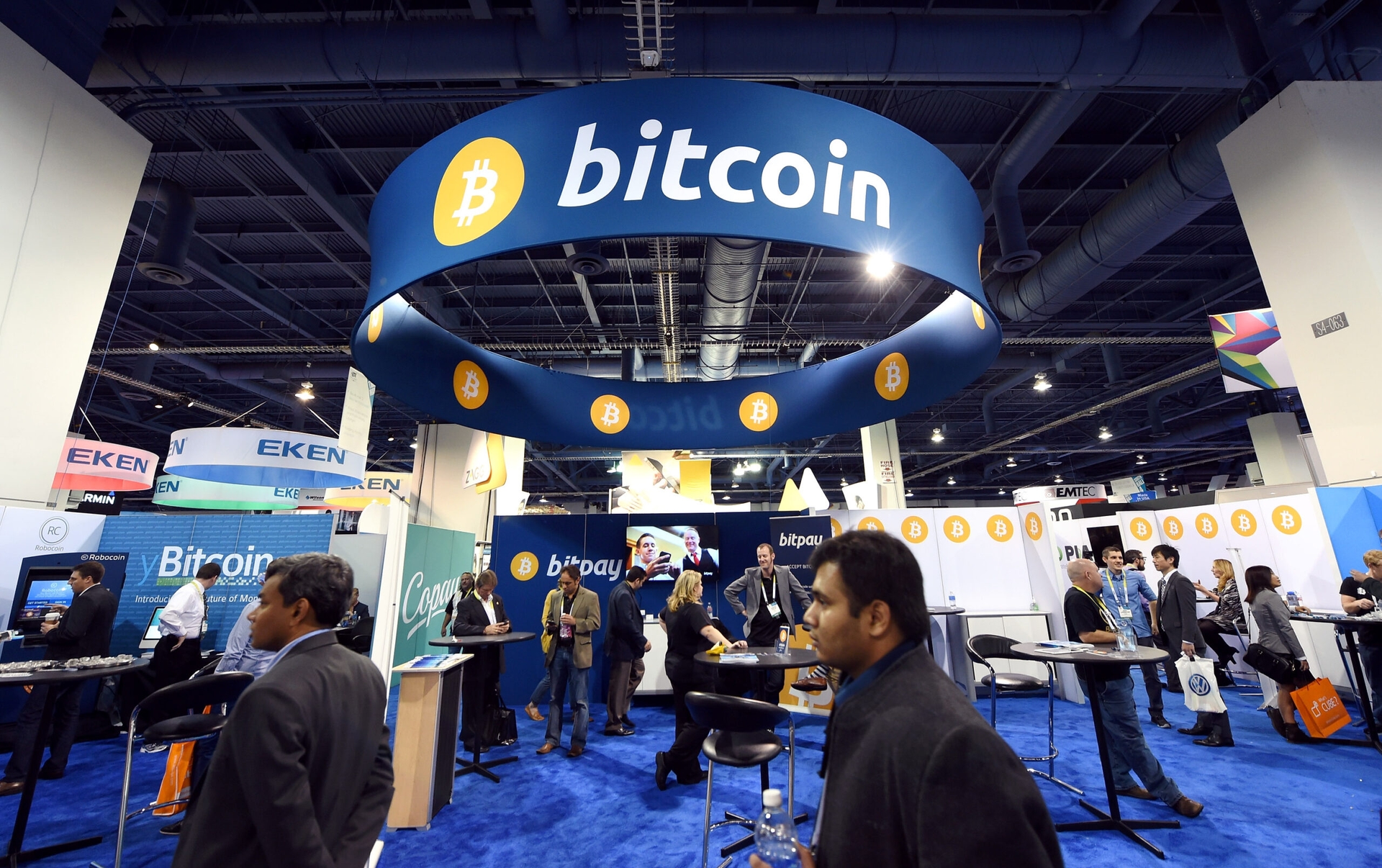 Bitcoin is having a moment in Washington and on Wall Street. 
The cryptocurrency hit all-time highs last week along with other financial markets, even as violence erupted from a pro-Trump mob at the U.S. Capitol. More quietly, cryptocurrency is gaining traction and legitimacy in regulatory circles in Washington, particularly at the Office of the Comptroller of the Currency, where acting Comptroller Brian Brooks, who is the former chief legal officer at cryptocurrency exchange Coinbase Global Inc., has made cryptocurrency policy a hallmark of his tenure. 
For many regulators, one of the primary promises of fintech is its potential to spur investment activity among underrepresented communities in the financial system, as things like cryptocurrency can be cheaper and present fewer obstacles than more established investment paths. Brooks isn't the only regulator to have stressed the potential of fintech to increase financial inclusion: It's also been a major talking point of Federal Deposit Insurance Corp. Chair Jelena McWilliams, although other policymakers, including some Democratic lawmakers, have challenged the idea.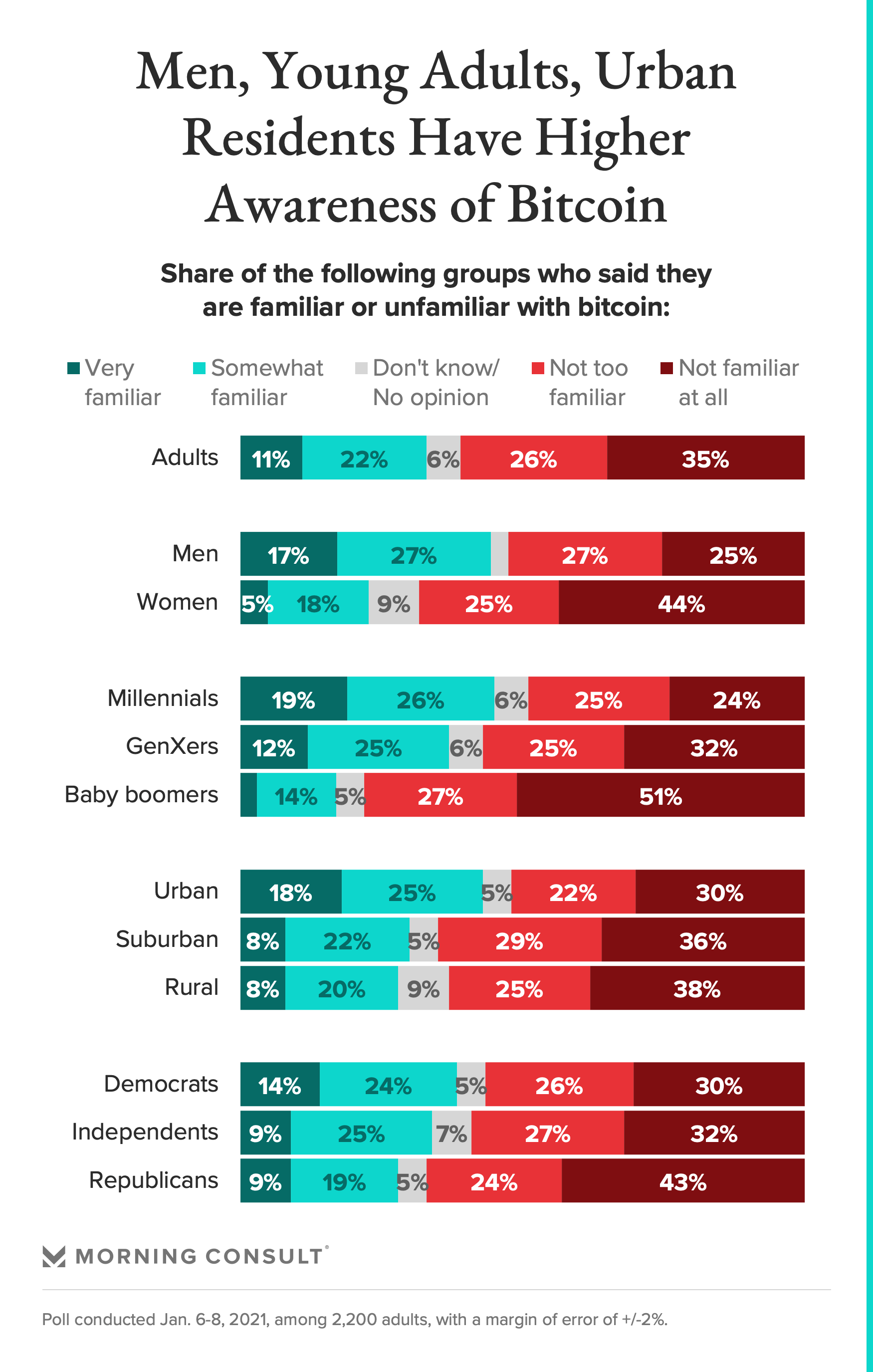 So far, at least, bitcoin hasn't established itself as a great equalizer in an unbalanced financial system: Men, young adults and urban residents are more likely than women, older Americans and those living in suburban and rural communities to be familiar with the cryptocurrency, according to new Morning Consult data.
Overall, bitcoin is not well-known among many regular Americans, which is not unusual for a complex financial investment. Thirty-three percent of adults said they were either "very" or "somewhat" familiar with bitcoin, compared to 61 percent who said they weren't too familiar or not familiar at all with it. 
The poll, which was conducted Jan. 6-8, 2021, surveyed 2,200 U.S. adults and has a margin of error of 2 percentage points. 
There was a substantial male-female divide in familiarity with the cryptocurrency: 44 percent of men said they were familiar with bitcoin, compared to 23 percent of women who said the same. 
Younger adults were more likely than their elders to say they were familiar with bitcoin, at 45 percent for millennials, compared with 37 percent of GenXers and 17 percent of baby boomers. 
There was a large difference in familiarity depending on a person's community, as well: 43 percent of urban residents said they were familiar with bitcoin, while 30 percent of suburban residents and 28 percent of rural residents said the same. 
Across political parties, there was also a slight difference in bitcoin awareness. Democrats (38 percent) and independents (34 percent) had a higher rate of familiarity than Republicans (28 percent). 
Claire Williams previously worked at Morning Consult as a reporter covering finances.
We want to hear from you. Reach out to this author or your Morning Consult team with any questions or comments.
Contact Us