Black Consumers More Likely Than the Public to Look to Celebrities When Buying
Michelle Obama, Denzel Washington and Rihanna among most influential celebrities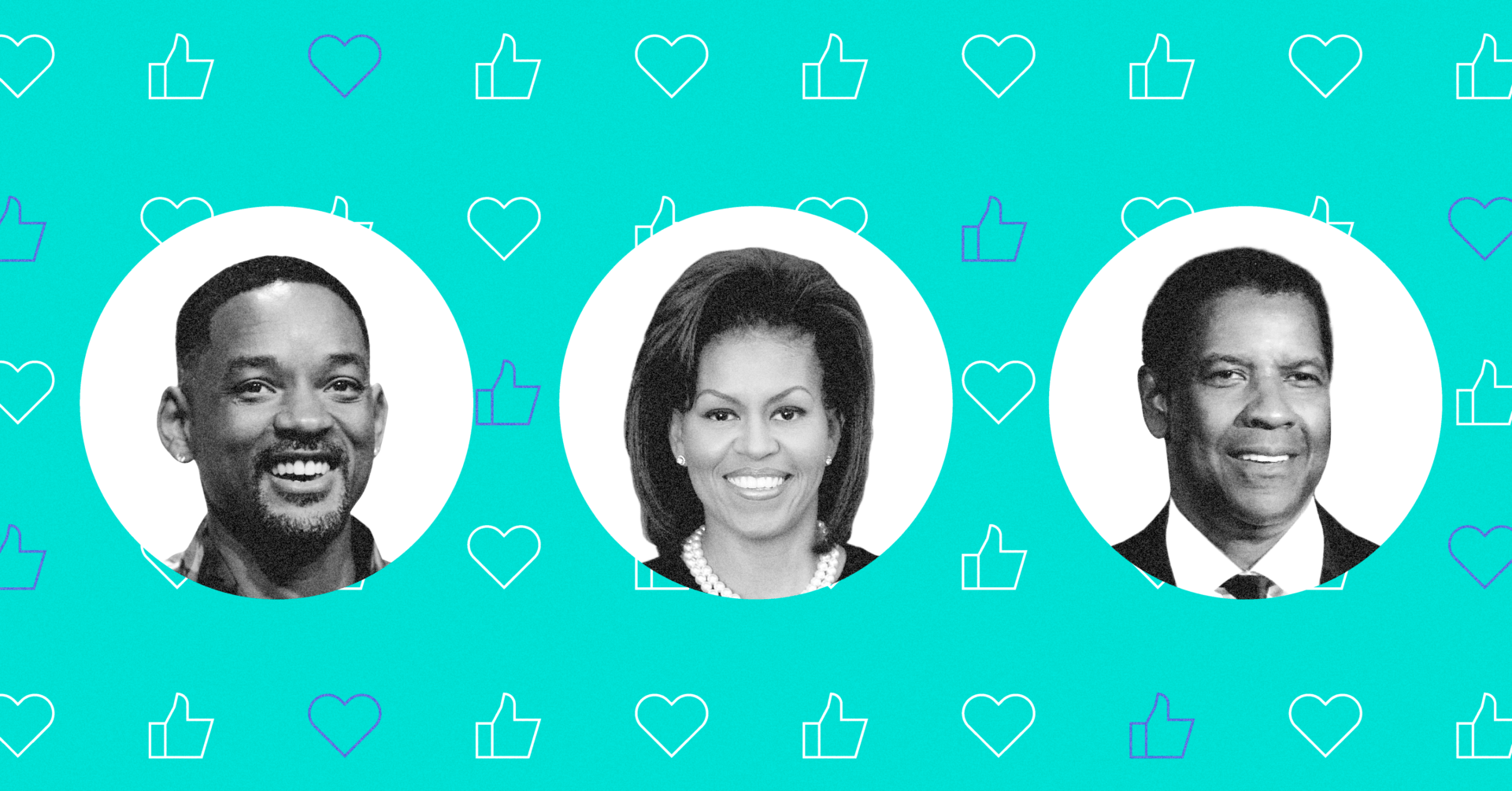 Key Takeaways
50% of black consumers said they trust celebrities and athletes to give them good advice on brands, while 44% said the same of influencers.

Black adults are more than twice as likely as all adults to seek out minority-owned businesses on a weekly basis (22% vs. 10%).

48% of black consumers said they would be more likely to shop at a black-owned business, compared to 18% of all adults.
For brands looking to attract more black consumers — and tap into the group's estimated trillion-dollar spending power — a new poll suggests it could be wise for companies to pour their advertising dollars into influencer marketing and celebrity endorsements.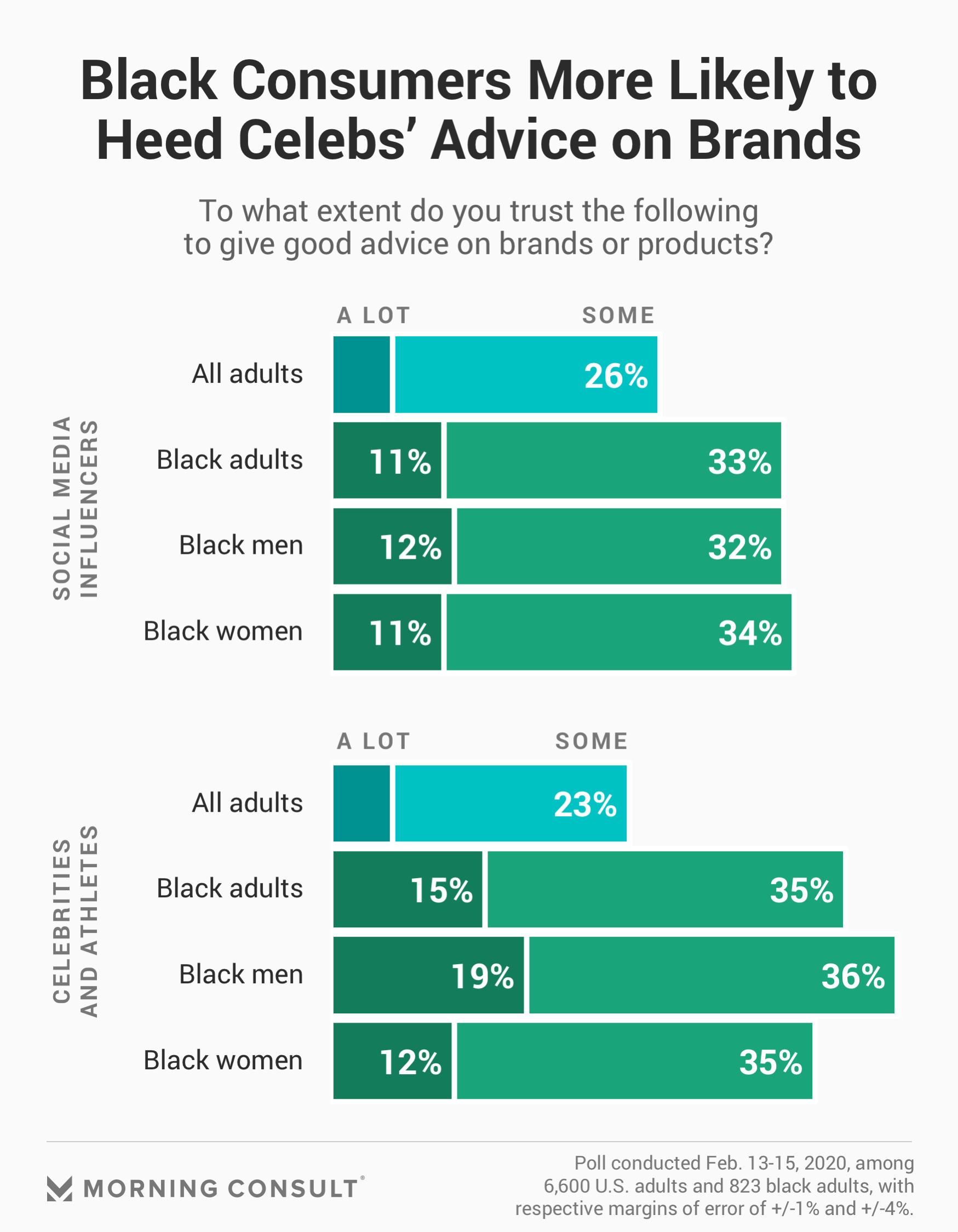 A new Morning Consult survey finds that when seeking out advice on which brands to use, black consumers are more likely than the general public to trust social media influencers they follow and their favorite celebrities and athletes.
The Feb. 13-15 poll was conducted among 6,600 U.S. adults, with a subsample of 823 black adults, and respective margins of error of 1 and 4 percentage points.
Former first lady Michelle Obama, and A-list movie stars Denzel Washington, Will Smith and Dwayne "The Rock" Johnson, are the most influential figures for black consumers, who according to Nielsen wield $1.3 trillion in spending power annually.
Musician and designer Rihanna's awesome celebrity is shown not only in her high ranking on the poll's influencer list but also in the success of her Fenty Beauty brand: The cosmetics line racked up a reported $100 million in sales in its first few weeks and generated $570 million in revenue in 2018, after only 15 months in business, according to a June 2019 estimation from Forbes.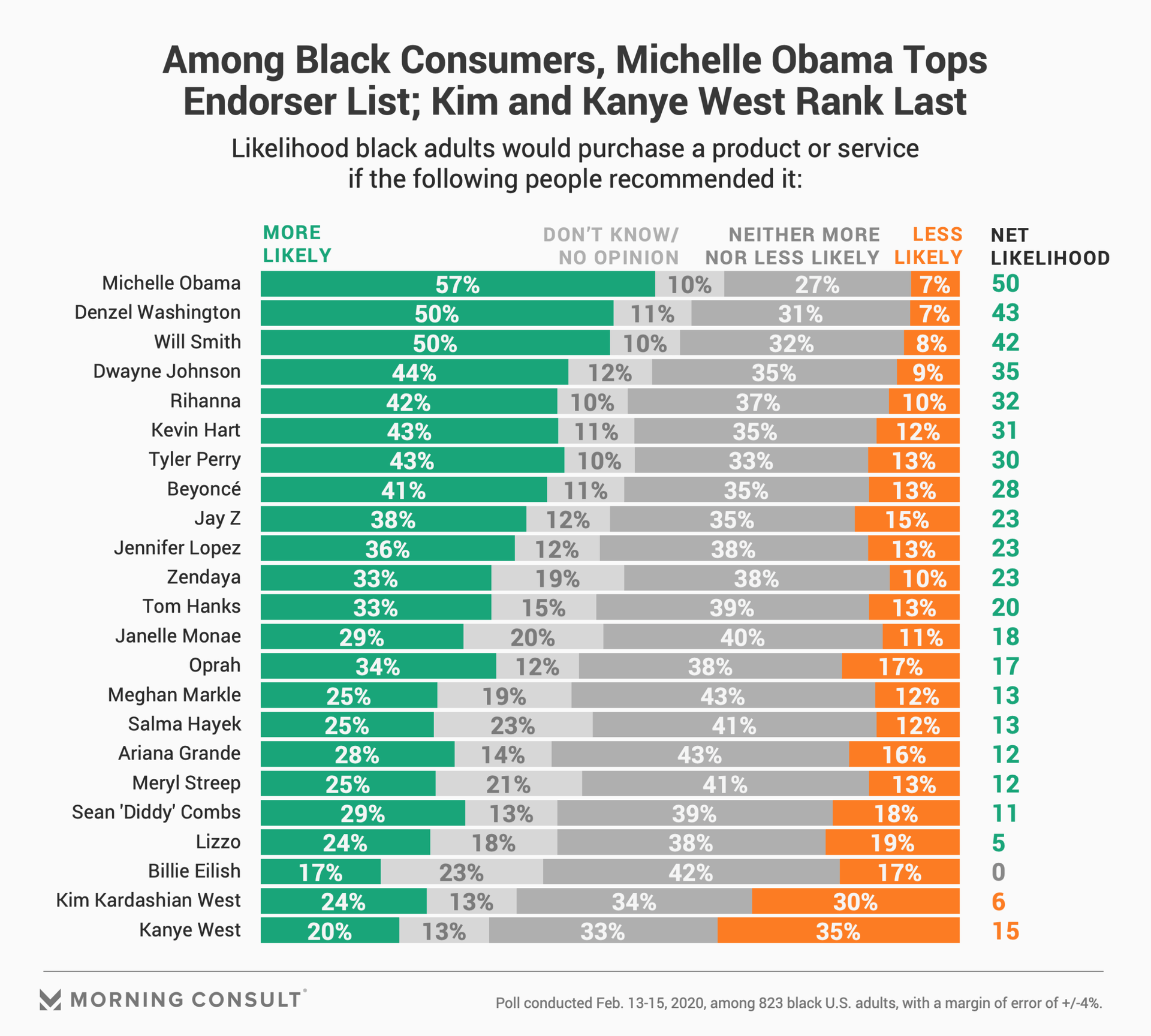 Beyoncé, ranking eighth on the list, saw the strength of her brand in action last month, when Ivy Park's partnership with Adidas AG on an athleisure line sold out in one weekend.
Two names on the list created a net negative on purchasing consideration: Black adults are less likely overall to consider buying something if Kim Kardashian West and Kanye West recommended it. But the latter's Yeezy brand was expected to pull in $1.5 billion in sales last year, according to a July 2019 Forbes estimate.
Black women are more likely than their male counterparts to be influenced to purchase products and services if these stars tout them, the survey finds, most apparent among a few figures, including The Rock, Kanye West and Kevin Hart.
The black community is also more likely to try and patronize businesses with diverse ownership. Compared to the public overall, black consumers were much more likely to intentionally look to spend their money at minority-owned shops.
Looking at it another way, most of the public said they never seek out businesses owned by racial or ethnic minorities (57 percent) or women (55 percent) when shopping — but those numbers drop to 38 percent and 44 percent, respectively, among black adults.
Joanna Piacenza leads Industry Analysis at Morning Consult. Prior to joining Morning Consult, she was an editor at the Public Religion Research Institute, conducting research at the intersection of religion, culture and public policy. Joanna graduated from the University of Wisconsin-Madison with a bachelor's degree in journalism and mass communications and holds a master's degree in religious studies from the University of Colorado Boulder. For speaking opportunities and booking requests, please email [email protected].
We want to hear from you. Reach out to this author or your Morning Consult team with any questions or comments.
Contact Us