Polling Suggests Little Downside for Brands Offering Free Products to Vaccinated Americans
41% of consumers say vaccine incentives would make them feel more favorably toward a brand, while 42% say they'd have no impact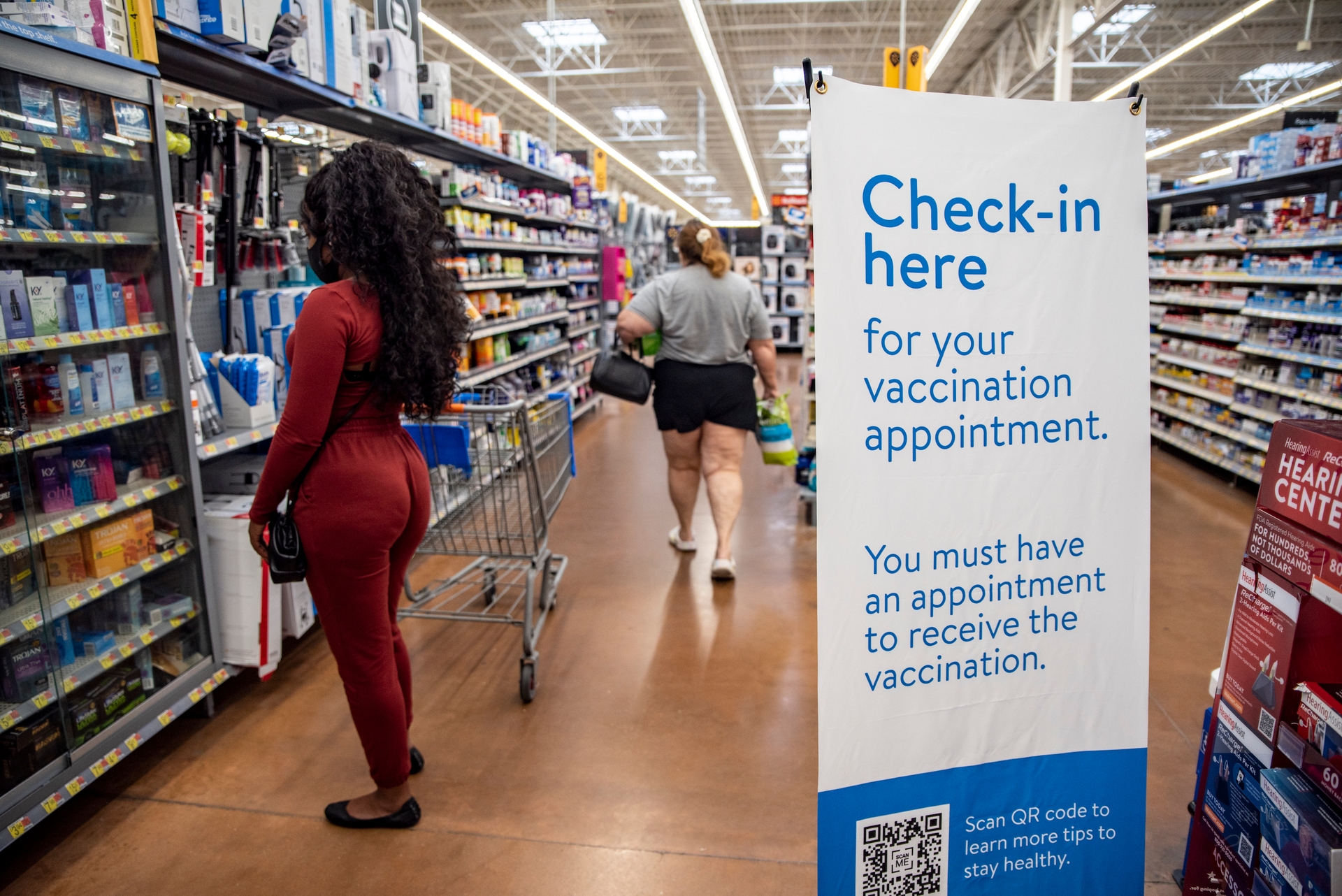 Key Takeaways
73% of consumers who've received a COVID-19 vaccine said they're likely to take advantage of rewards from local retailers in particular.

58% of Americans said rewarding people for receiving the vaccine is a good way to encourage people to get vaccinated, but 44% said companies shouldn't offer rewards exclusively to those who have been vaccinated.
Last week, everyone in the United States became eligible to sign up to receive the COVID-19 vaccine, and some corporations are offering free products to incentivize Americans to do so. New polling from Morning Consult indicates that gambit might be more effective among certain demographics, but likely won't have a negative impact on brand popularity, even among those most hesitant to get the shot.
In recent weeks, Krispy Kreme Doughnuts Inc., Sam Adams and Budweiser, as well as many local companies, announced perks for customers who can show that they've received a dose of a COVID-19 vaccine.
While the Morning Consult survey found that some groups -- most notably, Republicans, who remain among the most hesitant to get vaccinated -- are fairly split on whether or not they think corporations should involve themselves in vaccination efforts, consumers across demographics are more likely to feel favorably than unfavorably about brands that offer these incentives. 
Forty-one percent of U.S. adults said they would feel more favorably about a brand that incentivizes consumers to receive vaccines with offers of free products or services, 24 percentage points higher than the 17 percent who said the opposite.
Forty-two percent of adults said the decision to incentivize or not has no impact on their views of companies, one way or another.
Men, Democrats, higher earners and urbanites were among the groups most likely to express a more favorable view of brands that encourage consumers to get vaccinated.
Other groups also reported favorability boosts for these brands, but by smaller margins. For instance, Democrats were 47 points more likely to have a more favorable view of a brand who offered vaccine incentives than to view it less favorably, compared to a 6-point gap among Republicans. Generation Z reported a similar 9-point margin, which paled in comparison to responses among older generations. 
In addition to potentially boosting a brand's popularity, corporate incentives might actually help convince some Americans to get a COVID-19 vaccine.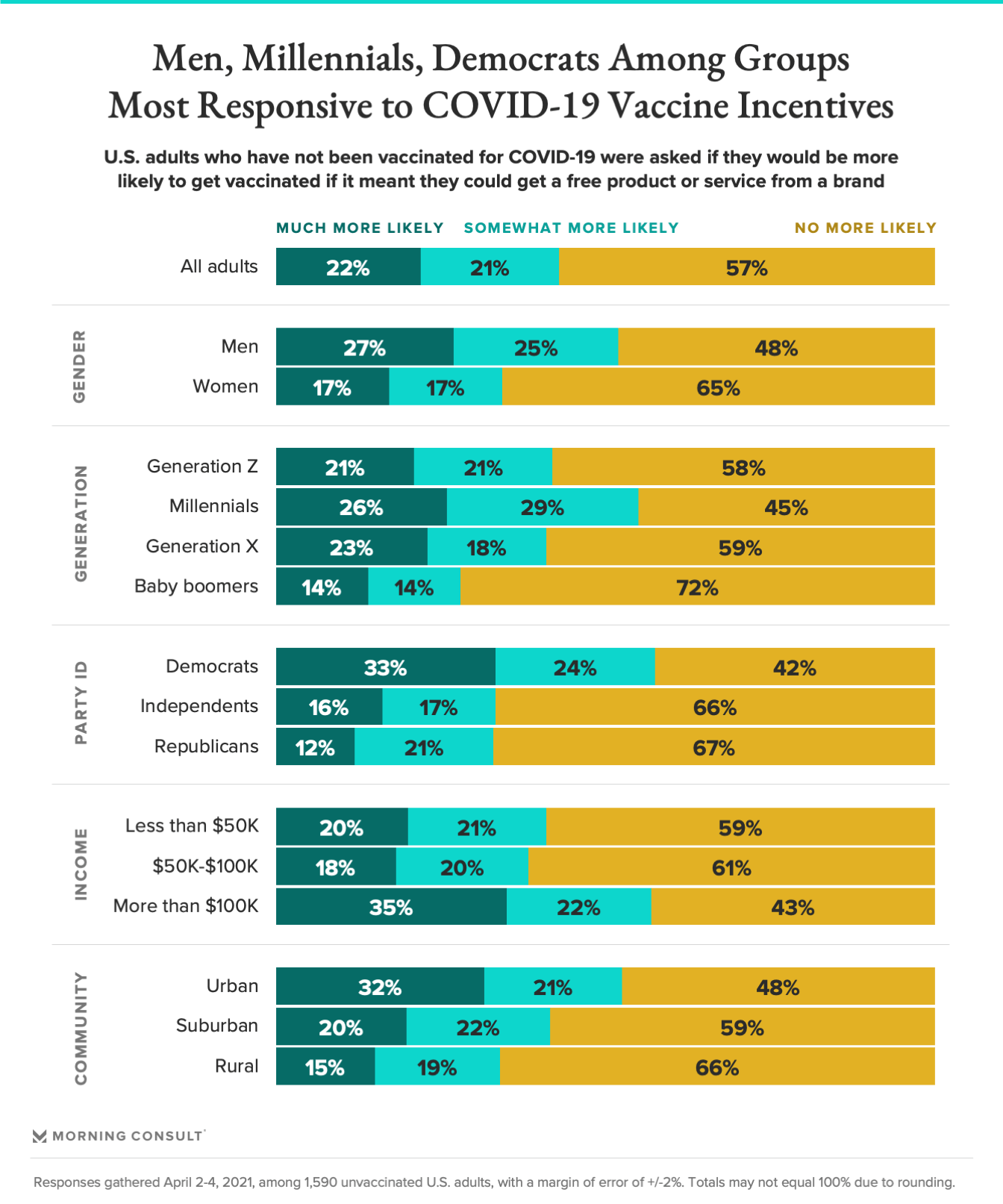 Responses gathered among 1,590 unvaccinated adults found that men are more inclined than women to say these offers would make them more likely to sign up to receive a shot. Among generational demographics, unvaccinated millennials are the most likely to say freebies from brands would work to encourage them to get vaccinated.
Democrats, more so than Republicans, also said they'd be more likely to get vaccinated if they could get free goods or services, indicating the incentives from brands might not be as effective in moving the needle among those least willing to sign up for shots. 
Among the 610 adults in the Morning Consult survey who said they had already been vaccinated, about three-quarters said they'd be likely to take advantage of perks offered by local retailers, the largest share among 12 different brand categories included. Local bars and restaurants, as well as companies selling food and beverage products, were also among the most likely to see vaccinated people take advantage of these deals if they choose to offer them.
The overall poll has a 2-point margin of error, while responses gathered among unvaccinated and vaccinated adults carry respective 2- and 4-point margins of error.
Generally speaking, and regardless of political affiliation, 58 percent of Americans think the practice of brands rewarding consumers for receiving the COVID-19 vaccine is a good way to encourage people to get vaccinated, although about half of Republicans say corporations should not be involved in vaccination efforts for COVID-19 or any other illness. 
Furthermore, 44 percent of all adults said companies should not offer rewards to only those vaccinated for COVID-19, including 56 percent of Republicans and 36 percent of Democrats.
Alyssa Meyers previously worked at Morning Consult as a reporter covering brands and marketing.
We want to hear from you. Reach out to this author or your Morning Consult team with any questions or comments.
Contact Us