Bubba Wallace Ranks as NASCAR's Most Well-Known Driver Ahead of Move to Jordan-Owned 23XI Racing
Polling suggests pairing NASCAR's lone Black driver with NBA's GOAT could broaden the sport's audience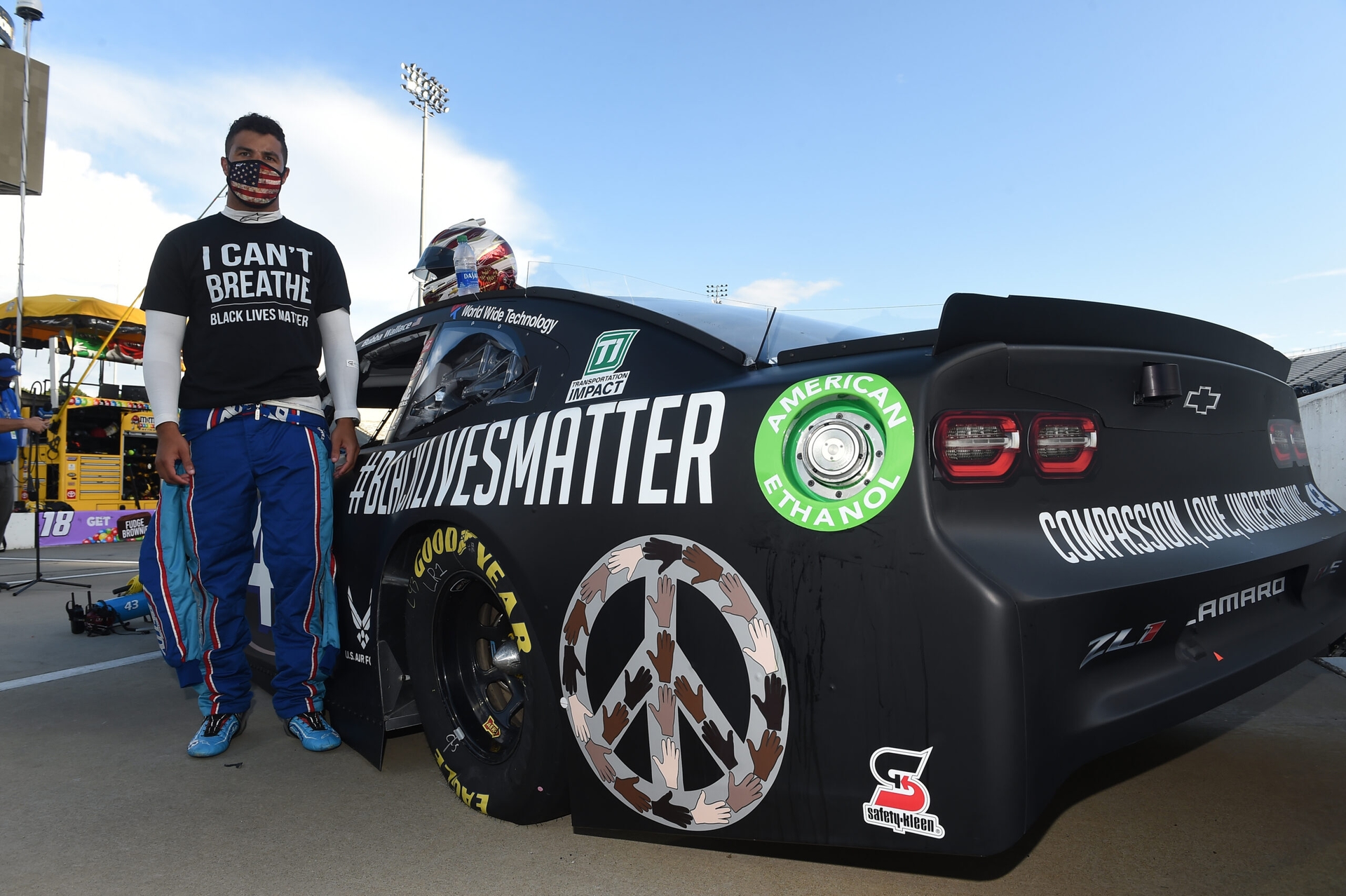 Key Takeaways
63% of U.S. adults have heard of Wallace, a larger share than any other active driver.

1 in 4 Black adults said they are "much more" interested in NASCAR based on the new Jordan-Wallace team.

Nearly half of NBA fans are more interested in NASCAR in the wake of the Jordan-Wallace news.
After a season that saw NASCAR driver Bubba Wallace emerge as a leader amid a national conversation about racial inequality, the sport's lone Black competitor is joining 23XI Racing, a brand-new team owned by basketball legend Michael Jordan. The pairing of the hoops icon, whose cultural relevance lives on through Nike Inc.'s Jordan Brand sneakers and apparel, and a young, outspoken Black driver has the potential to bring a more diverse audience and set of sponsors to a historically white, southern sport.
In a new Morning Consult survey, 42 percent of Black adults said they are more interested in NASCAR than they were previously based on the entry of a Jordan-owned car driven by Wallace, including 24 percent who said they are "much more interested." In addition, 1 in 3 Black respondents said they are more likely to attend a NASCAR race after COVID-19 is no longer a concern.
Pete Jung, senior vice president of marketing at NASCAR, said that while the sanctioning body has long sought to diversify its fan base, Wallace's rise to fame and the formation of 23XI Racing presents a unique opportunity to reach the Black community. At the start of the season, a separate Morning Consult poll found that 84 percent of NASCAR fans identified as white.
"This has opened up a door for us to be more bullish in the African-American market," Jung said. "We tend to be, as a brand and as a sport, very authentic, and this gives us more credibility to work with different media partners and influencers, and be more assertive about original content and telling stories."
Among respondents with a very favorable opinion of Jordan Brand, a group that tends to be young and racially diverse, 62 percent said they are more interested in NASCAR based on the new team, including 40 percent who said they're "much more" interested.
While it is unclear to what extent Nike and Jordan Brand will work with 23XI Racing, marketers believe their involvement will present unparalleled opportunities in terms of licensed merchandise and provide the team with an added cool factor.
The new team has also boosted interest in NASCAR among 49 percent of NBA fans and 60 percent of avid NBA fans. In addition to being the NBA's most decorated player of all time, Jordan currently owns the Charlotte Hornets, an NBA franchise located in a motorsports hotbed. Several sports marketers said this could present unique cross-promotion opportunities, as well as the ability for the teams to package sponsorship assets for the two sports together.
According to recent survey results used to examine the overlap between sports fan bases, 48 percent of self-identified NBA fans identify as NASCAR fans, and 60 percent of NASCAR fans identify as NBA fans.
NASCAR has fared better in 2020 than most sports properties amid a pandemic that shut down sports for months. It was the first and most successful professional league in turning to esports during the hiatus, setting new viewership records on TV with its iRacing Pro Invitational Series, which featured real NASCAR drivers competing virtually. NASCAR was also among the first competitions to resume in May and the first to bring back fans in limited numbers.
In addition, while stick-and-ball sports properties like the NBA, NHL, MLB and the U.S. Open in both golf and tennis have seen double-digit drops in viewership since their returns, NASCAR's viewership was only down 1 percent for the season heading into the rain-delayed playoff race at Texas Motor Speedway that was scheduled to take place Sunday.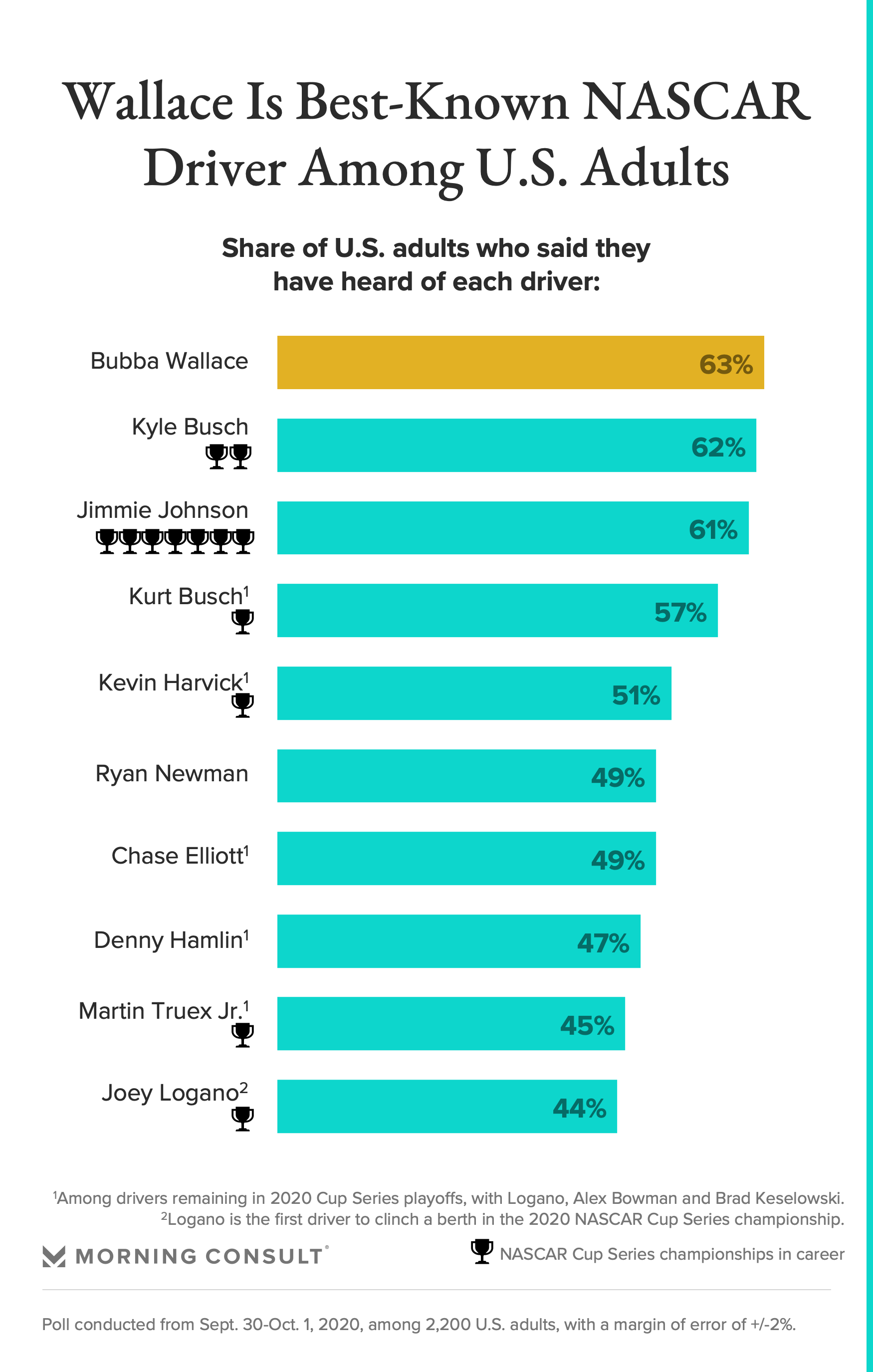 Wallace's rise in prominence this year has taken the sport by storm. Prior to the start of the 2020 NASCAR season, 1 in 3 self-identified NASCAR fans polled by Morning Consult said they had never heard of Wallace, who was entering his third year behind the wheel of the No. 43 Chevrolet for Richard Petty Motorsports. Eight months later, the Sept. 30-Oct. 1 poll indicated Wallace is stock car racing's most well-known driver among U.S. adults.
He stepped in the spotlight in the wake of the killing of George Floyd, publicly urging NASCAR leadership to ban the display of the Confederate flag at its races and donning an all-black paint scheme in support of the Black Lives Matter movement.
When NASCAR officials believed they found a noose in his garage stall at Talladega Superspeedway in late June, the ensuing controversy made national news and, eventually, put him in the Twitter crosshairs of President Donald Trump, elevating his profile far beyond racing circles.
"It drew so many eyes to the sport from people that would never have watched NASCAR or motorsports in general," said Josh Day, an account management director at Sport Dimensions, a marketing firm specializing in motorsports. "And the way that the series responded, the way that all of the drivers rallied around Bubba -- no matter what the result of [the investigation] was -- they all rallied around him."
Since his whirlwind month, Wallace has attracted corporate dollars from new entrants to NASCAR, including Columbia Sportswear Co. and Apple Inc.-owned Beats by Dre. The flurry of deals have come amid a pandemic that has caused many companies to reduce their spending on sports sponsorships.
"He's been the outlier of 2020 in terms of the number and types of deals that he's been able to get done and bring brands in the sport," said Jimmy Bruns, a senior vice president specializing in motorsports at GMR Marketing.
Day believes the Beats deal in particular exemplifies Wallace's ability to bring in brands that cater to younger and more diverse audiences.
"I never would have thought that Beats would have a deal with any driver because it just didn't seem like a natural place for them to be," Day said of NASCAR. "Bubba seems like a more natural partner there."
Root Insurance, the latest company to sign a personal services agreement with Wallace, is fully embracing Wallace's liberal ideology and polarizing persona in a new ad, selecting the tagline, "Progress owes no apology." The spot includes visuals of the Confederate flag, a noose and the Black Lives Matter car along with newscast voiceovers referencing Trump's tweet asking Wallace to apologize for the noose incident.
Team-level deals to sponsor the 23XI race team, including primary sponsorships for the Wallace-driven car, are expected to be among the most expensive in the sport. One marketing executive estimated that a primary sponsorship for Wallace's No. 43 car with Richard Petty Motorsports cost approximately $250,000 per race and expects 23XI will command a much higher fee.
Wallace has gained both fans and detractors among the existing NASCAR fan base for his social justice efforts. During the season, Wallace saw a 16-point increase in favorability and an 11-point increase in unfavorability among NASCAR fans. The next-highest increase in unfavorability during the season was 3 points, meaning Wallace accrued almost four times as many detractors as any other driver. 
In reference to the polarizing effect Wallace has had in the sport, Bruns pointed to a quote from late NASCAR legend Dale Earnhardt Sr.: "It doesn't matter if they are booing or cheering, as long as they're making noise."
Alex Silverman previously worked at Morning Consult as a reporter covering the business of sports.
We want to hear from you. Reach out to this author or your Morning Consult team with any questions or comments.
Contact Us