Demographic Data Shows Which Major Sports Fan Bases Are Most Likely to Support or Reject Social Justice Advocacy
Analysis of over 400,000 U.S. adults reveals racial, political makeup of MLB, NBA, NFL and NHL teams' fans
Key Takeaways
Newly released data shows the Brooklyn Nets have the most racially diverse fan base of any major U.S. sports team.

46% of the average NBA team's fans are white, compared to 61% for the average NHL team.

Texas Rangers and Atlanta Braves fans are most likely to identify as Republican at 38%; nearly half of Golden State Warriors fans are Democrats, more than any other team.
The question of whether or not members of the Dallas Cowboys will kneel during the national anthem in protest of racial inequality is turning into one of the biggest storylines of the NFL season's opening weekend.
No member of "America's Team" has declined to stand for the Star-Spangled Banner since former NFL quarterback Colin Kaepernick started the movement back in 2016, and Cowboys owner Jerry Jones wants to keep it that way. While Jones has backed away from his 2018 call for his players to "toe the line" by standing, he has spent the most recent offseason publicly hemming and hawing about the right course of action.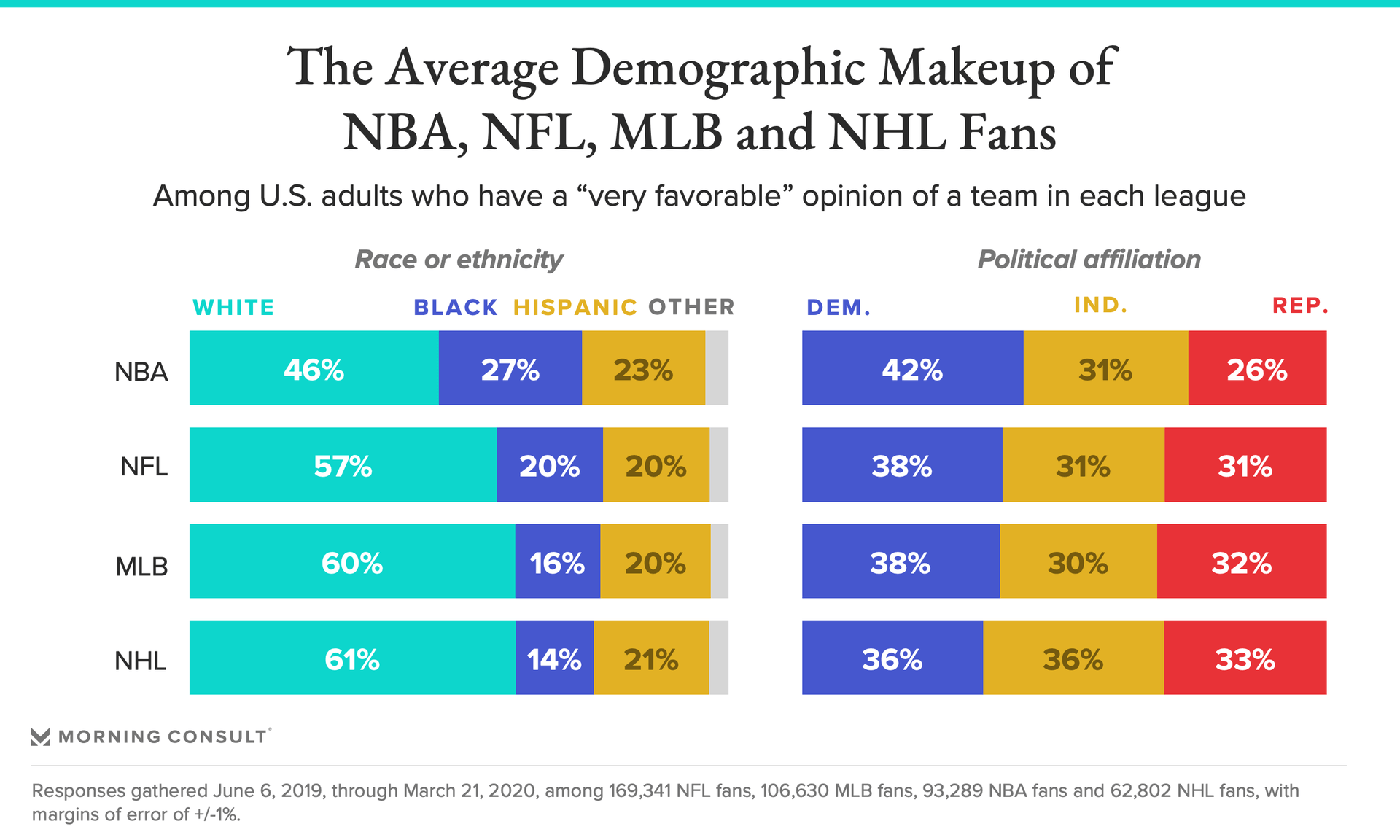 During a local radio appearance this week, Jones suggested it's important for the Cowboys in particular, given the makeup of their fan base, to consider the opinions of fans who believe politics have no place in sports or that kneeling is unpatriotic.
"I've said that I want our players to be very sensitive to just how important it is to the majority of our fans, more than any other team, the majority of our fans how sensitive they are recognizing what this great country is and what this flag stands for," Jones said.
Jones' comments offer a glimpse of how professional sports teams and leagues consider the demographic makeup of their fans in determining how to approach polarizing social issues. 
Newly released Morning Consult Brand Intelligence data on the racial and political makeup of each major U.S. sports team's supporters -- defined as those with a "very favorable" view of that team -- doesn't completely support his assertion that Cowboys "more than any other team" are likely to disagree with potential player protests, but it does indicate Cowboys fans might be less receptive than fans of the average NFL team.
The data — which was collected from June 2019 into March 2020 among more than 400,000 fans of a team in the NFL, MLB, NBA or NHL  — shows that Cowboys fans are more likely than fans of the average NFL team fan to identify as Republican and, therefore, are more likely to oppose kneeling during the anthem as a form of protest.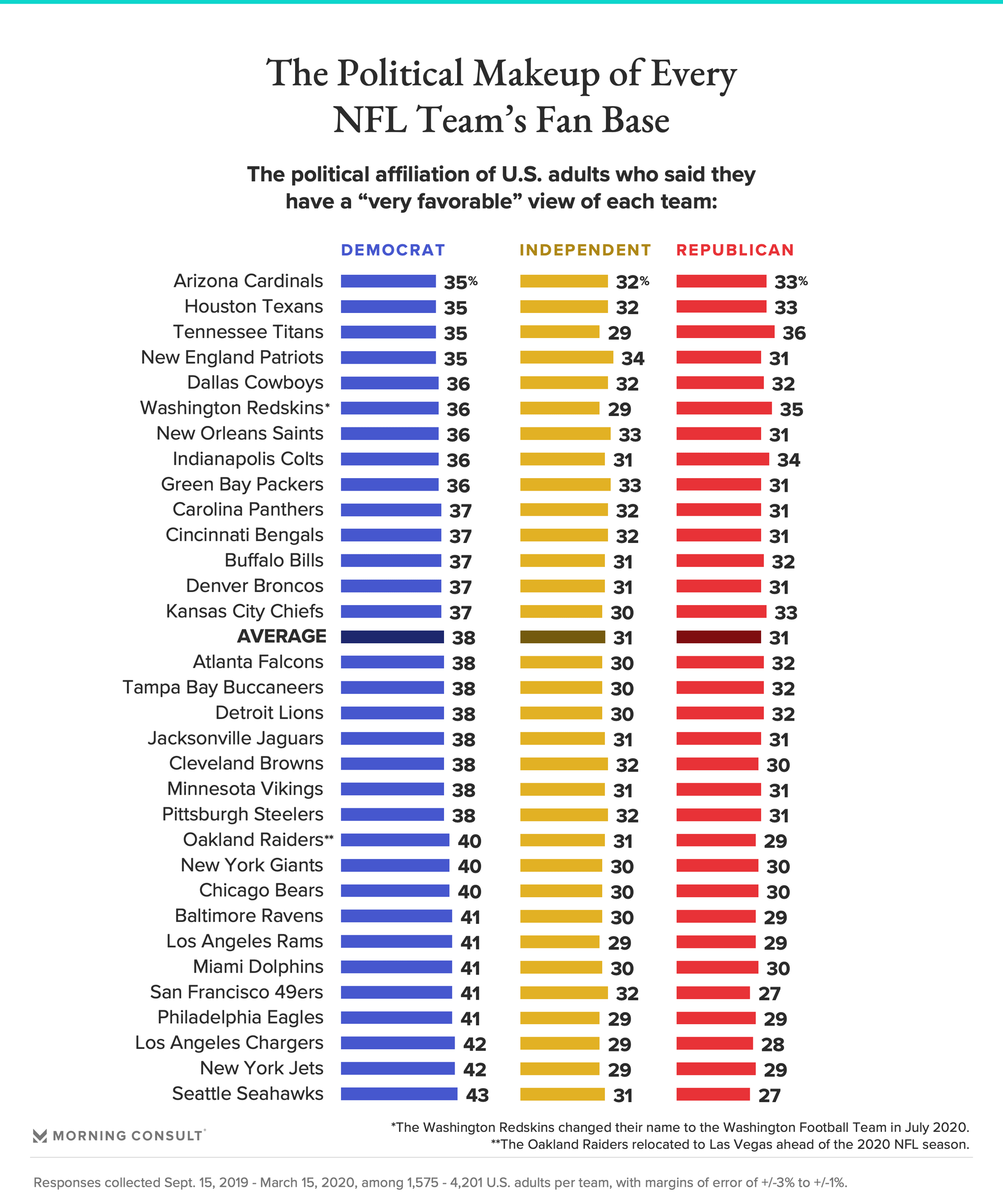 Only one NFL team, the Tennessee Titans, has a larger share of Republican fans than Democratic fans. There are, however, five other NFL teams with a greater percentage of Republican fans than the Cowboys: the Washington Football Team (known as the Washington Redskins during the survey's fielding period), Indianapolis Colts, Arizona Cardinals, Houston Texans and Kansas City Chiefs.
The NFL fan bases that lean furthest to the left are those of the Seattle Seahawks, Los Angeles Chargers, San Francisco 49ers and New York Jets. 
In terms of racial diversity, Cowboys fans are right around the middle of the pack in the NFL, with 56 percent identifying as white and 44 percent nonwhite. While race isn't as clear an indicator of opinion on kneeling as political affiliation, racial and ethnic minorities who identify as NFL fans are more likely (58 percent) than white fans (38 percent) to back kneeling as a form of protest, according to a Morning Consult survey conducted Sept. 3-7.
The Los Angeles Chargers, Oakland Raiders (who have since moved to Las Vegas), Baltimore Ravens, New York Jets, Los Angeles Rams and Arizona Cardinals have the most racially diverse fan bases in the NFL. (Intuitively, most teams located in racially diverse markets such as Los Angeles or New York generally have greater racial diversity among their fans.)
At the league level, NFL fans are more likely to identify as nonwhite and Democratic than fans of MLB and the NHL, but are significantly less diverse than the NBA fan base. For the average NFL team, 1 in 5 fans is Black and 1 in 5 is Hispanic. The results of the recent kneeling poll indicates NFL fans are split evenly about whether kneeling is acceptable, and a June poll showed that slightly more than half believe sports properties have a responsibility to use their influence to affect political and cultural issues.
NFL Commissioner Roger Goodell in recent months has changed his tune with regard to on-field protest of racial inequality and police brutality, and the league has introduced a slew of gameday initiatives aimed at raising awareness. The NFL did not respond to a request for comment on whether it considered fan demographics when formulating its approach to social justice.
Shaun Anderson, an assistant professor at Loyola Marymount University who focuses on how sports properties utilize their platform to engage in social justice initiatives, recognizes the change in tone, but doesn't believe the NFL will be a leader in advocating for change.
"The NFL is somewhat evolving," he said. "They are not going to move as far as the NBA because they know where their contingencies lie, their current fanbase."
The NBA has by far the most racially diverse and left-leaning U.S. fan base of the four top team sports, according to the Brand Intelligence data: 54 percent of fans of the average NBA team are nonwhite and 42 percent identify as Democratic. The league is also widely regarded as a leader in leadership-backed athlete advocacy, and has leaned further into the fight against racial inequality than the other three leagues — actions that are largely supported by its fan base. 
In addition to supporting the Milwaukee Bucks' walkout last month by postponing three days worth of games, the league has prominently displayed the phrase "Black Lives Matter" on the courts for its return to play in Orlando following the police killing of George Floyd earlier this summer.
NBA Deputy Commissioner Mark Tatum said fan demographics are not a factor in the league's willingness to weave advocacy into sports.
"Demographics don't make decisions for us, our overall values do," Tatum said. "And when it comes to issues of social justice, the NBA and our players have a long, well-documented history of standing up for the principles of equality, of diversity and inclusion."
Among NBA teams, fans of the Golden State Warriors, New York Knicks, Los Angeles Lakers, Washington Wizards and Brooklyn Nets are most likely to identify as Democrats. While none of the 30 NBA teams have a larger share of Republican fans than Democratic fans, the Memphis Grizzlies, Dallas Mavericks, Indiana Pacers, Phoenix Suns and Utah Jazz are the closest to the center.
The Brooklyn Nets have the most racially diverse fan base in the four major team sports, closely followed by the Houston Rockets, Miami Heat, Los Angeles Clippers and Los Angeles Lakers. NBA teams account for the 18 most diverse fan bases in the four major sports.
While the June poll showed NBA fans are the most supportive of leagues and teams throwing their weight around on political and cultural issues, Tatum acknowledged that a share of the league's fans would prefer it "stick to sports."
"We've heard directly from a group of fans who disagree with the decisions that we're making and we respect that -- and we completely understand that point of view," he said. "But I would say that we are guided by our values in the things that we do."
MLB's approach to social justice in recent months has been something of a mixed bag. While the league showed its support for the Black Lives Matter movement in the wake of George Floyd's death by stenciling "BLM" onto the pitcher's mounds at each ballpark, it did not make a league-wide decision to postpone games in solidarity with the Milwaukee Bucks' walkout, instead leaving it up to the teams to decide.
Politically, MLB's fans are more likely to identify as Republicans than NBA and NFL fans, though the league's fan base still leans Democratic.
Five MLB teams -- the Texas Rangers, Atlanta Braves, Houston Astros, St. Louis Cardinals and Colorado Rockies -- have more Republican fans than Democratic fans, a higher number than any of the other three leagues. Fans of the San Francisco Giants, Chicago White Sox, New York Mets, Oakland Athletics and Los Angeles Dodgers were most likely to identify as Democrats.
At 40 percent, the average MLB team has a smaller share of nonwhite fans than the NBA and NFL, and is within a percentage point of the average NHL team. Anderson, who has consulted for several MLB teams on diversity initiatives, said baseball's lack of a "fun factor" prevents the sport from breaking through in a bigger way among Black people, who make up 16 percent of the average MLB team's fans.
"In the NBA or the NFL, for example, there are opportunities for those players to engage in celebration -- in the NBA, for example, with slam dunks, you get to feel that," he said. "But in Major League Baseball, you're told to keep things conservative."
The Los Angeles Angels, Miami Marlins, Los Angeles Dodgers, Oakland Athletics and San Francisco Giants have the most diverse fans in MLB. Hispanics account for at least 25 percent of each of those clubs' fans.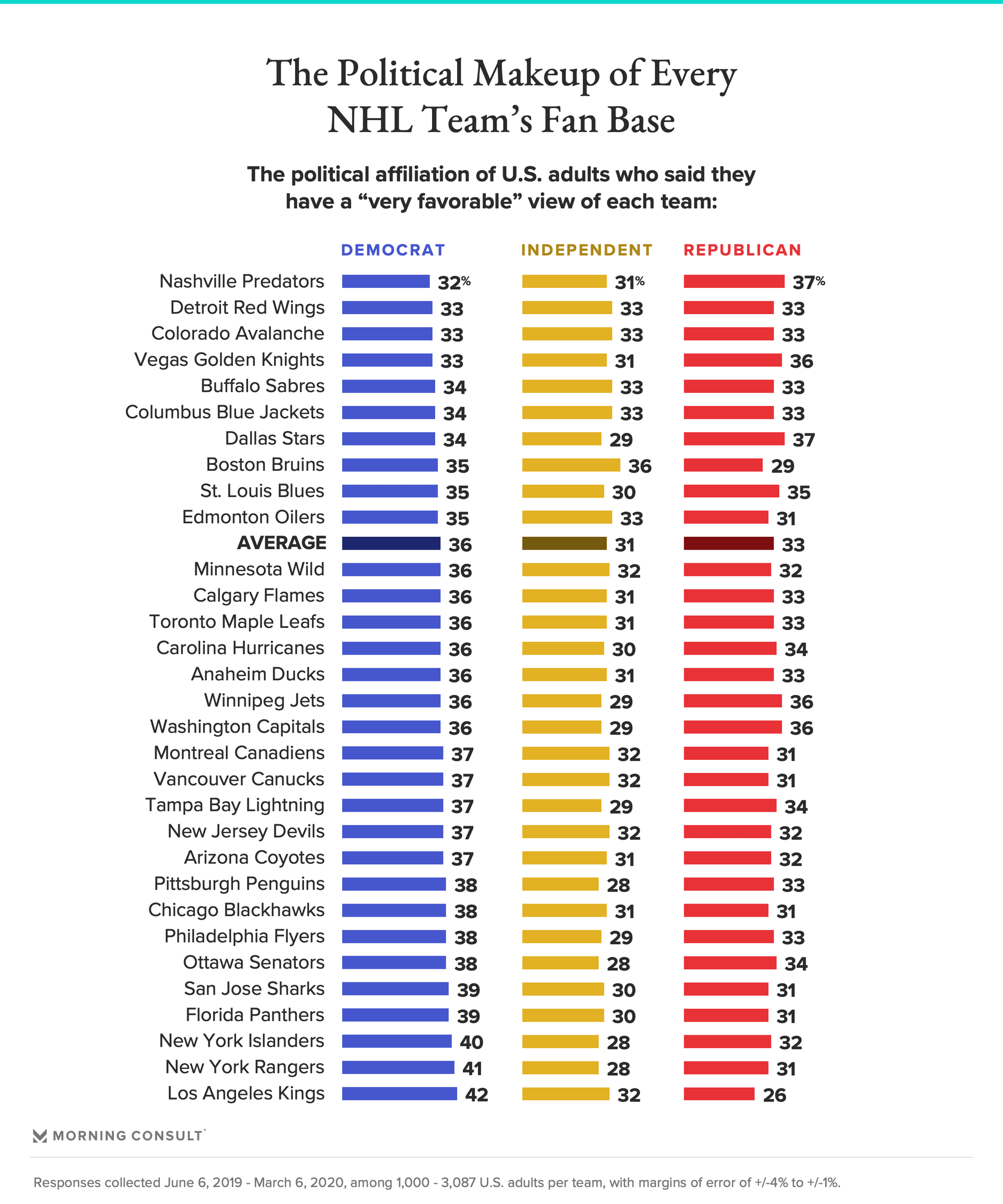 The average NHL team's fan base is both whiter and more Republican than that of the average team in the other three major team sports, though this comes with a significant caveat: Seven NHL teams are located in Canada, and the survey only includes U.S.-based adults. (The same caveat applies to a smaller degree in MLB with the Toronto Blue Jays.)
Three NHL teams have a larger share of Republican fans than Democratic fans -- the Nashville Predators, Vegas Golden Knights and Dallas Stars -- while another five teams' fans are evenly split between the two parties. Fans of the Los Angeles Kings, New York Rangers, Florida Panthers, San Jose Sharks and New York Islanders are the most likely in the NHL to identify as Democrats.
The Los Angeles Kings have the largest percentage of nonwhite fans by a significant margin, followed by the Florida Panthers, Arizona Coyotes, Dallas Stars and Washington Capitals.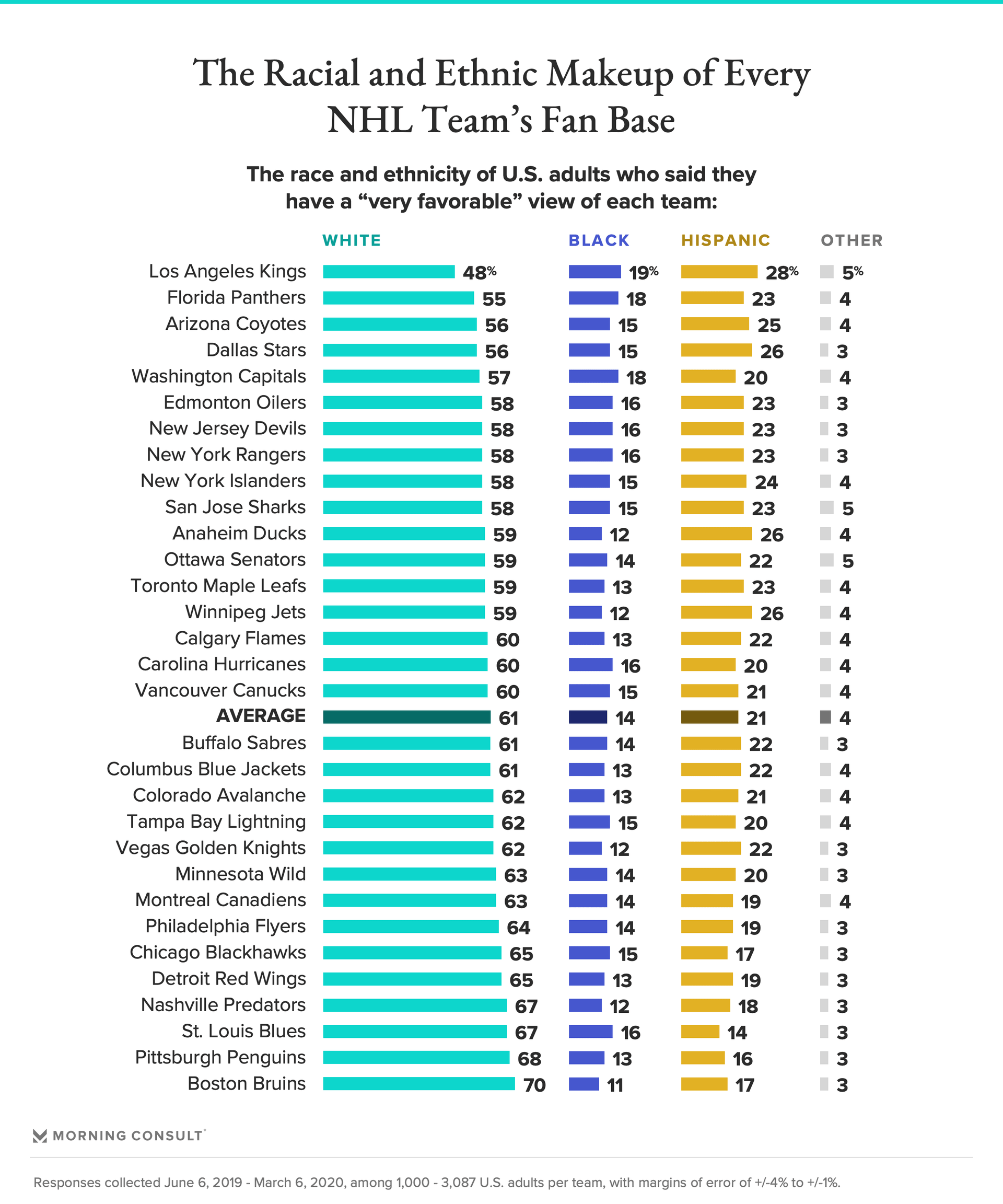 The NHL has begun advocating on issues of racial inequality and social justice. When the Milwaukee Bucks refused to play on Aug. 26 following the police shooting of Jacob Blake in Kenosha, Wis., sports properties across the country postponed some, if not all, of their scheduled competitions. The NHL was the lone U.S.-based sports league to play its full slate of games that night.
Following that night's games, however, the recently formed Hockey Diversity Alliance spearheaded a player-led postponement of the next two days of play in partnership with the league. The HDA, led by a group of prominent Black NHL players, has vowed to serve as a catalyst for expedited change in how the league supports social justice and racial equality. 
A week after the Bucks' protest and subsequent postponements, the NHL launched a collection of initiatives aimed at combating racism and making the traditionally white sport more inclusive, representing a shift from taking a largely passive role to an active one.
Anderson said recent support of social justice causes by MLB and the NHL has been encouraging, but said the important test will be to see whether it continues beyond the current moment. He pointed out that these leagues in particular might face more backlash based on the demographic makeup of their fans.
"The NHL and Major League Baseball face those same contingencies," he said. "As long as the NBA is leading the way, they will take smaller steps to get there. And if it begins to affect the bottom line, then they may back up a little bit."
Alex Silverman previously worked at Morning Consult as a reporter covering the business of sports.
We want to hear from you. Reach out to this author or your Morning Consult team with any questions or comments.
Contact Us