Buttigieg Tops Warren in Drawing the Most Donations From Big Tech's Employees in Q2
Indiana mayor and senator each raised over $100,000 from Facebook, Amazon, Apple and Alphabet workers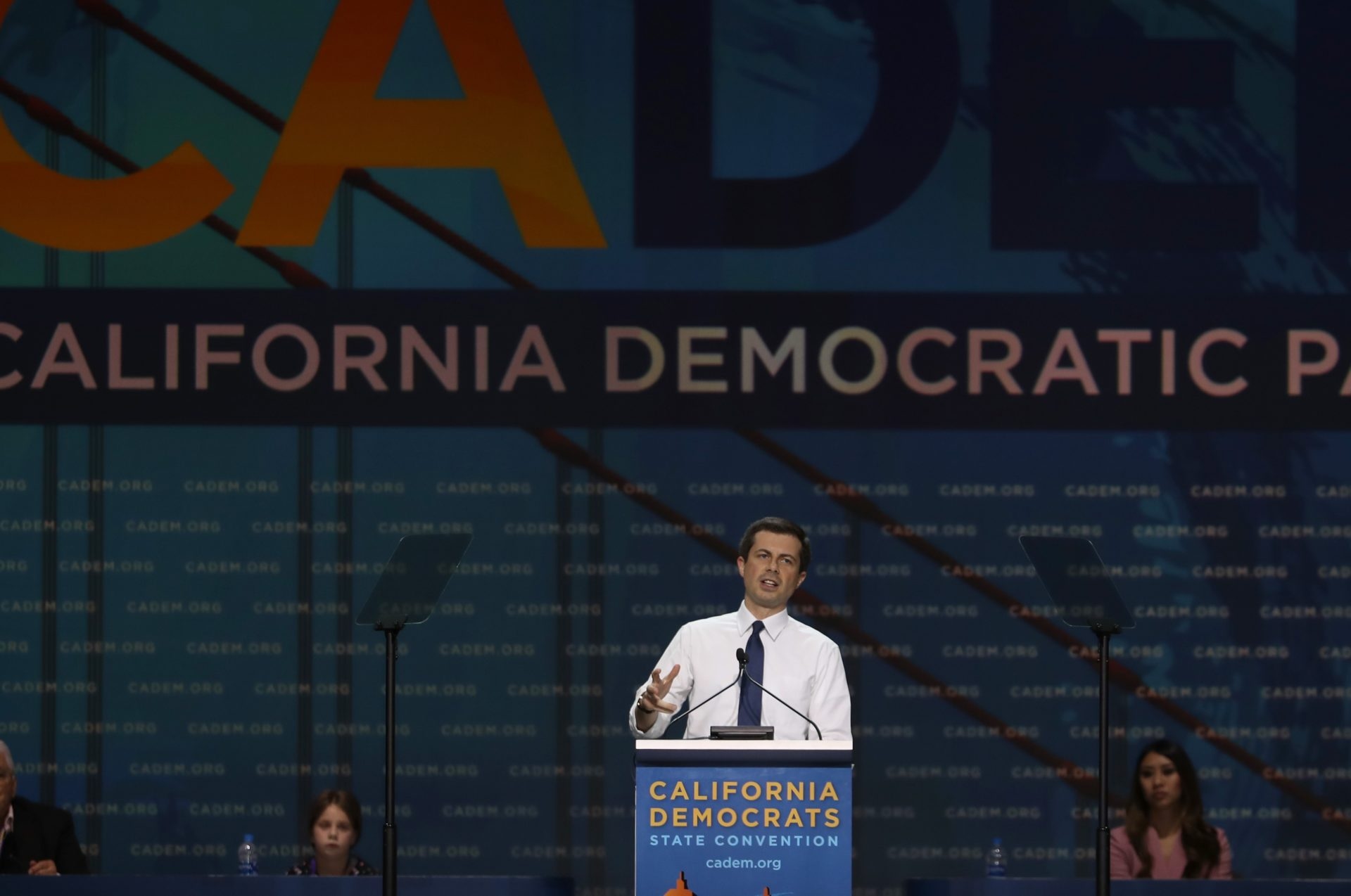 Key Takeaways
Buttigieg received $121,973 in donations from 214 employees at the four tech giants, while Warren collected $102,476 from 232 employees.

In the first six months of 2019, Warren raised nearly $142,000 from these workers, more than any other Democratic presidential candidate.
With tech regulation becoming a larger talking point among 2020 Democratic presidential candidates, workers at four major American tech companies are putting their money behind two nominees: Sen. Elizabeth Warren of Massachusetts and Pete Buttigieg, the mayor of South Bend, Ind.
In the second fundraising quarter, from April 1 to June 30, Buttigieg received $121,973 from 214 employees at Facebook Inc., Amazon.com Inc., Alphabet Inc. and Apple Inc., according to receipts filed with the Federal Election Commission on Monday. These four companies have come under scrutiny from lawmakers because of their dominance in their respective markets.
This is Buttigieg's first FEC filing since announcing his candidacy on April 14, and he has already received more from major tech company workers than any other candidate in the race, except Warren ($141,947) and Sen. Kamala Harris of California ($114,792), with Harris declaring her intention to run on Jan. 21 and Warren on Feb. 9.
Warren, the candidate with arguably the most divisive plan to regulate big tech, which calls for the breakup of Facebook and Amazon, raised the second most in the last quarter from the same category of donors, recording $102,476 donations from 232 employees at the four companies and more than doubling her haul from the first three months of the year.
In 2019, Warren has collected nearly $142,000 from Big Tech's workers -- the most of any other Democratic presidential candidate so far -- signaling growing support from within the Silicon Valley offices that would be affected most by Warren's proposed antitrust regulation.
In the second quarter, Buttigieg's and Warren's donations from tech workers at large tech companies far outpaced that of other candidates, with Harris raising the next-largest amount at $59,619. Former Texas Rep. Beto O'Rourke raised about $9,700 from such employees from April to June, the smallest sum of any other candidate and a 68 percent decrease from the approximately $30,200 raised in the first three months. 
Under U.S. law, an individual can donate up to $2,800 per election to a candidate, or a maximum of $5,600 combined for those who donate to both a candidate's primary election fund and general election pool. In the quarterly filings to the FEC, candidates must list a donor's identity and the date of the contribution once a donor has contributed a total of $200 in an election cycle.
A handful of tech executives also backed Buttigieg and Warren's presidential bids in the second quarter. For Buttigieg, who has close ties to Facebook Chief Executive Mark Zuckerberg from their days together as classmates at Harvard University, the list of executives maxing out their contributions to the mayor spans across the tech industry to include Netflix Inc. Chief Executive Reed Hastings, Facebook cryptocurrency head David Marcus, Y Combinator Chairman Sam Altman and a handful of venture capitalists.
And Warren's campaign contributors include John MacFarlane, a co-founder of Sonos Inc., who wrote a $2,500 check, and Chamath Palihapitiya, a former Facebook executive and current head of venture capital firm Social Capital, who gave $5,000.
Shomik Dutta, who has held several fundraising roles for former President Barack Obama's presidential campaigns and other Democratic campaigns, said those high-profile, high-paying donors won't matter so much later in the election cycle because once a wealthy supporter maxes out, he or she can't continue to give to a campaign. Donors who give a steady stream of small amounts, however, can sustain a campaign when they need the support the most.
"Wealthy individuals play a really important role in the early quarters of fundraising and presidential politics, and then a very diminished role as time goes on. And conversely, low-dollar donors generally play a diminished role in early quarters in presidential politics, and then play an insurmountable important role later," said Dutta, who is also a partner at Higher Ground Labs, an incubator for progressive political tech startups. "I think we're already at that tipping point now."
And by that logic, Dutta said campaign stops in Silicon Valley to raise money -- such as the ones being made by former Vice President Joe Biden, Buttigieg, Harris and New Jersey Sen. Cory Booker -- will slow down as the campaign carries forward.
"Of course, there is a pool of capital ready and waiting in Silicon Valley, but quarter over quarter, it becomes less important, because the low-hanging fruit has been plucked, the checks have been maxed out," he said. Then campaigns have to figure out "a low-dollar strategy because those low-dollar $10 contributions can be recurring," Dutta said. 
Sam Sabin previously worked at Morning Consult as a reporter covering tech.
We want to hear from you. Reach out to this author or your Morning Consult team with any questions or comments.
Contact Us