Republicans, Independents Drive Decline in Support for Jan. 6 Panel
58% of voters back a commission to investigate the Capitol riot, down from 66% in June
Key Takeaways
52% of Republicans oppose Congress' looking into the Trump-inspired attack, up 9 points in 5 weeks.

Among independents, support for a congressional investigation fell 13 points, to 52%.

83% of Democrats support the probe, unchanged from last month.
Most voters back a congressional panel to investigate the events of Jan. 6, but as a special House committee holds its first hearing today, a new Morning Consult/Politico poll shows that the public's support has dropped, driven by Republican and independent voters. 
According to the July 23-26 survey, 58 percent of voters said they support a congressional commission to investigate the Jan. 6 attack on the U.S. Capitol, compared with 29 percent who oppose it. Overall support for the probe is down 8 percentage points since a poll conducted June 18-20, while the share opposed or uncertain rose by smaller amounts.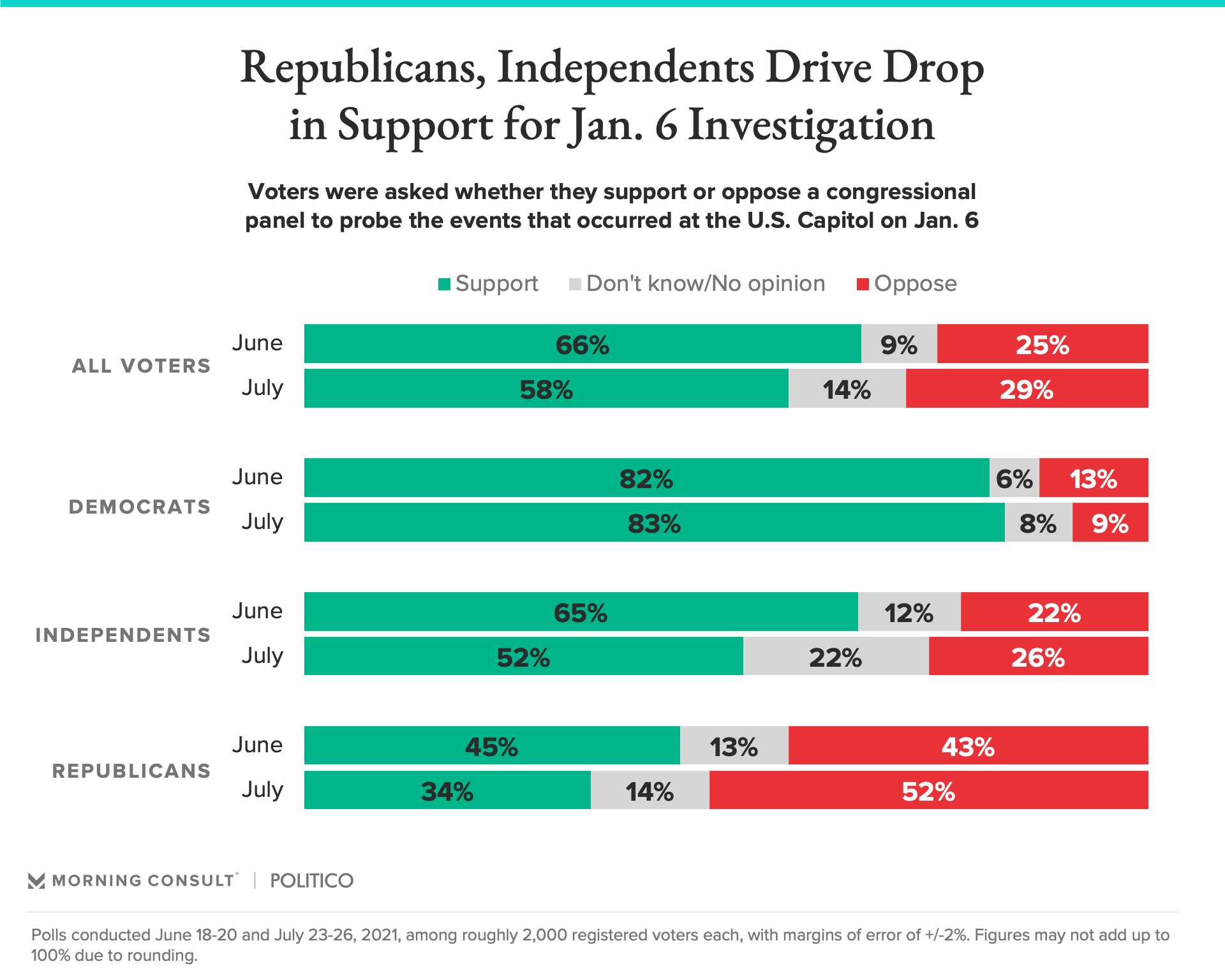 The decline in support was largest among independents, who appear more likely than Republicans to accept the panel's eventual conclusions as legitimate, given earlier polling. Half of independent voters (52 percent) support the congressional probe, down 13 points since June, while the share who are uncertain increased 10 points, to 22 percent.
Among Republicans, who were almost evenly split on support for the panel five weeks ago, the majority (52 percent) now oppose it, while support from Democrats was virtually unchanged at 83 percent.
The survey was conducted after House Minority Leader Kevin McCarthy (R-Calif.) said he would not appoint any Republicans to the select committee following House Speaker Nancy Pelosi's refusal to seat Republican Reps. Jim Banks of Indiana and Jim Jordan of Ohio due to their past statements and actions. The California Democrat responded by naming Rep. Adam Kinzinger (R-Ill.) to join her other Republican appointee, Rep. Liz Cheney of Wyoming, in a move to boost the group's bipartisan credentials.
McCarthy's actions – coupled with the posture of the GOP electorate – mirror previous Morning Consult polling that found more Republican voters want to disassociate their party from the insurrection and move on. At the time of the June survey, 68 percent of Republican voters said there had been too much focus on the events of Jan. 6, compared with 23 percent of Democrats and 36 percent of independents who agreed. 
Eli Yokley is Morning Consult's U.S. politics analyst. Prior to his current role, Eli was Morning Consult's senior reporter covering U.S. politics. Eli joined Morning Consult in 2016 from Roll Call, where he reported on House and Senate campaigns after five years of covering state-level politics in the Show Me State while studying at the University of Missouri in Columbia, including contributions to The New York Times, Politico and The Daily Beast. Follow him on Twitter @eyokley. Interested in connecting with Eli to discuss his analysis or for a media engagement or speaking opportunity? Email [email protected].
We want to hear from you. Reach out to this author or your Morning Consult team with any questions or comments.
Contact Us