Republican Voters Largely Want to Move On From Jan. 6. The Rest of the Country Doesn't
Nearly six months later, partisan gaps on culpability, motivation and severity of Capitol attack have widened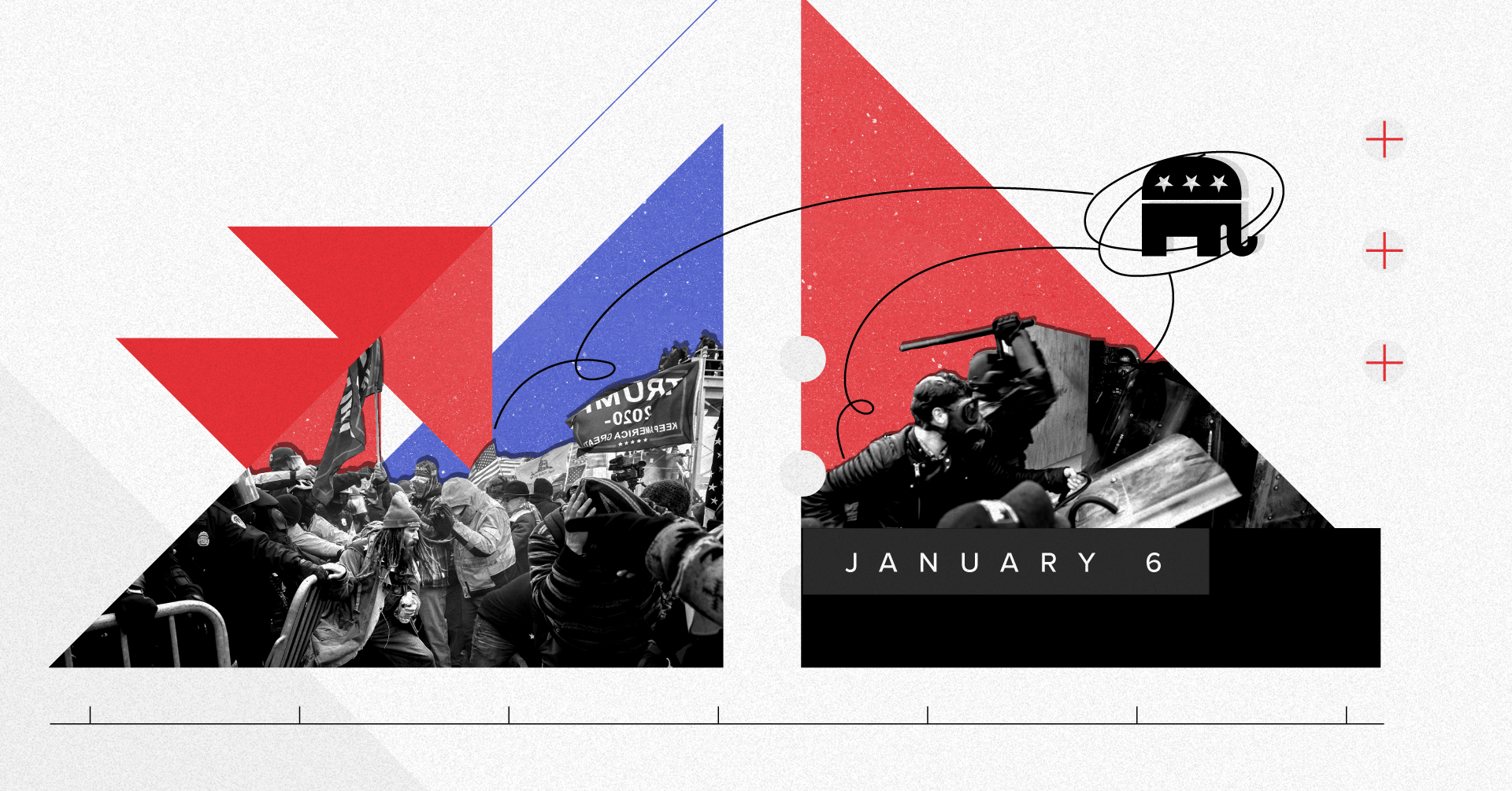 Key Takeaways
GOP voters are now more likely to blame President Joe Biden and Democrats in Congress for the events that led to the Capitol attack than they are Donald Trump and GOP lawmakers.

The overall electorate has become more likely to say the Capitol rioters represent the Republican Party.

68% of GOP voters say "there has been too much focus on the January 6th events," while 50% of all voters disagree.
This article is part of a deep dive on the Jan. 6 riot in Washington and creeping authoritarianism in America. See all of our work here.
In the aftermath of the Jan. 6 attack on the Capitol by a mob of then-President Donald Trump's supporters, a handful of Republican leaders were joined by a number of their voters in bestowing at least some culpability on Trump and the GOP in Washington.
Nearly six months later, Morning Consult polling has found that while the bulk of the overall electorate still shares that perspective, Republican voters appear to be following their leaders as they become increasingly likely to disassociate themselves, their party and Trump from the insurrection.
Since a Morning Consult/Politico poll conducted Jan. 6-7, the share of Republican voters who said Trump was at least somewhat responsible for the events that led to the Capitol attack fell 11 percentage points, to 30 percent, while the share who said the same of Republicans in Congress fell by a similar share, to 22 percent, in the June 18-20 survey. Both surveys were conducted among roughly 2,000 registered voters, with 2-point margins of error.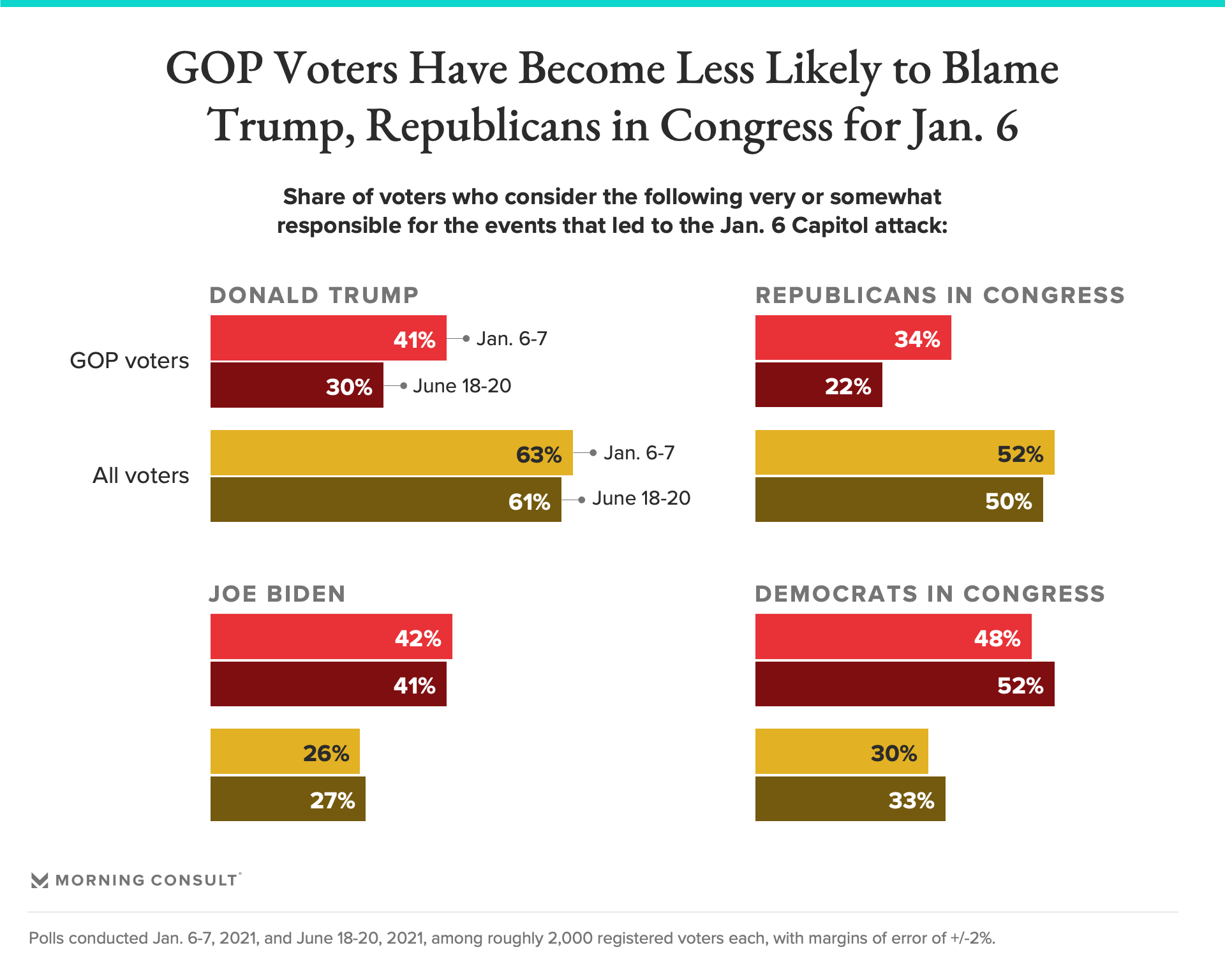 Republican voters are now more likely to blame President Joe Biden and congressional Democrats for the events that led to the Capitol attack than they are Trump and GOP lawmakers, many of whom supported his false claims of widespread election irregularities. That stance puts them at odds with the broader electorate, whose views on the matter have gone virtually unchanged.
"What's happening isn't partisan polarization but asymmetric polarization, with Republicans separated from Democrats and independents on everything from whether the 2020 election results were legitimate, to assessments of how Trump handled and Biden is handling COVID, to views about how the economy is doing," said Amy Fried, the chair of the University of Maine's political science department and the co-author of a new book probing conservatives' distrust in institutions.
Hans Noel, an associate professor of government at Georgetown University who's studied political coalitions, parties and ideology, also highlighted the passage of time and a relaxing of intraparty condemnation of the now-former president. 
Since the aftermath of Jan. 6 and Trump's second impeachment trial, his popularity has improved among the GOP voters nationwide, Republican candidates for the midterms have flocked to his properties in search of his endorsement and GOP leaders' expressions of disapproval about his behavior following his loss to Biden have given way to efforts by some lower-level Republican lawmakers and influencers to downplay the Capitol attack.
"There were a lot of Republicans criticizing Trump and the insurrection right after it," Noel said. "Messages ranged from 'it was antifa' to 'it's no big deal' to 'it was Trump and not us.' Now, the messages are still mixed, but the ones that criticize Trump have faded."
Despite that messaging, the Republican Party has not been able to shrug off voters' views that the Capitol attackers are representative of the overall GOP. 
While voters have become less likely to agree that the Jan. 6 rioters are representative of Trump rather than the whole Republican Party, they are now more likely to say that the insurrectionists represent the GOP overall. Among Republicans voters, however, the share who pushed back on both statements increased notably – especially the one regarding Trump. 
But most voters have no illusions about whom the Capitol's attackers were fighting for: 64 percent said the people who breached the Capitol were Trump supporters, down 6 points from January. That drop was driven by Republican voters, 45 percent of whom still agreed with the sentiment. 
Among GOP voters, 27 percent said the rioters were opponents of Trump, aligning with some of the conspiracy theories propagating on the right that allege the presence of outside meddlers.
"Leading Republicans have been working to shift the blame to groups like antifa or the FBI -- in conservative media, both those groups are frequently portrayed as anti-Trump," said J. Miles Coleman, associate editor of Sabato's Crystal Ball at the University of Virginia Center for Politics. "Perhaps over the past several months, this message has sunk in with Republicans at large, which seems reflected in the polling here."
The survey also found Republicans are tired of hearing about the event. Six months later, 68 percent of GOP voters agreed with the statement that "there has been too much focus on the January 6th events at the U.S. Capitol," while half of the electorate disagreed.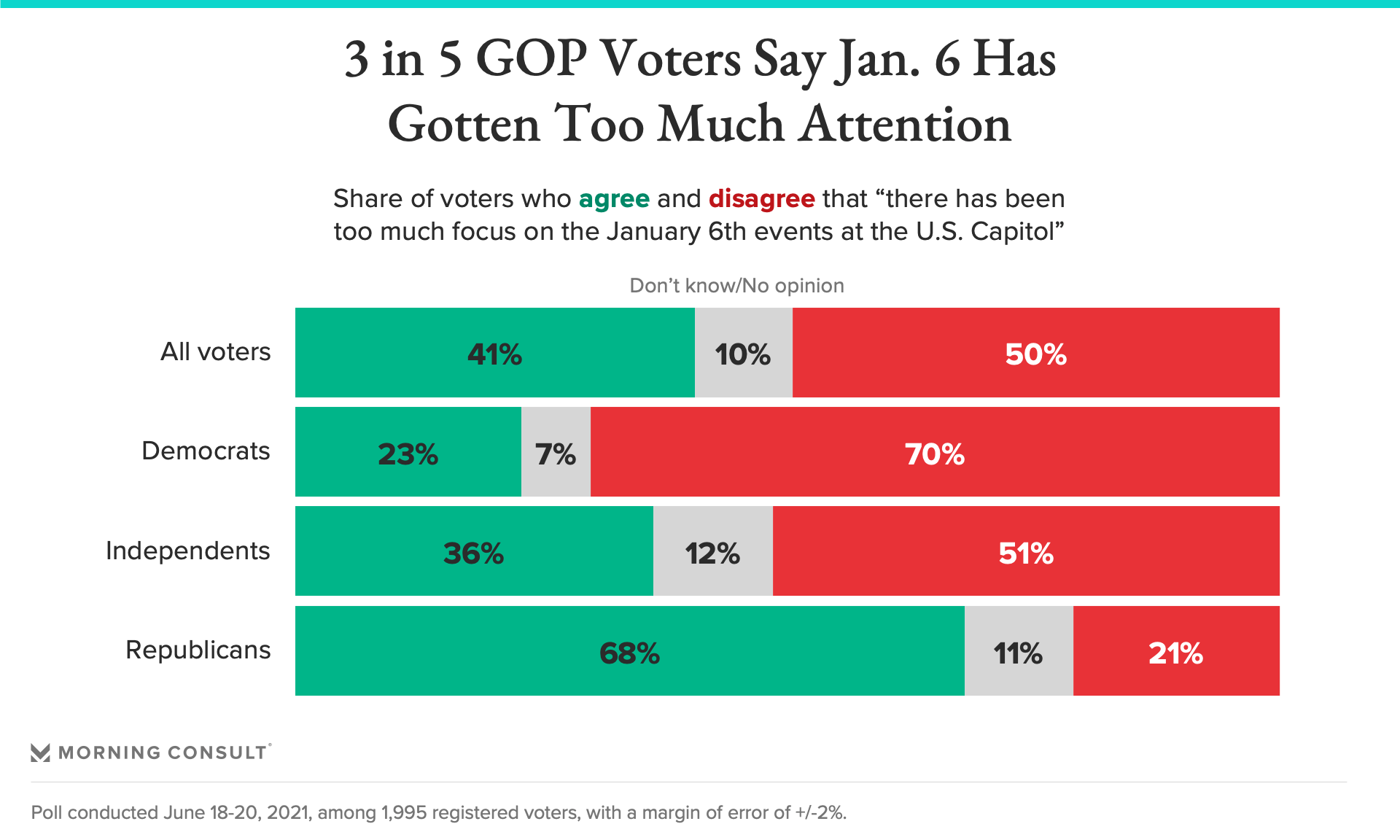 Regardless of which side of that divide voters fall on, the country is about to hear a lot more about Jan. 6 as prosecutions start to move through the judicial system and a select committee launched last week by House Speaker Nancy Pelosi (D-Calif.) begins to carry out its own probe after Senate Republicans blocked the establishment of an independent, bipartisan commission.
Despite aligning with the statement that too much attention has been paid to Jan. 6, a 46 percent plurality of GOP voters said it was important that the federal government continue to investigate what happened six months ago, joining 9 in 10 Democrats and 67 percent of self-identified independents.
But that gap – reflected across much of the survey probing voters' views on an inarguably historic event six months later – reflects something broader: Republican voters are less likely than others to say they were shaken by Jan. 6.
Just 1 in 5 Republican voters said the Jan. 6 attack has had a major impact on their worldview, ranking it at the bottom of a list of a dozen big moments in recent history. On the other hand, 2 in 3 Democrats said Jan. 6 had a major impact on their worldview, marking the biggest gap between the two parties on the question.
"The implications of January 6th are still on their minds," Coleman said of Democratic voters. "Contrast that to some right-wing media outlets, which are downplaying -- or trying to outright avoid mentioning -- it."
Eli Yokley is Morning Consult's U.S. politics analyst. Prior to his current role, Eli was Morning Consult's senior reporter covering U.S. politics. Eli joined Morning Consult in 2016 from Roll Call, where he reported on House and Senate campaigns after five years of covering state-level politics in the Show Me State while studying at the University of Missouri in Columbia, including contributions to The New York Times, Politico and The Daily Beast. Follow him on Twitter @eyokley. Interested in connecting with Eli to discuss his analysis or for a media engagement or speaking opportunity? Email [email protected].
We want to hear from you. Reach out to this author or your Morning Consult team with any questions or comments.
Contact Us