Half of Voters Call for Cabinet to Remove Trump as Bulk of Republicans Say He Should Retain 'Major Role' in Party
63% blame the president for Wednesday's havoc at the Capitol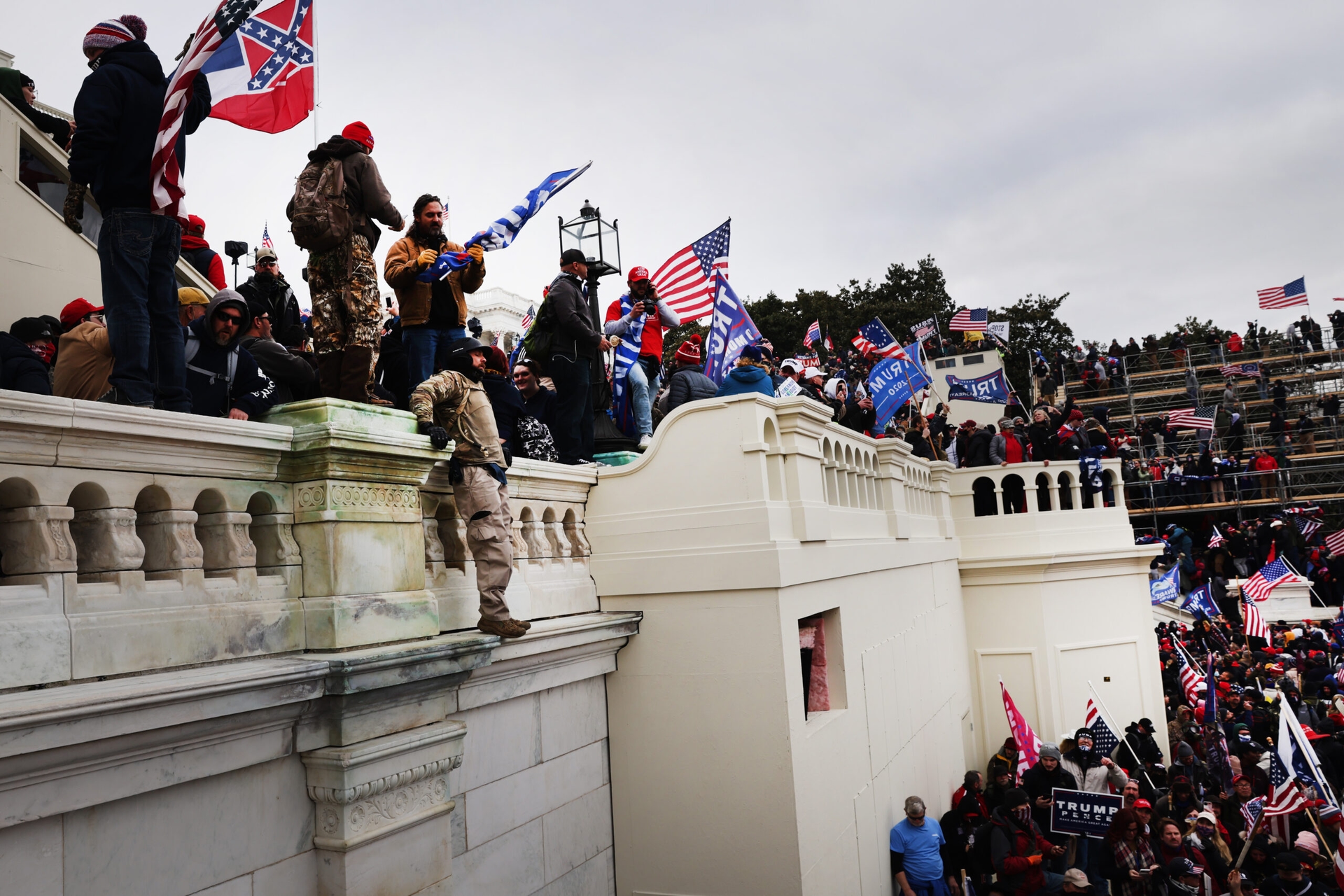 Key Takeaways
7 in 10 voters -- including 53% of Republicans -- identified the rioters as Trump supporters.

Voters were split almost evenly when asked whether they think the people who broke into the Capitol are representative of the Republican Party.

53% of voters described themselves as "very proud" to be an American, down 10 points from a February 2018 survey.
A growing share of Americans say President Donald Trump should be impeached and even more say he should be relieved of his duties via the 25th Amendment following a destructive and violent assault on the U.S. Capitol that voters firmly blame on the president and his supporters. Meanwhile, a plurality of Republicans say the president should continue to play a "major role" within the GOP after he departs office later this month.
According to a Morning Consult/Politico poll conducted after the Capitol riots, 44 percent of voters said Congress should move to impeach the president, up 8 percentage points from a survey conducted earlier this week. Nearly half of voters (49 percent) said the Cabinet should invoke provisions in the Constitution's 25th Amendment that allow for a president to be declared "unable to discharge the powers and duties of his office" and bestow presidential authority on Vice President Mike Pence.
The questions are not hypothetical: More than two dozen House Democrats have called for Trump's impeachment, and members of both parties -- reportedly including Republicans from both inside and outside of Trump's administration, per Axios -- have called for the 25th Amendment to be invoked amid allegations that the president incited Wednesday's raid of the Capitol and was unwilling to engage in a timely manner to quell it.
"What happened at the U.S. Capitol yesterday was an insurrection against the United States, incited by the president," said Senate Minority Leader Chuck Schumer (D-N.Y.). "This president should not hold office one day longer." 
Schumer's position on the blame for the attack echoed remarks by Sen. Mitt Romney (R-Utah) on the floor late Wednesday, when he called the attack "an insurrection incited by the president" who "deliberately misinformed" his supporters about the election outcome. That view -- that Trump is at least somewhat to blame for Wednesday's mob attacks -- is also shared by the American people.
According to the Jan. 6-7 survey, 63 percent of voters, including 85 percent of Democrats and roughly 2 in 5 Republicans, said Trump is somewhat or very responsible for the events that led to a group of people attacking police and breaking into the halls of Congress. The survey of 1,986 registered voters has a 2-point margin of error.
Half of voters (52 percent) blamed Republicans in Congress, many of whom backed Trump's baseless claims of widespread voter fraud in his bid to reject congressional certification of President-elect Joe Biden's Electoral College victory, while roughly a third, driven largely by GOP voters, blamed state elections officials. About 2 in 5 Republican voters said Biden was responsible, while nearly half blamed Democrats in Congress. 
When it comes to the people who broke into the Capitol, 7 in 10 voters -- including 53 percent of Republicans -- identified the rioters as Trump supporters. But amid unfounded claims from Rep. Mo Brooks (R-Ala.) and some in the conservative media that antifa was responsible, a number of Republicans lacked certainty: Just over a fifth said the Capitol's attackers were Trump opponents, while 27 percent said they did not know who they were.
In the aftermath of the attack, many Republican officials in Washington sought to distance themselves and their party from the people who stormed into the Capitol. Voters were split almost evenly -- 42 percent to 41 percent -- when asked whether they think the people who broke into the Capitol are representative of the Republican Party, though the majority (57 percent) said they are representative of Trump but not the GOP overall. 
Most Republican voters (61 percent) rejected the notion that the Capitol attackers represented their party, but split almost evenly -- 40 percent who agreed and 42 percent who disagreed -- when asked whether they were reflective of Trump himself.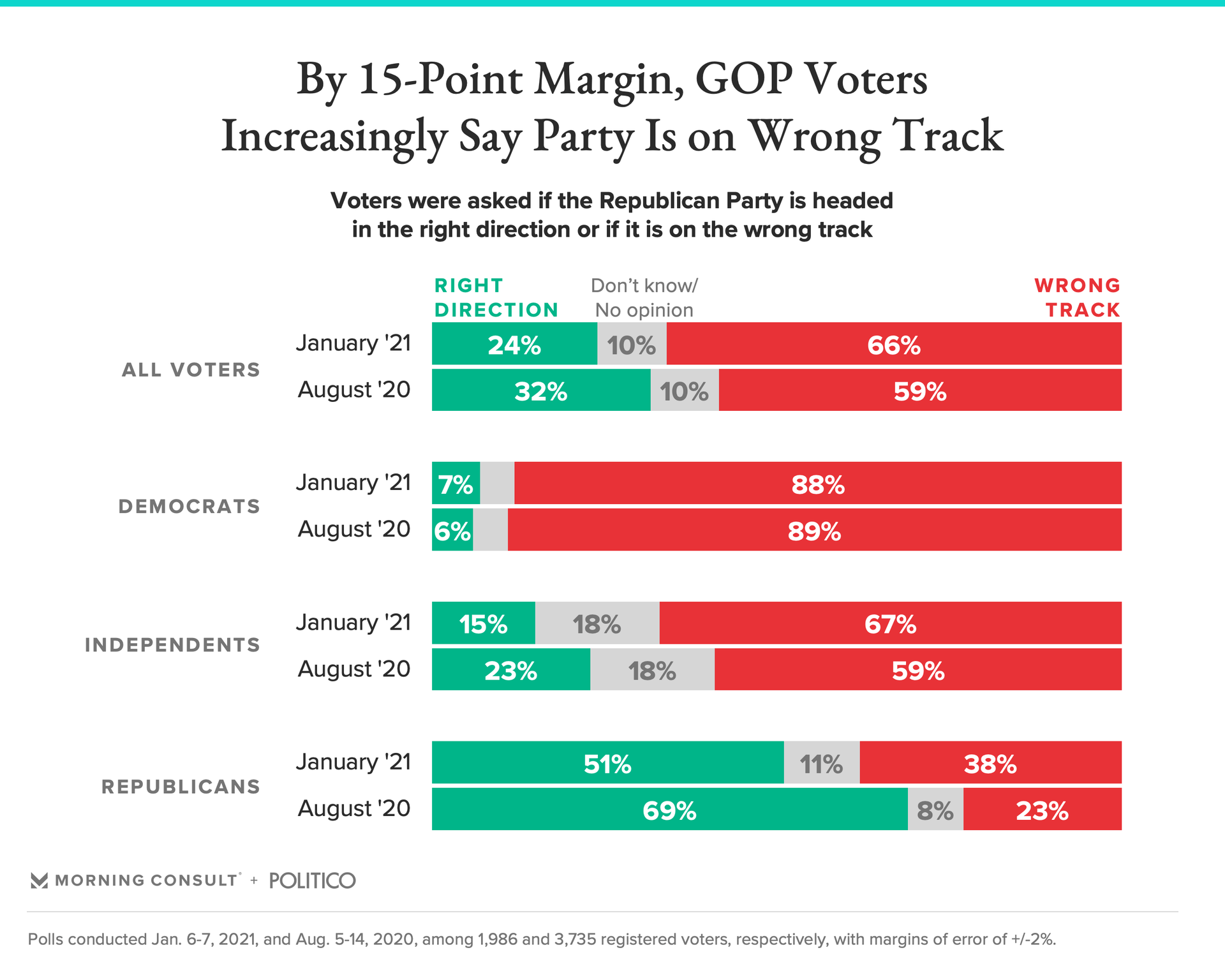 The events appear to have sparked a reckoning about the state of affairs in the GOP among its voters. While 69 percent of GOP voters said in August that the party was headed in the right direction, that share fell 18 points to 51 percent in the latest survey. The share of Republicans who said the party is on the wrong track increased by 15 points over that time frame, to 38 percent.
Similarly, half of GOP voters agreed with the statement that "it's getting harder to be a Republican," up 8 points compared with a survey conducted last month, while the share who said it's getting easier dropped 8 points to 30 percent during the same time period. 
Nonetheless, a plurality of Republican voters (41 percent) said Trump should play a "major role" in the party when he leaves office and another 18 percent said a minor role would be appropriate. A quarter (24 percent) said he should play no role at all, joining 52 percent of all voters.
Wednesday's attack on Washington served as the culmination of a series of events reflecting an increasingly divided nation, which appears to be taking a toll on Americans' civic pride.
The latest poll found only 53 percent of voters described themselves as "very proud" to be an American, down 10 points from a February 2018 survey.
Eli Yokley is Morning Consult's U.S. politics analyst. Eli joined Morning Consult in 2016 from Roll Call, where he reported on House and Senate campaigns after five years of covering state-level politics in the Show Me State while studying at the University of Missouri in Columbia, including contributions to The New York Times, Politico and The Daily Beast. Follow him on Twitter @eyokley. Interested in connecting with Eli to discuss his analysis or for a media engagement or speaking opportunity? Email [email protected].
We want to hear from you. Reach out to this author or your Morning Consult team with any questions or comments.
Contact Us