3 in 5 Adults Say They'd Get a COVID-19 Test if Exposed, Even if They Were Asymptomatic
Despite updated CDC guidance, providers and health officials say testing those with known coronavirus exposures is still 'the most targeted way' to stem virus' spread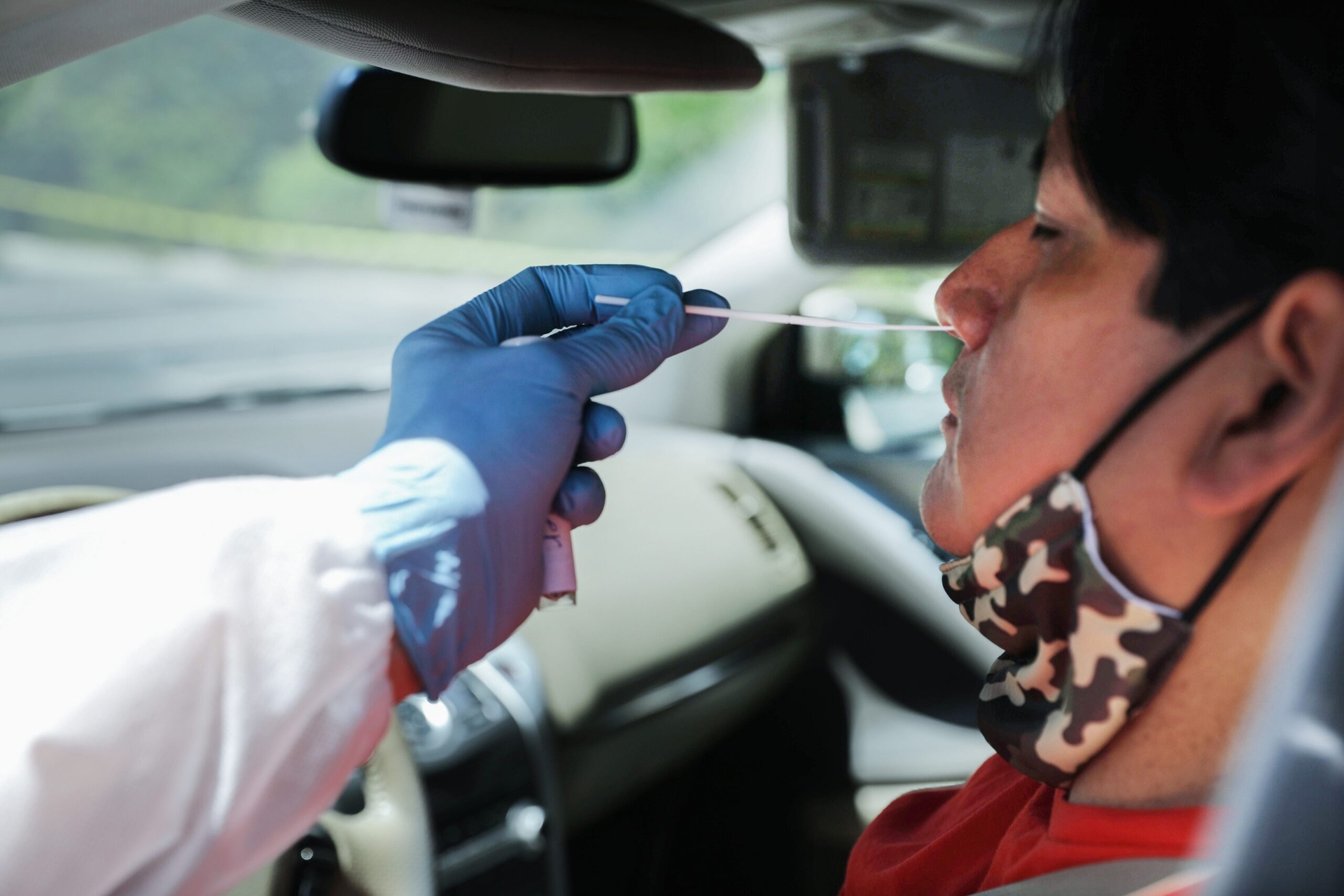 Key Takeaways
62 percent of adults say they would be likely to seek a COVID-19 test if they thought they had been exposed to COVID-19 but didn't have symptoms.

80 percent of adults say they would get a COVID-19 test if they were exposed to the virus and had symptoms.
A recent revision to federal COVID-19 testing guidelines sparked intense backlash from public health experts who fear it could lead to fewer infections being detected among asymptomatic people, but a new Morning Consult survey found that most of the public would still seek a coronavirus test if they thought they had been exposed to the virus, regardless of whether they exhibited symptoms.
The updated recommendations, posted quietly to the Centers for Disease Control and Prevention's website Aug. 24, included an important exception: Asymptomatic people who have been exposed to the virus may "not necessarily need a test" – unless they're part of a vulnerable group or their local health officials or physicians recommend it. And many, including at least 19 state health departments, still do – some with caveats of their own.
"Our testing capacity is increasing and we need to use it in a manner that will help us identify cases quickly, and testing someone with a known exposure certainly is the most targeted way to do so," said Doug Schultz, information officer for the Minnesota Department of Health.
The Morning Consult poll found 62 percent of adults would be "somewhat" or "very" likely to seek a COVID-19 test if they thought they'd been exposed to the virus but didn't have symptoms of the disease, while 80 percent said they were likely to get a test if they did exhibit symptoms. The survey was conducted Aug. 26-28 among 2,200 adults and has a margin of error of 2 percentage points.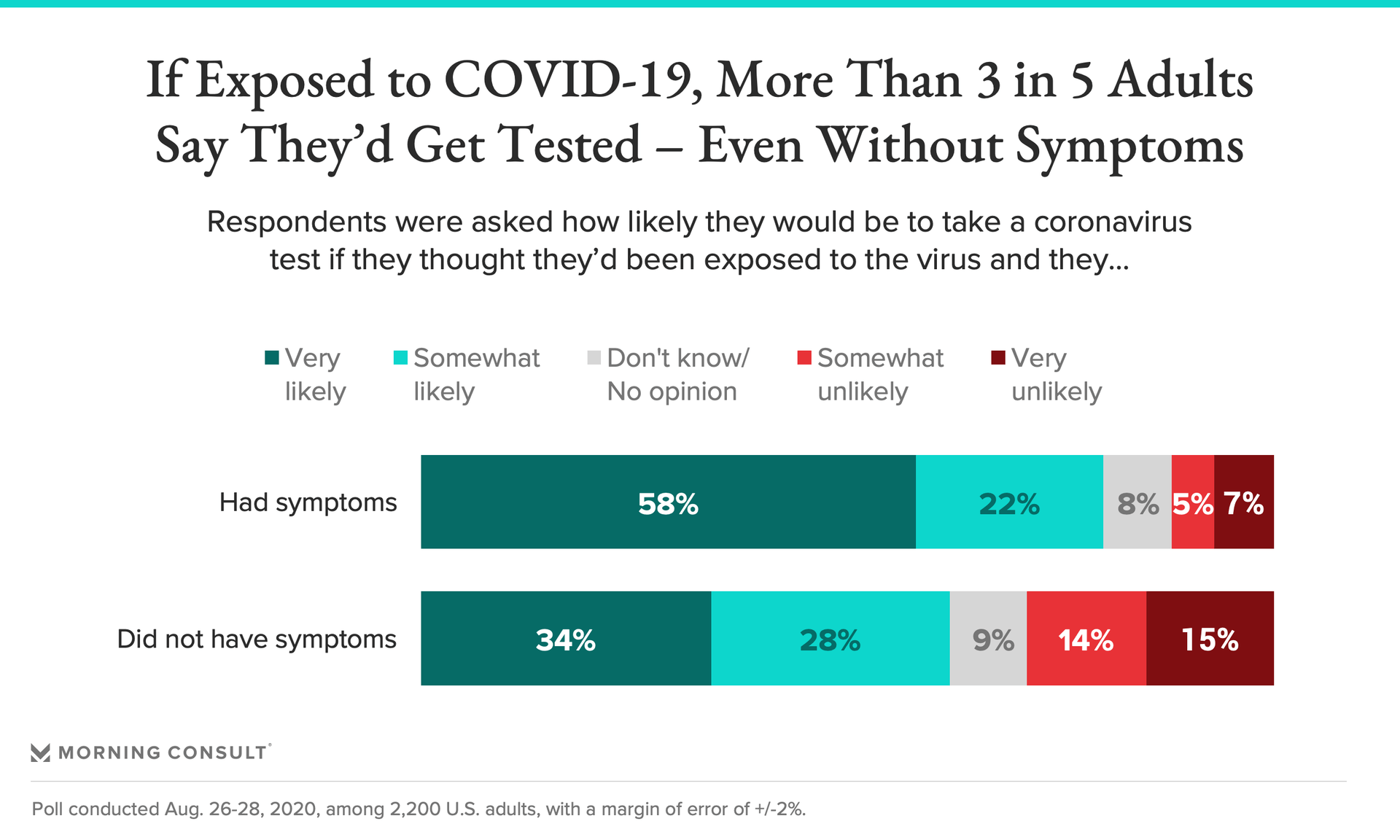 The results are perhaps unsurprising given widespread testing has for months been touted as key to curbing the spread of COVID-19, and the CDC's own estimation is that 40 percent of coronavirus infections occur among people without symptoms.
Delta Health Center, a federally qualified health center in Mississippi, began testing anyone who came in, including people without symptoms, in late March or early April, said Chief Executive John Fairman. About two-thirds of positive cases identified through the center's drive-through testing program were among people without symptoms, he said, but beginning in late July, testing shortages meant the center began limiting testing to people with symptoms only.
"We sort of hit the brakes," Fairman said. "We're very disappointed, but we're helpless to do anything about it."
Other providers have created a prioritization system for testing. University of Colorado Health, for example, can conduct about 1,800 tests per day, said Dr. Richard Zane, the system's chief innovation officer and chair of emergency medicine at the University of Colorado School of Medicine. If tests were limited, the system would prioritize health care workers, followed by hospital patients who may have COVID-19; other hospital patients or those having procedures; symptomatic outpatients; outpatients who've had contact with an infected person; and finally, anyone else seeking a test.
"We have not had to do that yet," Zane said. "We always know, down to the minute, how many days of testing supplies we have."
There's another complication in the asymptomatic testing equation, he said: the sensitivity of commonly used PCR tests, which may be less reliable for people who don't have symptoms and thus return a false negative. PCR tests for COVID-19 also return either a positive or negative result but don't give a sense of how contagious an infected person might be, The New York Times reported last month.
"There are different tests out there with different thresholds for picking up virus," said Dr. Virginia Bieluch, infectious diseases chief at the Hospital of Central Connecticut. "A negative test can in some instances lead to a false sense of security."
In a call with reporters last week, Adm. Brett Giroir, an assistant secretary at the Department of Health and Human Services and the administration's testing coordinator, seemed to allude to this concern, saying the new federal guidance sought to ensure "appropriate testing, not less testing."
Facing criticism that the decision to revise COVID-19 testing guidance came not from CDC scientists but from senior Trump administration officials, CDC Director Dr. Robert Redfield has also attempted to clarify the recommendation, though it remains unaltered on the agency's website. And some providers say the guidance, short on specifics, could still cause confusion among the public about whether and when they should seek a coronavirus test.
For example, Dr. Gonzalo Bearman, chair of infectious diseases at VCU Health in Richmond, Va., said asymptomatic contacts of infected people don't automatically need to be tested, but they should be tested if there are other circumstances, such as a local cluster of cases, that might heighten their risk of infection. But he thinks the CDC guidance is "absolutely" confusing.
The bottom line: "You should consider talking to your health care provider about being tested if you were exposed," Bieluch said.
Gaby Galvin previously worked at Morning Consult as a reporter covering health.
We want to hear from you. Reach out to this author or your Morning Consult team with any questions or comments.
Contact Us