What the Public Wants From Its CEOs in 2020
Being open-minded, accountable, communicative, fair, positive and having integrity were the most cited characteristics
Key Takeaways
Empathy (42%) and emotional intelligence (32%) were characteristics ascribed more to female leaders, while being profit-oriented (29%), tech savvy (23%) and fearless (23%) were more associated with male CEOs.

24% of men said their CEOs are helping parents balance child care and work "too much" during the pandemic, twice as much as the share of women who said the same (12%).
With the role of chief executive officer becoming more high profile over the past few years, the public is applying higher levels of scrutiny on who these business leaders are and how they lead. 
Walmart Inc. CEO Doug McMillon elicited both public praise and criticism for wading into the gun debate in 2019, in part by limiting ammunition sales at the retailer's more than 11,000 locations; Away CEO Steph Korey stepped down after a media investigation into her leadership at the luggage company she co-founded revealed abusive practices; and Tesla Inc. founder and CEO Elon Musk is a constant presence on Twitter, where his tweets often make company stock skyrocket or drop.
And this was all before the global pandemic and a national reckoning on racial issues.
Executives' leadership style has become especially important in a tumultuous year such as 2020. A new survey from Morning Consult, in partnership with ASCEND, sought to explore the new rules of being a chief executive, including what characteristics employees say are the most important for leaders to have and how the coronavirus pandemic has influenced their views of their CEO. 
What characteristics people want, and how that differs by gender
The public wants a leader who is open-minded and accountable, according to the Oct. 15-17 survey. Characteristics such as communicativeness, of which 46 percent of respondents selected as one of their "top five" characteristics vital for a top executive to have, are especially important during the COVID-19 era, when many Americans are doing the majority of their professional communication via computer screen.
Caroline Feeney, CEO of Individual Solutions for Prudential Financial Inc., said the two most important things she did during such a tumultuous year were maintaining a calm resolve and making an extra effort to communicate with employees at every level of the nationwide company.
"Personally, I struggled," she said of the first few weeks of remote work. "I'm not an introvert -- I'm an extrovert. And I just love that face-to-face energy."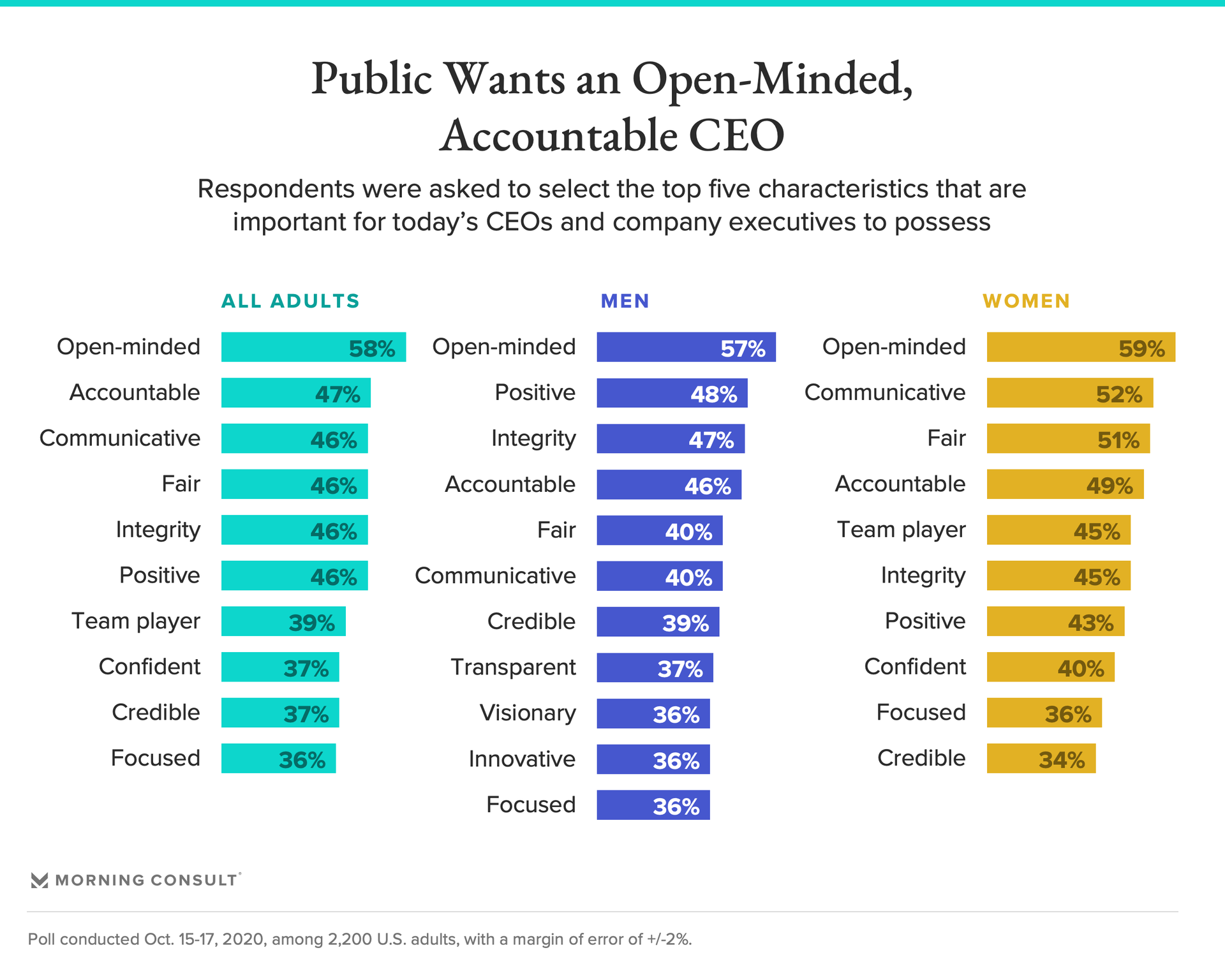 Communicativeness is a trait more associated with female leaders than with male leadership, according to the new poll, although about half (47 percent) said it applies to both genders equally. Roughly one-quarter (27 percent) said they mostly associate being communicative with female leaders, while 13 percent said the same of male executives. 
Respondents in the 2,200-person poll, which holds a margin of error of 2 percentage points, were more likely to attribute the list of 37 qualities to female leadership than male. 
Women make up 8 percent of chief executive officers of Fortune 500 companies, a record high for the list. Just three of the 40 female CEOs of these companies identify as a racial or ethnic minority: Gap Inc.'s Sonia Syngal, Advanced Micro Devices Inc.'s Lisa Su and Yum China Holdings Inc.'s Joey Chui Yung Wat.
Men and women are generally in agreement over the most important characteristics, although men are more likely to want someone who is strategic, results-oriented and transparent, while women are more likely to want their leader to be a team player, communicative and fair.
The results echo gender stereotypes deeply embedded in U.S. society: that men are more cutthroat business leaders and women possess more "mothering" characteristics.
This tendency to ascribe gentler personality traits to women in business settings aligns with past research conducted on female executive leadership. A study published in September 2017 in the Strategic Management Journal found that firms that appoint a female CEO are more likely to "adopt a collaboration board chair orientation" because they view women as more conducive to this type of relationship compared to men.
Morning Consult compared how popular certain leadership traits were by how respondents gendered each characteristic. For example, transparency was the 12th most-cited characteristic that was desirable for leaders to have, and it's a trait that is more commonly associated with how women lead (24 percent) compared with men (11 percent).
The data shows that women are ready to see themselves in top positions. Women overwhelmingly categorized their top leadership characteristics, such as "fair" and "integrity," with female leaders, while men and the public overall were more of a mixed bag, according to Morning Consult analysis.
For example, the five most important characteristics that women in the poll listed were all more associated with female leadership than with male leadership. But the top five for men are more divided: Men associated "positive" and "accountable," two of the most important traits they named, more with male leadership than with female executives. Two other traits -- being open-minded and having integrity -- men associated more with female leaders.
How COVID-19 has changed things
COVID-19 created unforeseeable obstacles for not just the average American worker but for those trying to lead them. According to the survey, those in the workforce are largely satisfied with the response of their CEO or management staff on a number of issues, such as helping workers adjust to remote working and navigating the global pandemic overall.
Corporations across the country are normalizing remote work, such as Facebook Inc., which is allowing thousands of employees to work from their homes permanently. 
That said, notable gender divides emerged on a few questions. Men were twice as likely as women to say that CEOs are doing "too much" to help parents balance child care and work during the pandemic, a proportion that stays roughly true for how leaders have dealt with the pandemic overall.
View a PowerPoint presentation of these survey results, presented during the Nov. 16 webinar, "ASCEND 2020: Diversity and Inclusion & the Changing Values of Business Leadership."
Joanna Piacenza leads Industry Analysis at Morning Consult. Prior to joining Morning Consult, she was an editor at the Public Religion Research Institute, conducting research at the intersection of religion, culture and public policy. Joanna graduated from the University of Wisconsin-Madison with a bachelor's degree in journalism and mass communications and holds a master's degree in religious studies from the University of Colorado Boulder. For speaking opportunities and booking requests, please email [email protected].
We want to hear from you. Reach out to this author or your Morning Consult team with any questions or comments.
Contact Us