The Number of Fintech Consumer Complaints Filed to the CFPB Exploded in the Beginning of 2021
Data analysis shows that complaints in the category dominated by fintech increased substantially throughout the pandemic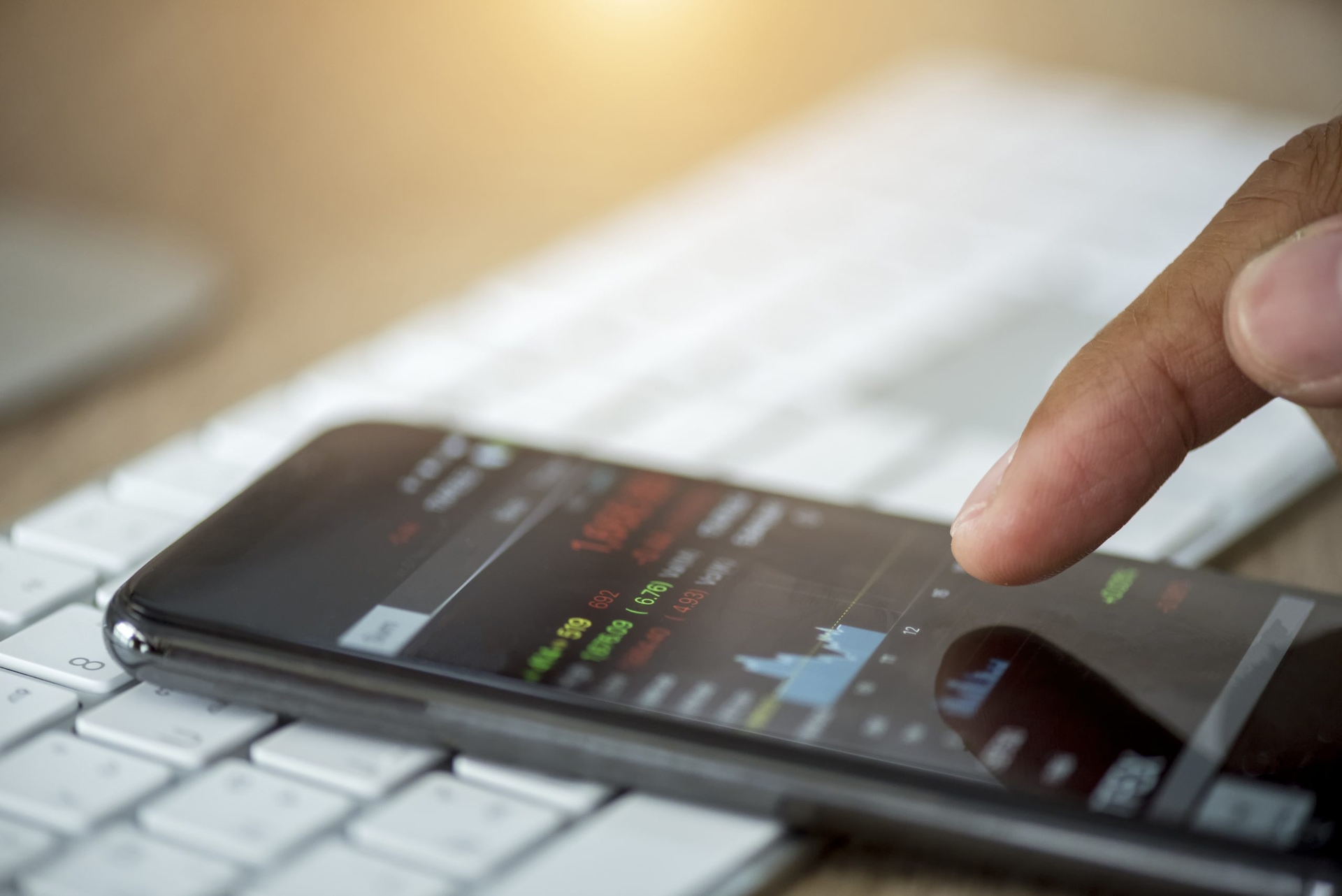 Key Takeaways
In the first three months of 2021, complaints in the "money transfer, virtual currency or money services" category increased 184% year over year.

Complaints in that fintech-dominated category hit an all-time high in March, with over 1,600.

Robinhood and Coinbase found themselves on the receiving end of record-high complaints this year as they took turns dominating headlines.
When COVID-19 hit the United States, Americans moved much of their lives online, including, in some cases, their finances. As the prevalence of financial technology rose during the pandemic, so too did the volume of consumers complaining about it.
Complaints nearly tripled in the first three months of 2021 compared to the same period a year earlier, according to a new Morning Consult analysis of Consumer Financial Protection Bureau data. The analysis considered complaints filed to the agency in the category containing the bulk of fintech-related items, titled "money transfer, virtual currency or money services."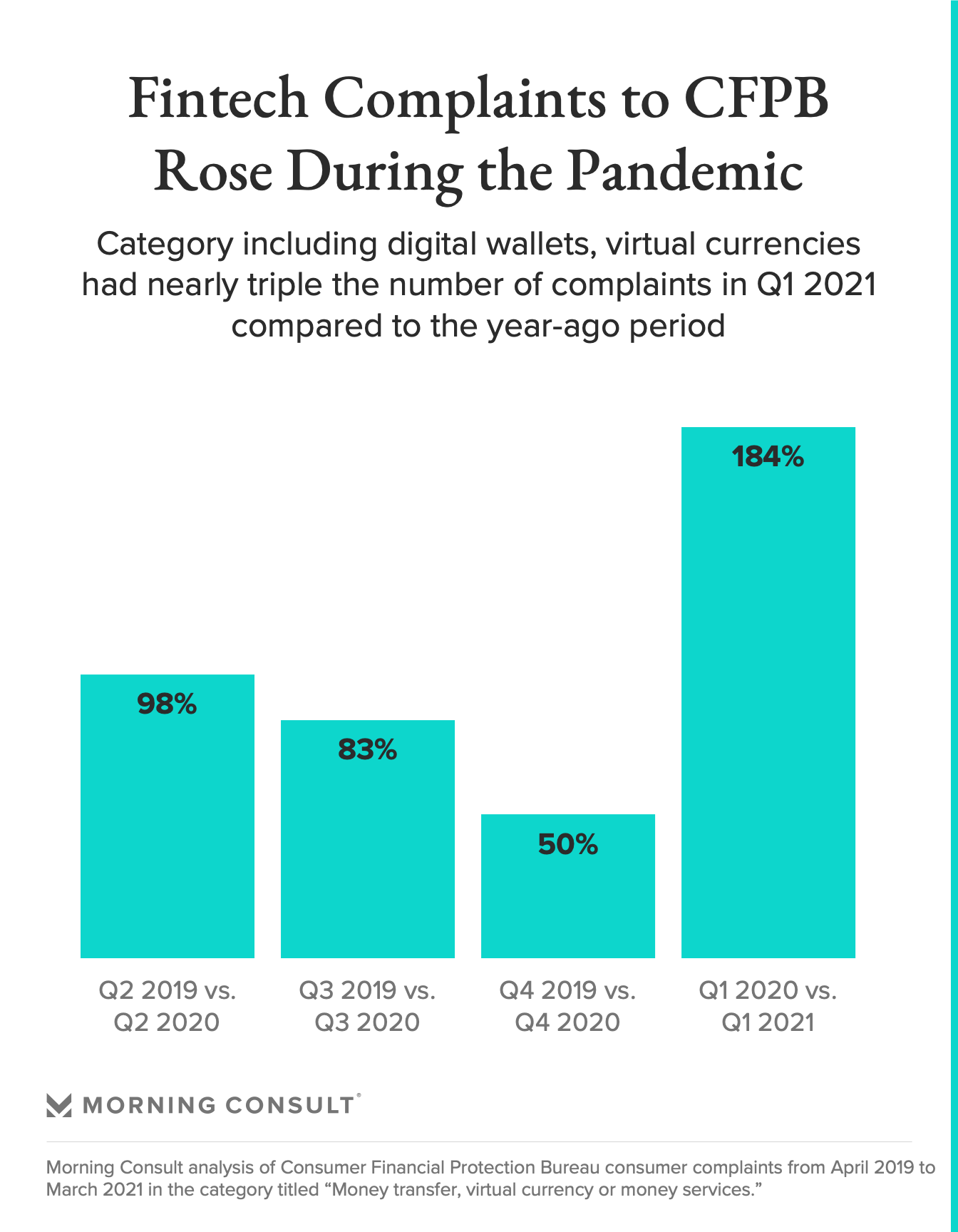 Increases weren't as steep earlier in the pandemic, but they were still substantial. Compared to a year earlier, the volume of complaints nearly doubled in the second quarter of 2020 when lockdowns began, jumped 83 percent during the summer and rose 50 percent in the last three months of the year.
From the time shutdown and social distancing policies started going into effect last April to the end of March 2021, this category saw the sharpest rise in complaints, roughly doubling from the same period the year prior.
The fintech category wasn't alone: Credit reporting, the largest category in the CFPB database, nearly doubled year over year, and the credit card/prepaid card category grew roughly 31 percent. Only complaints about student loans (as forbearance policies meant fewer people were making monthly payments on their loans) and payday loans (which were used at a lower rate amid bolstered unemployment insurance programs and stimulus checks) declined, at 39 percent and 6 percent, respectively. 
Melissa Baal Guidorizzi, who left the CFPB this year as a senior enforcement official and now works on fintech issues for the international law firm O'Melveny & Myers LLP, said that the surge in complaints is a "good indicator" that the CFPB's enforcement team will focus on these issues going forward. She said the CFPB has always "been open about the importance of consumer complaints in assessing where to put its resources."
"Practically, one of the reasons why these products are getting more complaints is that digitally native products are advertising that they function like a bank and that they have all the same consumer protections," she said. "If they aren't living up to this promise, that's where the complaints are coming from."
Complaints in the virtual currency and money transfer area reached an all-time high last month of 1,654. The earliest complaints in this category were recorded in April 2017.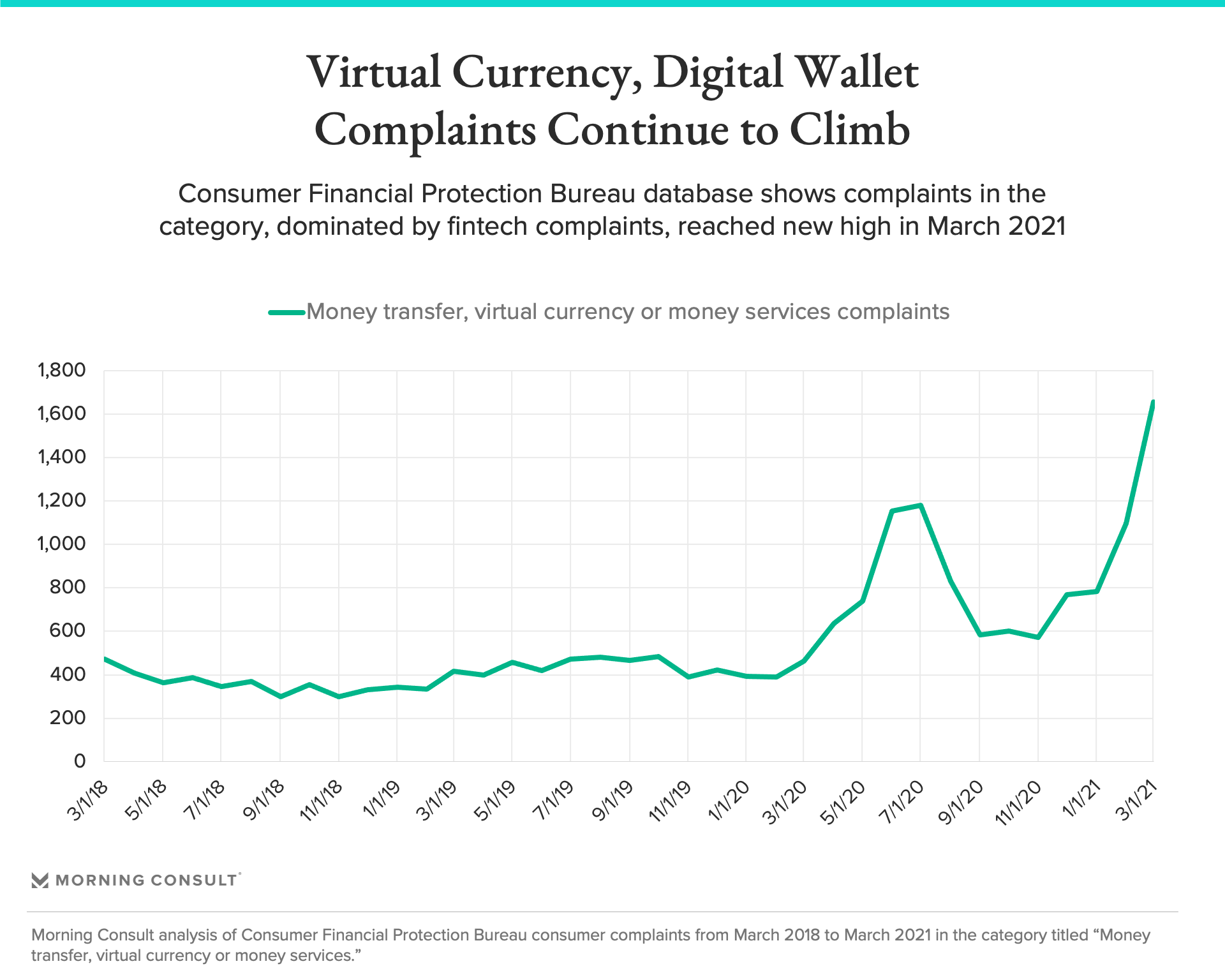 The data, which was accessed April 15, only includes complaints up to the end of March because the CFPB database continues to add complaints up to 15 days after they're submitted.
For two months last summer, the number of fintech complaints per month hovered just under 1,200. Then from August to November, before colder weather in many parts of the country drove consumers back inside and as some coronavirus restrictions began to ease, complaints dipped to as low as nearly 570.
Since the beginning of 2021, however, complaints have risen again as fintech issues suddenly dominated news cycles, including Robinhood Markets Inc.'s involvement in the GameStop Corp. trading frenzy, and the major public trading debut of Coinbase Global Inc.
Lauren Saunders, associate director at the National Consumer Law Center, said that growth in fintech-related CFPB complaints is "not a surprise." Customers have been stuck at home and needing new ways to pay for their purchases, and consumers often don't have strong protections in areas like mobile wallets and payments technology.
And when fintech companies streamline their services, she said, customer service representatives are often the first to go, so consumers who have a complaint can have difficulty getting an issue resolved and might make a complaint to the CFPB.
"There's a major lack of protection that's going on unaddressed," she said. "It's often too easy to make a mistake and too hard to fix a mistake."
Fintech companies that have found themselves in the headlines this year have seen that extra attention reflected in the CFPB data.  
In January, following Robinhood's decision to temporarily freeze new purchases on GameStop and other stocks targeted by traders on social media sites like Reddit, the volume of complaints about the investing platform grew.
Complaints against Robinhood peaked in February, the same month Chief Executive Vlad Tenev testified in Congress about the online broker's role in the trading frenzy, and have since started to decline.
Coinbase, meanwhile, saw a record number of complaints in the CFPB database in March, around the same time the company geared up for its public trading debut in April, and as bitcoin's popularity grew.
Coinbase and Robinhood declined to comment. 
Claire Williams previously worked at Morning Consult as a reporter covering finances.
We want to hear from you. Reach out to this author or your Morning Consult team with any questions or comments.
Contact Us