Fintech Backers Tout Expanded Access to Financial Services, but Underserved Groups Aren't as Interested
Black, rural, low-income consumers are among the groups least willing to use fintech products
Key Takeaways
Millennials, urbanites and higher-income Americans were among the groups most likely to say the pandemic has made them more willing than not to use fintech services.

About 3 in 10 U.S. adults say financial technology companies aren't regulated enough.

The general public is 6 points more likely to say the COVID-19 pandemic has made them more willing to use fintech than not.
A new special report from Morning Consult takes a deeper dive into public opinion on financial technology, an issue that's likely to transform both the banking industry and how Washington regulates the finance industry. The data is drawn from a poll of 4,400 adults. Other stories in the series: To Gauge the Future of Lending, We Asked People if They'd Get a Fintech Loan | U.S. Lags China, Others in Payments Tech. One Reason: Boomers Strongly Prefer Cash, Cards

In tech, the adage is "move fast and break things." In finance, it's more "move slowly and put things back carefully where you found them."
For some in Washington, the promise of tech to change up the status quo in finance is promising. Trump-era regulators often made the argument that tech could be a way to democratize finance, enabling more low-income earners and people of color to access affordable credit.
That thinking, however, could shift dramatically during the Biden administration, especially as the new crop of regulators decide how much veracity the financial inclusion argument holds.
"There are people in the Biden administration that believe fintech presents an opportunity to advance civil rights and racial equity, and there are people more on the skeptical side who say that's not necessarily the case," said Jesse Van Tol, chief executive of the National Community Reinvestment Coalition. "It's going to be a very interesting period in the regulation of all of this stuff."
Amid this debate, new data from Morning Consult suggests that fintech products tend to be used by the demographics that are already well-served by the financial industry, echoing previous findings.  Meanwhile, low-income, rural and Black consumers are among the groups least interested in using fintech products, according to the Morning Consult survey of 4,400 U.S. adults. The survey was conducted Feb. 12-15, and has a 1 percentage point margin of error. 
While the bulk of respondents said COVID-19 made no difference on the likelihood of them using fintech, a pattern emerged with the remaining shares.
Adults who earn $100,000 or more a year were 17 points more likely to say the pandemic has made them more willing to use fintech than not. That figure declines among other income groups, with those earning between $50,000 and $100,000 a year 9 points more likely to consider fintech and respondents making less than $50,000 annually 2 points more likely.
Those who live in urban areas favor using fintech because of the pandemic by 12 points, compared to 6 points in suburban areas and 1 point in rural areas. And young people, unsurprisingly, were also more enthusiastic about fintech.
The data suggests that fintech isn't a panacea to issues in the traditional financial system, said Chris Odinet, a consumer finance law professor at the University of Iowa who has written on fintech policy. Low-income people are more likely to prefer an in-person banking service, and internet access issues in rural communities could be part of the reason for lower figures among those groups, he said.
This data, and a growing body of evidence that suggests fintech loans might not be good for some borrowers' credit, could point to a stricter regime for fintech firms moving forward, especially as President Joe Biden's regulatory appointments shape up. 
After a significant push from progressive Democrats, Mehrsa Baradaran, a University of California Irvine law professor and expert on the racial wealth gap who has written several books on the topic, is now the favorite to be named Biden's nominee to lead the Office of the Comptroller of the Currency, a leader in shaping fintech policy, according to two sources familiar with the matter. (Politico's Morning Money was first to report on Baradaran's frontrunner status.)
"Thus far, fintech has only served the population who is already banked and blockchain use is limited to the technically savvy," Baradaran said in testimony before the Senate Banking Committee in 2019. "There is no reason to doubt the good intention of these technology companies, but I believe there is a fundamental mismatch between the problems and barriers that the unbanked face and the technological solutions being offered."
It's still unclear, however, how much emphasis Biden-era regulators will put on regulating fintech. Consumers, at least, haven't yet put fintech in the regulatory crosshairs, especially compared to other financial sectors.
Twenty-nine percent of respondents in the Morning Consult survey said that financial technology companies aren't regulated enough.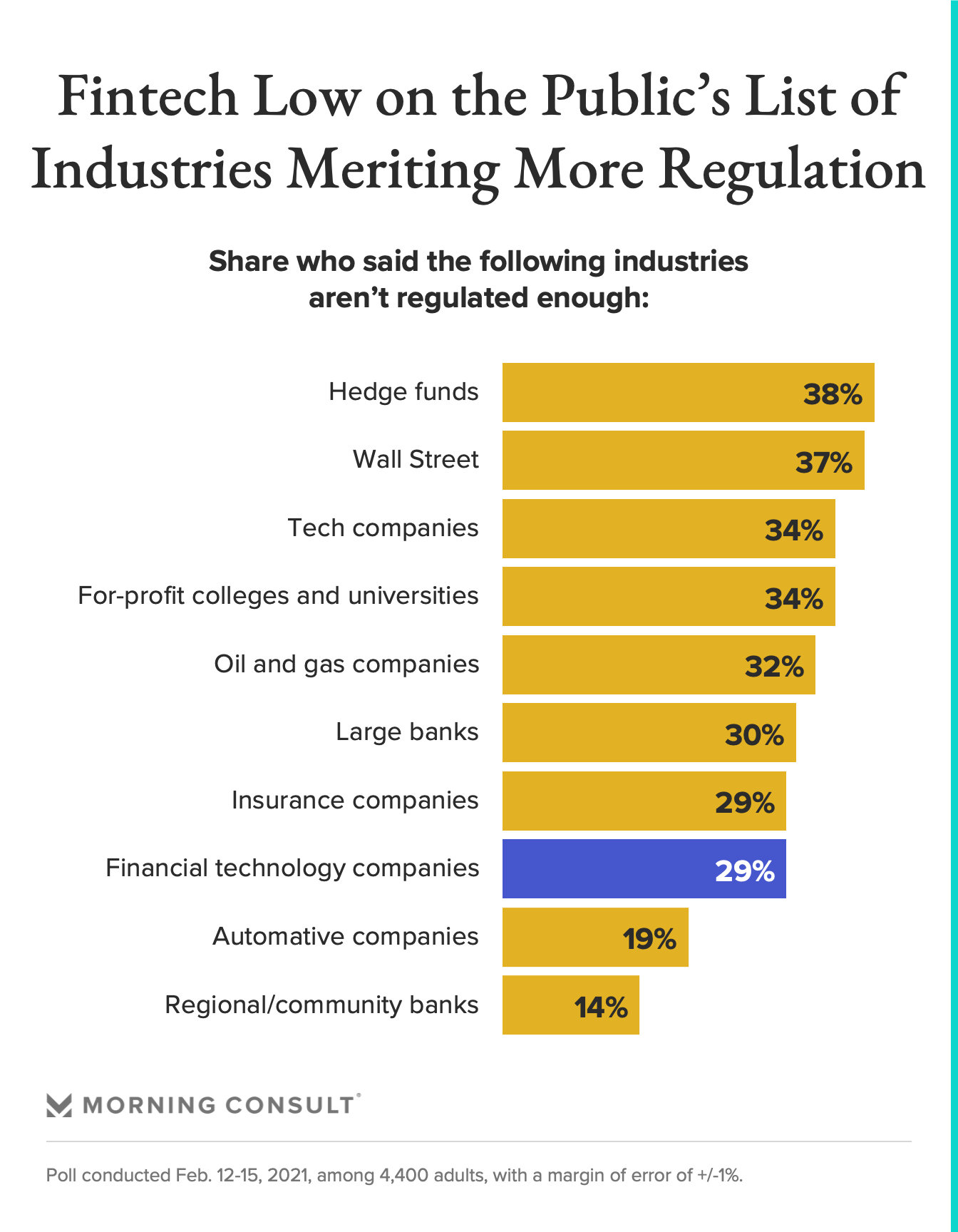 On a list of industries the public says merits more regulation, fintech came in well below hedge funds (38 percent), Wall Street (37 percent) and tech companies (34 percent). Nearly 2 in 5 respondents, however, said that the government should protect consumers from fintech companies by increasing regulation, compared to 16 percent who said the government should encourage fintechs to innovate by reducing regulation.
Mary Jackson, CEO of the Online Lenders Alliance, which argues that fintech lenders can help the unbanked and underbanked build credit, said that demand for fintech lending actually declined among subprime customers during the pandemic.
Jackson attributed that largely to economic stimulus payments and additional unemployment benefits: factors that could be playing into the survey results on fintech usage.
Demand for auto loans -- a big one for many rural residents, low-income people and older adults -- has also declined, as commuting decreased and loans to address breakdowns and other car-related maintenance weren't as needed.
Jackson said the Biden administration has changed the way she talks with lawmakers and regulators about fintech lending policy, and she predicts a change in tone at the Consumer Financial Protection Bureau and other regulatory agencies toward fintech lenders.
"This is not our first rodeo," Jackson said. "If politics come more into play, God knows what's going to happen." 
Claire Williams previously worked at Morning Consult as a reporter covering finances.
We want to hear from you. Reach out to this author or your Morning Consult team with any questions or comments.
Contact Us