As TikTok and Huawei Restrictions Mount, Americans See China as Top Threat to Silicon Valley's Tech Dominance
New survey shows that China surprasses European Union, Canada as top threat to America's technology dominance
Key Takeaways
53% of U.S. adults see China as a "major threat" to America's technology and innovation dominance.

46% said China's growing technological power is a major problem for the U.S., compared with 59% who said the same about cyberattacks from China.
Against the backdrop of the Trump administration's continued restrictions and threats against China-based Huawei Technologies Ltd. and ByteDance Ltd.'s TikTok, a new survey indicates that Americans see China as the top threat to Silicon Valley's dominance in the global tech industry.  
Over half of the 2,200 U.S. adults (53 percent) surveyed in a recent Morning Consult survey said they saw China as a "major threat" to America's technology and innovation dominance, making it the country with the highest-perceived threat level of any other listed in the survey. India followed China, with only 8 percent saying the former is a major threat.
However, on a list of general concerns tied to China, the country's growing technological power ranks relatively low, with 46 percent saying it's a major problem for the United States. Respondents were more inclined to say cyberattacks from China (59 percent), China's impact on the global environment (56 percent) and the loss of U.S. jobs to China (54 percent) were major problems for the United States.
The survey, which was conducted Aug. 18-20, has a margin of error of 2 percentage points. 
The Trump administration has raised concerns about China's growing technological prowess throughout its first term over fears that the country could topple the United States' perceived innovation dominance. And with that in mind, the administration has made several attempts to restrict the reach of Chinese companies in the United States, including by forcing them to divest their ownership in popular American apps like gay dating app Grindr and short-form video app TikTok, and by petitioning allies such as the United Kingdom to exclude Chinese telecommunications company Huawei's equipment from their new 5G networks.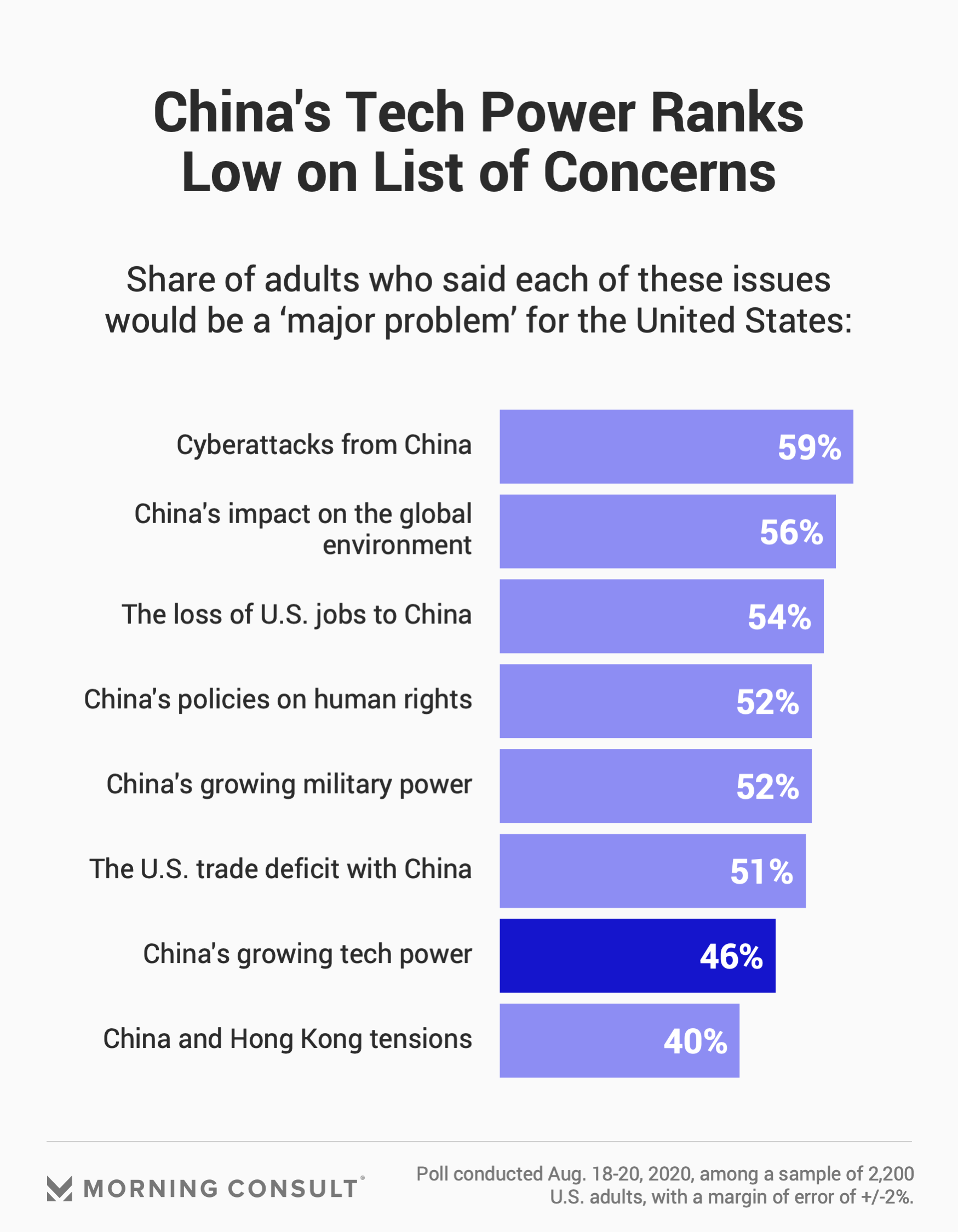 Those threats and restrictions have also been amped up in recent weeks: Last week, the Commerce Department imposed further restrictions on Huawei that will make it more difficult for the company to purchase American technologies and chips. And President Donald Trump signed a second executive order earlier this month forcing the sale of TikTok's U.S. operations in the next 90 days or face a potential ban, which TikTok sued the administration over on Monday.
However, American adults are split on where the state of the country's innovation economy is heading: 34 percent said it is on the right track, 35 percent said it is heading in the wrong direction and 31 percent either didn't know or had no opinion. And they seem to favor allowing American and Chinese technology companies to operate in each other's countries so long as they have restrictions in place to keep U.S. interests protected, with 51 percent agreeing that American companies operating in China should be held to the same standard as Chinese companies operating in the United States.
U.S. adults have more concerns about Chinese companies operating security programs or facial recognition technology in the United States than they do a social media company like TikTok: 76 percent said they are either "very" or "somewhat" concerned about a Chinese company operating a cybersecurity program in the United States, compared to 64 percent who said the same about social media apps.
But Chinese companies do face one large hurdle with American consumers: a lack of trust to keep their personal information protected and secure. Seventy-seven percent said they had not much or no trust at all in a Chinese technology company to keep their data safe, compared to 41 percent who said the same of U.S. tech companies and 55 percent about European tech companies.
Sam Sabin previously worked at Morning Consult as a reporter covering tech.
We want to hear from you. Reach out to this author or your Morning Consult team with any questions or comments.
Contact Us