Republican Voters Sour on Chris Wallace Following First Presidential Debate
The share of GOP voters who view the Fox News anchor negatively is up 25 points since before the event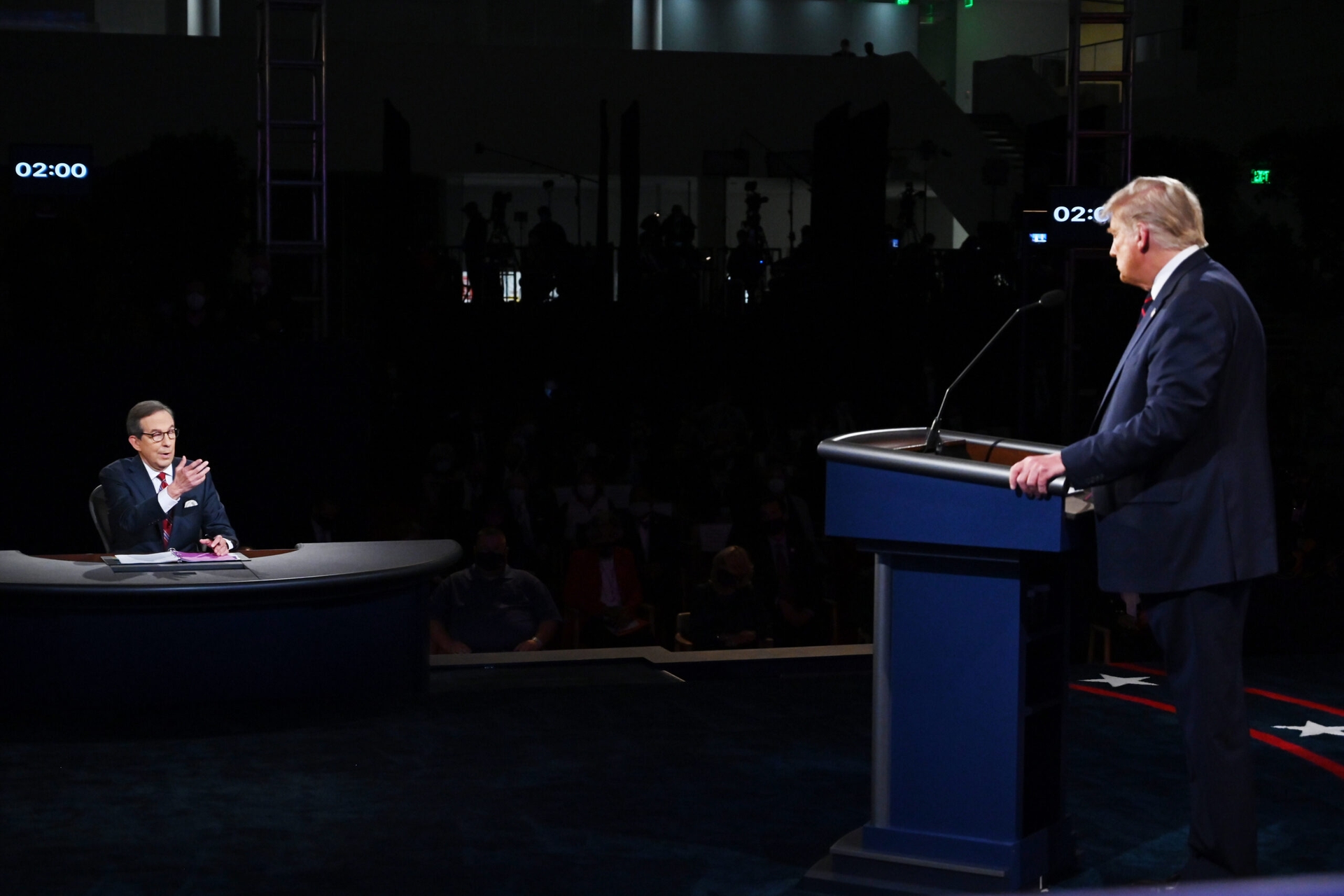 Key Takeaways
43% of GOP voters now view Chris Wallace unfavorably, compared to 18% who said the same before the first debate.

Democrats and independents also soured on Wallace by 14 points and 12 points, respectively.
Chris Wallace's tough night serving as moderator of the chaotic first presidential debate saw him frequently clash with President Donald Trump, and Morning Consult/Politico trend data shows the Fox News anchor's popularity among Republicans has since plummeted.
A plurality (43 percent) of GOP voters now hold an unfavorable view of the news anchor following his performance at Tuesday's tumultuous debate, which was defined by Trump's persistent interruptions and an overall dearth of civil discourse between the president and Democratic presidential nominee Joe Biden. Less than one-fifth of Republicans held a negative view of the veteran journalist in a survey prior to the debate.
Trump pre-emptively claimed the debate would be unfair, predicting that Wallace would be "controlled by the radical left." In the days since the debate, the president has frequently criticized Wallace online, tweeting an image of himself versus the Fox News anchor and his Democratic opponent, and retweeting several accounts that condemned Wallace for his job as moderator.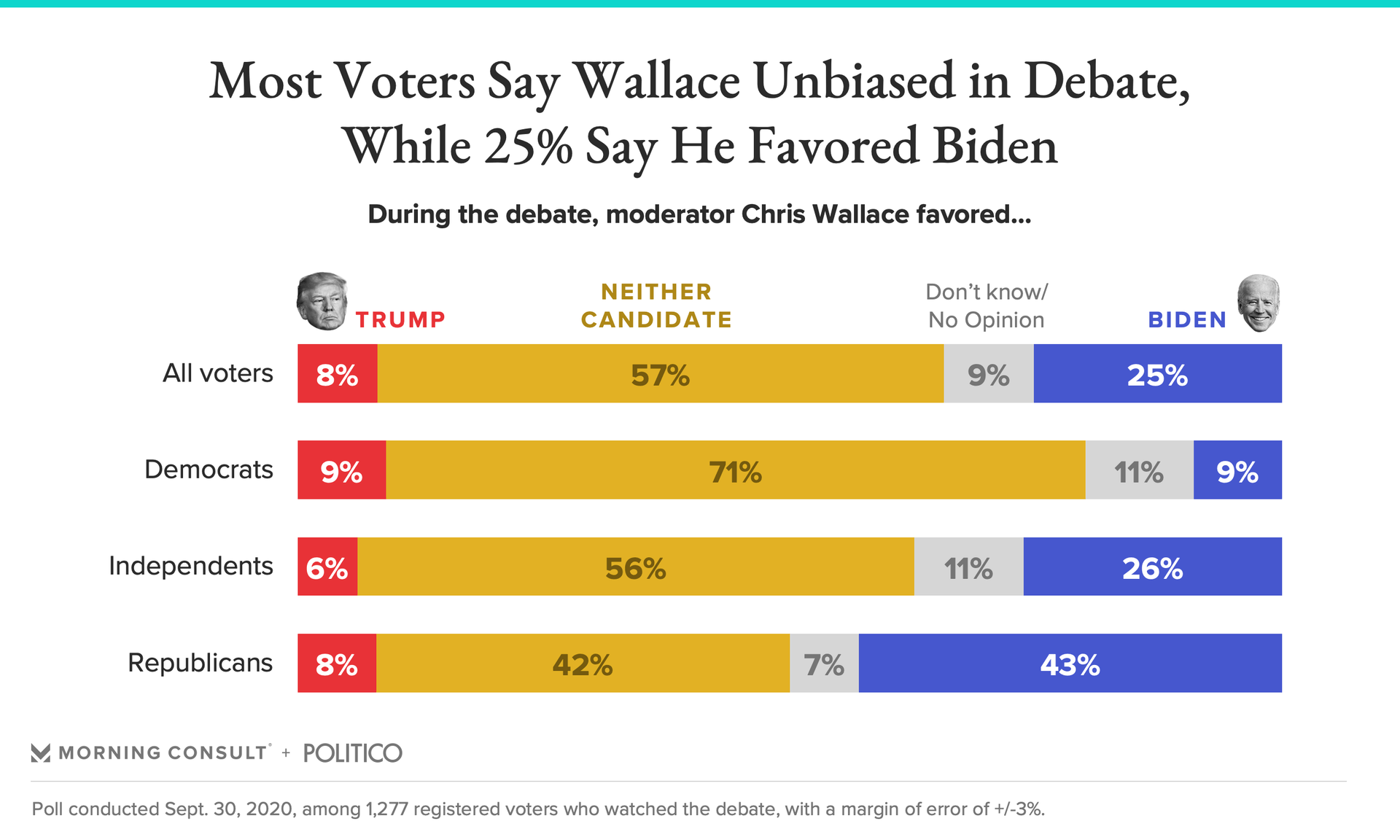 Fifty-seven percent of registered voters in the most recent poll said Wallace favored neither candidate, though voters were more likely, at 25 percent, to say Biden got preferential treatment than they were to say that Wallace favored Trump (8 percent). Republicans were split, with 43 percent saying Wallace favored Biden and 42 percent saying neither candidate was favored.
A November 2018 Morning Consult survey placed Wallace as the fifth-most popular Fox News personality among Republicans — behind Tucker Carlson, Laura Ingraham, Ainsley Earhardt and Dana Perino — with a net favorability (the share of respondents with a favorable view minus the share with an unfavorable view) of 23 percentage points. His current net favorability, at 16 points underwater, would place him at the bottom of that list -- even below Shepard Smith, who reportedly broke a multiyear contract when he exited the news outlet in October 2019. 
Wallace signed a multiyear contract with Fox News in September 2017, after nearly 15 years as the anchor for Fox News Sunday.
Most voters (71 percent) agreed that the president was the more interruptive presence at the debate, including 54 percent of Republicans. When it came to assessments of Wallace's cat-herding capabilities on stage, voters were split on just how much he could have done to restore order.
Notably, partisans were largely united in their response to the question: About half agreed that Wallace "did the best he could" during the 90-minute broadcast and that "the candidates would not listen no matter what he said," while a nearly equal share said he should have been "more assertive" with his moderating duties and "done more to guide the conversation."
The Sept. 30 survey was conducted among 1,856 registered voters, including 1,277 registered voters who watched the debate, with respective 2- and 3-point margins of error.
Joanna Piacenza leads Industry Analysis at Morning Consult. Prior to joining Morning Consult, she was an editor at the Public Religion Research Institute, conducting research at the intersection of religion, culture and public policy. Joanna graduated from the University of Wisconsin-Madison with a bachelor's degree in journalism and mass communications and holds a master's degree in religious studies from the University of Colorado Boulder. For speaking opportunities and booking requests, please email [email protected].
We want to hear from you. Reach out to this author or your Morning Consult team with any questions or comments.
Contact Us