Christians, White Evangelicals Have Contrasting Views on Issues in Cake Case
White evangelicals only Christian group in poll to side with baker who refused to bake cake for same-sex wedding
Key Takeaways
Most U.S. adults (57%), and 51% of Christians, oppose allowing small business owners to refuse services to LGBT individuals if doing so violates their religious beliefs.

51% of white evangelicals support such refusals.

White evangelicals are more likely to say Christians face "a lot" of discrimination than they are to say LGBT individuals do (42% vs. 32%).
On Monday, the Supreme Court sided with a baker who refused to make a cake for a same-sex wedding on religious grounds, but a new Morning Consult poll shows that most of the public and a slim majority of Christians oppose these kind of actions by small business owners.
The case, Masterpiece Cakeshop Ltd. v. Colorado Civil Rights Commission, asked the Supreme Court whether Colorado baker Jack C. Phillips was within his First Amendment rights to refuse to make a wedding cake for Charlie Craig and David Mullins in 2012, or whether Phillips was unlawfully discriminating on the basis of sexual orientation.
The justices' 7-2 decision in favor of Phillips, who said his evangelical Christian beliefs prevent him from celebrating same-sex marriages, focused more on the actions of the Colorado Civil Rights Commission and did not largely address the broader question of whether Phillips' free speech rights had been violated or whether Craig and Mullins were facing unjust discrimination.
A new national survey shows that Christians overall disagree with the heart of the issue at hand.
However, white evangelicals, who constitute 15.3 percent of the population according to the research organization PRRI, view religious liberty and discrimination very differently than the rest of their Christian counterparts.
Most U.S. adults (57 percent) oppose allowing a small business owner in their state to refuse to provide products or services to LGBT individuals if doing so violates his or her religious beliefs. That includes a majority (55 percent) of Catholics, a slim majority (51 percent) of all Christians, and a plurality (48 percent) of Protestants.
Conversely, 51 percent of white evangelicals support small business owners' right to refuse service on religious grounds.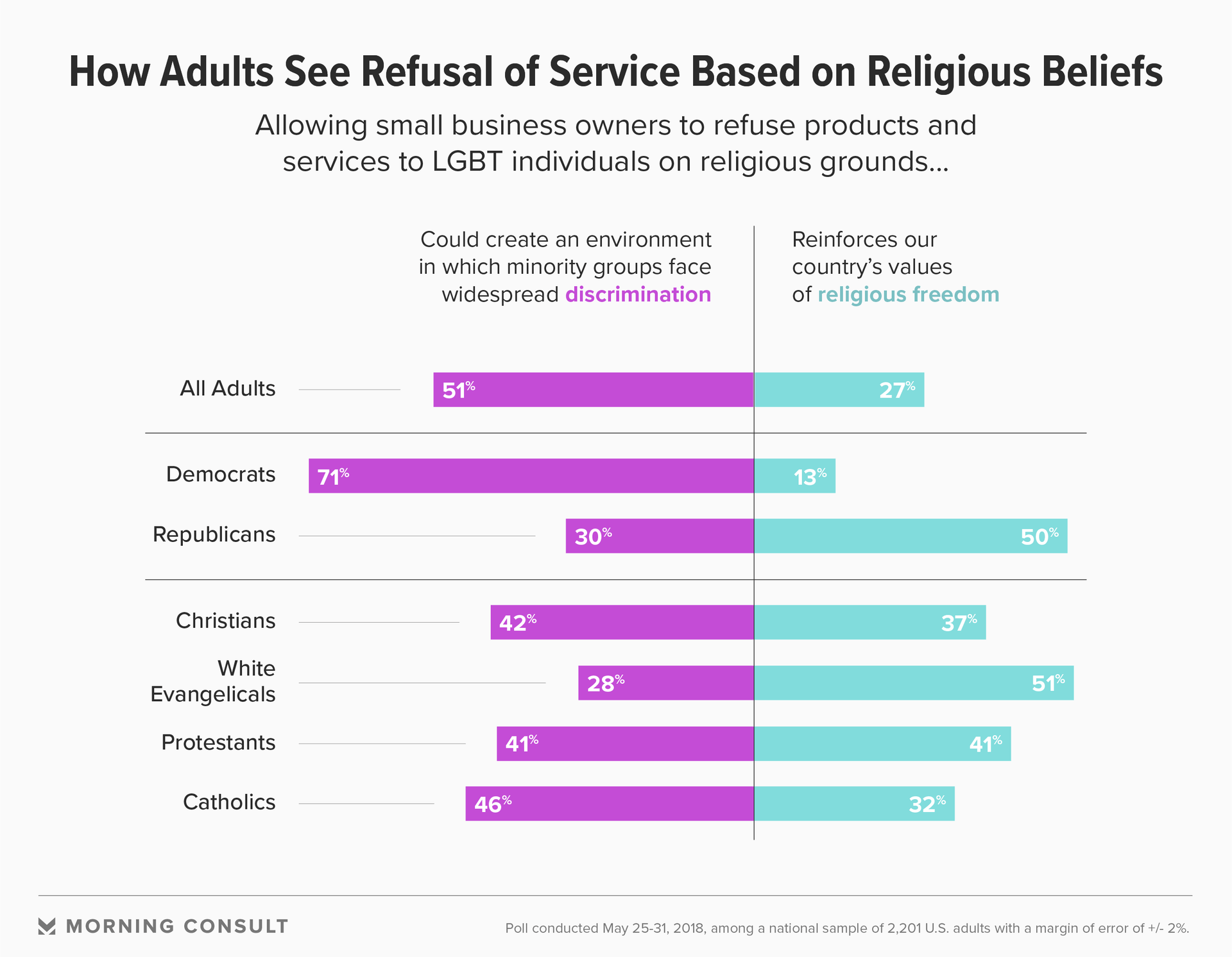 White evangelicals also stand out among their fellow Christians as the only Christian group surveyed in which a majority see allowing these kind of service refusals as a reinforcement of religious freedom rather than creating an environment that can foster discrimination against minorities.
Yet white evangelicals' attitudes varied depending on the religion of the small business owners. At least half would support Christian, Jewish and Mormon small business owners in refusing service to LGBT individuals, but that number drops to 46 percent when it comes to Muslim small business owners.
White evangelicals are also an outlier among Christians in being more likely to say that Christians face "a lot" of discrimination in the United States today than they are to say the same of LGBT individuals. Catholics, Protestants and Christians overall are more likely to say that members of the LGBT community face a lot of discrimination than they are to say Christians do.
The survey was conducted May 25-31, 2018, among a national sample of 2,201 U.S. adults with a margin of error of 2 percentage points.
Joanna Piacenza leads Industry Analysis at Morning Consult. Prior to joining Morning Consult, she was an editor at the Public Religion Research Institute, conducting research at the intersection of religion, culture and public policy. Joanna graduated from the University of Wisconsin-Madison with a bachelor's degree in journalism and mass communications and holds a master's degree in religious studies from the University of Colorado Boulder. For speaking opportunities and booking requests, please email [email protected].
We want to hear from you. Reach out to this author or your Morning Consult team with any questions or comments.
Contact Us