The Pandemic's Toll on Clean Energy: More Than 300,000 Lost Jobs in 2020
Renewables industry's annual employment dropped for the first time since advocacy group E2 began tracking in 2015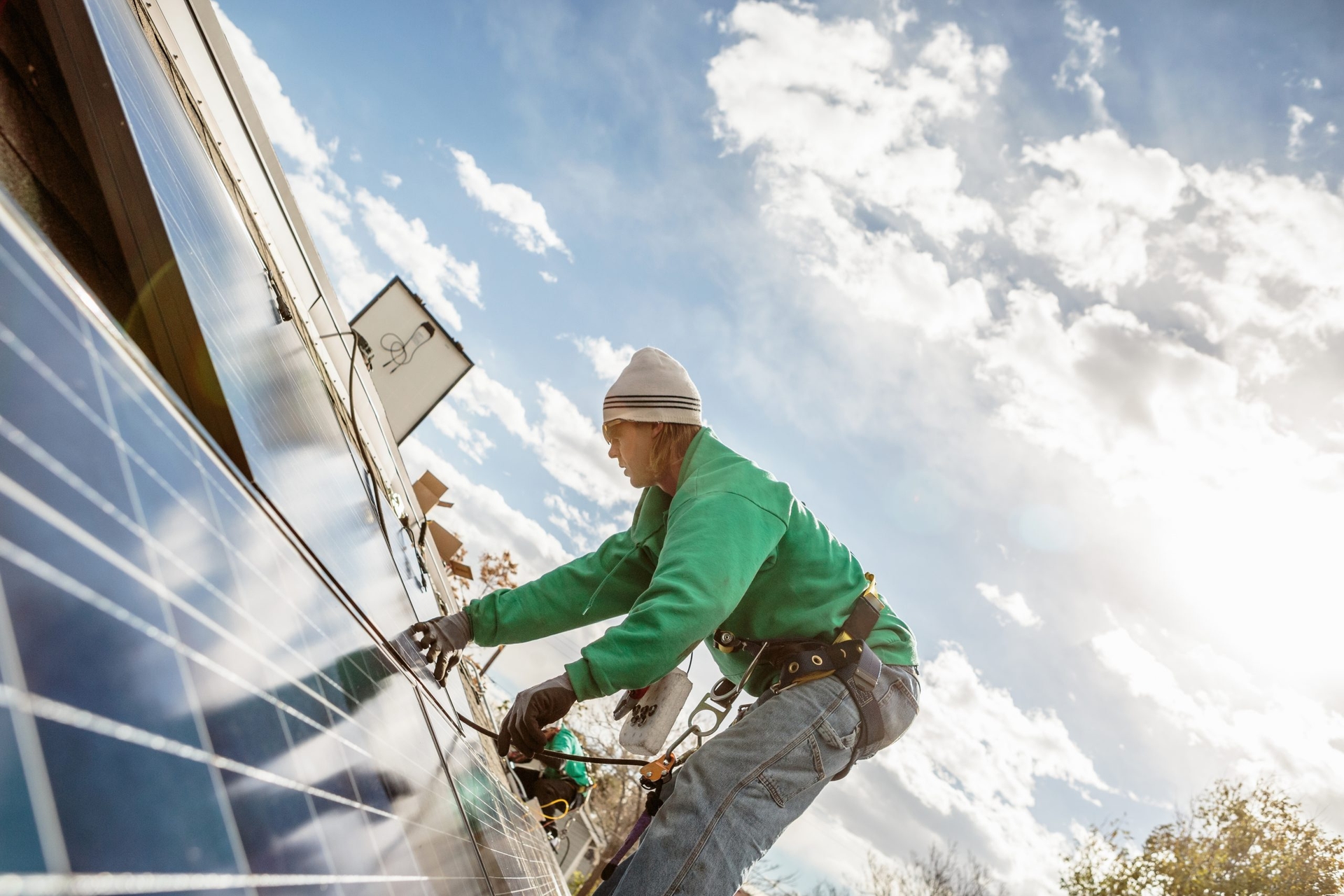 Key Takeaways
Jobs in energy efficiency fell more than 11% in 2020, while solar employment also declined and wind jobs slightly ticked up.

Clean vehicle manufacturing experienced nearly 3% growth in employment last year.
The U.S. clean energy industry lost nearly 307,000 jobs in 2020, with employment across the wind, solar, energy efficiency and other sectors dropping to roughly 3 million jobs by the end of the year, down from about 3.36 million in 2019, according to a new analysis from the environmental advocacy group Environmental Entrepreneurs (E2).
The organization's Clean Jobs America 2021 report attributes the deficit to the impact of the coronavirus pandemic and accompanying economic decline in combination with Trump administration policies that incentivized fossil fuel investments over those in clean energy.
Energy efficiency, the sector that makes up more than two-thirds of the country's clean energy jobs, saw a decrease of more than 11 percent. Solar jobs also fell, though wind energy jobs increased slightly. The report notes that residential solar sales and installation in particular fell, and may not fully recover until later in 2021.
Meanwhile, electric and otherwise "clean" vehicle manufacturing jobs grew nearly 3 percent, as the industry actively moved toward electrification in 2020.
The net decline represents a partial recovery since the industry's nadir at the end of May 2020, when roughly 620,000 jobs were lost. The report notes that the second-quarter low point of negative 13 percent was nominally lower than that of the economy as a whole last spring (negative 12.4 percent). However, clean energy has recovered faster than the rest of the economy in the months since, with end-of-year clean energy employment weathering a total decline of 3.7 percent, compared with 4.6 percent for the overall U.S. workforce.
Despite the industry's overall 2020 decline, the report remains upbeat about the progress of the energy transition so far, noting that "clean energy remains the biggest job creator across America's energy sector, employing nearly three times as many workers as work in fossil fuel extraction and generation." 
And the prospects for the coming years in particular are promising, given that the Biden administration's policies seek to usher in a period of growth for the industry, framed especially by Energy Secretary Jennifer Granholm as an avenue for job creation. 
This is a shift that would lead to new jobs in every state, the report says, "including in communities impacted by the ongoing decline of other parts of the energy sector such as coal, oil and gas." 
"It also promises to create consumer and business savings through energy efficiency and lower-cost renewable energy, which is especially impactful for low and moderate income communities, rural communities and communities of color, especially as the economy continues to recover," the report continues.
The report noted that policy options such as those included in Biden's infrastructure plan would be a boon for renewable energy, clean vehicles and energy efficiency, and mitigate the impacts of climate change. 
The research relies upon a BW Research Partnership analysis of preliminary employment data collected from U.S. Bureau of Labor Statistics data. The analysis will be used in the forthcoming 2021 U.S. Energy and Employment Report, with a methodology developed and approved by the Office of Management and Budget several years ago. USEER also relies upon a supplemental survey of 35,000 U.S. industry representatives. 
Lisa Martine Jenkins previously worked at Morning Consult as a senior reporter covering energy and climate change.
We want to hear from you. Reach out to this author or your Morning Consult team with any questions or comments.
Contact Us