Clean Energy Sector Approached the New Year Down Nearly 430,000 Jobs From Pre-Pandemic Levels
Renewables employment speeds up slightly, but ends 2020 down by 12% since February
While clean energy job growth accelerated somewhat following an especially slow November, the sector ended 2020 with a deficit of 429,258 jobs. 
According to a new report from BW Research Partnership Inc., clean energy added 16,887 jobs in December, more than twice the previous month's total. However, the sector is still weathering a 12 percent employment decline since February 2020 and has regained less than a third of the jobs lost at its May 2020 nadir of roughly 620,000 jobs lost.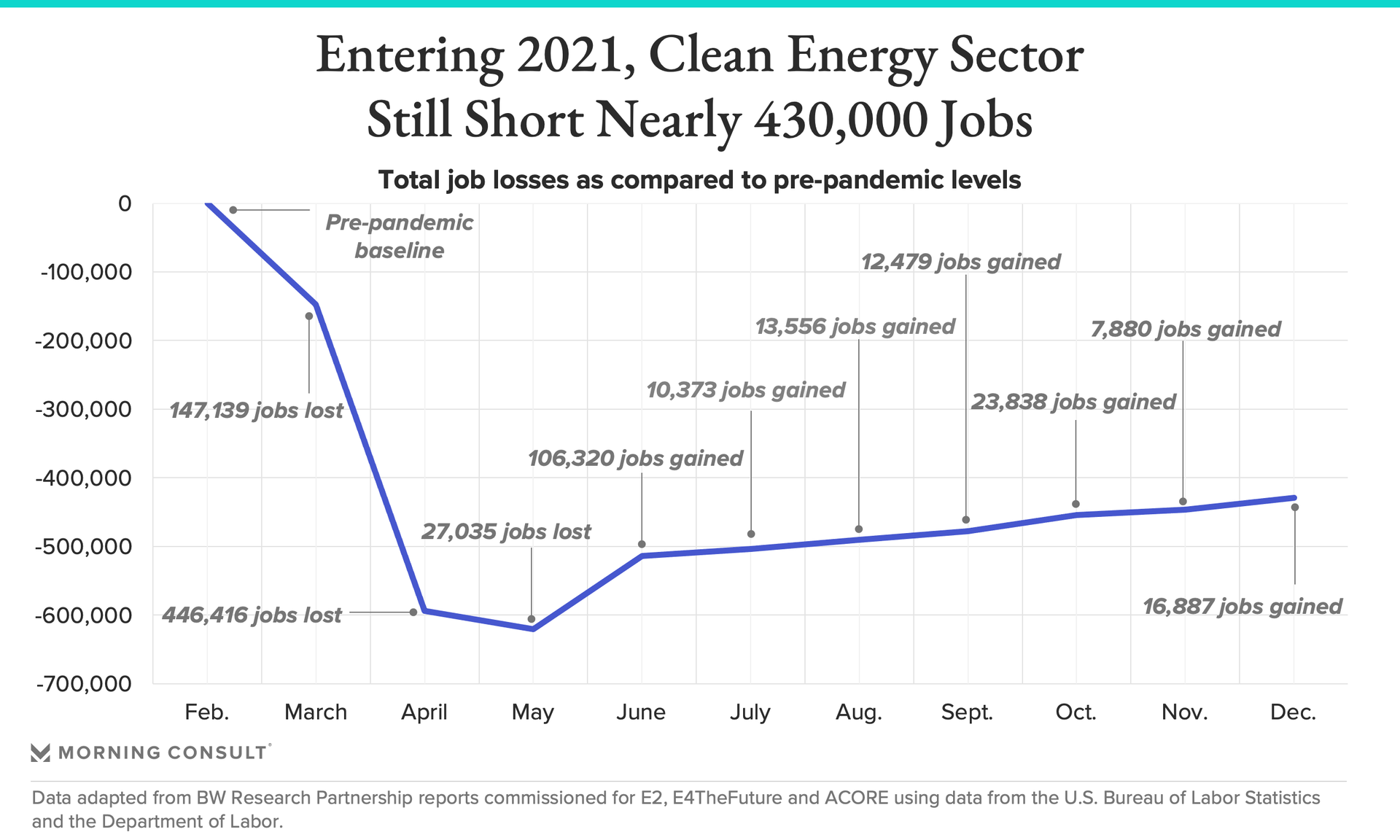 Energy efficiency is the largest subsector and accordingly saw the largest gains (12,301 jobs) in December, though these made only a small dent in the more than 300,000 jobs lost since the pandemic's start, representing 13 percent of its workforce. Smaller subsectors like renewable electric power generation, clean fuels, clean transmission and clean vehicles all saw increases hovering around a half percent. 
The overall additions amounted to a 0.6 percent increase. California, the state with the largest renewable energy workforce, saw the largest monthly increase in December, at 3,311 jobs. While many other states saw only meager additions, no states suffered losses. 
The regions where job losses have been most concentrated have been among the largest economic hubs in the country, such as metropolitan areas of Los Angeles — which is suffering a crippling spike in coronavirus infections — New York, Chicago and San Francisco.  
These creeping gains come as the full picture of the economy remains bleak. The permanent unemployment rate continues to rise, a number that represented a small fraction of initial job losses in the pandemic's early days but ballooned to 31 percent of the total unemployed by the year's end. 
And as report author and BW Research Vice President Philip Jordan has noted in previous months, non-white workers continue to see disproportionate levels of unemployment economy-wide, with Hispanic workers badly affected in December. Furthermore, the report added, "women -- particularly women of color -- lost jobs in December overall while men gained jobs."
BW Research's December jobs analysis was co-commissioned by Environmental Entrepreneurs (E2), E4TheFuture and the American Council on Renewable Energy and pulls from the U.S. Bureau of Labor Statistics data for both November and December, as well as the Department of Labor's weekly unemployment summaries.
Lisa Martine Jenkins previously worked at Morning Consult as a senior reporter covering energy and climate change.
We want to hear from you. Reach out to this author or your Morning Consult team with any questions or comments.
Contact Us