Clean Energy Employment Barely Creeps Up as Winter Sets In, November Data Shows
The renewables sector has seen a roughly 13% decline in jobs compared to pre-pandemic levels
The anemic job growth that the renewable energy sector has seen since May has slowed even further, adding 7,880 jobs in November. According to a new report, these additions barely make a dent in the roughly 446,000 workers out of work, representing a 13 percent decline since the coronavirus pandemic began taking hold in March. 
The Wednesday report from BW Research Partnership Inc. found that none of the clean energy subsectors -- energy efficiency, fuels, transmission and distribution, vehicles and power generation -- saw growth of more than a half percent. Energy efficiency, the largest of these groups, is still down 314,500 jobs.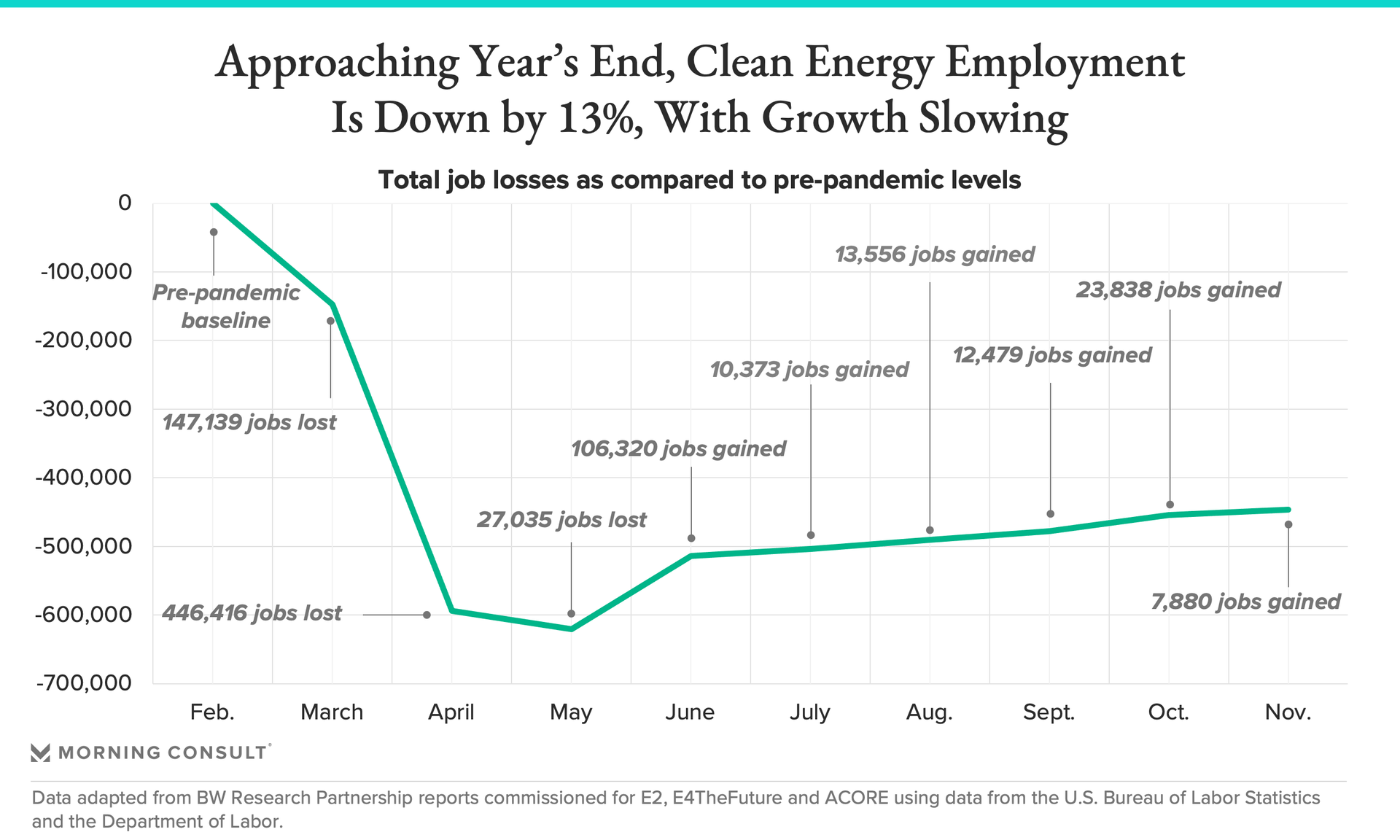 And while the overall U.S. employment picture has stalled in recent months as the country sees a resurgence of coronavirus infections and the exhaustion of programs created through an earlier stimulus package, "the clean energy sector has been particularly slow," the report said. 
November's meager additions to clean energy employment continues a steady but slowing pattern of growth in the six months since the industry's low point in May of more than 620,000 jobs lost. The report notes that "Black and Hispanic workers continue to suffer from disproportionately high levels of unemployment" as compared with their white counterparts.
California had the largest monthly increase in November, with more than 1,700 jobs returning in November, though growth in the state still hovers below a half percent. And Georgia is faring particularly badly, with its clean energy sector facing more than 30 percent unemployment. 
Economy-wide, public sector employment in particular has continued to drop, which report author and BW Research Vice President Philip Jordan attributes to falling revenues and increased pandemic-related expenses at the state level. And the long-term unemployment rate has grown substantially since March, representing 37 percent of the 10.7 million total people unemployed.
BW Research's November jobs analysis -- co-commissioned by Environmental Entrepreneurs (E2), E4TheFuture and the American Council on Renewable Energy -- draws on U.S. Bureau of Labor Statistics data for both October and the first half of November, as well as the Department of Labor's weekly unemployment summaries. It also pulls from the Dec. 4 jobs report, which documented 344,000 new jobs created nationwide last month.
Lisa Martine Jenkins previously worked at Morning Consult as a senior reporter covering energy and climate change.
We want to hear from you. Reach out to this author or your Morning Consult team with any questions or comments.
Contact Us