College Football Fans Say They'd Rather Pass on a Playoff Given Absence of Big 10, Pac-12
A plurality of fans from every Power Five conference said there shouldn't be a CFP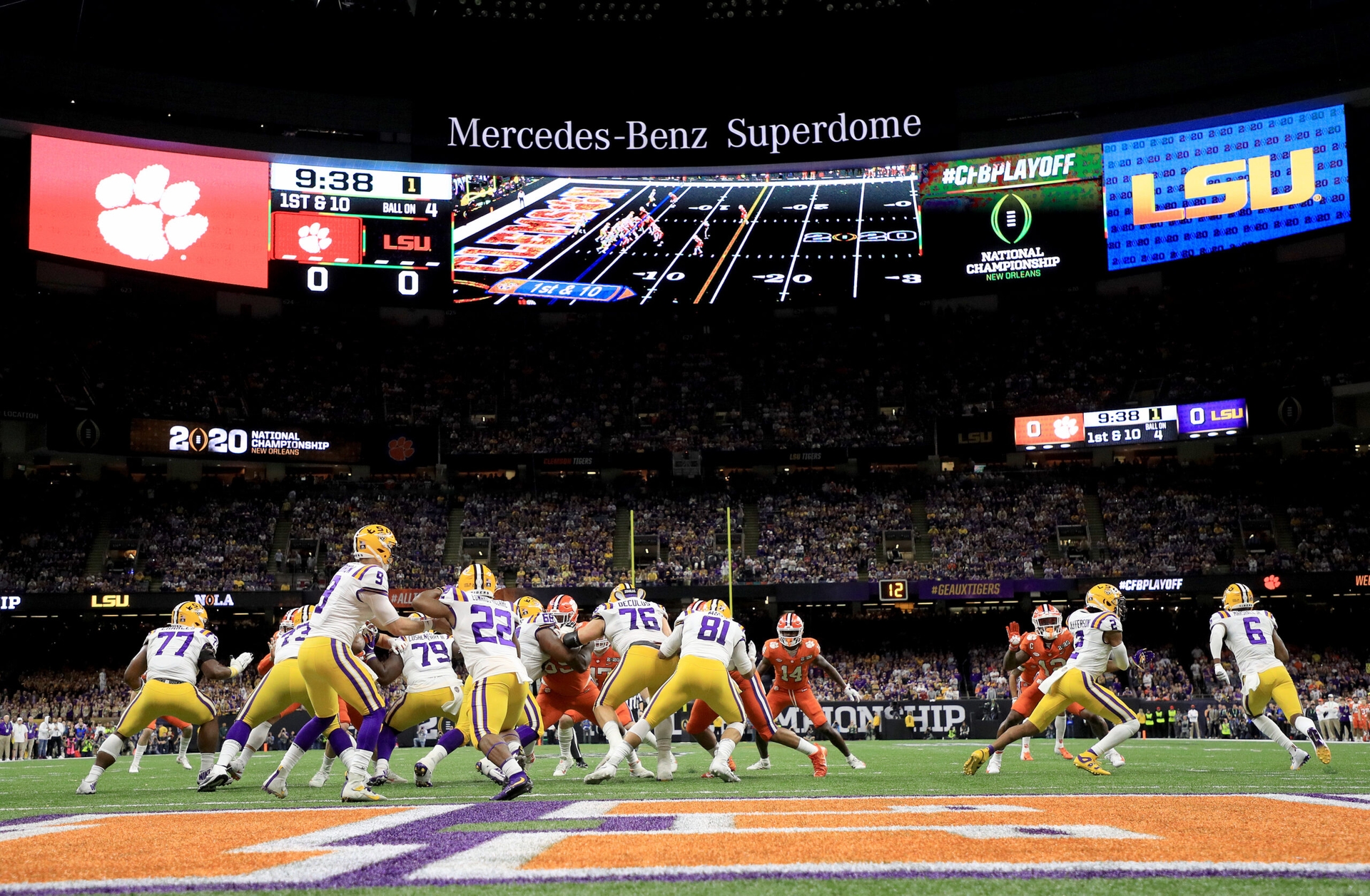 Key Takeaways
Only 23 percent of college football fans believe there should be a College Football Playoff without two of the Power Five leagues.

68 percent of college football fans support the decision by the Big 10 and Pac-12 to cancel fall sports.
The College Football Playoff selection committee is moving forward with this year's four-team postseason tournament to determine a national champion, despite two of the Power Five conferences -- the Big 10 and Pac-12 -- opting not to play this fall amid the coronavirus pandemic. New data, however, indicates fans aren't particularly interested in crowning a national champion without the full complement of teams involved.
A Morning Consult survey conducted ahead of Monday's announcement found that roughly half of self-identified college football fans believe there should not be a CFP this season given the absence of the Big 10 and Pac-12. Forty-nine percent of fans across all conferences oppose holding a playoff this season, more than twice the share of fans who support the event taking place as scheduled. Even among avid college football fans, only 30 percent believe there should be a playoff.
The lack of interest in a College Football Playoff — which will announce its participating teams on Dec. 20 — isn't just limited to fans of teams that compete in the Big 10 and Pac-12. In fact, there is more opposition than support among fans of every Power Five league, as well as those who root for another conference.
In addition, 53 percent of college football fans agree that winning the national championship this season, without the Big 10 and Pac-12, would be less meaningful than doing so in a typical year.
The Aug. 21-23 survey of 1,107 college football fans carries a margin of error of 3 percentage points, while the margin of error among the 398 avid college football fans polled is 5 points. The survey included 407-576 fans from each conference, with margins of error ranging from 4 to 5 points. 
Since the Big 10 and Pac-12 canceled fall sports on Aug. 11, their decisions have drawn mixed reactions, including vocal criticism from a handful of school administrators, coaches, players, parents of athletes and fans. Big 10 Commissioner Kevin Warren has been a particularly common target of fans and columnists due to his delayed explanation of the rationale and process behind the league's decision.
In the fan survey, however, college football fans overwhelmingly said the Big 10 and Pac-12 made the right decision by canceling fall sports. Sixty-eight percent of college football fans supported the cautious approach, including 40 percent of fans who said they backed it "strongly." Support from fans of member schools was even more robust, with 75 percent of Pac-12 fans and 71 percent of Big 10 fans saying their conferences made the right call.
The ACC, Big 12, SEC, AAC, Sun Belt and Conference USA are the six remaining FBS conferences that plan to have student-athletes play sports this fall amid the pandemic. The Big 10 and Pac-12 are joined by the Mountain West and MAC, along with all non-FBS leagues, in their decision to sit out this fall.
Alex Silverman previously worked at Morning Consult as a reporter covering the business of sports.
We want to hear from you. Reach out to this author or your Morning Consult team with any questions or comments.
Contact Us