Congressional Democrats More Trusted Than GOP in Most Policy Areas, Polls Show
But Republicans hold edge on the economy, jobs and national security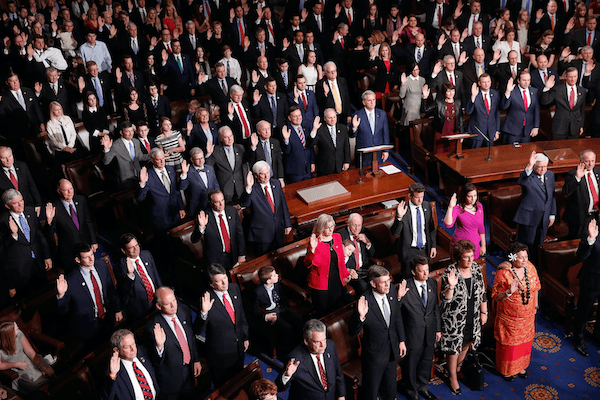 Key Takeaways
43% pluralities trust Republicans more on the economy, jobs as of October.

GOP holds 10-point edge on national security; Democrats favored by 12 on health care.

Voters were split on immigration, gun policy.
Republicans in Congress enter Election Day less trusted by the voting public than Democrats on a handful of policy matters, but they boast leads on two of the top three voting issues: the economy and national security.
Monthly averages compiled from Morning Consult/Politico tracking surveys conducted from March 2017 into last week show Congress' GOP majorities holding identical 5-percentage-point edges over Democrats -- 43 percent versus 38 percent -- on the economy and jobs. That advantage was halved from the March 2017 monthly average, when 46 percent of voters said they backed congressional Republicans on both subjects and 36 percent preferred Democrats.
In surveys conducted during October, economic issues were prioritized over all others, with 25 percent of registered voters, on average, saying they were top of mind when considering their votes for House and Senate.
The GOP's biggest advantage came on another influential issue: national security, which was seen as most important by 18 percent of registered voters during the month of October. Voters favored Republicans in Congress by a 10-point margin over Democrats, 45 percent to 35 percent, although that edge was also down 5 points from March 2017.
Congressional Democrats were significantly more trusted when it came to five other topics that Morning Consult/Politico have tested with the general electorate on a weekly basis, including health care, which was a top priority for 18 percent of registered voters. Forty-seven percent of respondents during the October surveys said they trusted Democrats more on health care, a 12-point edge over Republicans. That margin was three times what it was in the opening months of the 115th Congress.
Democrats also held double-digit advantages on trust when it came to the environment (24 points), energy (10 points), education (13 points), and on matters concerning sexual harassment and misconduct in the workplace (16 points).
Voters were split dead even on two other hot-button issues: immigration and gun policy, with a respective 41 percent and 40 percent of registered voters opting for either party. While opinions on gun policy have hardly moved since Morning Consult/Politico began tracking the question on a weekly basis in February of this year, immigration represents another area where the GOP has lost its grip, with a 9-point advantage in March 2017 fully evaporated by October 2018.
The edge on the generic ballot has also swung Democrats' way during the 115th Congress. Their average advantage grew from 2 points in March 2017 -- 41 percent versus 39 percent -- to 7 points in October, with 45 percent of respondents backing Democrats and 38 percent saying they'd vote GOP if the election were held at the time of the poll.
Cameron Easley is Morning Consult's lead analyst for U.S. politics. Prior to moving into his current role, he led Morning Consult's editorial coverage of U.S. politics and elections from 2016 through 2022. Cameron joined Morning Consult from Roll Call, where he was managing editor. He graduated from the University of North Carolina at Chapel Hill. Follow him on Twitter @cameron_easley. Interested in connecting with Cameron to discuss his analysis or for a media engagement or speaking opportunity? Email [email protected].
We want to hear from you. Reach out to this author or your Morning Consult team with any questions or comments.
Contact Us