With New Plague and Swine Flu Concerns in China, 3 in 4 U.S. Voters Are Worried About Another Pandemic
Nearly equal share says a pandemic similar to COVID-19 likely in their lifetime
Key Takeaways
85% of Democrats and 65% of Republicans are concerned about a new pandemic.

87% of voters say a second wave of COVID-19 is likely in the U.S. in the next year, with 82% saying they are worried about it.

Over half of voters say the U.S. won't be able to handle the economic and health impacts of a second wave.
The United States continues to contend with an ongoing surge of coronavirus cases in several Southern and Western states, but recent reports out of China have raised new concerns about two illnesses associated with previous pandemic-level outbreaks: the swine flu and the bubonic plague.
While both diseases appear to pose little risk to the population at large at this time, they still come as unwelcome news as much of the world continues its monthslong efforts to quash COVID-19. And new Morning Consult polling shows most voters expect and are worried about a similar worldwide viral outbreak in the future.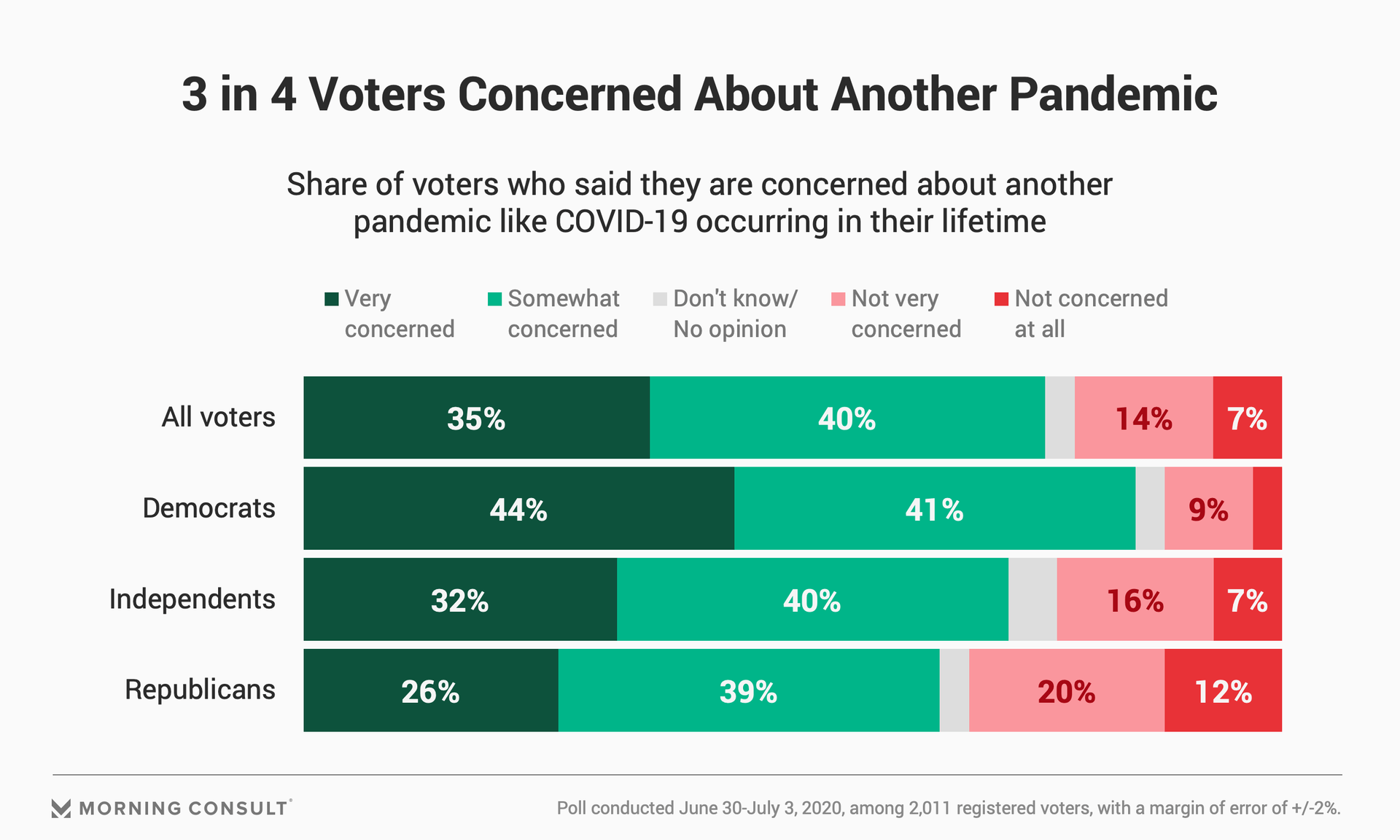 In a new survey, 76 percent of voters said they think it is likely that another pandemic similar to COVID-19 will occur in their lifetime, and a nearly identical share (75 percent) said they are concerned about such an event happening in their future. Democrats and Republicans were about as likely to say a similar pandemic is likely to occur, though Democrats were more likely than GOP voters to say they are concerned about such a global outbreak. 
The poll was conducted June 30 to July 3 among 2,011 registered voters and has a margin of error of 2 percentage points.
The concerns over a new pandemic stemmed from a report published last week in the Proceedings of the National Academy of Sciences, which indicated a new strain of swine flu referred to as "G4" could be highly infectious among humans and become a "pandemic virus." Chinese government officials refuted those claims, saying the strain isn't new and does not easily infect humans or animals. 
And this week, Chinese officials said a herdsman in the country's Inner Mongolia region was diagnosed with yersinia pestis, the bacterium that caused the Black Death during the Middle Ages, though the person is hospitalized and in stable condition.
While a majority of voters expressed concern about an entirely new pandemic, they are also nearly as worried about a second wave of the current novel coronavirus outbreak at home. 
Nearly 9 in 10 voters (87 percent) said they think a second wave of COVID-19 is likely in the United States within the next year, up 7 points from a mid-June poll and an increase of 8 points from when Morning Consult first asked the question in a late April survey. Eighty-two percent of voters said they are concerned about a second wave in the latest poll, including 92 percent of Democrats and 73 percent of Republicans. Growing certainty about a second wave coincides with recent increases in confirmed COVID-19 cases in states such as Florida, Texas and California, though U.S. infectious disease expert Anthony Fauci has maintained that the new spikes in the South and West are still part of the first wave of the pandemic.
The latest bout of COVID-19 appears to have slightly dampened voters' confidence in the country's ability to handle certain aspects of a potential second wave.
For the first time since Morning Consult has tracked the question, over half of voters (51 percent) now say the United States is not prepared to handle the public health impact of a second wave of COVID-19, up 6 points from the middle of last month and 10 points from a mid-May survey. Just over one-third of voters in the latest poll said the country could handle the public health impact of a second wave, down 8 points from mid-June and 5 points from mid-May. 
In the latest poll, 69 percent of Democrats and 51 percent of independents said the United States is unprepared for the health impact of a potential second wave, while 55 percent of Republican voters said they think the country could handle it. 
The economic impact of a second wave remains a concern among voters, as well. In the latest survey, 54 percent of voters said the United States is not prepared to handle the economic impact of a second coronavirus wave, statistically similar to the mid-June findings. However, the number of voters who said the country is prepared for the pandemic-induced economic impact dropped 6 points over the past month, to 27 percent in the newest poll. 
Democrats, at 67 percent, were more likely to be pessimistic about the country's ability to handle the economy amid a second wave than Republicans, with a 44 percent plurality of GOP voters saying the United States would be prepared and a 36 percent share saying the opposite. 
All the polls mentioned have a 2-point margin of error.
Brian Yermal is a research editor on the Industry Intelligence team, where he edits the team's email newsletters, written analysis and reports. Brian previously worked as a copy editor at the Altoona Mirror newspaper in central Pennsylvania. He graduated from Penn State University with a bachelor's degree in journalism.
We want to hear from you. Reach out to this author or your Morning Consult team with any questions or comments.
Contact Us