Early Reports of U.S. Coronavirus Cases Haven't Affected Consumer Sentiment Yet
Markets tumbled Monday after new reports of the outbreak, though analysts say volatility is likely temporary
Key Takeaways
Consumer sentiment increased slightly over the weekend, to 114.4 from 114.2.

Conversely, the U.S. strike on a top Iranian commander earlier this month coincided with the daily index falling from 115.9 to 113.4 over four days.
Early reports of the coronavirus outbreak have so far shown little sign of shaking a key, underlying measure of the U.S. economy.
New Morning Consult Economic Intelligence data showed that consumer sentiment remained steady over the weekend amid news of the spreading virus, which began in Wuhan, China, and has moved throughout mainland China and to other pockets across the globe, including the United States. At the same time, a separate Morning Consult poll conducted Jan. 24-26 found that 74 percent of U.S. adults were very or somewhat concerned about the spread of coronavirus in the United States. 
Compared to Morning Consult tracking in the wake of another recent major news event — the U.S. strike that killed top Iranian commander Gen. Qassem Soleimani in Iraq – the coronavirus outbreak's impact on consumer sentiment is noticeably absent at this time.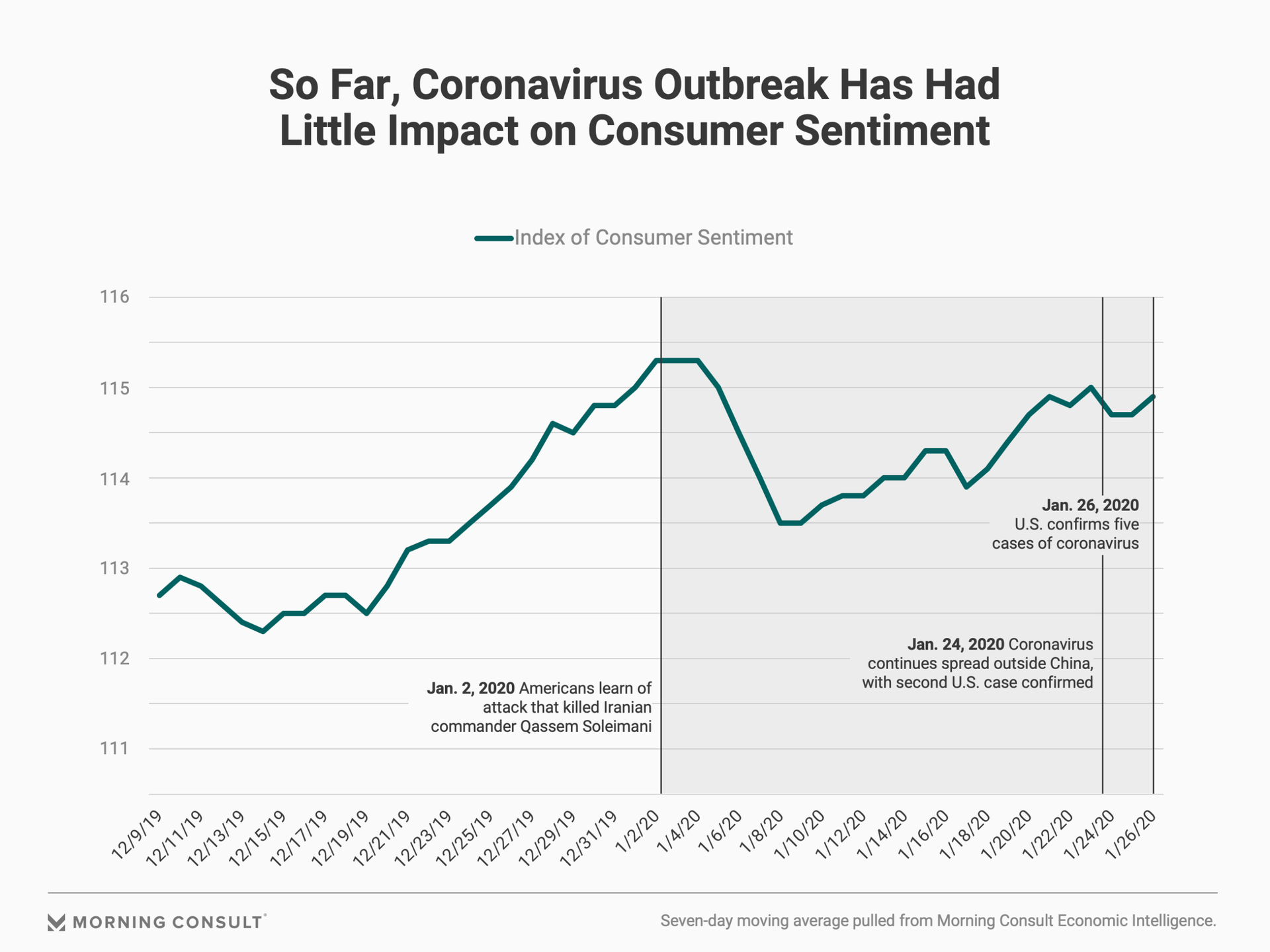 The seven-day moving average of consumer sentiment reached 114.4 on Sunday, a small bump from Friday's mark of 114.2, according to Morning Consult Economic Intelligence. On Sunday, the United States confirmed five cases of coronavirus.

"Thus far, the effects of the coronavirus have not materially altered the U.S. economic outlook, so it isn't surprising that consumers were unphased. If the virus continues to spread throughout Europe and the U.S., Americans may become more concerned about its economic impact," said John Leer, senior director for Morning Consult Economic Intelligence. "However, as it stands, there will likely be no long-term effect on U.S. consumers."
Morning Consult's aggregate indices are based on daily surveys of 7,500 U.S. adults. Morning Consult Economic Intelligence data draws upon surveys that ask each respondent the same five questions as the University of Michigan's Surveys of Consumers. (A detailed explanation of the methodology can be found here.)
Reacting to the same news, markets tumbled worldwide Monday. The Centers for Disease Control and Prevention has strongly cautioned against nonessential travel to China, and China has closed its major exchanges to prevent a massive selloff.
The Dow Jones Industrial average dropped more than 450 points on Monday, while the S&P 500 posted its biggest single-day percentage loss since October. 
Still, markets did rebound Tuesday. Most analysts expect the impact on U.S. markets and the economy to be limited. For example, major U.S. companies didn't suffer much long-term impact from the 2003 SARS outbreak, several analysts wrote.
"History shows us that, with very few exceptions, the market impact of an epidemic event are transient, and even the hardest hit stocks recover within one year," Michael Farr, president of the Washington, D.C.-based investment firm Farr, Miller & Washington, wrote in an analyst note.
It's possible that consumer confidence will take a larger hit if the virus spreads further into the United States or if the scale is larger than currently anticipated. The outbreak is happening in the middle of the Chinese Lunar New Year holiday, which means some of the largest impact now is on the travel and leisure industries.
The progression of the disease is still unclear, which means the full economic impact might not be fully felt for some time.
"This story is far from over," Farr wrote.  
Claire Williams previously worked at Morning Consult as a reporter covering finances.
We want to hear from you. Reach out to this author or your Morning Consult team with any questions or comments.
Contact Us