Voters More Worried About Health Than Economy, Want Social Distancing to Stay
81% of voters say U.S. should social distance, even if it means more economic damage
Key Takeaways
Just 5% of Democrats and 10% of Republicans say Americans should stop social distancing to stimulate the economy, even if it means increasing the spread of the virus.

Nearly 3 in 4 voters say it's more important for the government to address COVID-19's spread vs. addressing the economy.

13% of U.S. adults are continuing to socialize in public places, down from 20% in a March 17-20 survey.
With President Donald Trump moving to restart the economy in the midst of a pandemic that is putting heavy pressure on every link in the U.S. health system, addressing the impact of the coronavirus has begun to splinter along partisan lines, with a chorus of conservative voices — including that of the president — adamant that a full-throated response to the health emergency at the expense of the economy is more threatening than the emergency itself.
But voters are far more concerned about public health than damage to the economy, and most are willing to commit to social distancing measures for as long as it takes, according to new Morning Consult data.
Just over 4 in 5 voters believe Americans should continue to practice social distancing for as long as necessary to curb the spread of the coronavirus – even if it means continued damage to the economy. The survey, conducted March 24-26 among 1,990 registered voters has a margin of error of 2 percentage points.
On Thursday, the White House told governors to expect new guidelines on "maintaining, increasing or relaxing social distancing" for individual counties, based on their threat level. According to the letter, counties will be designated as high, medium or low risk.
The poll suggests the president's belief that the cure cannot "be worse than the problem itself" is not shared with the public, even as Americans bear witness to unemployment rising to historic levels. A 74 percent majority of voters say it's more important that the government address the spread of coronavirus than the economy, a sentiment that holds true across age groups, income brackets and political affiliation. Public health experts have rallied against calls to return to business-as-usual, arguing the false choice between health and the economy ignores the deleterious economic consequences when people are falling sick by the masses.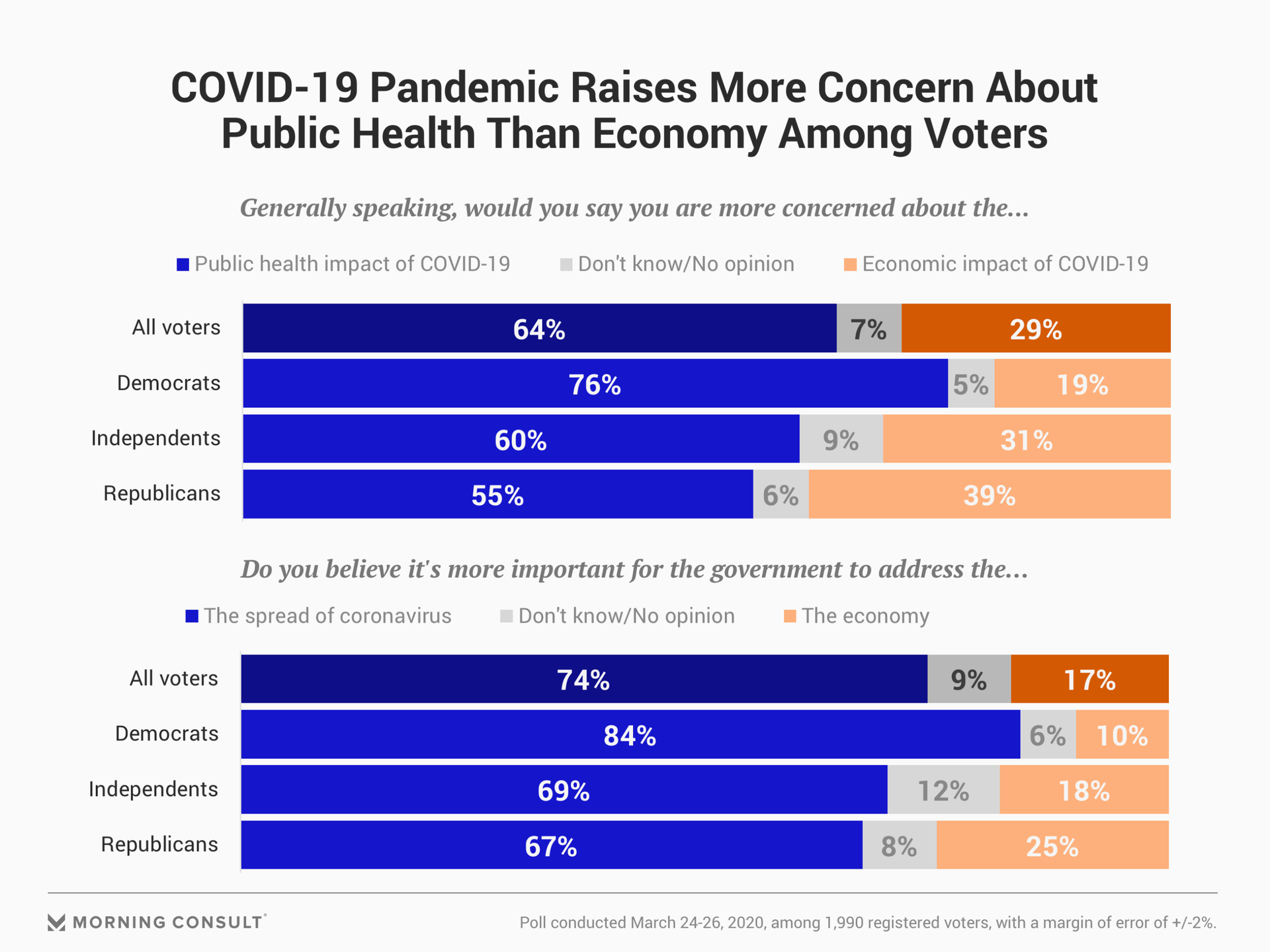 Though there is some evidence that politicization of the pandemic has crept further than the small coalition of Trump allies and businessmen arguing the country should soon abandon social distancing measures and consider some loss of life a necessary trade-off to protect the economy — Republicans (39 percent) are twice as likely as Democrats (19 percent) to say they are more worried about the effect of COVID-19 on the stock market and increased unemployment versus the public health impact — the vast majority of GOP voters identify the spread of the virus and more deaths as their primary concern.
As the coronavirus seeps through the nation, Americans of all political stripes are on high alert about the risk to their own networks, with 88 percent of all voters saying they are concerned about the impact COVID-19 could have on their friends' and families' health. More than half of voters (54 percent) now suspect someone in their family will become infected, and nearly 80 percent say the same about someone in their community.
Even still, the pandemic has hit Americans — particularly the working class — hard, leaving many families strapped for cash. The House is preparing to vote on the $2 trillion coronavirus stimulus package, which includes up to $1,200 for low- and middle-income adults, and 1 in 2 voters say they would spend that money on necessities if they qualified to receive a check. Smaller, roughly equal shares would instead elect to pay off debt (16 percent) or save or invest (18 percent).
Within one week, the number of states and cities with shelter-at-home orders in place has leapt from a handful to nearly two dozen. Compared to the same time last week, adults of all ages are choosing to more carefully abide by social distancing measures, with just 13 percent saying they are socializing in public places, down from 20 percent in a March 17-20 survey. In lieu of gathering in homes, adults are finding community online, with the share of Generation Z adults socializing virtually more than doubling.
Eli Yokley contributed.
Yusra Murad previously worked at Morning Consult as a reporter covering health.
We want to hear from you. Reach out to this author or your Morning Consult team with any questions or comments.
Contact Us