Concern Over Coronavirus' Economic Impact Continues to Climb
U.S. adults remain more worried about the outbreak's impact on the global economy than its domestic effect
Key Takeaways
69% said they are concerned about the effects on the U.S. economy.

That's up from 55% who said the same in an early February survey.
Americans are growing more worried about a potential hit on the U.S. economy from the coronavirus outbreak, as economic policymakers consider how to grapple with the expected fallout. 
Sixty-nine percent of U.S. adults are either "very" or "somewhat" concerned about the domestic economic impact of the coronavirus, according to a Morning Consult poll conducted Feb. 24-26. The poll surveyed 2,200 adults and carries a margin of error of 2 percentage points.
Just a few weeks earlier, that figure stood at 55 percent.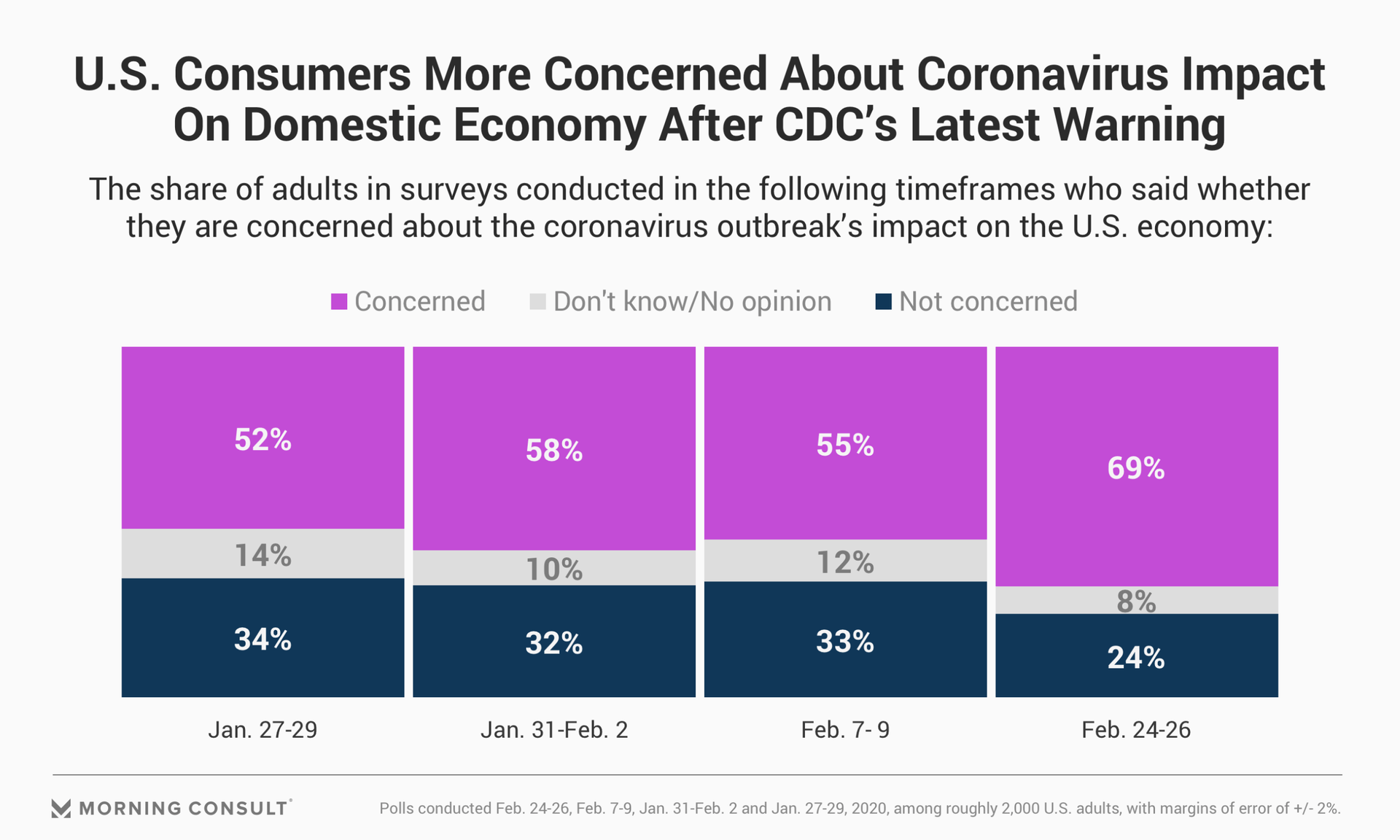 Since that Feb. 7-9 survey, concern about the virus and its economic fallout has ballooned. This week, the Centers for Disease Control and Prevention announced that it expects the coronavirus to spread in the United States. And on Monday and Tuesday, the Dow Jones Industrial Average tumbled more than 1,900 points in the largest two-day point loss ever.  
In the most recent poll, concern ranked higher for the economy abroad, with 74 percent of U.S. adults saying they are worried about the outbreak's impact on the global economy, compared to 61 percent who said the same in early February. 
So far, however, the economic impact of the virus appears limited to the stock market. While industries like logistics and tourism are taking hits, it's not yet clear that those are bleeding into job or wage prospects for American workers. 
Top economic policymakers, including Federal Reserve Vice Chair Richard Clarida, have said the central bank is watching the outbreak closely. On Tuesday, Clarida said that the effects of the coronavirus' spread could "spill over to the rest of the global economy," but cautioned that it's still too soon to assess the extent of disease's economic impact. 
The next Federal Open Markets Committee meeting, where central bankers will have the opportunity to adjust rates, is scheduled for March 17-18.
Claire Williams previously worked at Morning Consult as a reporter covering finances.
We want to hear from you. Reach out to this author or your Morning Consult team with any questions or comments.
Contact Us