What the Partisan Gap on Comfort With Attending Political Rallies Could Mean for Biden and Trump
GOP voters nearly twice as likely as Democrats to say they'd be OK with attending a rally by November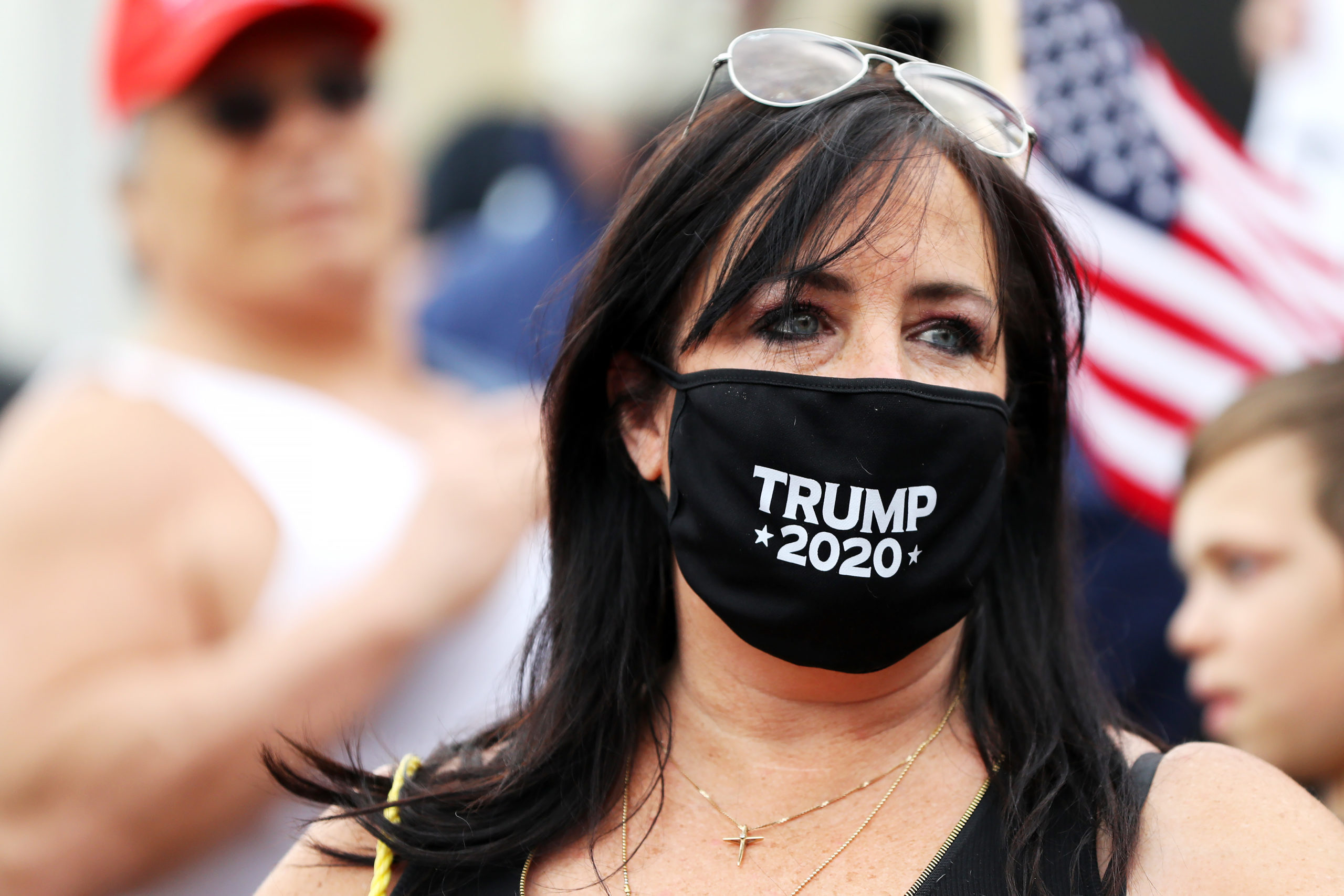 As President Donald Trump openly mulls a return to the campaign trail while coronavirus cases continue to rise nationwide, polling shows his base is far more comfortable than Democrats with attending political rallies – a staple of his presidency. 
A recent Morning Consult poll found Republican voters are nearly twice as likely as Democrats to say they would feel comfortable showing up at a political rally within the next six months based on what they know about COVID-19 (38 percent to 22 percent).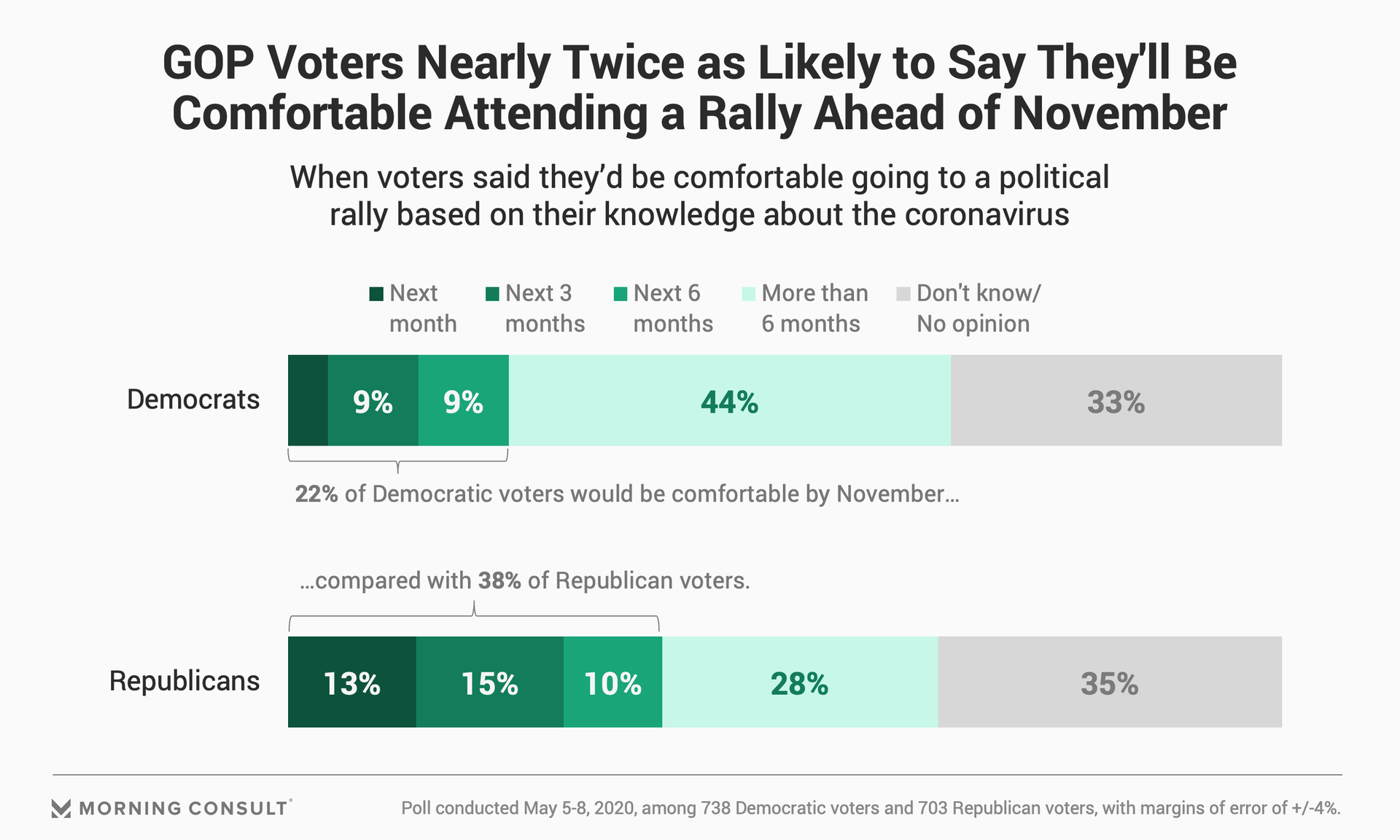 Coupled with other Morning Consult polling tracking Americans' views about the pandemic, the numbers reflect a growing expectation among Republican voters that a return to normalcy is on the horizon, including for the political world. But that view isn't shared by the bulk of Democrats, whose presumptive presidential nominee, former Vice President Joe Biden, has embraced a virtual platform and who said last week that he's setting an example for the American people by staying home, noting the fact that "we're winning" in polling.
"Even if there was 1 percent risk, it's not worth it," said Doug Landry, who helped organize rallies for Hillary Clinton's 2016 campaign. "Practically, it will be incredibly hard to draw crowds out to see any candidate." 
While Republicans and Democrats across the country held a similar outlook on the prospects of attending a political rally earlier in the pandemic, a wider partisan gap has emerged in recent weeks -- with Republican voters softening their resistance to the prospect of returning to rallies and Democrats keeping their distance.
Twenty-two percent of Republican voters said the coronavirus would make no difference in whether they were likely to attend a rally. At the same time, the share of Republicans who said the pandemic made them "much less likely" to attend a rally (51 percent) has dropped 17 percentage points from its late March/early April peak of 68 percent, now roughly on par with the share who said the same around mid-March, when Trump declared a national emergency.
But among Democrats, the vast majority (71 percent) in a May 15-17 poll said they were much less likely to attend a campaign rally due to the virus, and just over one in 10 (12 percent) said it would make no difference either way, largely unchanged throughout the pandemic. A Pew Research Center study in 2018 found Democrats were more likely to have attended a political rally in the past five years than Republicans (32 percent to 25 percent), driven by the party's most liberal voters. 
For a national campaign hurtling toward the November 2020 elections, the absence of large-scale events presents a number of challenges in energizing supporters, targeting voters and attracting influential local news coverage. According to Will Ritter, who led advance organizing for Sen. Mitt Romney's 2012 presidential campaign, "rallies give you a place for the campaign to exist."
"It is really a backdrop and context for the messaging war that plays out to the press and through the press," Ritter said. "It is a great organizing tool. Everybody who interacts with a campaign you're trying to get into a funnel: Turn a supporter into a volunteer, a volunteer into a volunteer leader. Rallies, a lot of times, might be the first step." 
A lack of rallies also deprives both campaigns of a handy tool for collecting data on those voters energized enough to go through the security hoops and attend the events, something Trump's campaign and the Republican National Committee have said they've capitalized on in the past few years. 
And for Biden, who lacks the White House bully pulpit embraced by Trump, the lack of rallies can translate to a dearth in local news coverage, which usually serves to highlight a campaign's presence to voters on the ground in their own communities. Strategists say that benefit cannot be fully replaced, even with regular videoconference interviews with local broadcasters.
Trump, who recently told ABC News he hopes to hold rallies before November, has embraced the White House as a platform for his campaign during the height of the lockdown, switching up appearances between the Brady Briefing Room, Rose Garden, Oval Office and East Room to make his case for re-election. As the pandemic continues, the president has started staging smaller public events organized by the White House in 2020 battlegrounds like Arizona and Pennsylvania. 
But Biden, whose television and online appearances have oscillated between his basement and the porch of his Delaware home, has given no signals he's ready to change his approach in the near future. Along with participating in local TV interviews, his campaign has begun conducting virtual events and rallies targeted at individual regions and featuring the former vice president, his wife Jill Biden and other surrogates. He's even staged his beloved ropelines virtually.
"I enjoy interfacing with people. I'm not trying to avoid it, but I'm trying to set an example as to how we should proceed in terms of dealing with this health and economic crisis," he told ABC News.
Republican and Democratic strategists alike said a major factor that will determine the return and nature of large, in-person events is the availability of testing. Indoor events, they say, should only be able to hold as many people as can be tested without campaigns taking the risk of being linked to a potentially deadly COVID-19 outbreak -- both a public health and political nightmare. 
"If we're at a place where there's no second surge post-Labor Day, that's one thing," said Doug Heye, a former Republican National Committee spokesman and current senior vice president of media at CRAFT, a Washington-based public affairs agency. "If Trump's in Milwaukee or Eau Claire within two weeks and we see a real spike in Wisconsin infection rates, that's going to be a thing. There's obviously a huge potential of downside." 
Ritter, co-founder of the ad firm Poolhouse, said the current circumstances demand creativity for people in his profession, citing as an example the suggestion floated by Trump's campaign of holding large-scale rallies in fields or drive-in movie theaters to allow for social distancing. He noted his experience on the Romney campaign, where major rallies weren't "our strong suit" like they are for Trump, as a potential playbook for what's possible for Biden.
"The question was, 'How could we do something that is more of a small-town feel?'" he said. "You have to be creative with your constraints. You still gotta do something." 
Landry, an organizer of Advance Camp, which trains Democratic operatives in political optics and operations for national campaigns, suggested that in the short term, Biden could embrace socially distanced roundtables or visits with first responders at an appropriate time to re-engage in public, and freshen photographers' files for television and print.
"Clearly, staying in the house is not tenable forever," Landry said.
Eli Yokley is Morning Consult's U.S. politics analyst. Eli joined Morning Consult in 2016 from Roll Call, where he reported on House and Senate campaigns after five years of covering state-level politics in the Show Me State while studying at the University of Missouri in Columbia, including contributions to The New York Times, Politico and The Daily Beast. Follow him on Twitter @eyokley. Interested in connecting with Eli to discuss his analysis or for a media engagement or speaking opportunity? Email [email protected].
We want to hear from you. Reach out to this author or your Morning Consult team with any questions or comments.
Contact Us