Voters Listened When Trump Downplayed the COVID-19 Threat. But Will They Blame Him for the Fallout?
Public concerns about the risk of COVID-19 did not spike until Trump acted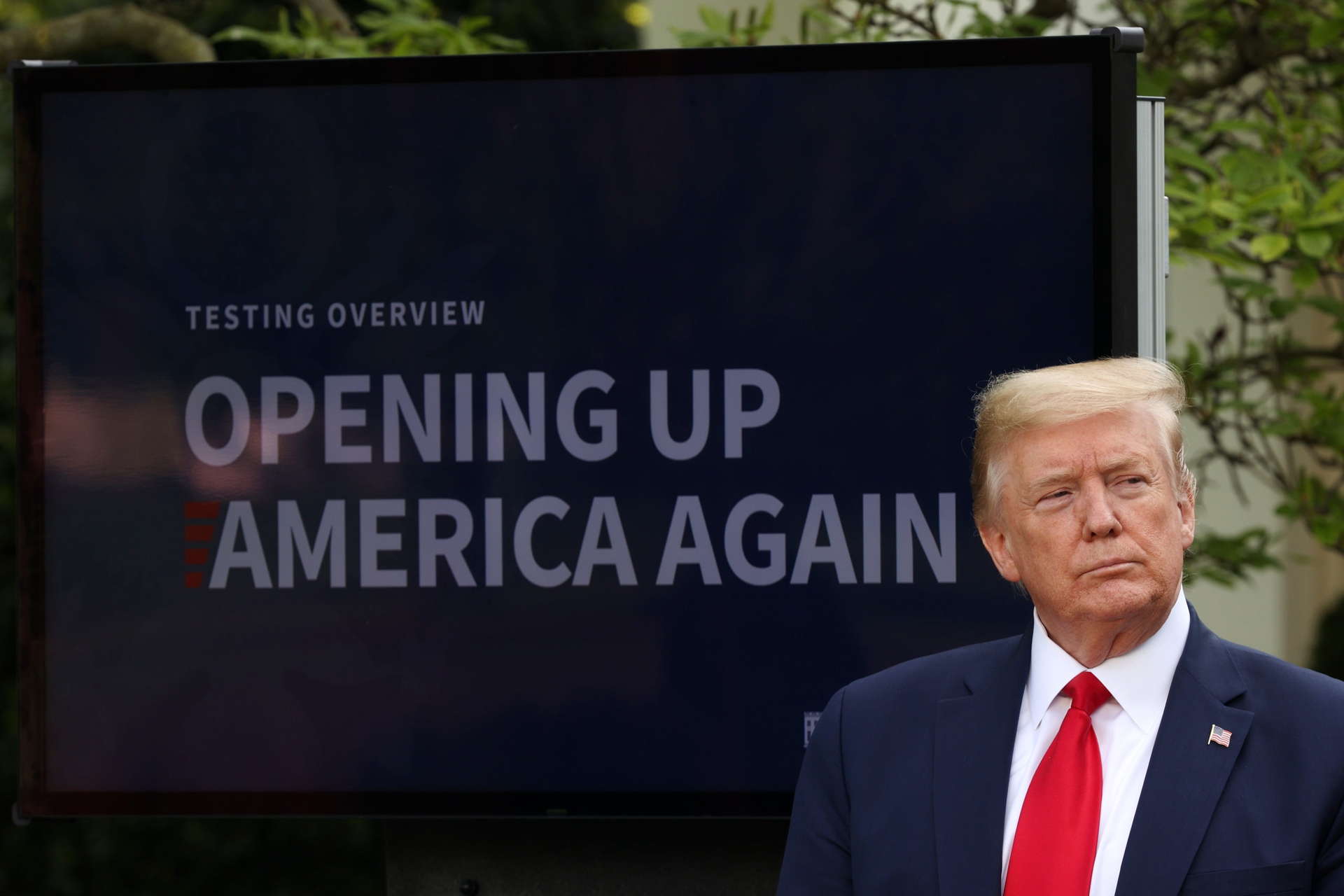 Key Takeaways
Perceptions of Trump's handling of the coronavirus fell as he was hit for playing down the threat early on.

But the president's numbers on the economy have remained stable during the crisis.

46% say they trust Trump most to handle the economy vs. 37% who said they trust presumptive Democratic nominee Joe Biden.
President Donald Trump's early minimization of the threat posed by the novel coronavirus has become a key contention in the political case being waged against him six months from the election, as he and his allies push to move the conversation toward a revival of the American economy.
Priorities USA, a leading Democratic super PAC, launched a commercial in April slamming Trump for "downplaying threats," "ignoring the experts" and "refusing to prepare," continuing a line of attack that began with a late March ad that Trump's campaign tried to have pulled off air. It also echoes messaging from presumptive Democratic nominee Joe Biden's campaign criticizing the president for a lack of preparedness and seriousness.
Guy Cecil, chairman of Priorities USA, said in an interview that the messaging is meant to "establish a baseline of responsibility" for the economic and health care problems the nation faces due to the virus. Sacha Haworth, political director for American Bridge, a Democratic opposition research group, said the most successful approach against Trump is "a calendar and a camera," a tactic that uses Trump's own words against him.
At the core of the attack is the critique that Trump could have, and should have, done more to inform the public about the danger -- a claim backed up by a Centers for Disease Control and Prevention study that found a correlation between leaders' rhetoric and actions and the public's response, as well as Morning Consult polling tracking public opinion as the deadly virus proliferated across the country.
As the coronavirus was spreading overseas, Trump told Fox News host Sean Hannity "we pretty much shut it down coming in from China," and publicly downplayed the number of domestic cases at a campaign rally in Iowa. Days later, a Feb. 7-9 Morning Consult poll found 23 percent of voters labeled coronavirus a "severe health risk," driven largely by Democratic voters.
Public sentiment remained fairly unchanged throughout February and early March as, according to an April New York Times report, Trump's advisers were meeting to discuss a national lockdown and Trump privately admonished the Centers for Disease Control and Prevention for publicly warning of the contagion's potency and advising the introduction of social distancing.
It wasn't until mid-March -- when Trump addressed the nation from the Oval Office, declared a national emergency and introduced federal social distancing guidelines, all in the span of five days -- that most voters began to take the virus seriously. In a poll conducted March 13-16, 40 percent of voters viewed the outbreak as a severe risk. Less than two weeks later, in a March 24-26 survey, that figure had increased 22 percentage points to 62 percent.
Asked about the initial downplaying of the virus, White House press secretary Kayleigh McEnany noted early press headlines that raised skepticism about the coronavirus threat, telling reporters Wednesday, "I guess I would turn the question back on the media." 
But public opinion tends to flow down from actual elites, and perceptions about the seriousness of the health risk track with the CDC analysis of mobile device data, which found Americans' mobility declined in four U.S. major cities after the White House's March 16 release of national guidelines aimed at slowing the spread of COVID-19. And though the media continues to highlight the threat of the virus, voter concern about the disease dropped in April after the president began publicly pushing for a reopening of the country. 
Approval for Trump's handling of the country's COVID-19 pandemic response, at 41 percent, has dropped 12 points since a March 17-20 survey, while his disapproval rating is up 11 points over that time frame.
One strategist close to the Trump campaign said that while criticism of the administration's early pandemic response may have resonance, it will be more difficult to tie that weakness to broader issues such as the economy. Republican strategists said the president's detractors will have a hard time convincing the public to blame him for the economic crash or the pandemic's U.S. death toll, as a new ad from The Lincoln Project, a group of Republicans long opposed to the president, seemingly seeks to do.
Americans' confidence in the economy has dropped across the country since fears about the coronavirus surged, according to the Morning Consult Index of Consumer Sentiment, with some of the biggest drops in Ohio, Pennsylvania, Michigan, Maine and Minnesota -- all states that Democrats are eyeing for November.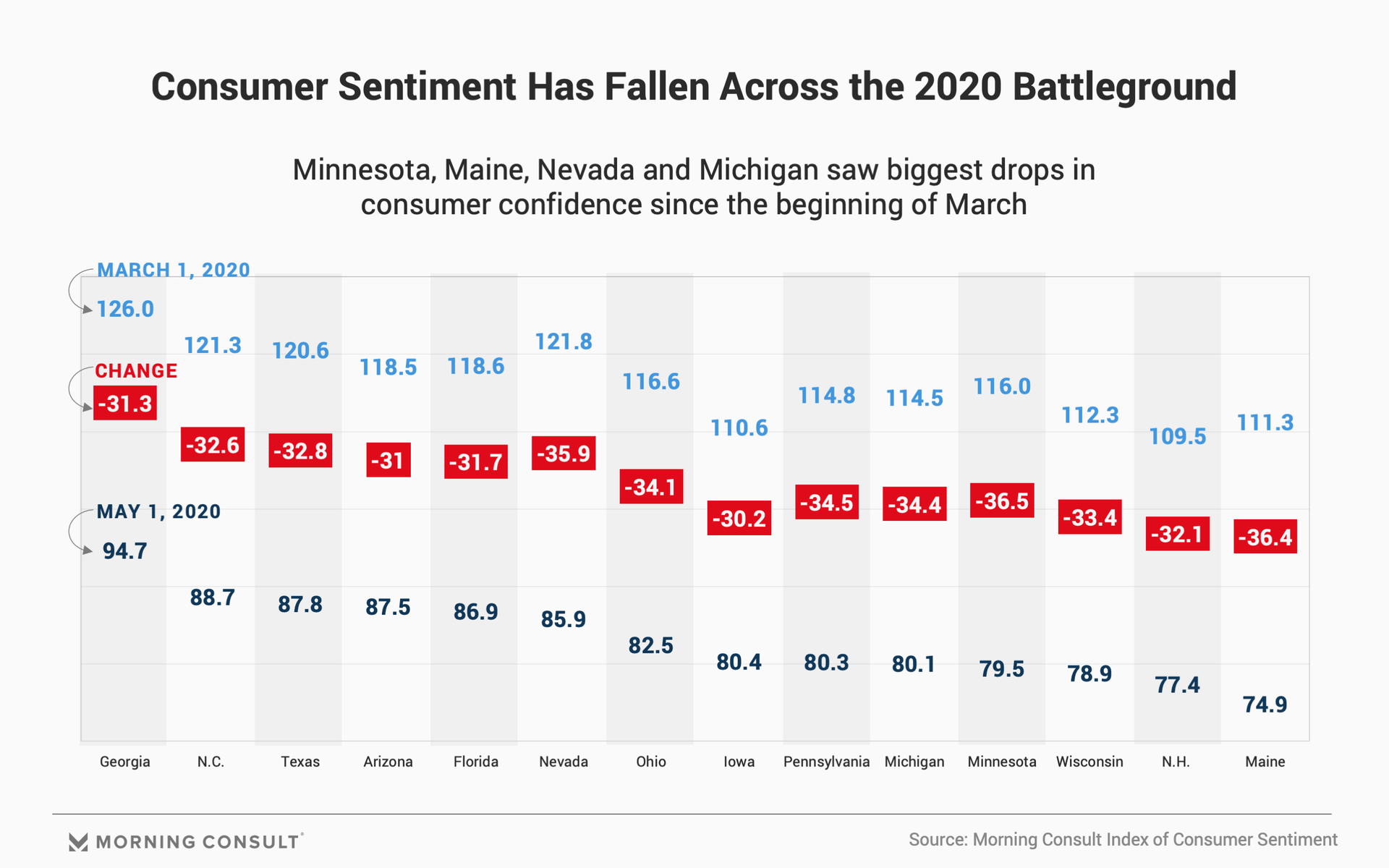 But that growing pessimism doesn't seem to be taking a toll on Trump's perceived strength on the issue. 
Morning Consult/Politico polling conducted in March and April found statistically similar shares of voters approved of Trump's handling of the economy. And while voters are split almost evenly (39 percent to 37 percent) when asked whether they trust Biden or Trump most to handle the spread of coronavirus, the incumbent president has maintained his edge on the economy: The latest Morning Consult/Politico poll found Trump leads Biden on the question, 46 percent to 37 percent, statistically unchanged since polling conducted March 13-16.
Jeff Roe, a Republican strategist who led Ted Cruz's 2016 campaign, said Americans were shocked by initial projections about COVID-19's spread -- projections that have yet to be met -- which drove early agreement about shutting down the economy. But Roe said reopening will put Trump on the right side of public opinion in the long run, as long as there isn't a serious resurgence of the virus. 
"When people come out of their caves believing this didn't have to be as bad as it was, I don't think there's going to be blame for Trump," he said. 
But Democrats are betting that voters will, and are working to tie the administration's early posture to Americans' physical and economic maladies. 
Cecil said ads on the economy and health care meant to energize the base and persuade fence-sitters are coming to voters' screens, including a spotlight on the administration's attacks on the Affordable Care Act and its "inadequate" assistance for small businesses. Priorities USA also updated its March coronavirus ad this week with the country's still-climbing coronavirus death count. 
Robby Mook, the president of the House Majority PAC, said that while Republicans may want to move the conversation to a recovering economy heading into November, Democrats are ready to tell a story of a fumbling coronavirus response that led to avoidable job losses, more bailouts to big businesses and the abandonment of small businesses and independent workers.
"Rather than actually try to improve the response, they're betting they can win the argument as the economic pain starts to set in that they were for getting the economy moving and the Democrats were against it," Mook, who ran Hillary Clinton's 2016 campaign against Trump, said in an interview. "They're going to lose this bet because his credibility is going to be further impacted when he's talking about opening up and infection rates are going up."
If people perceive the economy is still bad in like the second week of October, Biden doesn't have to do much except be there.
Charlie Black, chairman of Prime Policy Group
In an email Thursday, Ken Farnaso, a spokesman for Trump's campaign, touted the performance of the economy, which he said was "artificially interrupted by the coronavirus." The comment came after Trump said Tuesday that people will "be affected badly" as the economy reopens, but that "we have to get our country open and we have to get it open soon" as he refocuses his coronavirus task force on reopening the economy and developing a vaccine.
"In November the choice will be clear: President Trump is the only candidate who has demonstrated that he knows how to get the economy fired up again," Farnaso said. "He did it once, and when we've beat the coronavirus, the American people know he will do it again." 
Charlie Black, chairman of Prime Policy Group who's worked on Republican presidential campaigns for four decades, said he views the economic question as the only one that will matter for Trump's re-election in the home stretch of the campaign. 
"Has the economy started to come back? Are jobs being added again, and do people believe it's going to come back?" the longtime Washington lobbyist said. "If people perceive the economy is still bad in like the second week of October, Biden doesn't have to do much except be there."
Eli Yokley is Morning Consult's U.S. politics analyst. Eli joined Morning Consult in 2016 from Roll Call, where he reported on House and Senate campaigns after five years of covering state-level politics in the Show Me State while studying at the University of Missouri in Columbia, including contributions to The New York Times, Politico and The Daily Beast. Follow him on Twitter @eyokley. Interested in connecting with Eli to discuss his analysis or for a media engagement or speaking opportunity? Email [email protected].
We want to hear from you. Reach out to this author or your Morning Consult team with any questions or comments.
Contact Us