As COVID-19 Restrictions Ease, at Least 70% of Voters Would Support Same Moves to Mitigate Second Wave
More than 2 in 5 voters say U.S. would not be prepared to handle public health impact of another coronavirus wave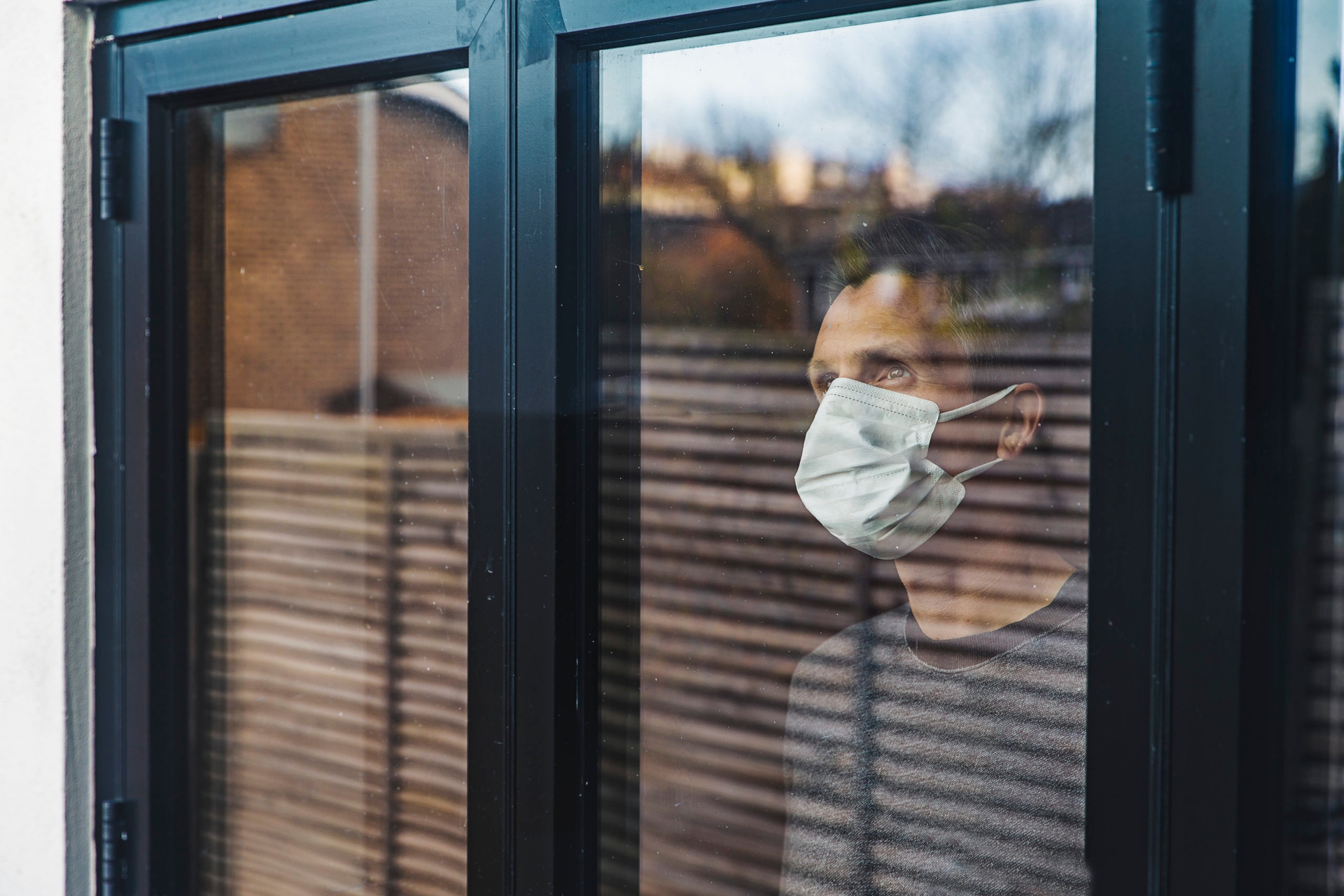 Key Takeaways
88% of voters support social distancing measures in event of a second wave of coronavirus cases.

78%, including 69% of Republicans, support stay-at-home orders in the scenario.

Plurality (47%) says the U.S. is not prepared to handle the economic impact of a second wave.
After weeks of being mostly confined to their homes due to the coronavirus pandemic, Americans in many states are beginning to venture out in public again as governors ease stay-at-home orders and allow nonessential businesses to reopen.
As Memorial Day weekend -- and the start of summer -- approaches, people are likely to embrace their new freedoms, but public health experts have cautioned that lifting pandemic-related restrictions too early could result in a second wave of coronavirus cases later in the year that, in tandem with the influenza season, may be worse than the current scenario.
Despite protests of stay-at-home orders and other pandemic measures in recent weeks, Morning Consult data has shown that most of these measures have majority support. And even as many Americans are just now getting a slow return to normal, they are supportive of coronavirus measures being implemented again in the event of a second wave of cases, a new survey shows.
In a poll conducted May 12-15, 1,992 registered voters were asked whether they support a number of measures -- including stay-at-home orders, closures of nonessential businesses, social distancing measures and 14-day quarantines for symptomatic people -- that have been implemented to curb the spread of the coronavirus in the current pandemic, as well as in the event of a second wave of cases.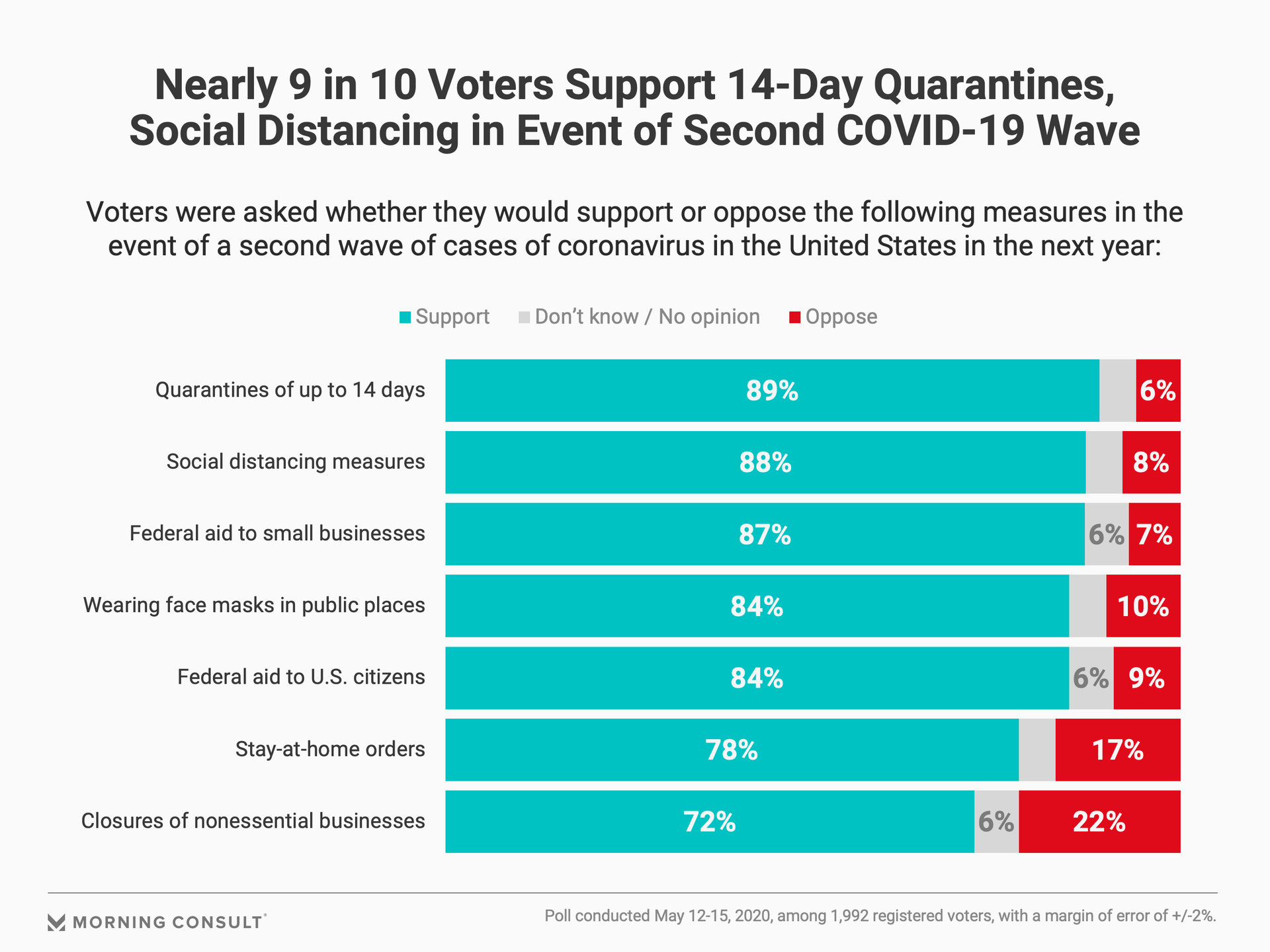 The survey found that at least 7 in 10 voters supported all these measures in the event of a second COVID-19, regardless of political affiliation, with voters most likely to support quarantines of up to 14 days for people showing symptoms of the coronavirus (89 percent) and social distancing measures that require people to stand 6 feet apart in public spaces (88 percent). Stay-at-home orders, which have been the subject of protests at state capitols across the country, received the support of nearly 4 in 5 voters, including 88 percent of Democrats, 75 percent of independents and 69 percent of Republicans. Less than one-fifth of the electorate was opposed to that course of action.
The survey has a margin of error of 2 percentage points.
The support for COVID-19 measures in the event of a second wave closely resembles how voters feel about the same tactics in the current pandemic: In the latest poll, 68 percent of voters said they support the closure of businesses such as hair salons and movie theaters that are deemed nonessential in the current pandemic, including 81 percent of Democrats, 67 percent of independents and 56 percent of Republicans. In the event of a second wave of COVID-19 cases, 72 percent of voters support closing these types of businesses, including 82 percent of Democrats, 70 percent of independents and 62 percent of Republicans. 
The survey indicates that voters may be supporting these protection measures, despite current restrictions just beginning to ease, because of skepticism about the United States' capacity to handle another bout of COVID-19.
When it comes to whether the United States would be ready to handle the public health impact of a second wave, voters were split,with 39 percent saying yes, 41 percent saying no and 20 percent saying they did not know or had no opinion. Republicans were most likely to say the United States is prepared (61 percent), along with a third of independents and 24 percent of Democrats. 
Likewise, about one-third of voters said the country would be prepared for a second wave's hit to the economy, compared to 47 percent who said it would not. Again, GOP voters were more likely to say the United States would be prepared at 50 percent, versus 27 percent of independents and 20 percent of Democrats.
Brian Yermal is a research editor on the Industry Intelligence team, where he edits the team's email newsletters, written analysis and reports. Brian previously worked as a copy editor at the Altoona Mirror newspaper in central Pennsylvania. He graduated from Penn State University with a bachelor's degree in journalism.
We want to hear from you. Reach out to this author or your Morning Consult team with any questions or comments.
Contact Us