Going Into Election Day, Voters Narrowly Place Blame for Collapse of Stimulus Talks on GOP, Trump
45 percent say Trump and congressional Republicans are at fault for inability to reach deal on COVID-19 aid
Key Takeaways
About 2 in 5 voters say Democrats in Congress are responsible for the impasse on stimulus negotiations.

69% of Democrats blame Republicans for the failure to reach a deal on economic relief, while 65% of Republicans blame Democrats for the stalemate.

Independents attribute fault over the lack of an aid agreement to Trump and Republicans (43%) more than Democrats (34%).
The chances of an economic relief package passing before Election Day are slim to none with the Senate leaving Washington this week, meaning that many voters will cast their ballots without knowing the fate of future unemployment benefits and stimulus payments that have helped buoy the economy so far during the coronavirus pandemic.
By a slim margin, voters are putting the blame on Republicans and the president for the stalled talks, according to new Morning Consult/Politico polling.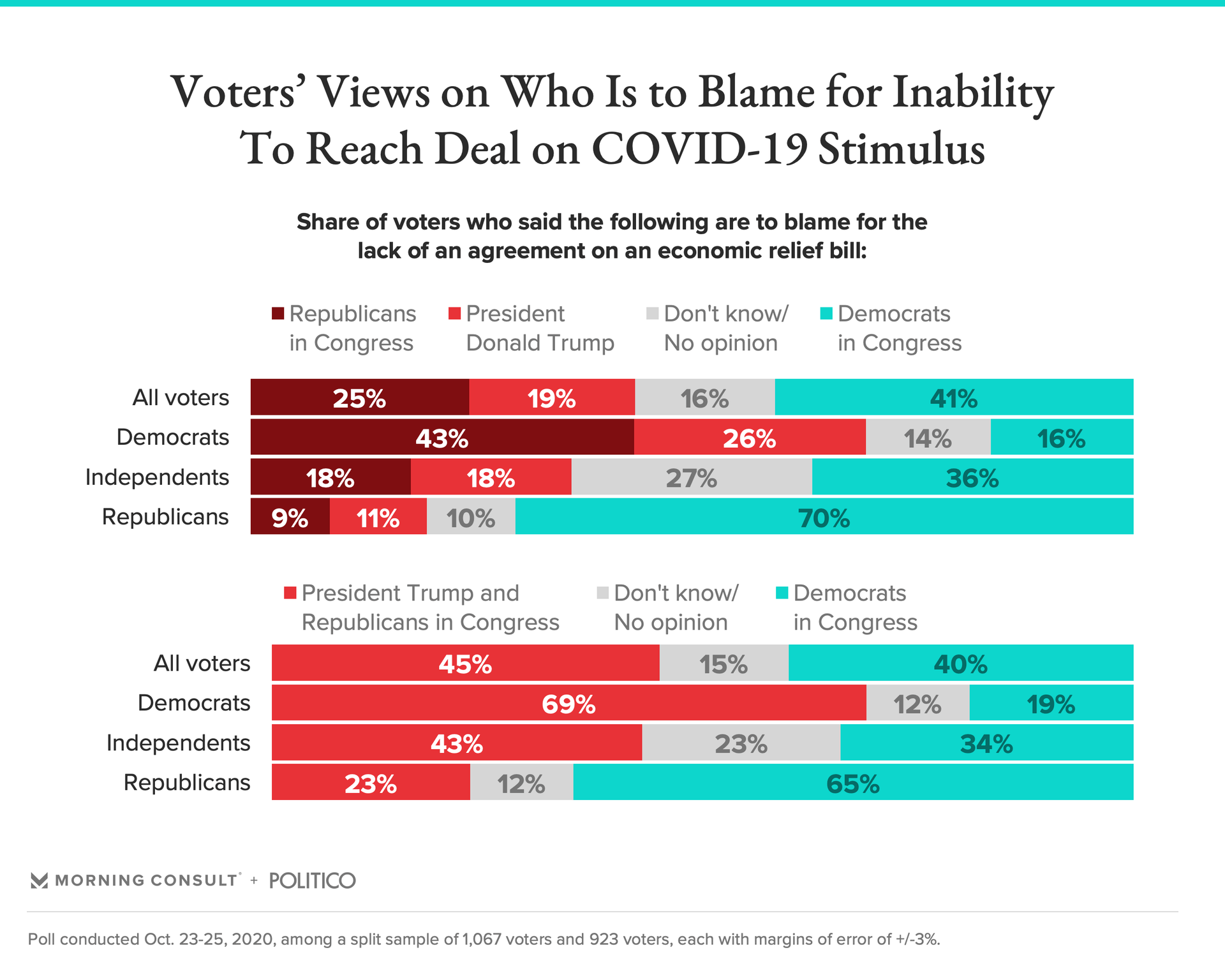 Forty-five percent said that President Donald Trump and Republicans in Congress bear the responsibility for the collapse in stimulus talks, compared with 40 percent who said Democrats in Congress are at fault.
The Oct. 23-25 survey polled a split sample of 1,067 voters and 923 voters, both with margins of error of 3 percentage points. The 1,067 voters were asked who is mostly to blame for the lack of an economic relief bill among Republicans in Congress, Democrats in Congress and Trump. The other 923 voters were asked the same question, but with Republicans in Congress and Trump grouped together.
The breakdown among political parties followed expected partisan divides: 69 percent of Democrats said the blame lies with congressional Republicans and Trump, compared to 19 percent who said it's with congressional Democrats. Twenty-three percent of GOP voters said Republicans in Congress and Trump are at fault, while 65 percent blamed the Democrats.
Independents tended to say that Republicans in Congress and Trump shoulder the blame at 43 percent, compared with 34 percent who said congressional Democrats. 
When given the choice between Republicans in Congress and Trump separately, voters across the board tended to say that GOP legislators shoulder the blame. Among all voters, 25 percent said that Republicans in Congress were the most to blame, compared to 19 percent who said Trump.
Democrats more squarely blamed congressional Republicans at 43 percent, compared to 26 percent who said Trump. Independents were split at 18 percent apiece.
Among GOP voters, blame for the stimulus stalemate was split between their party's legislators and Trump within the margin of error, with 9 percent saying that Republicans in Congress were at fault and 11 percent saying the same about Trump. 
Claire Williams previously worked at Morning Consult as a reporter covering finances.
We want to hear from you. Reach out to this author or your Morning Consult team with any questions or comments.
Contact Us