The U.S. Is Struggling to Contain Coronavirus. Voters Have Taken Notice
Approval for Trump's, CDC's handling of the outbreak continues to drop
Key Takeaways
49% of voters approve of Trump's job in containing the spread of the coronavirus.

65% of voters say they would get vaccinated if a vaccine were available, up 17 points from January.

79% of voters say treatment for the coronavirus should be free to all Americans, regardless of insurance status.
Following an uptick of cases of the coronavirus in the United States and reports of delays and errors in diagnostic tests, new Morning Consult data suggests that voters are becoming increasingly critical of the government's response, as approval of the Trump administration's handling of the situation has fallen once again.
According to a Feb. 28-March 1 survey, fewer than half (49 percent) of voters approve of President Donald Trump's response to the outbreak, down from 56 percent who said the same in a Feb. 24-26 survey — a decline fueled by a 9-point drop among independents and 7-point drop among Democrats. The share who disapprove of his response is also up to 37 percent. As a result, net approval (the share who approve minus the share who disapprove) for the president's handling of the coronavirus is now at 12 points, sinking to less than a third of what it was three weeks ago.
The new poll surveyed 1,997 registered voters and carries a margin of error of two percentage points.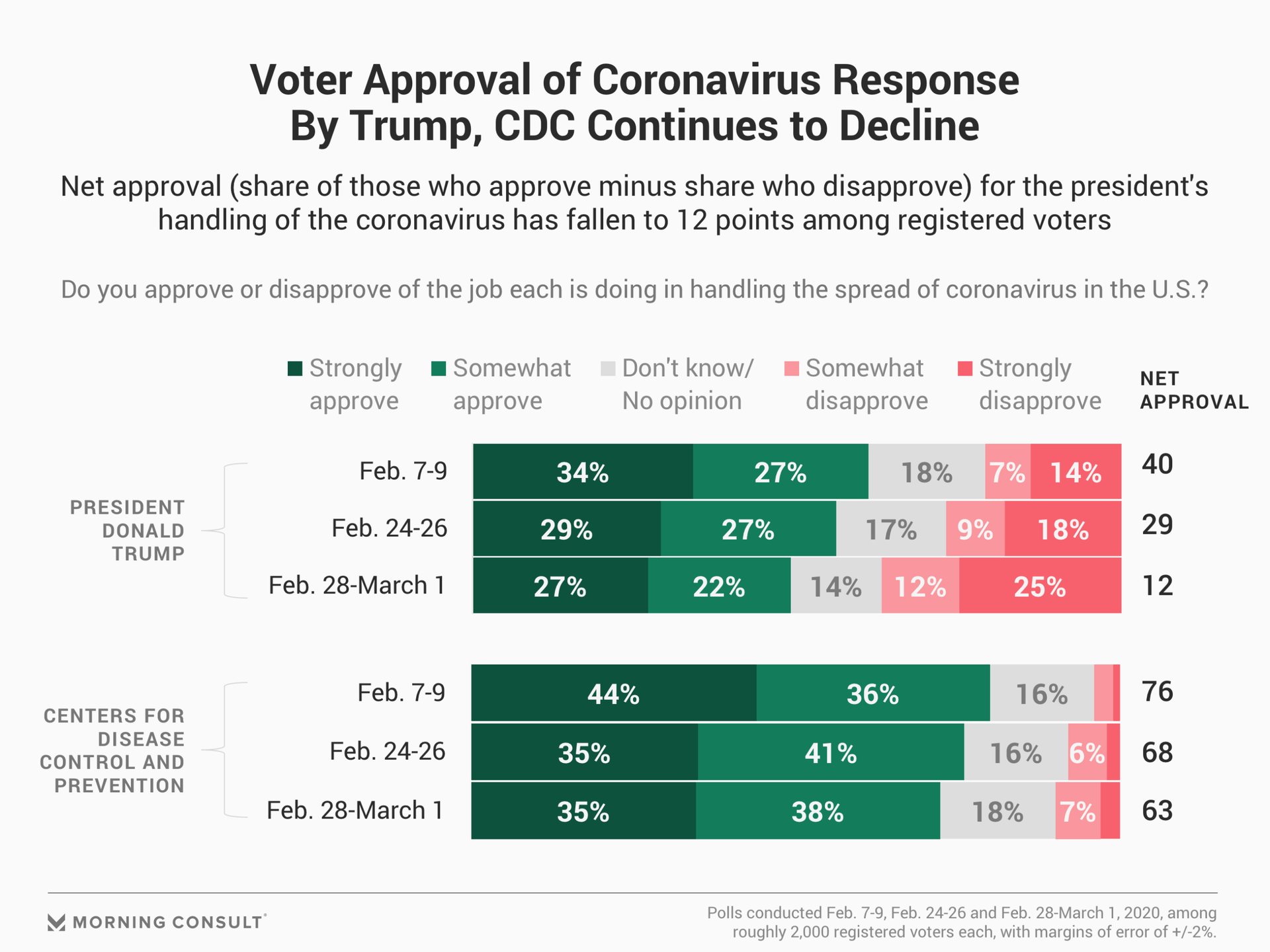 Trump held two press conferences in the past week, attempting to reassure Americans that the situation is under control — only to have federal health officials, moments later, repeat grave warnings that the United States has reached a new phase of the outbreak and must prepare for community transmission. The Health and Human Services Department — led by Secretary Alex Azar, initially tapped by Trump to lead the coronavirus task force — also opened an investigation into possible contamination in the Centers for Disease Control and Prevention's first round of diagnostic tests, which experts say impeded local health authorities' ability to properly screen patients and prevent state outbreaks that are quickly accelerating.
The most recent survey signals that as news of local outbreaks, false negative test results and the first U.S. deaths begins spreading, the veneer of swift action and coordination between federal agencies has dulled. Approval for the CDC's handling of the outbreak fell to 73 percent in the latest survey, down from 80 percent in early February. And approval for Congress, where House Democrats and even some Republicans have not minced words in scrutinizing the administration's decision not to request more than $1.25 billion in emergency funding, is at 41 percent.
The data also illustrates that voters are taking the threat of infection much more seriously as it inches closer to home. In January, just after the CDC confirmed the first cases in the United States, fewer than half of voters said they would get vaccinated if a shot for the coronavirus became available; that figure is now 65 percent. 
A vaccine is still months away at minimum, although several are in development. On Monday morning, Trump said a scheduled meeting with pharmaceutical executives on drug prices will instead be used to discuss a coronavirus vaccine, according to pool reports. 
Notably, dissatisfaction with Trump is higher among voters living in urban areas (where net approval is underwater) and in respondents from Western states — regions where the U.S. outbreak has been most concentrated, and where researchers who have identified unrelated, nearly identical viruses believe there may have been cryptic transmission for several weeks.
The share of voters who believe the U.S. government needs to escalate its response (44 percent) now eclipses the share who says the government's actions have been sufficient (39 percent). Each of the remaining Democratic presidential candidates has called on the White House to accelerate its strategy, with Sen. Elizabeth Warren (Mass.) on Monday calling for a $400 billion stimulus package and free testing and treatment for Americans — a proposal with broad support from Americans of every political affiliation.
Yusra Murad previously worked at Morning Consult as a reporter covering health.
We want to hear from you. Reach out to this author or your Morning Consult team with any questions or comments.
Contact Us