Slow Rollout Has Left 3 in 5 Adults Feeling Frustrated With COVID-19 Vaccination Process
More than half of the public described U.S. vaccination efforts as disorganized and too slow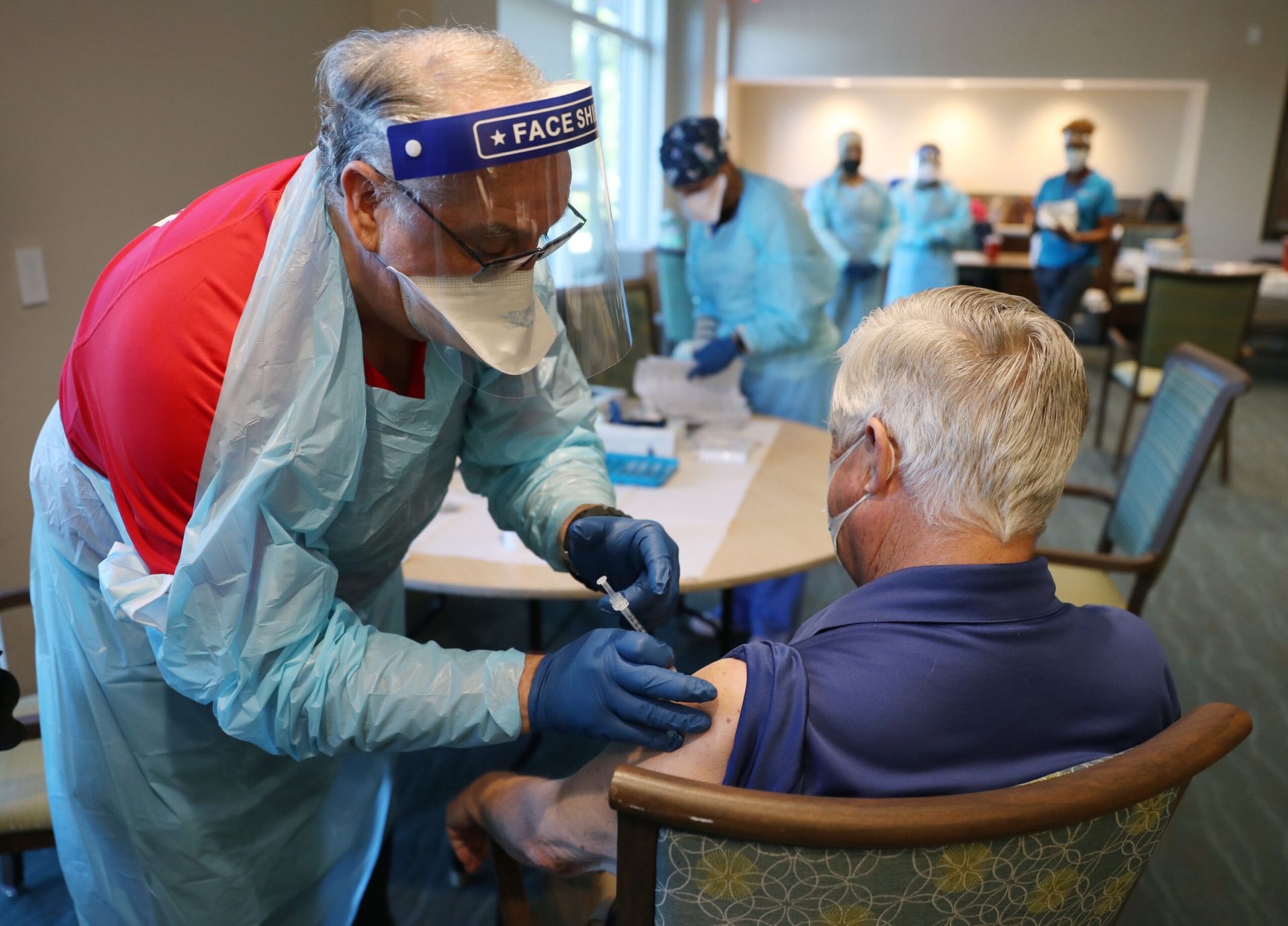 Key Takeaways
51% of adults say the COVID-19 vaccine rollout process has moved too slow, while 31% say it's moved at the right pace and 28% say the rollout has been too fast.

56% of adults report feeling optimistic about getting a COVID-19 shot, but 47% say they're anxious.

79% of adults don't know when they'll be eligible for a vaccine.
Americans are frustrated with the COVID-19 vaccine rollout and view it as disorganized and too slow, according to a new Morning Consult poll conducted as the pace of immunizations picks up in the United States.
As of Friday morning, nearly 6.7 million people had received their first shot, a pace that is increasing by the day but remains far behind federal health officials' goal of 20 million by the end of December. The public is keenly aware: 3 in 5 adults described the rollout as frustrating, according to the survey, while more than half said it has been disorganized or too slow and 40 percent said the United States was doing a worse job than other countries.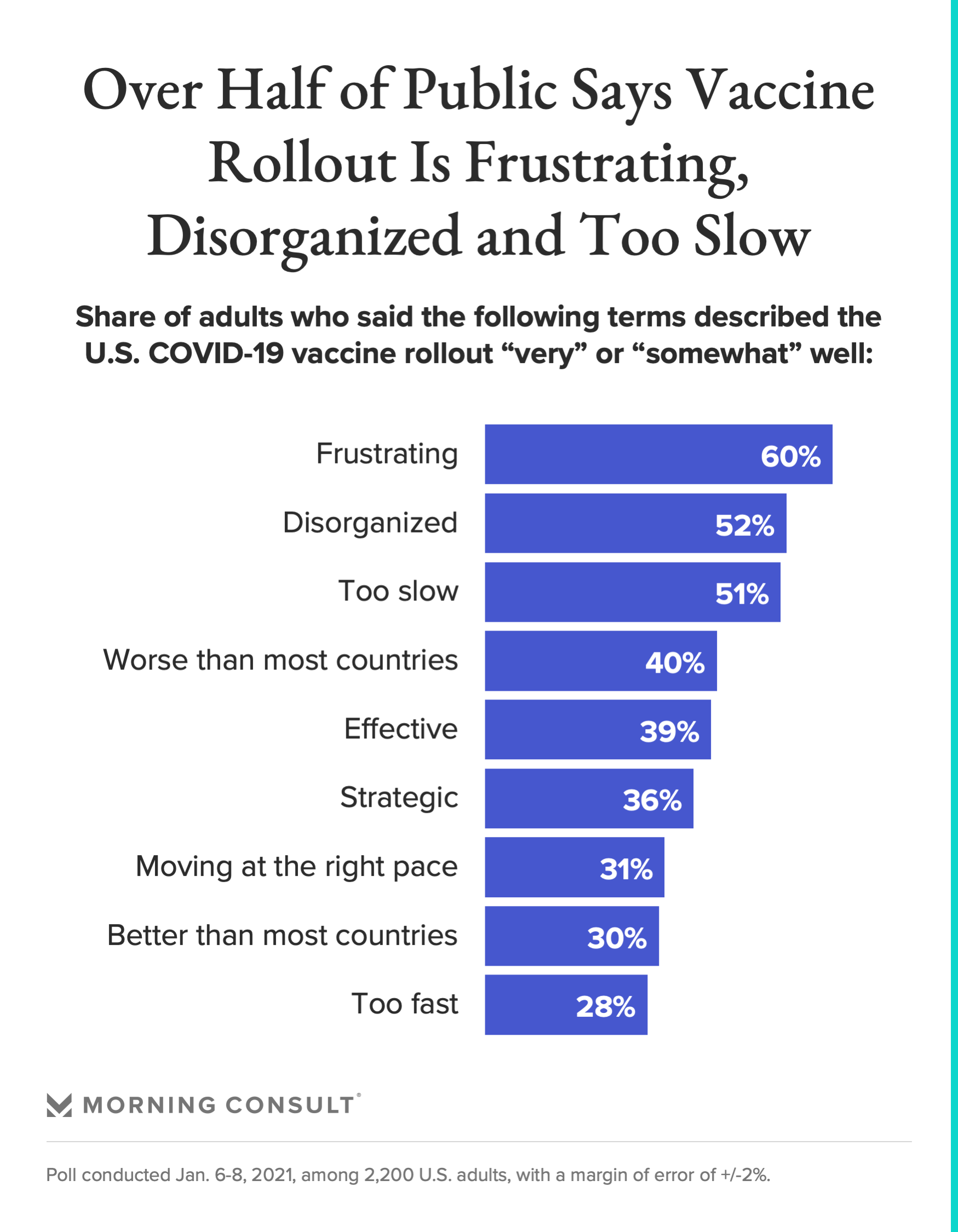 Meanwhile, 39 percent said the process has been effective and 36 percent said it's been strategic. Just under a third of the public thinks the vaccine rollout has moved at the right pace, and 30 percent said the country is doing better than others, according to the poll, which was conducted Jan. 6-8 among 2,200 U.S. adults and has a margin of error of 2 percentage points.
The survey comes as the Trump administration scrambles to ramp up vaccinations in its waning days and as the incoming Biden administration begins laying out its own plans to immunize millions of Americans in a matter of weeks. On Friday, a spokesperson for President-elect Joe Biden said he would release every available dose in an effort to quickly shore up vaccinations, a break from the Trump administration's strategy of holding back half of doses to ensure people who got their first shot can get their second dose.
The poll also reflects confusion around the vaccination process, with about 4 in 5 respondents saying they don't know when they'll be eligible for a shot and 55 percent saying the government has not done well at keeping them informed. People were most likely to believe they'll learn when they can get a shot from a health care provider (22 percent) or from their state or local government (17 percent).
Health officials and providers are also working to convince a wary public to get vaccinated. Asked how they feel about the prospect of getting a COVID-19 shot, more than half of adults said they are optimistic and relieved, though many also said they are anxious (47 percent) or afraid (41 percent).
Democrats were more likely than Republicans to report feeling excited, confident and relieved about being vaccinated, but the partisan gap was much smaller for negative feelings about getting a shot. For example, Democrats and Republicans were similarly likely to say they're skeptical about getting vaccinated: 48 percent to 51 percent, respectively.
Adults were more confident than not when asked whether they thought they'd be able to get vaccinated quickly once they are eligible. Forty-four percent said they feel confident they'll get a shot quickly, while 21 percent said they are not confident, 20 percent said they don't plan to get vaccinated and 15 percent said they don't know or have no opinion.
The public was split on who should be overseeing vaccination efforts, though Democrats were twice as likely as Republicans to say the federal government should be in charge (22 percent to 11 percent). A third of adults said state governments should oversee vaccination programs, while 30 percent want their local officials to lead and 16 percent said the federal government should take charge of the efforts.
Last week, after reports of vaccine doses expiring, Health and Human Services Secretary Alex Azar urged states to broaden their vaccination efforts to include members of the general public, even if they fall outside of designated priority groups like health care workers, in order to keep doses from going to waste.
Two-thirds of adults agree with that position, the poll shows.
Gaby Galvin previously worked at Morning Consult as a reporter covering health.
We want to hear from you. Reach out to this author or your Morning Consult team with any questions or comments.
Contact Us